The System Was Blinking Red
The first day of impeachment hearings showed Trump's improper bullying of Ukraine setting off alarms throughout the government.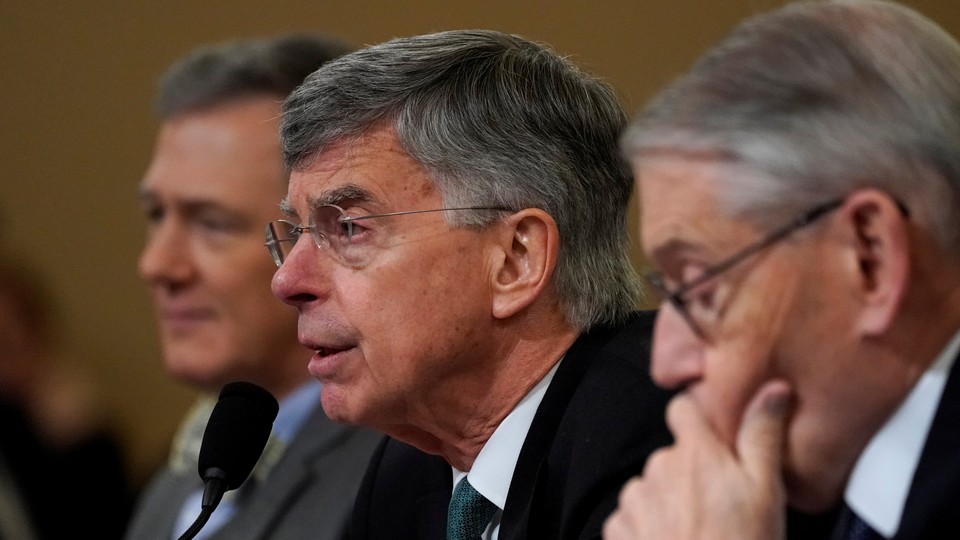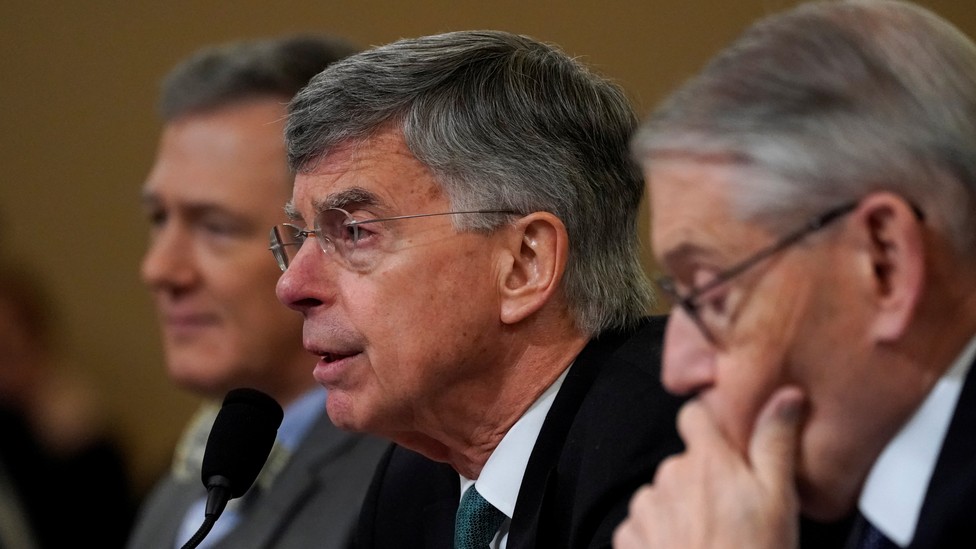 George Tenet, the former CIA director, told the 9/11 Commission that, given the stream of intelligence warnings about potential terrorist attacks against the United States before 9/11, "the system was blinking red." Those words reflected just how widespread the concern was across the U.S. government that something bad was unfolding—in that case, a terrorist attack. It turns out that in the summer of 2019, the system was again blinking red.
Those who listened to the first day of public impeachment hearings, focused on Ukraine-related matters, heard a lot about Donald Trump and a lot about Rudy Giuliani. And for good reason: Both were central players in the White House–driven push to trade American weapons and a meeting at the White House for Ukraine's help with Trump's reelection.
But listeners also heard a lot about long-serving U.S. government officials, including the two witnesses who testified, and how they reacted to the push led by Trump and Giuliani. What might have gotten lost in the day's testimony is that these more ordinary officials were doing extraordinary things. Those included repeated threats to resign and repeated referrals to lawyers of possible violations of U.S. law by U.S. officials. This is not normal—not normal behavior by public servants, not normal disagreement within the policy-making process, not normal at all. To the contrary, this is a sign that inside the U.S. government, Trump's improper bullying of Ukraine was setting off alarms—and the system was blinking red.
Start with the multiple threats of resignation that Ambassador William Taylor, America's top diplomat in Ukraine, indicated he'd made with utter sincerity (an indication confirmed by the written record). Threats of resignation by government officials—especially officials like Taylor, with decades of service to presidents of both political parties—are extremely rare. Given how dramatic a threat of resignation is, and given how frequent such resignations have been under the Trump administration, it's important to remember that this isn't, say, an ordinary negotiating tactic for government officials as they jostle with colleagues in formulating policy. Quite the opposite—this is the ultimate card to play, and most government officials go through their entire careers without ever considering it. (I never played it while I served in government!)
Indeed, Taylor's willingness to resign shows that the Trump White House's handling of Ukraine matters had far exceeded the bounds of the normal policy-making process. That process sees plenty of internal disagreement and debate—those are healthy features of a functioning policy-making process, and it is designed not only to withstand those, but even to benefit from them in refining U.S. policy.
But a threat to resign is a clear indication that the policy process has broken down—that making things better from within has become impossible. And that complete breakdown is exactly what Taylor described in his testimony: a hijacking of normal foreign policy by Trump, Giuliani, and others who supported them (such as Trump's acting chief of staff, Mick Mulvaney) that made it impossible for even the nation's top diplomat in Ukraine to have a meaningful voice in setting U.S. policy toward the country where he was assigned. All that was left to him was the threat to resign.
And it wasn't just the policy process's breakdown that was clear to U.S. government officials seeing this all unfold; it was adherence to the law as well. The first day of testimony confirmed earlier reporting that U.S. government officials who realized the nature of the White House's Ukraine push repeatedly asked that White House national-security lawyers be notified out of concern that matters were headed seriously, even dangerously, awry. That, too, is not normal—not even close to it.
White House national-security lawyers get asked tough legal questions all the time by policy officials. Indeed, it's their job to answer those questions—just as it was my job when I was one of those lawyers. Determining what U.S. and international laws say about, for example, whether the U.S. can carry out a particular military operation or share certain intelligence with a foreign partner is daily fare.
But that's not what officials like Taylor were asking in the context of Trump's Ukraine push. Instead, the first day of testimony made clear that U.S. officials were worried that other U.S. officials were, at least potentially, violating U.S. law. Perhaps they had in mind federal election law, which prohibits a candidate in a U.S. election from soliciting any "thing of value" from a foreign citizen in connection with that election. Perhaps they had in mind federal bribery and extortion laws. Or perhaps they simply had a gut instinct that the Ukraine policy they saw being executed was so improper as to raise legal questions—after all, these officials were not lawyers themselves. But they were worried enough that they insisted White House lawyers needed to know what was happening. And that's another rarity: to ask such lawyers whether U.S. government officials were, themselves, breaking U.S. law.
Wednesday's testimony drove home the fact that Trump's July 25 phone call with Ukraine's president wasn't just a one-off conversation. It was, to the contrary, at the heart of a remarkable series of events—a push to enlist a foreign government to assist Trump's domestic reelection campaign that had sparked ordinary officials to do extraordinary things. Their threats of resignation and referrals to White House lawyers reflect a profound sense that something bad was unfolding. The system was again, as the first day of testimony made clear, blinking red.