Matt Lauer's Woman Problem
The allegations against the Today show host have disgusted and unsettled me like few others in the #MeToo era.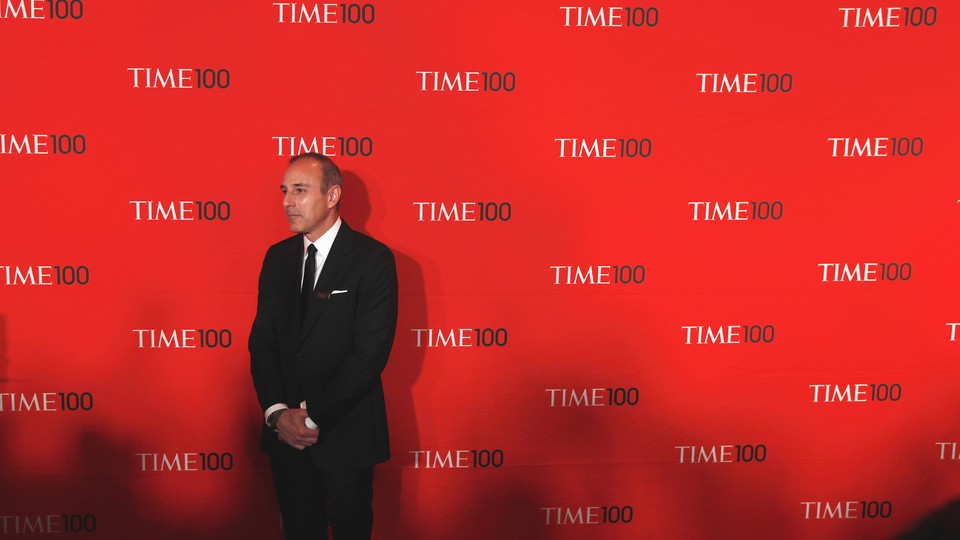 In 2006, when my first book was published, I was invited to go to New York to discuss it on the Today show. While I was sitting in the studio's makeup room, something unusual happened. At the end of the row of chairs, sitting in the one closest to the wall, was a relatively new newswoman who was quietly reading through some notes. Suddenly Matt Lauer appeared at the door.
He practically ran across the room to her, zeroing in on her and bantering with her as though they were the only two people around. His behavior was intense and odd because of its brazenness and because of the setting. She matched it in kind, and they laughed as though they were at a cocktail party, although I noticed that as soon as he left the room—the show was live, and he had to go to the plaza for an outdoor segment—she went immediately back to her work.
Well, I guess those two are having an affair, I thought to myself. I wasn't particularly shocked; Lauer was known to have a rocky marriage.
My other, very brief experiences over the years with Lauer were perfectly professional. Once I wrote an essay about Today that he really liked, and he called me up to tell me so, which was generous. On the phone, he'd been the same person he was on the air: warm, curious, encouraging. Still, that exchange in the makeup room had been … odd.
NBC News management now claims that it had no idea whatsoever that Lauer had a problem with women until it received a lone harassment report in 2017 that led to his firing. But that is hard to countenance. I was in that studio for just 20 minutes before I observed Lauer behave oddly with a woman. Women are coming forward with disturbing and believable stories; the network is under enough pressure that it has agreed to release former employees from the nondisclosure agreements they signed before leaving Today. Critics are demanding that NBC hire a team of outside investigators to examine exactly what was going on during Lauer's 20-year tenure at Today. All of this has come to light because of Ronan Farrow's new book, Catch and Kill, which is as tautly plotted as a Robert Ludlum thriller and has a surprise on just about every page. The book is in part about his investigation into Harvey Weinstein, but it also contains important new revelations about Lauer's behavior. The network has denied Farrow's allegations, but it is difficult to read this carefully reported book and not conclude that NBC News is either the most incompetent journalistic enterprise in the country, or one that both suppressed a story about Harvey Weinstein and sided with a sexual abuser over his victim.
The focus of Farrow's reporting on Lauer is an extended interview with Brooke Nevils, whose 2017 report of sexual harassment prompted Lauer's firing. It is a lurid and wretched account. Nevils alleges that in 2014, when she and Lauer were in Sochi covering the Olympics—she in a very junior capacity, he as the news division's biggest star—he sexually assaulted her. They had been drinking in the hotel bar, and she'd had at least five shots of vodka. She went to his hotel room where, she says, he pushed her against a door and kissed her. She says Lauer then forced her to have sex, although she was far too drunk to consent. At one point, he sodomized her. She told Farrow, "It hurt so bad. I remember thinking, is this normal?" This part of the account—that he forced this act on her against her will—is the centerpiece of the rape claim, and it is credible. She told Farrow that eventually she stopped saying "no," and wept until it was over. Nevils says that when they returned to New York, they had an ongoing sexual relationship, which was purely "transactional" on her part; she was frightened Lauer could derail her career.
In response to the allegation, Lauer made his first public comments on the firing in the form of an open letter that simmers with anger and the insistence that the relationship, including the night in Sochi, was fully consensual. He implies that Nevils was motivated to make her report by a dangerous combination of sexual jealousy, romantic disappointment, and avarice. "I admit, I ended the affair poorly," he writes; "I simply stopped communicating with her." He adds that after the relationship ended, she repeatedly reached out to him, and—the lament of every man trying to dump his mistress—"she called me late at night while I was home with my family in an effort to rekindle the affair." He denies having any kind of managerial role over her: "At no time during our relationship did Brooke work for me, the Today Show, or NBC News. She worked for Meredith Vieira (who had not worked for the Today Show in several years) in a completely different part of the network, and I had no role in reviewing Brooke's work."
The central question is whether that first encounter constituted assault. We'll never have a definitive answer on that, but Nevils's account lends authority to her argument. She asserts that the day after the encounter, Lauer emailed her a joke about "not writing or calling." She told him everything was fine, and he ignored her for the rest of the trip. The impression I take from that exchange is that Lauer was anxious that she might be angry about what happened and was checking in to see whether she was going to be a problem. Once he knew she wasn't, he carried on with his work in Sochi. At one point, Nevils says, Lauer asked her whether she had told Vieira about what happened. She said no. He then responded, "Don't."
Farrow characterizes Nevils as having a "gangly adolescent quality." When Farrow and Nevils met, she nervously gave an unflattering description of herself, saying she was "tall, awkward and flat-chested." Lauer was famously associated with very beautiful and sophisticated women, and he treated Nevils as a kid sister. She says that prior to the night in Sochi, Lauer had never taken any sexual interest in her, and that on various reporting trips she had been to his hotel room "lots of times" and never as the object of his sexual attention. There is something particularly cruel about this aspect of the story: the handsome man with his pick of women giving his brief attentions to a young woman he's not really interested in, and then dumping her.
We don't know whether Lauer raped Nevils in Sochi, but without a doubt he sexually harassed her there—and it was sexual harassment of a type that falls into a narrative pattern I encountered often when I was researching the field of human resources earlier this year. In fact, it's almost textbook: the conference or meeting that takes colleagues away from home; alcohol; the hotel-room sexual encounter between a man and a woman who is junior to him; his conviction that because they don't work in the same department, he's in the clear. Having the affair linger after they return to work is not uncommon either.
The workplace may be the last place in America where expectations regarding sex are crystal clear, repeatedly explained, and enforced by the larger culture. If an HR department won't respond to such a claim, a woman can get a lawyer, and if she has enough evidence—text messages are often enough—the company will probably settle with her to protect itself. But despite how clearly and how regularly a workplace explains its sexual-harassment policy, there are men who don't think it applies to them. It does. Most medium and large-size employers have the same workplace policy regarding sexual harassment: Senior people cannot have sexual relationships with junior ones. The power difference between Lauer and Nevils is about as large as you can find in any company.
Nevils may not be the first NBC employee to have been harassed by Lauer. In Catch and Kill, Ann Curry is quoted as having told NBC management during her time as co-host of Today that "he had a problem with women." Farrow has uncovered seven NDAs between NBC News and women at the network, and a widening group of women has been coming forward with allegations. A roast of Lauer that took place before the #MeToo movement—a roast attended by his colleagues and bosses—included well-received and knowing jokes about his tendency to become involved with young women at the network. It seems many people in positions of authority believed that Lauer, as Curry put it, "had a problem with women." If NBC finally does cave to the considerable pressure to hire outside investigators to look into Lauer's tenure, they might come back with a damning report.
The revelations about Lauer have disgusted and unsettled me like few other stories in the #MeToo era. That is because Today had a single, unvarying ethos: respect for women. From its earliest incarnation more than 65 years ago, that show has served the women all across the country who are at home raising children and taking care of people. Even with the tremendous changes in family life that have taken place, the show's core audience is female, at home, and engaged in work that the show treats as important—in a way that few other significant cultural institutions do. How many generations of American children were raised while their nearby mothers sipped coffee and paused to watch a Today segment about how to make a household budget, or wean a baby, or help a child cope with bullying? There was uplift and distraction and information in that show, all of it created for the women who quietly did some of the most important work in the country. Everyone knew that it was a performance on the part of the hosts—highly paid media celebrities in New York don't really care about the right way to shop with coupons. But it was a performance to which they gave their all—especially Lauer, who was excellent in the role. But now it looks like that ethos of respect was fraudulent, and that at NBC News, women—those who worked there, and those who watched its morning program—didn't really matter very much at all.