The Human Cost of Chicken Farming
Industrial efficiency has led to plentiful, cheap meat and eggs, while immiserating farmers.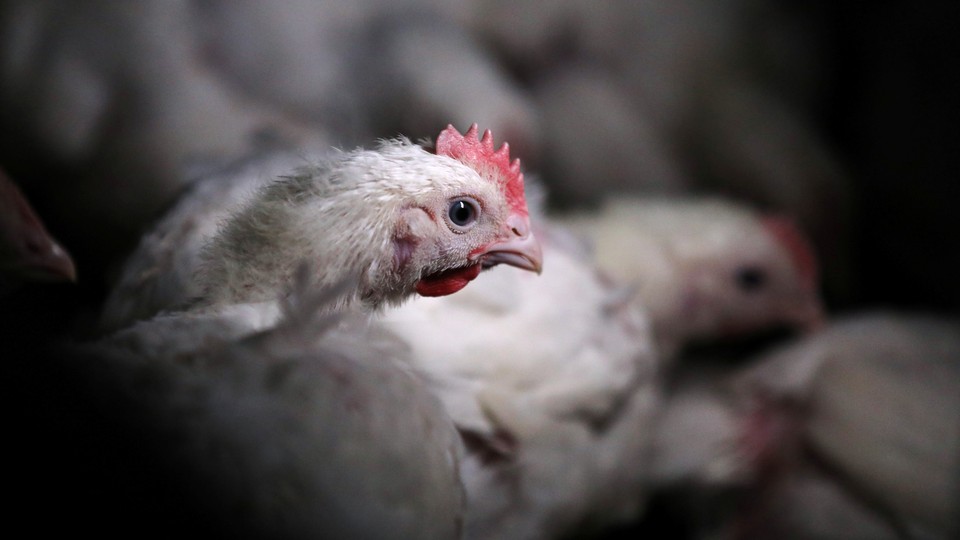 Leah Garcés is still a little bewildered that she is working with poultry farmers. The longtime vegan and animal-rights activist is the president of Mercy for Animals, an influential nonprofit known for its investigations of factory farms. "Up until very recently, we saw the farmers as the enemy," Garcés told me. "We blamed them. We were angry at them. And we honestly wished them ill."
But a few years ago, Garcés met a factory farmer. She spent hours with Craig Watts, talking about the ins and outs of the business, visiting his chickens, walking through his facility. She filmed an exposé with his cooperation. "The fear of meeting with somebody like this was dissolved and was replaced by me feeling very ashamed that I had never once considered his perspective," she told me.
That meeting led to some strange-bedfellows networking. That networking led to some enduring, strange-bedfellows relationships. And those relationships helped lead to a strange-bedfellows campaign. This week, Mercy for Animals is launching a project aimed not at animals, but people. The Transfarmation Project, as it is called, is offering resources to factory farmers looking to switch from animals to plants—helping chicken farmers become hemp farmers, say.
The plan is to help agricultural workers move away from cruel forms of production to kind ones. And the effort comes amid mounting evidence that the poultry-farming system has become torturous not just for the birds involved, but the people.
Chickens and turkeys raised for eggs and meat live nasty, brutish, and short lives—a fact that has long been known to animal-welfare advocates and farmers, if not the omnivorous public. Breeding is a major reason. Birds destined for grocery stores and fast-food outlets are franken-creatures that balloon in size at a metastatic rate: If people grew as fast as a broiler chicken did, they would weigh nearly 700 pounds by the time they were two months old. These overgrown chickens and turkeys do not act much like chickens and turkeys at all. Many spend their lives standing in filth, their bodies ammonia-scarred, their organs strained, their bones broken.
The system that breaks their bones is a model of industrial efficiency—and that is where the problems for the farmers come in, too. A century ago, most farmers ran independent businesses. They built their barns and chicken houses to their own specifications. They bought animals, supplies, and feed from a range of suppliers. They contracted with slaughterhouses and processors to get their birds to market.
Today, the industry is dominated by just a handful of vertically integrated companies, known as integrators. These mega-producers, such as Tyson and Perdue, contract with farmers to raise their birds for them. The farmers take on loans to build warehouses to the precise specifications of the integrators. They raise the birds according to the precise specifications of the integrators. And finally, they are compensated according to how well the integrators judge their performance.
This efficiency has led to plentiful, cheap meat and eggs. But it has immiserated the farmers. They have little say in how they run their own farms, acting primarily as functionaries. They have little way to differentiate their products or improve their margins. They take on significant financial risk, with contract chicken farmers working off $5.2 billion in debt as of 2011.
As a result of those dynamics, nearly three-quarters of contract growers live below the poverty line, living hand-to-mouth and flock-to-flock. One study found that average-sized operators lose money two years out of every three. And many contract growers find it impossible to get out of contract growing, given that their farms are purpose-built and heavily leveraged.
Eric Hedrick knows how wrong things can go. The contract grower has a dozen chicken houses sitting empty, and is contemplating walking away from them. "It's a rigged system," he told me. "You have no control over anything. You're blamed for everything."
Hedrick was once the biggest grower for Pilgrim's Pride in West Virginia. For years, he said, he took out loans to build out his facility, while his flocks provided a decent return. But the company starting requiring him to make upgrades that cost thousands of dollars, money he had no choice but to borrow. He started losing money. "I'm not going to say in 10 years that I didn't do a couple flocks above that line," he said. "But income never did match up with what you needed." A serious bacterial disease broke out on his farm, killing his birds and adding to his financial stress. "I had 42,000 chickens die from gangrenous dermatitis," he told me, saying that he believed it was the integrator's fault, while they blamed him.
In the past decade, contract growers have started to go public with their concerns about coercion, destitution, and cruelty in the industry. Groups including the Organization for Competitive Markets have pushed for legal and regulatory changes to aid the farmers, too. With its project, Mercy for Animals is hoping to provide them with an escape hatch: a way of taking an ailing chicken business and turning it into a thriving plant-based one. "I will freely admit this is an experiment for the animals," Garcés told me. "But I want to find out this answer: Is there a way out? Can we build a replicable economic model?"
The group is working with whistle-blowers and bankrupt farmers and strained contract growers, and wants to hear from more of them. "The narrative right now is that animal-rights activists come into rural America and want to destroy the livelihood and take away jobs. And that is not [correct]," Garcés told me. "The [real] narrative is that the meat industry is preying on rural America and taking away farmers' freedom."
Returning that freedom still would not make farming an easy or lucrative profession, regardless of what is in or on the ground. Margins are thin; competition is fierce. But undoubtedly America's favorite protein is brutalizing millions of birds, and hurting many devoted farmers too.