How to Talk About the Truth and Trump at Thanksgiving
If we are serious about bringing Americans together, the work has to start with our own families.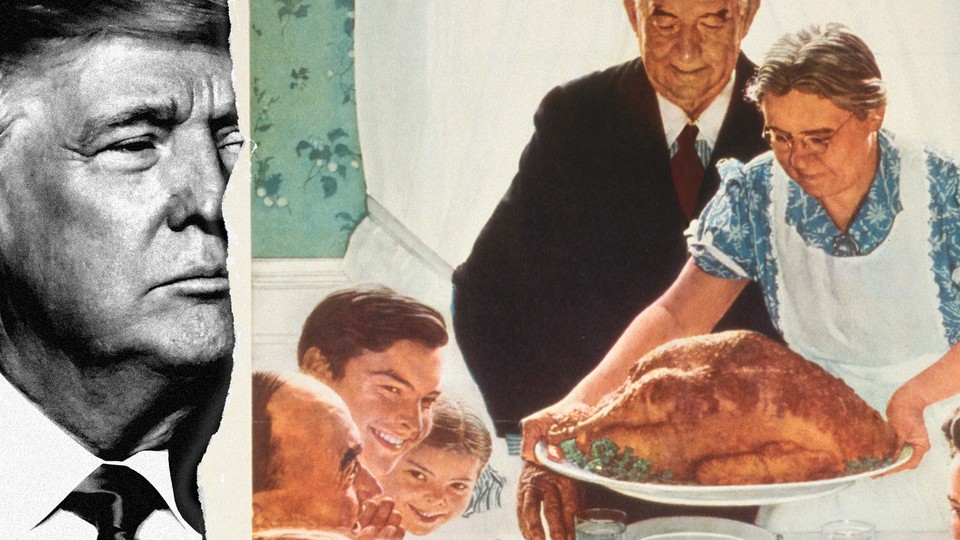 Between bites of ham, he is always liable to say it.
"The New York Knicks will never ever win the NBA championship!" my uncle jabs seemingly every year, mouth full, at the Thanksgiving table. The last time the Knicks were professional basketball champions was in 1973, nine years before my birth. I am a resolute Knicks fan and a vegan. Unc despises both.
"Soooo if the Knicks win the championship, will you become a vegan?" I ask.
"Them boys will never win. You got me. Never! I will never become a began!"
I laugh. Unc cuts a smile as wide as the uncut turkey. I defend the Knicks and the vegans. The argument carries on like helpings of baked macaroni and cheese until someone serves Ma's silencing peach cobbler.
Bellies full, we start getting serious. We start talking politics. And to talk politics, in this age, is to talk Donald Trump. And to talk Donald Trump, on this Thanksgiving, is to talk impeachment. And to talk impeachment, for many American families, is to argue impeachment. A far cry from me and Unc.
Some 48 percent of American adults support impeachment and removal, and roughly 44 percent oppose it. The divide cuts most sharply along party, gender, age, and racial lines. One poll found that eight in 10 Democrats support impeaching and removing the president, but that about eight in 10 Republicans oppose impeaching and removing Trump. Among women, 56 percent support impeaching and removing the president, compared with 46 percent of men. Young adults from 18 to 29 are the age group most favorable toward impeachment and removal. White Americans favor impeachment and removal at a clip of 39 percent, in contrast with 66 percent of people of color, including 76 percent of African Americans.
If I learned anything from two weeks of public impeachment hearings; from the 12 witnesses; from the facts they revealed or corroborated; from the way Trump and House Republicans dismissed facts for alternative facts; and from the way they cooked up an alternative reality, processed it for media consumption, and force-fed it to their constituents, it is this: There is truth and there is Trump. Truth won't stop being truth. Trump won't stop being Trump.
Truth: Trump froze military aid to Ukraine, and he withheld a White House meeting to bribe Ukrainian officials into announcing investigations to ruin a domestic political rival. Trump: Withholding the military aid was not reprehensible, because it was eventually released. Truth: The impeachment inquiry is the latest chapter in a chronicle of Trump's corruption that began even before his election. Trump: The impeachment inquiry is the latest chapter in a deep-state conspiracy that sought to overthrow his presidency even before it began. Truth: Russia interfered in the 2016 election to benefit Trump, as U.S. intelligence agencies commonly proclaim. Trump: Ukraine interfered in the 2016 election to undermine Trump, as Russian intelligence agencies commonly proclaim.
For years now, I have heard Americans talk endlessly about bringing people together. But how do we bring together truth and Trump? Is that even possible? How do we engage relatives who truly believe Trump and angrily dismiss truth?
Even before the public hearings, 62 percent of voters said they were not changing their mind on impeachment. An additional 19 percent said there was only a small chance they would change their mind. The case appears closed for nearly every American.
And so, as in previous years, most American families are planning to avoid political arguments around the holiday table. But some families are bound to bitterly argue again at Thanksgiving over the truth and Trump: faces frowning, chests burning, words cutting, and wounds deepening. No jabbing and joking, like me and Unc.
That includes black families like mine. African Americans are arguing over Trump, too—albeit mostly over whether former Vice President Joe Biden is the candidate to beat Trump, with younger African Americans indignantly opposed and their elders stubbornly supportive.
I know what it feels like to argue for years with a family member, to pack away emotions into bags, to want to avoid them—how stressful the holidays can be managing the divide. But the easiest thing to do is often the worst thing to do.
We should not be skipping family gatherings to dine with like-minded people, or in like-minded solitude. Nor should we be planning to avoid talk about politics. Nor should we gather with loved ones and bite our tongues as they regurgitate narratives of Biden's electability, or regurgitate Trump's talking points. Nor should we unleash our tongues on our loved ones as if they are Trump.
Our relatives who defend Trump are not Trump. They are not facing a "witch hunt." In fact, Trump and his operatives have bewitched ordinary Americans into supporting his interests over their own. Our relatives are the victims of Trump's lies, of Trump's policies, of his raids on democracy, of his tax cuts for the rich, of his tariffs, of his assaults on affordable health care, of his terrorization of job-creating immigrants, of his do-nothing climate and gun policies, of his use of the presidential power to enrich himself rather than low- and middle-income Americans.
What has Trump done for our relatives who are not superrich and white and male other than entertain their destructive bigotries and fears and desires? What are we willing to do for their well-being? Who else is going to usher our relatives out of the reality show and back into reality? Relatives are best positioned to be these ushers. All this avoiding and attacking our relatives, and self-censoring around our relatives, ensures that our families remain as divided as our society.
And how can we forget the victims of Trumpism? In avoiding our relatives, we are ignoring the harm of Trump, at the same time we claim to oppose Trump, at the same time we claim to support equity and justice. In keeping the peace with our relatives, we are prolonging the war against everything and everyone we claim to hold dear in the United States of America.
But attacking our relatives' Trump stories at every turn is not the answer—even if that's what Trump does against the stories of truth. When we lecture down to relatives about everything that is wrong with them, Trump operatives are enticing them by saying that nothing is wrong with them.
We should be consistently chasing truth, even as we implore our relatives to join the chase. We must find a way to meet our loved ones where they are, on their same level, as people who are imperfect and learning, just as they are. In meeting them where they are, we should be getting to know where they are, and who they are.
Every one of our loved ones is different, even if many of them share the same Trump. Instead of avoiding or attacking them, why not figure out ways to bring them closer? Instead of holding our tongues, we should be asking questions about the lives of their minds to figure out the environment driving them away from truth and into the clutches of Trump. We should be asking about their social circles; their philosophies; their experiences; their self-interests; their alternative facts; their constructions of history, personal and societal; their problems; and who and what they blame for their problems. We should be asking these questions casually, over time, as we go on an ice run with them this weekend, as we catch a movie next week, as we grab lunch next month.
We should not be attacking their answers as if they are public officials, as if they are publicly speaking. We should be listening to and relearning them as we regain their trust. It is on us, their loved ones, to show them, unequivocally, that they are being manipulated, that the truth is not their problem, that those other people are not their problem.
We should not empirically show them the Trumpian policies causing their pain—how they've been had by Trump—until they are close enough to us to receive it. Our loved ones will need us, conceptually and emotionally, for the life-altering process of disavowing Trump for truth.
It is impossible to reconcile truth and Trump, but it is possible to reconcile the consumers of truth and Trump. It is possible to liberate our relatives from their abusive relationship with Trump's alternative reality, where he always is the victim and they are always his defenders. It is a long shot, like the Knicks winning the NBA championship one day, like Unc becoming a vegan one day.
But either we are serious about bringing Americans together or we are not. If we are, then it starts with our families. It starts with us. It can start at Thanksgiving.