Immigration Law Defies the American Constitution
Immigration restrictions have been held to a far lower constitutional standard compared with almost any other exercise of government power.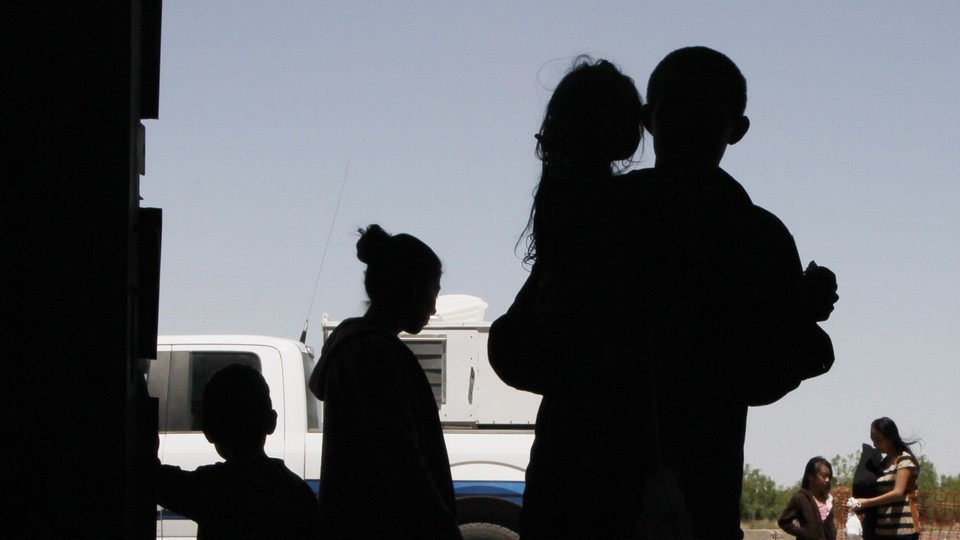 Updated at 1:05 p.m. on October 3, 2019
Americans generally take it for granted that the U.S. government cannot restrict freedom of speech. It cannot discriminate on the basis of ethnicity and religion, and it cannot detain people without due process. Though these rights are not absolute, there is at the very least a strong constitutional presumption against such measures. Much of this is thanks to the Bill of Rights and other constitutional protections, particularly the Fourteenth Amendment. But there is an area of public policy in which the government routinely gets away with oppression and discrimination that would be readily recognized as unconstitutional anywhere else: immigration law.
In Dred Scott v. Sandford, Chief Justice Roger Taney infamously wrote that black people "had no rights which the white man was bound to respect." Many aspects of immigration policy are unfortunately based on a similar assumption: Immigrants have virtually no constitutional rights that the federal government is bound to respect.
Last year, in Trump v. Hawaii, the Supreme Court upheld President Donald Trump's "travel ban" policy, which barred most entry into the United States from several Muslim-majority nations. The Court did so despite overwhelming evidence showing that the motivation behind the travel ban was religious discrimination targeting Muslims, as Trump himself repeatedly stated. The supposed security rationale for the travel ban was extraordinarily weak, bordering on outright fraudulent. In almost any other context, the courts would have ruled against a policy so transparently motivated by religious bigotry, and so lacking in any legitimate justification. It would have been considered an obvious violation of the First Amendment.
In other situations, the Supreme Court has a much lower bar for what qualifies as unconstitutional discrimination on the basis of religion. Indeed, in Masterpiece Cakeshop v. Colorado Civil Rights Commission, decided just a few weeks before the travel ban case, the Supreme Court overturned a decision from a state civil rights commission in a case regarding a baker who declined to prepare a cake for a same-sex wedding ceremony for religious reasons. Although the commission had originally concluded the baker had violated state antidiscrimination law, the Court found that two of the group's seven members had made biased statements against the baker's religion—meaning that his case hadn't been afforded the neutral treatment demanded by the First Amendment's free exercise clause—and invalidated the commission's decision. The Court reached that decision even though the commission would quite likely have ruled against the baker regardless of the prejudices of the two members (the other five commissioners also supported the ruling). All five of the justices who voted with the majority in the travel-ban case were part of the 7–2 majority in Masterpiece Cakeshop.
Why the difference between the two cases? As Chief Justice John Roberts explained in his majority opinion in the travel ban ruling, the answer is that courts defer to the government far more in immigration cases than practically any other area in which constitutional rights are at stake. As he put it, judicial "inquiry into matters of entry and national security is highly constrained."
The travel ban is far from the only case in which immigration restrictions have been held to a lower constitutional standard compared with almost any other exercise of government power. In August, the Israeli government was rightly criticized for barring entry to two American members of Congress because of their support for the anti-Israel Boycott, Divestment, and Sanctions (BDS) movement. But few recalled that the U.S. also has a long history of banning foreigners with political views that the government disapproves of. Concerns that European immigrants had dangerous political views were a major motivation behind the highly restrictive 1924 Immigration Act, and were also used to justify barring many Jewish refugees from Nazi Germany in the 1930s. Even today, the law forbids entry to anyone who has been a "member of or affiliated with the Communist or any other totalitarian party." Meanwhile, the government cannot discriminate against U.S. citizens who share those same views, including by denying them government services available to others.
Similar constitutional double standards pervade many other aspects of immigration policy. Courts have ruled that the due process clause of the Fifth Amendment provides for paid counsel in most cases where the state threatens indigent individuals with severe deprivations of liberty. But indigent migrants targeted for detention and deportation are not entitled to free legal representation, and often have to navigate a complex legal system without assistance. This leads to such horrific absurdities as toddlers "representing" themselves in deportation proceedings. You don't have to be a lawyer to recognize that this does not comport with the due process of law required by the Fifth Amendment.
Some argue that nothing is wrong with such policies, because immigrants have no constitutional right to enter the United States. But the Constitution undeniably prohibits various types of discrimination with respect to issues that are not themselves constitutional rights. For example, there is no constitutional right to receive Social Security benefits. But it would still be unconstitutional for the federal government to adopt a policy that extended such benefits only to Christians, or only to people who support the president.
Noncitizens are not categorically denied all constitutional rights; far from it. If they are accused of a crime, they get the same procedural rights as citizens. If the government condemns their property, they are entitled to "just compensation" under the Fifth Amendment. Many other constitutional rights cover them as well. But the anti-immigrant double standard applies to virtually all laws and regulations governing entry into the United States, immigration detention, and deportation.
Immigrants are not the only ones who suffer as a result of the immigration-law double standard. Many native-born citizens suffer along with them. A study by the Northwestern University political-science professor Jacqueline Stevens estimates that the federal government detained or deported some 4,000 American citizens in 2010 alone, and more than 20,000 from 2003 to 2010, due to mistakes resulting from the extremely lax procedural safeguards surrounding immigration detention and deportation. Other American-citizen victims of the immigration double standard include the thousands of parents forcibly separated from their children (and vice versa) by measures such as Trump's travel ban, which would have been invalidated as unconstitutional if not for special judicial deference on immigration policy. Many U.S. citizens also suffer from the extensive racial profiling permitted in immigration enforcement.
There is no basis for the immigration double standard in the text and original meaning of the Constitution. Most constitutional rights are phrased as generalized limitations on government power, not privileges that only apply to specific groups of people, such as U.S. citizens, or to government actions in specific places, such as U.S. territory. The First Amendment, for instance, states that "Congress shall make no law" restricting freedom of speech and religion, not "Congress shall make no law—except when it comes to immigration" restricting those rights.
A few constitutional rights are indeed limited to U.S. citizens or to "the people," as in the case of the Second Amendment right to bear arms, which might be interpreted as a synonym for citizens. But the fact that a few rights are specifically reserved for citizens highlights the broader principle that most are not. There would be no need to specify such restrictions if the default assumption were that all rights are limited to citizens.
This inference from the text is backed by founding-era practice. During that period, it was assumed that even suspected pirates captured at sea, whether U.S. citizens or not, were protected by the Bill of Rights and therefore entitled to the due process of law guaranteed by the Fifth Amendment. Immigrants surely deserve at least as much protection as alleged pirates.
During the founding era, the dominant view, held by Founding Fathers including Thomas Jefferson and James Madison (the "father of the Constitution"), was that the federal government did not even have a general power to restrict immigration. The Supreme Court did not decide that Congress had a general power over immigration until the Chinese Exclusion Case of 1889, a ruling heavily influenced by racial prejudice. It is perverse that the exercise of a federal power that rests on such dubious foundations is largely exempt from the judicial scrutiny that applies to almost all other powers.
Admittedly, since the late 19th century, many Supreme Court precedents have reinforced the so-called plenary power doctrine, which holds that normal constitutional constraints on federal authority largely do not apply to immigration restrictions. For example, a variety of Supreme Court decisions hold that migrants could be excluded based on their political views, and based on restrictive laws whose enactment was in large part motivated by racial and ethnic prejudice. But these precedents are not as clear as is often assumed. Many upheld discriminatory immigration restrictions when similar discrimination was also permitted in the domestic context. For example, some involved racially discriminatory restrictions at a time when courts also upheld domestic Jim Crow laws, and others upheld the exclusion of communists at a time when courts permitted domestic persecution of communists as well.
Still, in addition to rejecting the reasoning of the travel-ban decision, uprooting the plenary power theory entirely would require reconsideration of the traditional interpretations of many earlier precedents, even though it would not require fully overruling those cases. The Court could instead accept that those precedents were justifiable insofar as they upheld discrimination that was also considered permissible in other areas of law at the time, but reject the idea that they require perpetuation of a double standard between immigration law and other fields.
Rejecting that view is the right course. The plenary-power doctrine has no basis in the Constitution. It was born of the racial and ethnic bigotry of the late 19th century, and deserves to suffer the same fate as Plessy v. Ferguson and other products of that mind-set.
Abolishing constitutional double standards in immigration law would not end all immigration restrictions. But it would ensure that immigration policy is subject to the same constitutional constraints as other exercises of federal authority. The government could still restrict immigration based on a variety of characteristics. For example, it could still discriminate using such criteria as migrants' education, occupational credentials, and criminal records. But it would no longer be permitted to engage in racial, ethnic, religious, or other discrimination that is forbidden in other contexts.
Ending this double standard will not be easy, and probably cannot be done by lawyers alone. The civil-rights movement, the feminist movement, and the gun-rights movement are all examples of how successful struggles to strengthen protection for constitutional rights usually require a strategy that integrates litigation with political mobilization. The lessons of that history might be useful to those who seek to end one of the most egregious double standards in our constitutional jurisprudence.