The U.S. Is Abandoning Its Interests in Brexit
America has a great deal at stake in the negotiations, but has gone entirely AWOL.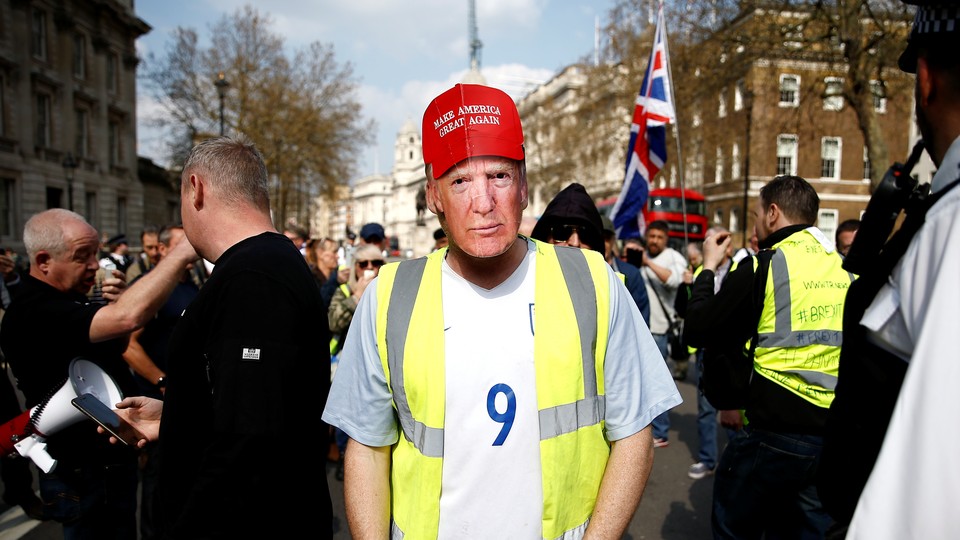 Gordon Sondland is a busy man. He recently testified to Congress about his role in President Donald Trump's attempt to extort campaign dirt from the government of Ukraine. That testimony follows from Sondland's previous deft maneuvering to insert himself as Trump's point man on Ukraine. All of these many plots and schemes appear to have left Sondland with little time to do his actual job: representing the United States as ambassador to the European Union, of which Ukraine is not a member.
This is the week, and now the weekend, when the Brexit negotiations have reached their decisive moment: the U.K.'s last clear chance to reach a withdrawal agreement with the European Union. It's a big moment for the U.K. You'd never know it, but it's also a big moment for the United States.
Over the past month, I've traveled in both the U.K. and Germany, asking about the Brexit process and aftermath. Two words that I seldom heard in either place unless I mentioned them myself were United States. Brexit is unfolding with the United States assuming only the most distant presence—and taking shape with scant reference to U.S. preferences and U.S. interests.
In part, this distance from the United States reflects well-justified wariness of the Trump administration. British leaders have, by now, learned not to trust Trump vaporware. Through the early part of 2017, Trump and Trump-administration officials again and again promised rapid progress toward a post-Brexit free-trade agreement. Trump told British reporters at the Hamburg G20 in July 2017: "We"—meaning the United States and Great Britain—"have been working on a trade deal which will be a very, very big deal, a very powerful deal, great for both countries, and I think we will have that done very, very quickly." There was a time when pro-Brexit politicians and pundits believed and relied on those words, but that time is long gone.
Meanwhile, the EU has reckoned with the profound ill will of the Trump administration. The New York Times this week quoted an EU official who reported that Sondland told a dinner party that he hoped "to destroy the European Union." In January, the German magazine Der Spiegel published a scathing account of the isolation of Trump's ambassador among officials in Berlin. He had not made himself any better liked by the time I arrived in September.
At this point, though, it probably matters less that the administration is perceived as obnoxious than that it is perceived as AWOL. As the saying goes, you miss 100 percent of the shots you don't take. And in the Brexit negotiations, the U.S. has not been taking many shots.
Brexit could mean many different things. There are variations of Brexit that will add more friction to U.K.-EU trade and investment, and variations that will add less. There are variations that minimize potential ill will between the separating parties, and variations likely to maximize ill will. There are variations that do less damage to the future strength and cohesion of the transatlantic alliance, and variations that will do more.
The United States should care. It is the largest investor in the United Kingdom, by far. More trade friction will tend to detract from those investments. Americans hold a considerable share of U.K. public debt. (The U.K. does not break down holdings by nationality, but 25 percent of the total public debt is held overseas.) Those bonds likewise have been devalued by the decline of the pound since the Brexit vote in June 2016. Britain is the fifth-biggest market for U.S. exports. Deterioration of the British economy will impinge on American prosperity too.
These economic concerns are dwarfed by strategic matters. A depressed Britain will field less capable military forces and offer a less helpful partnership to the U.S. around the world. An EU minus Britain is more likely to be protectionist, statist, and neutralist.
You would think the U.S. would be working hard to shape outcomes for the better. You would be wrong.
After a robustly candid discussion in a German-government office three weeks ago, I told the people around the table: "In a way, you should be thankful to President Trump. If literally anybody else were president right now, he or she would be twisting arms to extract a more favorable deal for Britain from the European Union. As is, the British are at your mercy."
To the extent that Trump and his administration have involved themselves, it has been to urge on the most radical possible Brexit. In November 2018, Trump warned that the withdrawal agreement Theresa May had negotiated with the EU two days earlier would quash U.S.-U.K. trade. "Right now if you look at the deal, [the U.K.] may not be able to trade with us. And that wouldn't be a good thing. I don't think they meant that." Parliament rejected May's withdrawal agreement in three dramatic votes in January, February, and March 2019, wrecking May's premiership and forcing her resignation in June.
A widening plurality of the British public now thinks the country was wrong to vote for Brexit. Yet the Trump administration spurs it onward, anyway. Trump and Boris Johnson met in New York in late September 2019, where Trump again repeated promises of a "magnificent" U.S.-U.K. agreement if only the U.K. would irrevocably severe its connection to the European Union.
The sources of Trump's hostility toward the EU are not economic, and they are not strategic. At best, they might reveal how he has osmotically absorbed the ideology of the European far right. At worst, they might again display Trump's subservience to Russian foreign policy. Breaking up the European Union into small, weak states that can be bullied serves Vladimir Putin's interests—and all the more so if Russia can lever the U.S. away from its former friends altogether.
Whatever his motive, Trump has left Britain alone in the room when it most needed a friend—and abdicated the American interest, dating back to 1945, in supporting the development of Europe into a single market for goods, services, and investment; trading freely with the world; strategically bound by NATO to allies in North America. Those commitments secured the nations of Europe against the temptation to cut separate deals with non-U.S. power centers like Russia or China.
Trump has wrecked that record and that achievement by ignorance, by laziness, by malignity, and by the connivance of weak creatures like Gordon Sondland. Trump's entourage saw their path to big-shothood and personal wealth by enabling Trump's corruption and seconding Trump's hostility to America's formerly closest partners. Sondland instead finds himself hiring lawyers. Compared with the damage this administration has done to America's biggest allies and highest interests, its disgraced soon-to-be-alumni are getting off quite lightly.