Trump's Error at the World Series
The president made a rare public appearance before a crowd he hadn't screened—and was loudly booed.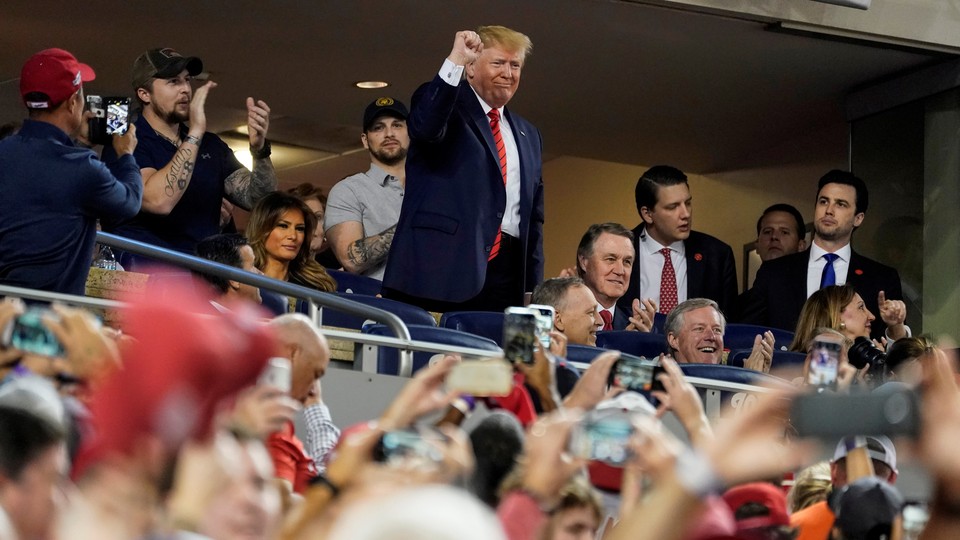 If President Donald Trump is impeached, convicted, and removed from office, or defeated in next year's election, the political backdrop of his downfall is unlikely to be better dramatized than it was last night during Game 5 of the World Series.
Trump was in the stands with his wife, Melania, having announced that very morning that U.S. Special Forces had killed the ISIS leader Abu Bakr al-Baghdadi in a daring raid. It wouldn't have shocked me if that inspired a warm reception from the crowd. Remember when Osama bin Laden's killing was announced? I was in Austin, Texas, where people were whooping and cheering in bars. President Barack Obama could have drawn applause anywhere in the United States that night.
And the crowd at Nationals Park in Washington, D.C., was applauding last night when the big screen in right-center field showed uniformed U.S. military personnel.
But when the image changed to Donald and Melania in the stands, there was a sudden shift. The crowd booed. Loudly. Then fans in some sections of the stadium began to chant "Lock him up," repurposing the rallying cry that Trump supporters have directed at Hillary Clinton since the 2016 presidential campaign.
Trump was not pleased.
The Washington Post reported that the Nationals hadn't invited Trump—he just decided to attend—and that "during the fifth inning, two men held up signs that read 'Veterans for Impeachment' at their seats directly behind home plate."
At some point, an Impeach Trump banner was hung from an upper deck.
As Jeremy Whaley aptly observed, "Things are little different when Trump goes into public and it is not a rally." Indeed, Sunday's boos will almost certainly make Trump even less likely to appear in public, save for official campaign rallies or other settings where he can use ticketing and security to curate the crowd.
#LockHimUp was trending Sunday night on Trump's favorite social-media platform, Twitter, as fans in the stadium posted video of the booing and chants from dozens of angles. And if social media isn't quite real life, insofar as the stories that trend are mediated by algorithms and reflect narrow passions as often as popular beliefs, a chorus of boos during the World Series is very much real life, even granting the political demographics of the precincts that surround that stadium.
Even in "blue" cities, jeering baseball fans are harder for Trump fans to dismiss than critical journalists or college professors or members of Congress or rivals for the presidency—and should this inspire copycats at other sporting events, Trump may live to regret the "Lock her up" chants he encouraged at his own rallies.