The Story Keeps Getting Worse for the White House
A pair of men helping the president's supposed anti-corruption campaign were apprehended as they tried to leave the United States.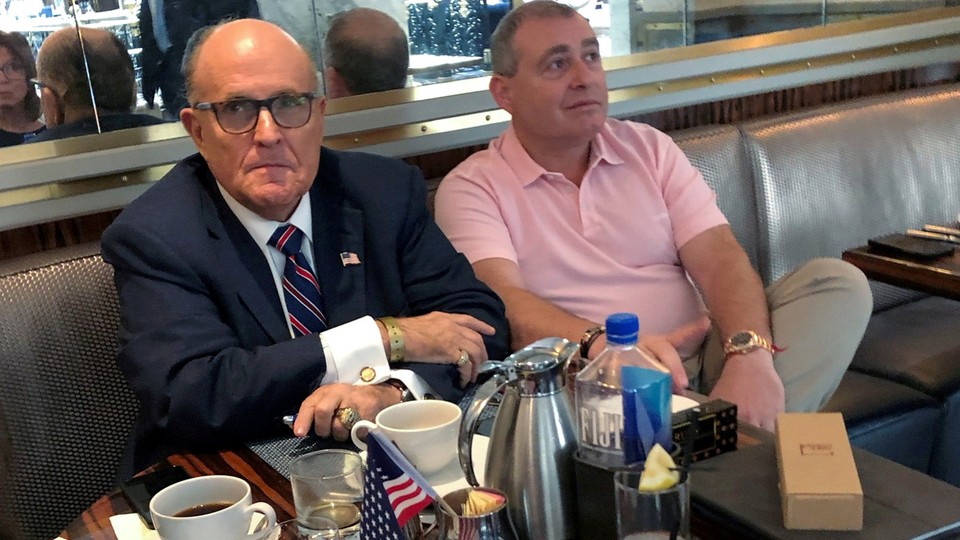 Updated at 3:48 p.m. on October 10, 2019.
If the president's fundamental defense against impeachment is that there's nothing to see here and people should move along, Thursday morning was not a good day for the president.
As The Wall Street Journal first reported, two men who assisted in Rudy Giuliani's investigations in Ukraine on behalf of Donald Trump were arrested Wednesday night. Lev Parnas and Igor Fruman, both Soviet-born, naturalized American citizens, had been asked to testify to Congress today and Friday in connection with the impeachment inquiry into Trump; they were apprehended at Dulles Airport, outside of Washington, D.C., trying to leave the country on one-way tickets. Congress has now issued subpoenas to them as well.
The details of the allegations against Parnas and Fruman are arcane, but the big picture is not: Two men who were helping the president's supposed anti-corruption scheme in Ukraine have now been arrested and charged with federal crimes.
In a letter to House Democrats last week, attorney John Dowd—last seen representing Trump in connection with Special Counsel Robert Mueller's investigation—wrote, "Please be advised that Messrs. Parnas and Fruman assisted Mr. Giuliani in connection with his representation of President Trump." This was apparently intended to shield Parnas and Fruman: Dowd argued that some of what Democrats sought from them was protected by attorney-client privilege. But with the arrests today, that argument adds to Trump's problems. Attorney-client privilege does not cover the commission of crimes, and now the connection to the president has been established.
Parnas and Fruman's schemes are a little hard to follow. Prosecutors charged them, as well as two other men, with conspiracy, false statements to the Federal Election Commission, and falsifying records. An indictment charges that the men engaged in a straw-donor scheme to illegally donate money to a congressman—former Representative Pete Sessions, a Texas Republican—at the behest of a Ukrainian official, to get help in trying to have the U.S. ambassador to Ukraine fired. (Sessions wrote a letter calling for the diplomat's firing, and she was eventually removed.) In another scheme, they funneled money from a Russian foreign national, again in violation of the law, into donations, using a legal recreational-marijuana enterprise as a front.
"Protecting the integrity of elections, and protecting our elections from unlawful foreign influence, are core functions of our campaign-finance laws," Geoffrey Berman, the U.S. attorney for the Southern District of New York, said at a press conference on Thursday.
This is not the first time attention has turned to Parnas and Fruman. The men were already reported to have been assisting Giuliani in his quest to dig up dirt on dealings in Ukraine by former Vice President Joe Biden and his son Hunter Biden. (No evidence of wrongdoing has yet turned up.) BuzzFeed reported on the men's lavish spending during that investigation. Parnas told BuzzFeed he'd met with the president "many times" but wouldn't say what they discussed. The men seem to have been small-time businessmen with little political experience until recently, and how they got involved or what they were seeking is still not clear.
The fact that Trump's corruption-seekers were, themselves, allegedly corrupt begs a comparison to Richard Nixon's crew of Plumbers, who were convened to investigate leaks of classified information but were eventually arrested for crimes of their own. The White House has argued that the Democratic impeachment inquiry is illegitimate because Trump did nothing wrong and there's nothing to investigate, but each new piece of information—much less federal indictments—makes that argument harder to sustain.
Even before the arrests, there was evidence that the public wasn't buying it. A Fox News poll released Wednesday found that an eye-popping 51 percent of Americans want Trump impeached and removed from office. Another 4 percent want him impeached but not removed. The poll shows growing support in practically every group, across ideological and demographic categories. Some are especially worrisome for Trump: Suburban women favor impeachment and removal, 57 to 33. More than half of the respondents think the Trump administration is more corrupt than previous presidencies. Among those who oppose impeachment, only one in five say Trump did nothing wrong.
The Fox News poll has not escaped Trump's agitated notice. It is a mild outlier, showing stronger support than most polls—but not by a lot. Support has grown steadily over the past two weeks; FiveThirtyEight's tracker of impeachment polls shows an average 49.2 percent support as of this writing.
The president likes to point out that some polls underestimated his support in the 2016 election and failed to predict his victory. But these impeachment polls aren't interesting as a predictor of electoral success. Instead, they're a snapshot of public opinion. Trump's firewall against removal from office is Republicans in the Senate. Many of them have never had a great deal of personal affection for Trump, but they fear the power of his supporters to punish them politically. If voters, especially Republicans, turn against Trump, GOP senators will have less reason to stick with him.
Souring public opinion is also a problem for Trump because his entire defense strategy against impeachment is currently premised on public opinion. An eight-page letter sent to House Democrats on Tuesday was signed by White House Counsel Pat Cipollone, but as I wrote, its arguments are almost entirely political rather than legal, attempting to dismiss the impeachment inquiry as illegitimate because it is politically motivated. Meanwhile, White House efforts to turn the focus back to the Bidens have struggled; even Peter Schweizer, a progenitor of the case against Hunter Biden, wrote in a New York Times column Wednesday that what Biden did was legal, though he says it should not be.
There's a hoary legal adage, "If the facts are against you, argue the law. If the law is against you, argue the facts. If the law and the facts are against you, pound the table and yell like hell." Neither fact nor the law is especially helpful to Trump right now, so the White House is pounding the table ferociously. At the moment, though, few people are heeding the racket.