The NCAA Had to Cut Athletes a Better Deal
Universities take advantage of athletes' amateur status, but legislators are forcing college sports to find a fairer business model.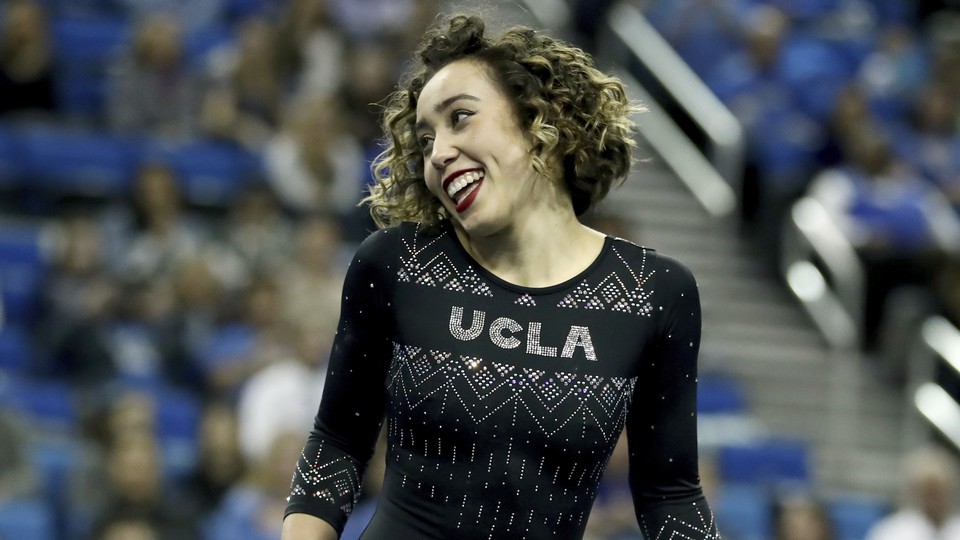 Before anyone gives the NCAA Board of Governors any credit for letting college athletes profit from their name, image, and likeness, people should understand this: If the NCAA is bending slightly to the popular opinion that athletes should be able to cash in, it isn't because the organization suddenly caught a case of common sense.
It's because the NCAA didn't have a choice.
The Board of Governors of the NCAA, which oversees college sports, announced yesterday that it had voted unanimously to adjust rules that prohibited players from generating money from their own fame. But the move came only after lawmakers in several states had begun proposing or enacting legislation that gives college athletes the right to profit off their name and likeness. Last month, California Governor Gavin Newsom signed the Fair Pay to Play Act, giving college athletes the ability to earn income from endorsements and sponsorships starting in 2023. More than a dozen states reportedly are considering legislation similar to California's.
"We must embrace change to provide the best possible experience for college athletes," said Michael Drake, the chairman of the Board of Governors and president of the Ohio State University, in a statement. "Additional flexibility in this area can and must continue to support college sports as a part of higher education. This modernization for the future is a natural extension of the numerous steps NCAA members have taken in recent years to improve support for student-athletes, including full cost of attendance and guaranteed scholarships."
While the NCAA's acquiescence is understandably being characterized as a landmark victory for college athletes, the organization was notably vague about how it plans to implement these changes. The NCAA said the updated policies would be "in a manner consistent with the collegiate model." But the NCAA's idea of "collegiate model" is fundamentally rooted in the fallacy that college athletes are amateurs, even if schools and coaches are being paid handsomely for these athletes' hard work. So who knows whether yesterday's vote is truly a turning point for the NCAA—or just an attempt to head off more far-reaching reforms.
But for now, the NCAA should thank government officials for applying the necessary pressure to force college sports in a new direction. That more athletes would get tired of being exploited by the NCAA and its member schools was only a matter of time; if the organization doesn't change its ways, a true collegiate pay-for-play system could emerge—and not under the NCAA's control. Lawmakers in California and elsewhere created a perfect opportunity for the NCAA to abandon its outdated beliefs and embrace a progressive system that will ensure its survival.
This week's change in rules prompted speculation that if college athletes profit off their image and name, the gap between the haves and the have-nots will only widen. Athletes in big-time revenue sports such as college football and basketball are likely to have the most opportunities.
Yet while the new rules won't promote equity among all sports, they will offer more fairness to many individual players. The policy change will at least allow the most prominent college athletes to receive something close to their fair market value. Of course, the rules change will largely benefit star players such as the Oklahoma quarterback Jalen Hurts and the Alabama quarterback Tua Tagovailoa. And, yes, the bigger and more successful programs likely will create more marketing opportunities than smaller programs.
Then again, there has never been balance or equity across college sports. The athletic budget at the University of Texas is bigger than at Western Michigan. Star players have higher jersey sales and sign more autographs than do those who aren't as good or popular. Top football prospects tend to go to schools that offer maximum exposure and a direct path to professional sports.
Despite the imbalances that naturally exist in college sports, though, the new rules should put the NCAA in a better position to create more financial opportunities for players—especially those whose athletic careers end at the college level. The policy change could prove particularly beneficial to female athletes, who usually don't have the same professional opportunities as men and often reach the height of their popularity in college. As the former UCLA gymnast Katelyn Ohashi pointed out recently in The New York Times, she missed out on a lot of money because she was unable to capitalize on her viral fame.
"The NCAA is a billion-dollar industry built on the backs of college athletes," Ohashi argued. "How different would things be for me had I been able to use my image and name my last year of school in order to promote the things I want to further my future? I want to make sure the next person doesn't have to wonder."
Let's hope at least the NCAA has figured out there is no upside in continuing to battle on the wrong side of history. Creating a partnership with college athletes is much better than losing them altogether.