The NBA Is Going to Have to Choose
Pro basketball was a progressive beacon, allowing players and coaches to speak their mind freely. And then China got involved.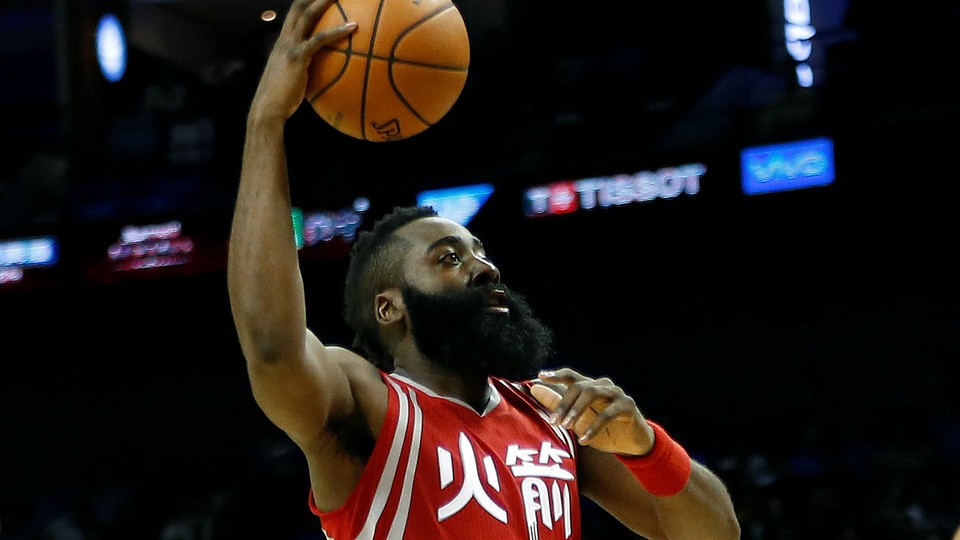 Updated at 9:40 a.m. on October 9, 2019
The NBA reveled in the praise it got for being the pro sports league that welcomes its players' and employees' opinions on political and social issues. But the league's respect for open expression—which supposedly distinguished it from the NFL—suddenly has its limits.
A posting on Twitter Friday by the Houston Rockets general manager Daryl Morey showing support for the Hong Kong protesters has fractured the relationship between the National Basketball Association and its business partners in China, a country with deep pockets and an insatiable thirst for the sport. The tweet featured an image bearing the caption "Fight for Freedom. Stand with Hong Kong." It wasn't up for long, but it was enough to jeopardize the NBA's growing ties with the Chinese Basketball Association and Chinese corporations.
Now the NBA is trying desperately to mollify China—which will accept no criticism of its embarrassing human-rights record—while also paying lip service to Morey's right to express himself. This strategy is working quite miserably.
A few years ago, when the National Football League struggled to deal with the quarterback Colin Kaepernick and other players who protested police brutality by taking a knee during the national anthem, the NBA often was held up as a counterexample. The Dallas Mavericks owner Mark Cuban went so far as to brag that, if Kaepernick were an NBA player, his viewpoints would have been welcomed. "I'd like to think we encourage our players to exercise their constitutional rights," Cuban once told The Washington Post. Some of the biggest names in the NBA—from LeBron James to the Golden State Warriors coach Steve Kerr—have been extremely critical of President Donald Trump, and the NBA's response has been to give them the space to say what they believe.
But criticizing China is a different story. As a result of Morey's tweet, the Rockets—who have been highly visible in China ever since they drafted the Chinese basketball legend Yao Ming in 2002 —lost many of their sponsors from China and are banned from being shown in the country. The Chinese Basketball Association, the high-profile league that Yao now leads, is suspending its relationship with the Rockets. Morey has since backpedaled. For the NBA, smoothing things over with Chinese officials means capitulating in a way that compromises the values it regularly espouses—values that have endeared the league to many of its fans in America.
The league put out an abject statement on Sunday that read: "We recognize that the views expressed by Houston Rockets general manager Daryl Morey have deeply offended many of our friends and fans in China, which is regrettable. While Daryl has made it clear that his tweet does not represent the Rockets or the NBA, the values of the league support individuals' educating themselves and sharing their views on matters important to them. We have great respect for the history and culture of China and hope that sports and the NBA can be used as a unifying force to bridge cultural divides and bring people together."
Several notable politicians, including some presidential candidates, took to social media to criticize the NBA for its response. Senator Ted Cruz, a Republican from Texas, tweeted his support for Morey, and the Democratic presidential candidate Elizabeth Warren accused the NBA of choosing "its pocketbook over its principles."
It's not a coincidence that some Republican politicians, such as Senator Marco Rubio of Florida, delight in pouncing on the NBA. While NFL executives lived in fear that Kaepernick's protests would offend conservative white fans and conservative white owners, pro basketball didn't seem to mind taking sides on political issues. Since Trump has been in office, not one NBA team has taken the customary trip to the White House to commemorate winning a league championship.
But Rubio and others are right about this: It's much harder to stand on principle when that principle interferes with business relationships worth billions of dollars. The NBA recently signed a five-year extension, reportedly valued at $1.5 billion, with the China-based digital giant Tencent Holdings, which now won't be including the Rockets as part of its coverage. NBA players have found China to be fertile financial ground. Several NBA stars, including James, Kobe Bryant, Steph Curry, and the Rockets guard James Harden regularly visit China to promote their merchandise and pad their pockets. Players, including the recently retired superstar Dwyane Wade, also have signed lucrative shoe deals with Chinese brands. Likely wanting to protect his own business interests in China, Harden did not stand with his GM. He apologized to Chinese citizens following a team practice in Tokyo, where the Rockets are playing preseason games.
NBA Commissioner Adam Silver issued a detailed statement before today's preseason games in Tokyo in an attempt to further clarify that the league is standing behind Morey's right to free speech. Silver surely realized that the league's initial characterization of Morey's tweet as "regrettable" didn't exactly denote support.
The problem for the NBA is that this isn't just a free-speech issue. This is a test to see whether the NBA has the stomach to fight for certain values when doing so compromises business.
It's true that American businesses often do business with global partners whose values and practices run counter to America's. But the NBA has set a different tone with its business because of its social and political engagement, and by being one of the most globally conscious professional sports leagues.
As Silver noted in today's statement, 25 percent of NBA players were born outside the United States. In fact, one of those players is Turkish-born Enes Kanter, the Celtics center who faces criminal charges in Turkey for publicly criticizing Turkish President Recep Tayyip Erdoğan.* Kanter's father, Mehmet, was sentenced to 15 years in prison for "membership in a terrorist group." Enes, whose passport was canceled by the Turkish government, has said he believes that his father was targeted because of his opposition to the president.
In the NBA, the commissioner dances in a float at New York City's Pride parade. This is the same league that delayed holding the NBA All-Star weekend in Charlotte, North Carolina, for two years, because the state enacted legislation denying transgender people the right to use the bathroom of the gender that they identify with. (The so-called bathroom bill was later repealed.) This is the league that ousted Donald Sterling, the former Los Angeles Clippers owner whose racist comments were caught on a recording. While Sterling's removal certainly could be characterized as a business decision, because players were threatening to boycott unless Sterling was removed, the league still garnered widespread applause for it.
On American soil, the NBA is fearless—which makes the league's defensive crouch now all the more conspicuous.
The Ringer reported that Morey's job is in jeopardy. The NBA and the Rockets would be foolish to let China bully them into such a drastic decision, but the Chinese seem to have no intention of compromising, as Silver hopes. China's state television network announced it won't be broadcasting the NBA's preseason games this week, because Silver still supports Morey's right to free speech. On Monday afternoon, China's Education Bureau abruptly canceled a charitable event involving the NBA and the Brooklyn Nets, ESPN's Rachel Nichols reported. NBA representatives in China wouldn't elaborate on why the event was canceled, but naturally the speculation was that this also was related to Morey's comments.
If the Chinese continue to take a hard-line stance with the NBA, the league must take a more forceful stand against them—maybe to the point where league officials must reassess whether it's even possible to have a healthy business relationship with China without compromising the ideals that have made their brand unique in professional sports. If the NBA buckles to China, that merely shows that the league will fight for its values only if no real sacrifice is involved.
---
*  This article has been updated to reflect Enes Kanter's current team affiliation.