The Scandal Has Spiraled Out of Trump's Control
When the week began, the president faced questions about Ukraine. Now the inquiry has gone global.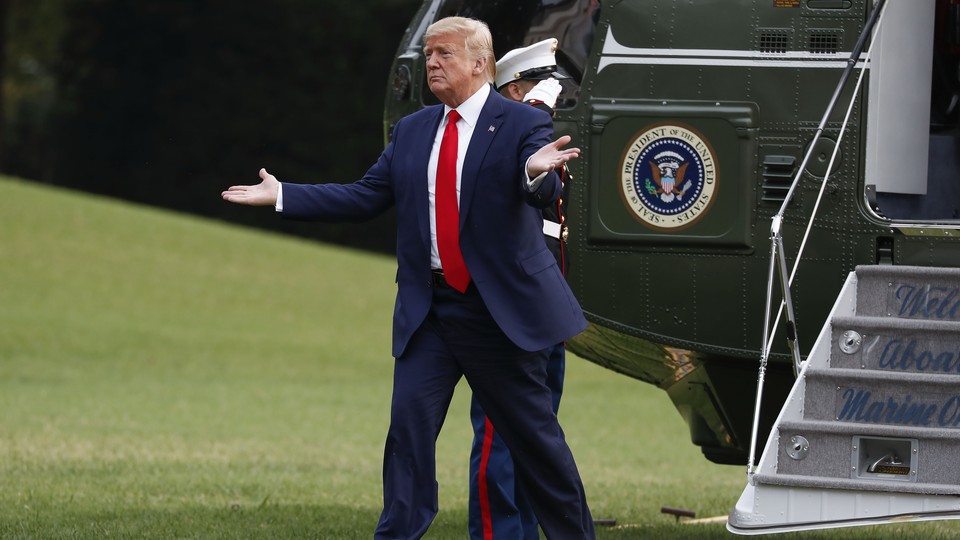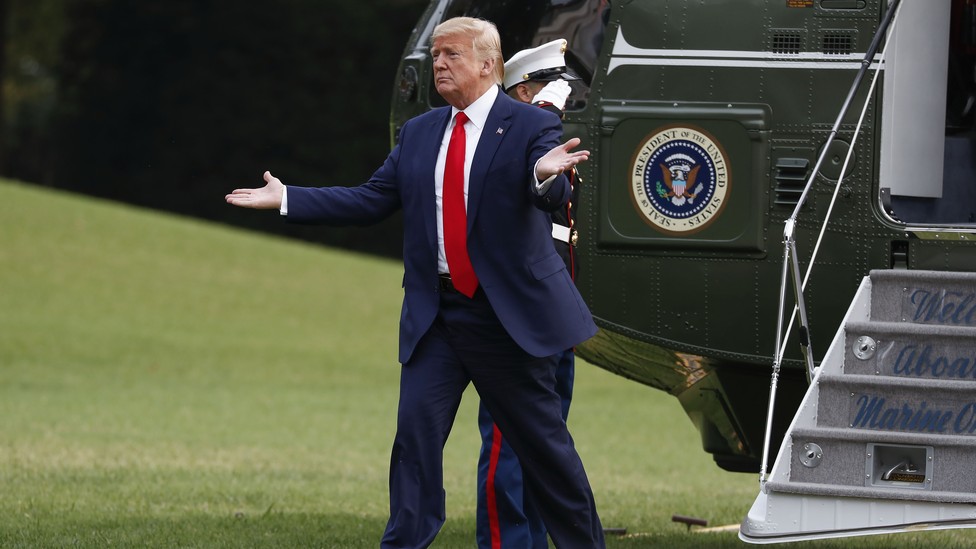 As last week came to a close, Donald Trump was confronting the most serious crisis of his presidency, as Democrats moved forward with impeachment hearings in a serious scandal over his pressuring Ukraine to interfere in the 2020 election.
Seven days later, the scandal is even more serious, but it has metastasized. This is no longer a controversy about a whistle-blower complaint, an American ally in eastern Europe, and the president. It is now an all-encompassing  scandal, involving many of the top officials in the Trump administration pressuring countries around the world, from Australia to Ukraine and China to Great Britain.
What has changed is not the facts, but what the public knows. It's clear now that the president, his vice president, and several of his top, Senate-confirmed aides—as well as his personal lawyer cum private foreign minister, Rudy Giuliani— have spent significant time over the past year trying to pressure foreign governments into producing stories that can aid in Trump's reelection.
Ukraine remains ground zero for the story, if only because there's so much more information about Trump's efforts there than anywhere else. The public has already had a chance to read the partial transcript of a call between Trump and Ukrainian President Volodymyr Zelensky in which Trump pressures his counterpart to investigate the Bidens and also a conspiracy theory about the 2016 election, as well as the whistle-blower complaint. Beyond that, Giuliani conducted many of the early stages of the operation in the open, talking about them to reporters.
Thursday brought new bombshells in the Ukraine case, as Trump's former envoy to Ukraine, Kurt Volker, who was forced to resign last week, gave a deposition to House investigators. Republicans who were present insisted that Volker had not said there was a quid pro quo for dirt on Biden, but you don't have to take their word for it, because the Democratic chairs of three committees released text messages that Volker turned over.
The messages make clear that both American and Ukrainian officials understood that there was a quid pro quo: If Zelensky wanted to get a White House visit and military aid, he had to manufacture an investigation into the Bidens. In one message, Volker wrote that "assuming President Z convinces Trump he will investigate/'get to the bottom of what happened' in 2016, we will nail down date for visit to Washington." Trump's ambassador to the European Union, Gordon Sondland wrote, "i think potus really wants the deliverable."
In another exchange, Bill Taylor—a career Foreign Service officer and the top U.S. diplomat in Ukraine after the ambassador was fired, reportedly at Giuliani's behest—wrote, "Are we now saying that security assistance and WH meeting are conditioned on investigations?" Sondland, evidently worried about creating a paper trail, instructed Taylor to call him.
A few days later, Taylor said, "I think it's crazy to withhold security assistance for help with a political campaign." After taking five hours to reply, Sondland again tried to clean up matters and prevent any written record. "Bill, I believe you are incorrect about President Trump's intentions. The President has been crystal clear no quid pro quo's of any kind," he wrote, adding, "I suggest we stop the back and forth by text." Sondland also recommended that Taylor contact the secretary of state if he had other questions, making Mike Pompeo's involvement in the scheme clear.
But the stain of scandal is spreading, as a steady drip of evidence shows that Trump has sought to gather dirt on Biden from friends and adversaries alike, across the globe.
Thursday morning on the White House's South Lawn, Trump told reporters that China should mount a probe: "They should investigate the Bidens, because how does a company that's newly formed—and all these companies—and by the way, likewise, China should start an investigation into the Bidens because what happened in China is just about as bad as what happened with Ukraine." There is no evidence to back up his charges. The moment was breathtaking, because Trump, under threat of impeachment for asking a foreign country to interfere in the 2020 election, opted to ask a foreign country to interfere in the 2020 election, with cameras rolling.
Once again, there's a quid pro quo on the table. China and the U.S. are fighting a trade war and are engaged in tense negotiations about trade policy, giving Beijing every reason to mount a probe to curry favor with Trump. As it turns out, this wasn't Trump's first request to China to investigate the Bidens. CNN revealed Friday night that in a June call with President Xi Jinping, Trump had brought up Biden. Trump also promised Xi not to bring up pro-democracy protests in Hong Kong during trade negotiations, which explains Trump's bizarre silence on the demonstrations but spotlights his conciliatory negotiating approach and his lack of commitment to democratic principles.
Meanwhile, the scandal's reach continues to expand around the globe—and across the Cabinet. Trump pressured the prime minister of Australia to investigate the origins of Special Counsel Robert Mueller's investigation into Russian interference in the 2016 election, according to The New York Times. Trump also pressured British Prime Minister Boris Johnson (who also needs American support, and a bilateral trade agreement, as he pursues Brexit) for help discrediting the investigation, according The Times of London. Administration officials have also made mysterious trips to Italy to—well, it's not entirely clear what's going on there. (The Washington Post reported that back in 2017, Trump told Russian officials he didn't care about Moscow meddling in American elections.)
As the scale of Trump's effort to solicit interference has become clear, so too has it become evident just how widely these efforts have spread throughout the federal government. Pompeo was on the July 25 call with Zelensky that spurred the whistle-blower complaint, and Volker's texts show that he was deeply involved in other discussions about pressuring Ukraine as well. The texts between Volker, Sondland, and Taylor show that lower-level diplomats have also been dragged into the effort, with varying degrees of acquiescence. (In the messages, Taylor seems furious about Trump's scheme, Sondland seems eager to help, and Volker seems resigned to it.)
Attorney General William Barr is involved in several ways as well. On the phone call with Zelensky, Trump said he would have Barr call Zelensky. (The Justice Department says that never happened.) Barr oversees the Office of Legal Counsel, which offered a justification for the unprecedented withholding of the whistle-blower complaint from Congress. Barr also counseled Trump to release the Zelensky transcript. Trump asked Australia's prime minister to assist Barr in a probe into the Mueller investigation's origins, and Barr traveled to Italy last week for a mysterious meeting with Italian intelligence officials.
Vice President Mike Pence has also been quietly immersed in the Ukraine matter. Trump ordered him to cancel a trip to Zelensky's inauguration, apparently to send a message. Pence later relayed word to Zelensky that American military aid was being withheld until Ukraine did more about corruption—a message that, given the Volker texts, Zelensky would likely have understood meant investigating Trump's conspiracy theories. (Aides to Pence told The Washington Post that even as he played these roles, the vice president was unaware of the broader scheme.)
Even the secretary of energy has been implicated. When Pence canceled his trip to Zelensky's inauguration, Rick Perry went instead. Politico revealed Thursday evening that Perry will resign in November, though aides said Ukraine was not a factor.
Taken together, these revelations show how Trump has marshaled large chunks of the executive branch of the federal government in service of his political whims and future. This is simple fact. The only remaining debate is whether this is proper. Two centuries of history and precedent say it is not. Thus far, Republican officials are mostly silent, or contend that it is.
Tellingly, Trump's message has shifted as the scale of the scandal has grown. Early on, the president insisted that his call with Zelensky was "perfect" and that there was no pressure. But Thursday, he offered a different claim, saying that what he was doing was an appropriate use of his power.
"As the President of the United States, I have an absolute right, perhaps even a duty, to investigate, or have investigated, CORRUPTION, and that would include asking, or suggesting, other Countries to help us out!" Trump tweeted.
Yet despite a months-long effort to shake damaging information out of countries around the globe, Trump hasn't managed to produce a single concrete criminal allegation against Hunter Biden, Joe Biden, or anyone else, much less enough evidence to charge anyone.
"This isn't about a Campaign, this is about Corruption on a massive scale!" Trump added. When he's right, he's right.