The Experts Strike Back
Donald Trump has spent his presidency belittling and attacking career foreign-policy professionals. Now that he's asking for their loyalty, they don't seem to feel any.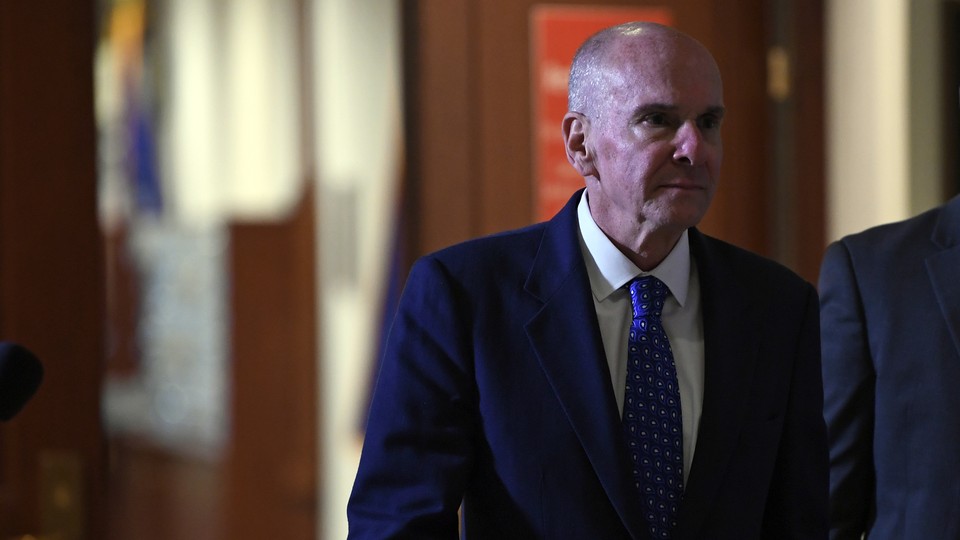 Donald Trump came into the office without much experience in diplomacy—literal or figurative—but it doesn't take a career Foreign Service officer to realize that if you spend enough time saying someone is your enemy, that person might begin to feel the same way about you.
From the start of his administration, the president demonized government employees, especially in foreign policy and intelligence. He attacked career officers as part of the "deep state," discarded their advice, and appointed Cabinet secretaries who alienated them. Now, as an impeachment inquiry rolls forward, Trump is harvesting wind from the ice he sowed. The White House's attempt at full obstruction of the inquiry has cracked because unlike Trump's loyalists, career officials and experts have been willing to defy invocations of executive privilege and testify to Congress.
Perhaps no case better exemplifies the way that neglecting and vilifying public servants has backfired than that of Michael McKinley. A career Foreign Service officer, McKinley had served as an ambassador to four countries under Presidents Trump, Barack Obama, and George W. Bush. In 2018, Secretary of State Mike Pompeo plucked McKinley from Brasilia, where he was leading the U.S. embassy, to become a senior adviser, especially charged with serving as a conduit between Pompeo and career officers.
Last week, however, McKinley resigned in protest of the department's failure to stand up for Marie Yovanovitch, the former ambassador to Ukraine. Yovanovitch was apparently sacked after pressure from Rudy Giuliani, who spread unsubstantiated claims that she was disloyal to Trump. Yesterday, McKinley testified to House impeachment investigators, complaining about the politicization of the State Department, including the sidelining of career staff.
Yovanovitch herself also testified last week, delivering a scorching appraisal of the Trump administration's actions in Ukraine and its approach to foreign policy more broadly. She, too, was intimately involved in some of the central events, though she had been recalled by the time of Trump's July 25 call with President Volodymyr Zelensky of Ukraine. (Though removed from her post, she remains a State Department employee; the White House tried to block her testimony, but she honored the House subpoena.)
This week also saw testimony from Fiona Hill, who served as the top Russia expert on the National Security Council until August. Hill reportedly told House members about discussions involving Ukraine, and about how alarmed White House staff were about the way the Trump administration was handling Ukraine—especially with Giuliani appearing to run a shadow foreign policy there. "I am not part of whatever drug deal [Gordon] Sondland and [Mick] Mulvaney are cooking up," then–National Security Adviser John Bolton told Hill, referring to the U.S. ambassador to the European Union and the acting White House chief of staff, according to The New York Times.
On Tuesday, George Kent, a top State official handling Ukraine, told House members that he was cut out of policy discussion on that country after Mulvaney intervened. Tomorrow, a Defense Department official will talk. And the flood of testimony began when Kurt Volker, a career diplomat who was working as an envoy to Ukraine until he was forced out earlier this month, testified and handed over a damning series of messages between himself, Sondland, and William Taylor, who became the top U.S. diplomat in Ukraine after Yovanovitch's recall. He, too, has been called to testify.
Kent's story seems emblematic: Despite his expertise on the subject and his long record of service, he alleges he was sidelined by the White House chief of staff, a political appointee and former congressman, in favor of people like Giuliani, the president's personal lawyer; Sondland, a wealthy hotelier and political ambassador; and Energy Secretary Rick Perry, a Republican politician.
Throughout his administration, Trump has routinely discarded the advice of experts. Of course, the president has the prerogative to make his own decisions. But Trump has not only opted to disregard their advice; he has decided he doesn't need to hear it at all, making policy moves based on little information—a tendency recently demonstrated by his precipitous withdrawal from Syria.
Trump has also hired bosses who make life at places like the State Department miserable. His first secretary, Rex Tillerson, was regarded as levelheaded on policy and not especially political, though those tendencies eventually got him fired by Trump. But Tillerson embarked on a quixotic overhaul of the department's workforce that alienated many employees, and a steady stream of high-ranking career officials left. Pompeo, though more political, seemed concerned with improving morale, but his decision not to back Yovanovitch erased that work. (Adding insult to injury, she testified that Pompeo sent a deputy to talk to her rather than doing it himself.) The president, meanwhile, has routinely attacked government employees as being part of a deep state.
Disregarding experts is a bad way to make policy for many reasons, but as these cases demonstrate, it's bad politics, too. My colleague Mike Giglio recently noted that after Trump spent years demonizing the intelligence services, it was an intelligence official, following legal channels to a T, who filed the whistle-blower complaint that sparked impeachment. And long-demonized officials in foreign policy are now fueling the fire.
Trump and his minions will likely try to portray this testimony as evidence that he was right about the deep state all along. As I have previously written, the term is misleading and dangerous. It also doesn't fit here. Each of these people is testifying to Congress, an equal branch of government, under official procedures. Most if not all of them are testifying under subpoena, a legally binding summons. The White House's legal rationale for withholding testimony and documents under executive privilege is flimsy at best. An impeachment inquiry is not invalid simply because Trump doesn't like it or feels that Democrats are mean, no matter how insistently he says otherwise. And the revelations they are providing are disturbing, generally consistent, and backed up by documents, including those released by the White House itself.
The testimony from career officers points to how far Trump has politicized government. This crisis revolves around his requests to a foreign government, Ukraine, to interfere in American elections by investigating his political rival Joe Biden. It's not unusual for career government employees to disagree with administration policy, but usually they don't speak out publicly, because doing so would undermine the mission and work of their institutions. (Retired Marine General and former Defense Secretary James Mattis's silence since resigning in 2018 illustrates this approach.) But these officers have concluded that worse damage is being done to the government already. In other words, officials typically stay quiet about their political masters because of their own loyalty to the State Department. Now their loyalty to the State Department is driving them to speak out about their political masters.
Trump is famous for demanding loyalty from his subordinates, while showing little of his own toward them. With the president disregarding their work, the government's foreign-policy professionals have had ample time to assess the hostile actor in the White House. They were ready for this moment.