The Best Athlete Americans Have Never Heard Of
American pro athletes face pressure to stick to sports. Australia's David Pocock has a different idea.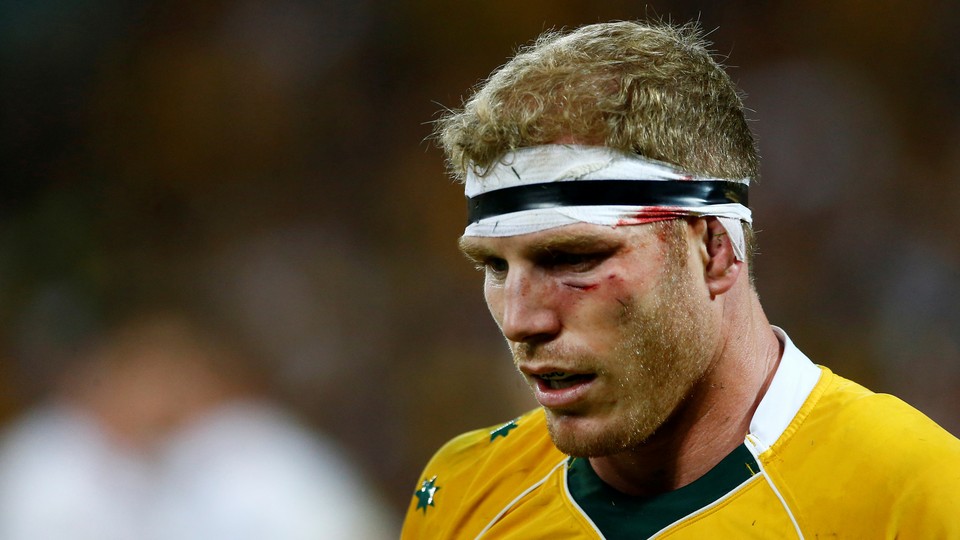 If Australia exits the Rugby World Cup this coming week in Japan, Americans will lose their last chance to watch one of the best athletes they've likely never heard of.
David Pocock, although born in Zimbabwe, has been a mainstay of the Australian rugby team for a decade. At his destructive best, he has been among the world's top players, tormenting opponents with his uncanny ability to disrupt their attack. At 31, he has announced his retirement from the Australian national team at the conclusion of the World Cup.
But the mark that Pocock has left off the field may end up being better remembered than anything he has done on it. Pocock is among the more eclectic and politically engaged athletes his adopted country has ever produced. In 2014, he chained himself to mining equipment in rural New South Wales to protest the expansion of a coal mine. He and his longtime partner, Emma Palandri, famously refused to get married until gay couples were allowed to do the same—prompting some good-natured teasing when same-sex marriage was finally made legal in 2017. (The couple wed late last year.) He has been active supporting anti-poaching initiatives, sustainable farming, and poverty reduction back in Zimbabwe—which his family left in 2002 amid a wave of violence against white farmers. Pocock even paints his cleats all black to obscure any logos. Because he can't be sure of the labor conditions that produced the shoes, he explained when I interviewed him two years ago, he doesn't want to be seen as endorsing the manufacturer.
We spend a lot of time, in America, telling athletes to shut their mouths about politics. Colin Kaepernick sacrificed his career in the National Football League to protest police brutality, and the sitting president rallied his own political base by ostracizing the former San Francisco 49ers quarterback. The pressure to avoid controversy is intense. Chinese business partners are deserting the National Basketball Association after the Houston Rockets' general manager expressed support, in a now-deleted tweet, for demonstrators in Hong Kong.
In this light, Pocock's political and ethical commitments are almost startling in their breadth and their enthusiasm. He argues that, even in a hyper-politicized time, we might not be talking about politics—especially the politics of race—nearly enough. "I think you guys might need some sort of Truth and Reconciliation Commission," Pocock told me, only half in jest. I didn't disagree.
I met David and Emma in 2017, while he was taking a break from rugby to pursue a leadership course at Harvard Business School. I grew up as the son of a sports journalist, and I remember my father talking to athletes and coaches in sterile interview rooms accompanied by minders. I reached out to David through an intermediary, expecting the same treatment, and was surprised when Emma texted me and invited me for dinner in their rented apartment in Cambridge, Massachusetts. Earlier that afternoon, David had led a training session for Harvard's undergraduate rugby team.
I have played rugby on amateur teams for most of my adult life, reluctantly "retiring" when the second of my three children was born and I could no longer justify all the weekends spent away from my growing family. But I was interested less in Pocock's life in rugby than in his views about everything else. What had prompted one of the world's best athletes to also develop into one of the most intellectually curious and socially engaged?
At the beginning of dinner, I lazily mentioned that it's not too common to see professional athletes as engaged politically as David. He gently corrected me, suggesting I read Dave Zirin's A People's History of Sports in the United States, which he said had made a big impression on him. Emma said she first saw David at a gathering in support of the large youth homeless population in Perth, the city in Western Australia where David began his professional rugby career. Emma, a recent university graduate with a degree in women's studies, asked David what he did for a living. "I play a bit of rugby," he replied. She responded that she wasn't aware anyone could do that for an actual living.
David had, in fact, skipped university to begin his professional career. As a young man, he was such a physical specimen that his first professional coach, John Mitchell (who later coached the U.S. national team), threw him on as a mere teenager for his professional debut against one of the top South African sides. By the time he met Emma, he had already played his first game for Australia's national team, replacing one of the finest players to ever play the game, George Smith, in a game against the rival All Blacks of New Zealand.
Between games, though, Pocock was putting himself through his own university of sorts. Having grown up in a conservative Christian environment, he continued to read a lot of theology. Like many young Christians, Pocock remembers reading a lot of Dietrich Bonhoeffer, the German martyr whose life and works are equally embraced by conservative American evangelicals and more theologically liberal Christians.
David had grown up in a loving family—one that, having started life together on a farm in Zimbabwe, had stayed close since arriving in Brisbane, on Australia's eastern coast. A continent away from that family in Perth, David was exploring the writings of Christians unlike any he had met—and who applied their faith in ways he had not imagined. "These were these people who presented another side to the Jesus story," he said. "They brought it to life. It wasn't, like, this stagnant thing for them, some story about how you go to heaven one day. It was about the way we live our lives here on Earth."
David explored the theological writings of Christians who were more political, and more emphatically left-leaning, than those he had read previously. During those initial years in Perth, he remembers reading Óscar Romero, Walter Wink, and John Howard Yoder, among others. Emma, meanwhile, remembers him going through "a big Ched Myers phase." Myers's writing and teaching have focused on racial reconciliation, indigenous rights, and environmental justice—themes for which David later developed a passion.
Emma provided her own curriculum, of course. "I had never met or spoken to someone who would consider themselves a feminist," David remembered. "Feminism was something that, to me, was like, a woman's issue concerning some stuff that happened long ago that women got upset about."
Emma, on the other side of the room, buried her head in her hands at the memory. But she recommended some other books for David to read. And to her surprise, he read those books as well. "We have the biggest problem with books," she told me. "He keeps ordering them, and they never stop arriving on our doorstep."
Today, David is one of the older players on an experienced Australian team. He still remembers the day he walked into the dressing room before his first game and saw all the men—Smith, Stirling Mortlock, Nathan Sharpe—he had grown up idolizing as a teenage African misfit in Brisbane. A new member of the team today would more likely be in awe of sharing the same dressing room as David Pocock.
The game has changed in other ways, too. Pocock is not even the most politically engaged Australian rugby player. This year's team has dealt with the fallout from the exclusion of Israel Folau, arguably its most dynamic player. An evangelical Christian, Folau was reprimanded for a series of homophobic comments and social-media posts. Unrepentant, he was dismissed from the squad and is not taking part in the World Cup. His future as a professional athlete is uncertain.
The speed with which norms have changed is stunning. Only a few years ago, Pocock himself was heavily criticized by the often conservative Australian sports-media commentariat for stopping a game to protest the homophobic taunts of an opposing player. Then again, the stand Pocock took helps explain why his sport's culture has shifted.
David Pocock's legacy will include some unresolved questions for rugby, and for the sports world in general, to ponder. Among them: Which political—to say nothing of theological—opinions are athletes allowed to have? What do we do with a baseball player in a MAGA hat, or an evangelical or Muslim football player whose conservative social views clash with LGBTQ rights? How much consistency must we demand? If the Golden State Warriors coach Steve Kerr, for example, offers support for Black Lives Matter, does he also have an obligation to say that Uyghur lives matter, too?
None of these questions is easy. Having watched the Folau controversy unfold prior to the World Cup, I found it jarring to see the tournament begin with Nigel Owens—an openly gay referee who has movingly spoken of the struggles with his sexual identity that took him to the brink of suicide—clad in a jersey with the emblem of Emirates Airlines, the tournament's sponsor. (Emirates is the flag carrier of Dubai, where homosexuality is still a criminal offense.)
Even in Pocock's final weeks with the Australian team, he's as politically engaged as ever. He is currently enlisting his teammates to offset their carbon footprint at the World Cup by investing in a solar farm. Personally, I will be sad not to be able to watch Pocock's play. But I am excited to see how he uses his fame in the coming years, and I wonder whether he might have some lessons to teach Americans beyond the rugby field.