It's Happening in Plain Sight
Just like in 2016, the president's most egregious misconduct is unfolding in the open.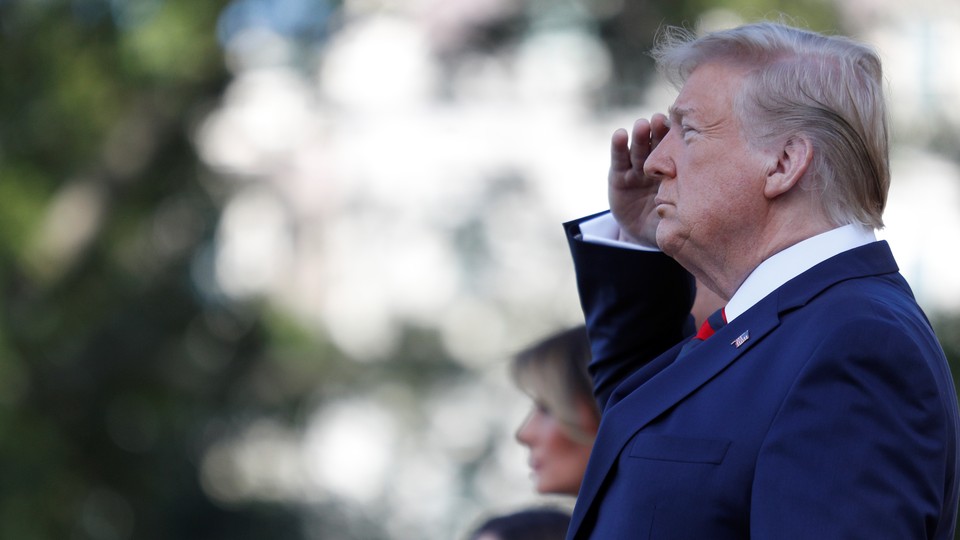 Washington is a place where incredible amounts of time and effort are spent to prove what's already obvious.
This week's drama over a whistle-blower complaint about President Donald Trump is only the latest example. The House Intelligence Committee is embroiled in a fight with the acting director of national intelligence, and by extension the White House, over the complaint. While the complaint and the person who made it, reportedly a U.S. intelligence official, remain secret, the outlines are gradually becoming clear. The official reportedly concluded that Trump had made an inappropriate "promise" to a foreign leader in a matter that reportedly involves Ukraine.
Speculation centers on a decision about whether to release U.S. aid to Ukraine, in conjunction with a Trump-related push to dig up damaging dirt about former Vice President Joe Biden's son's business interests in the country. Biden, of course, is the leading Democratic candidate to run against Trump in 2020. At the rate at which details about the complaint are leaking, we should have a pretty good idea within a week of the specifics, despite the administration's best efforts at stonewalling.
It's hardly necessary to wait, though. Trump and his lawyer cum cartoon henchman Rudy Giuliani have hardly made a secret of their attempt to enlist the Ukrainian government as an electoral tool. In a bizarre interview with CNN's Chris Cuomo last night, Giuliani denied asking the Ukrainian government to look into Hunter Biden's work there. Moments later, he reversed course.
"So you did ask Ukraine to look into Joe Biden," Cuomo said.
"Of course I did," Giuliani replied.
"You just said you didn't!" said Cuomo, incredulous.
It was Giuliani's initial denial that was most incredible. The former New York mayor has hardly made any secret of his quest. The Washington Post reported in May, "Trump lawyer Rudolph W. Giuliani had a lengthy meeting last week with a former Ukrainian diplomat as part of aggressive efforts aimed at gathering information to undermine Democrats in the United States." Giuliani did not deny the report.
In August, The New York Times reported on further meetings in Madrid: "Mr. Giuliani said he was acting on his own as a private citizen, with the knowledge and assistance of the State Department. He would not say whether Mr. Trump approved—or is aware of—the effort." According to State, the department put Giuliani in touch with an aide to Ukrainian President Volodymyr Zelensky at the aide's request.
It's hard to believe that Trump didn't know his personal lawyer was traveling to Spain to gather dirt on his leading Democratic rival, though even if he didn't explicitly know, it hardly matters. As Jeffrey Goldberg has written, and as Special Counsel Robert Mueller's report reinforced, Trump operates in the manner of a Mafia boss, knowing what he can leave implicit for aides to do.
Beyond that, the Zelensky administration would have reasonably concluded that Giuliani was acting at Trump's behest as well as on his behalf. Zelensky would also have known the precarious position he is in, with Russia menacing his country; and he would have known about Trump's many positive statements about Russian President Vladimir Putin, including shrugging his shoulders at the annexation of Crimea. Beyond that, Ukraine was directly trying to obtain $250 million in aid from the United States—which Trump could approve or stop.
At a press conference earlier this month, after Vice President Mike Pence met with Zelensky, a reporter asked Pence, "Did you discuss Joe Biden at all during that meeting yesterday with the Ukrainian president? And No. 2, can you assure Ukraine that the holdup of that money has absolutely nothing to do with efforts, including by Rudy Giuliani, to try to dig up dirt on the Biden family?" Pence flatly denied discussing Biden. But he never answered the second question. A few days later, the Trump administration released the money to Ukraine, and Zelensky thanked Trump.
Today the Daily Beast quoted an aide to the Ukrainian interior minister saying that the country would investigate Biden if asked by the United States.
"Clearly, Trump is now looking for kompromat to discredit his opponent Biden, to take revenge for his friend Paul Manafort, who is serving seven years in prison," Anton Geraschenko said. "We do not investigate Biden in Ukraine, since we have not received a single official request to do so."
In short: Ukraine doesn't see anything to investigate, is willing to do so under pressure by the Trump administration, and sees very clearly what Trump's motives would be. Or, even shorter: Trump is asking a foreign government to help him win an election.
That's a film we've seen before. Mueller reported:
The investigation established multiple links between Trump Campaign officials and individuals tied to the Russian government. Those links included Russian offers of assistance to the Campaign. In some instances, the Campaign was receptive to the offer, while in other instances the Campaign officials shied away. Ultimately, the investigation did not establish that the Campaign coordinated or conspired with the Russian government in its election-interference activities.
As I have written, this was not for lack of trying. Trump publicly courted Russia during the 2016 race, fawning over Putin. In July 2016, speaking about his opponent Hillary Clinton's messages, he said, "I will tell you this: Russia, if you're listening, I hope you're able to find the 30,000 emails that are missing." (As it happened, Russian agents attempted to infiltrate Clinton's accounts hours later.) Trump's son, son-in-law, and campaign manager all met with a Russian who promised "dirt" on Clinton, though they apparently never received any.
Trump's clever move in all of this, as well as in his attempts to kill the investigation into Russia, was conducting his most devious behavior out in the open. He and his aides contended that he couldn't have obstructed justice, because his acts were public. (Ultimately, Mueller did not charge Trump with obstruction, citing guidance from the Justice Department that would have prevented an indictment, but he laid out several instances in which Trump met the three-part criteria for obstruction.)
Now Trump is at it again. He has said—once again, in public statements—that he'd welcome foreign aid to assist his chances. He has also demonstrated that he views his own personal and political interests as inextricable from the government, making it only natural that he would attempt to marshal the power of the federal government to assist his own political fortunes, just as he has with his personal fortunes. It is an egregious violation of propriety to use government aid to Ukraine as a bargaining chip to get political assistance; just the same, it's what everything about the Trump administration so far would lead the public to expect.
The president's tactical error in the present case seems to have been in trying to move this behind closed doors, after months of pressing Ukraine for help publicly through Giuliani's ham-fisted efforts. Based on the reporting about the whistle-blower complaint, it seems that Trump got himself into this latest jam by making a "promise" in private, even as he laid the groundwork for it more or less in the open.
Today Trump railed against the complaint, calling it "just another political hack job." That's the usual bluster. What he said next is more revealing: "It doesn't matter what I discussed, but I'll tell you this: Somebody ought to look into Joe Biden's statement." He can't, and won't, stop.