Obama Told Me the Good News, Then Saw My Face Fall
The former UN ambassador recalls the moment President Obama asked her to take the job.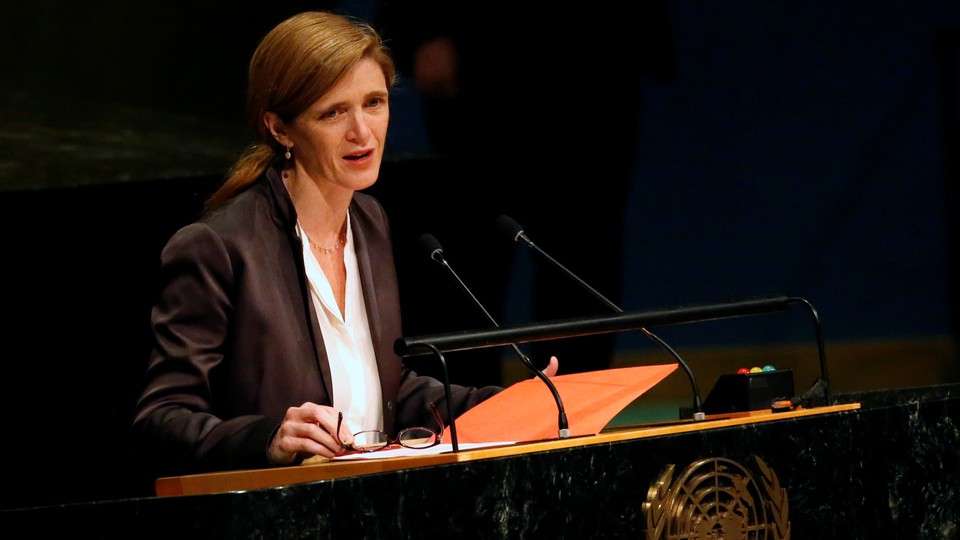 Flying back to the United States from Asia on Air Force One in late November 2012, President Barack Obama was in high spirits. He had recently been reelected, and had just concluded a widely celebrated visit to Myanmar (also known as Burma)—the first ever  by a sitting U.S. president. The trip had almost fallen apart at the last minute, when it became clear that the military government was balking at reforms that were supposed to have been in place by the time Obama arrived. A few days before he departed Washington for Asia, the president dispatched me to Myanmar with instructions to lock down our desired terms before he landed, and over three bruising days of negotiations, I did so. The final agreement included a large release of political prisoners, a commitment to allow access for humanitarian workers to war-torn ethnic areas, and permission for critics of the Burmese dictatorship to return from exile or, if living in Myanmar, to travel outside the country.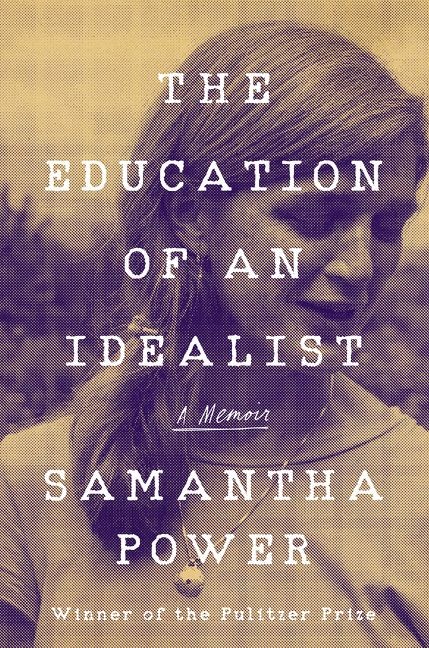 During the 20-hour journey back to Washington, Obama summoned me to his personal cabin on Air Force One and asked me what job I hoped for in his second term. My husband, Cass Sunstein, had just left the White House after three and a half years as the administrator of the Office of Information and Regulatory Affairs. He was now commuting between our home in Washington and a small rental apartment near Harvard Law School, where he had resumed teaching. I did not want to leave government, but after serving as Obama's multilateral-affairs and human-rights adviser on the National Security Council since January 2009, I was ready to try something new.
At the NSC, my portfolio had included advising the president on U.S. relations with the United Nations and other international organizations, and helping secure U.S. action to combat political repression, anti-Semitism, human trafficking, and mass atrocities. I believed that from a different perch I might be able to spur additional steps to tackle some of these issues. Susan Rice, the ambassador to the UN, was in the running to become secretary of state or national security adviser, so I told the president that I would be interested in taking her place if she left the UN.
"What's your second choice?" Obama asked immediately.
I told him I would work wherever he wanted to put me, but I returned to the subject of the UN job. I knew the organization well, I said, and I understood its flaws. In Myanmar and on other issues, I had proved my ability to negotiate important deals. I would be a forceful advocate for American values, and could effectively rally other countries to address threats that mattered to the United States. I had worked for Obama when he was in the Senate and then on his presidential campaign, but those roles had come about more naturally; I had never had to sell myself to him before, and felt awkward doing so. I hated the sound of advocating for my own advancement.
Obama challenged me to justify my preference for the UN position. "I thought you cared about making a difference," he said. I gave him a puzzled look as he continued. "You have a hell of a lot more influence on U.S. policy from where you are now than you would from the UN." Punctuating his point, he pronounced "the UN" in a dismissive tone. For the next 10 minutes, as he asked tough questions, I found myself transported to Obama's law-school classroom, defending my professional qualifications and describing how I would approach the job. When Cass later asked how well I had answered Obama's questions, I gave myself a B–, before adding, "And that's with grade inflation."
Only after I returned to my seat in the main cabin did I think of half a dozen arguments I should have made. My motto—not just from my days as a journalist, but also in life—has always been "Show, don't tell." But given that Obama was arguably the most preoccupied person on the planet, in this case I kicked myself for not connecting the dots.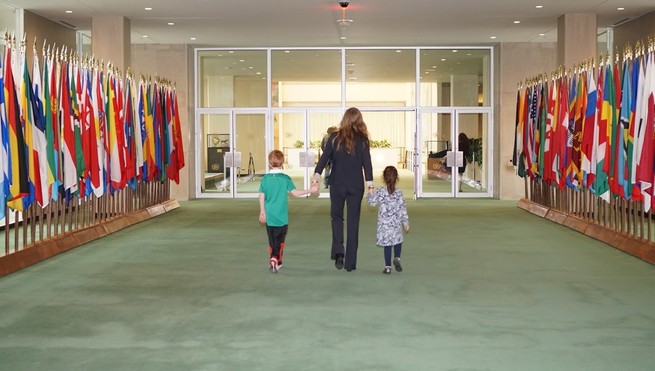 In March 2013—after more than four years working at the White House and nearly eight years in Obama's orbit, I took a short break. Obama and I had not discussed the UN job a second time. Even though Pete Rouse, one of the president's closest advisers, had told me that I was under serious consideration, I couldn't be sure what the president would ultimately decide. Eager to continue serving in government, I had accepted an offer from the new secretary of state, John Kerry, to become undersecretary of state for civilian security, democracy, and human rights. The role came with a large portfolio in which I would oversee human rights, refugees and migration, international justice and law enforcement, and conflict prevention. The position required Senate confirmation, so after I left the NSC, I gathered and submited all of my financial and personal records to a team of White House lawyers who would scrutinize the information to ensure that I had done nothing illegal or unethical. Then, I waited.
At home, I was elated to be able to steal full days with my two children, both of whom had been born during my time working at the White House. Rían was nine months old, and Declan was 3. Like so many working parents, I was all too aware that I would never get to redo the parts of their early months and years that whirred by during 14-hour days on the job. I told myself that I was "binging" in my work life, and that the day would come when I would binge with my family, creating a permanent home for the four of us. Still, every couple of months I had tried to step back to assess whether I was getting enough done in my job to justify all the time away. Even during productive periods, I never felt great about my choices.
In this short spell before I descended again into full-time national-security work, I relished the time with Rían, who was nearly walking, and Declan, whom I taught to swim and brought to his first Washington Nationals baseball games. Then, in late May 2013, the main White House lawyer reviewing my files called to inform me that I had cleared the vetting process. My nomination would be announced imminently.
In a remarkable coincidence of timing, Cass and I had been invited to dine with the president, Michelle Obama, and a few of their friends at the White House residence that very night. In anticipation, I had recruited my stepfather, Edmund Bourke, to make the drive down from New York to babysit. Eddie, as he was known, had become my stepfather when my mother moved my 5-year-old brother and 9-year-old me to Pittsburgh from Dublin, Ireland, in 1979.
A few minutes late, we were escorted up to the Obamas' home and out onto their balcony overlooking the National Mall. Obama was already holding forth, and as we entered, Cass accidentally knocked over a glass. Obama laughed, recalling Cass's notorious messiness when they were colleagues at the University of Chicago Law School.
"Leave it to Cass," the president said, "to break the White House."
After half an hour of small talk on the outdoor portico, we were called to dinner. Just as I walked back into the residence, my phone rang. I had given Eddie explicit instructions for feeding Rían, who was a fussy eater. He was now calling me in a state of panic, unable to find Rían's pumped milk. Instead, he had settled on something white that didn't smell like milk and wasn't flowing through the small hole in Rían's bottle, causing her to complain loudly.
Realizing that he had mistakenly attempted to feed her rice water, I ducked down the hallway to try to calm my frazzled babysitter while the president treated the other guests to a quick stop in Abraham Lincoln's bedroom, showing them the only copy of the Gettysburg Address personally signed by the 16th president.
Explaining the logistics of baby care to Eddie by phone was like trying to explain the complexities of a new tech gadget: What seemed straightforward to me just wasn't obvious to a man in his 70s. He became frustrated, I then grew exasperated, and both of us ended up practically shouting. This had happened many times before, but never in such close proximity to Lincoln's bedroom. As our conversation escalated in its inevitable way, I suddenly heard a voice behind me.
"Let me talk to him."
Obama grabbed my cellphone. "Listen," he instructed Eddie, "this is the president of the United States. You can do this. You just need to stay calm and focus."
Obama proceeded to speak with Eddie for a good three minutes before he handed the phone back to me, saying, "He's got this." When I put the phone to my ear again, Eddie had hung up, undoubtedly to call my mother. A masterful Irish storyteller had been gifted one for the ages. And for once, no embellishment would be necessary.
Obama asked if he could have a word with me in a separate room. I nodded nervously, wondering what was on his mind—or what I could have done wrong. He did not leave much time for suspense.
"Tom is leaving," Obama said matter-of-factly, referring to Tom Donilon, the national security adviser. "I am going to move Susan down here into his job, and I want to move you to the UN."
I swallowed hard, and while I continued to watch the president's mouth move, the sound of his words grew faint, drowned out by the tumult in my brain. When I refocused, Obama was zeroing in on my Senate confirmation. "The lawyers are telling me that you have been vetted back to when you were 23, but this is a Cabinet position, so the vetting needs to go back further. I need you to think really, really hard about whether you did anything between the ages of 18 and 23 that we need to know about—anything at all that could embarrass us," Obama said. "If there is something, I'm sure we can figure out a way to manage it, but whether it is sex, drugs, or taxes, we need to know. I just need you to think."
The joyful moment of being chosen as UN ambassador had lasted a grand total of 10 seconds. Obama saw my face fall.
"What is it?"
"I …  did not have an ideal romantic life in those years," I offered. "I dated a lot of the wrong guys." I was already overthinking the situation, conflating a few ill-conceived relationships with something severe enough to hurt my confirmation.
"Well," Obama said, "unless you dated Yasser Arafat, I think we'll be okay."
And with that, he walked me into the Old Family Dining Room, where the rest of his guests were at the table, chatting with the first lady.
Cass was seated at the opposite end from me. He watched as I unsteadily took my seat and drank a glass of water. Our eyes met, and I shook my head in astonishment. I put my hand over my heart, signaling that something major had happened. Cass used his fingers to draw the letters U and N in the air, and I nodded back. As my husband beamed with delight, I sat virtually silent through dinner and drinks, which went until 1 a.m., racking my brain to recall anything untoward I might have done a quarter century before.
As Obama walked us to the door at the end of the night, I thanked him for the opportunity he was giving me. But he was not there yet.
"Think," he said, giving me a parting kiss on the cheek.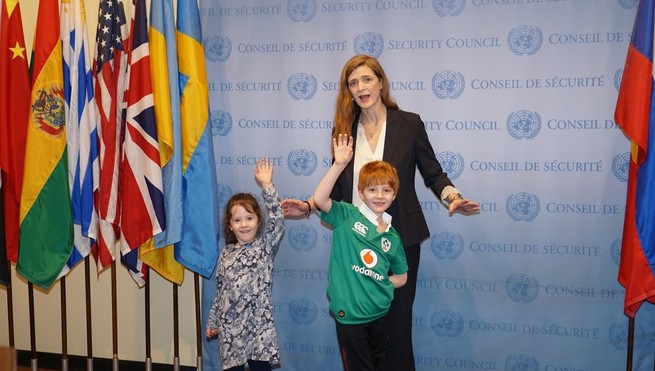 That night, instead of sleeping, I imagined how every event in my life could be most negatively portrayed. "Pretend you are Fox News," I told myself.
I had traveled to Cuba with a human-rights activist to document Fidel Castro's abuses. I saw the Fox headline: "OUR WOMAN IN HAVANA." I had been involved with a man who claimed that he was divorced from his wife, but I later learned they were only legally separated. "HOME WRECKER," the New York Post would proclaim. Finally, at about 5 a.m., I settled on the issue that was surely going to seal my doom. As a freelance journalist in Bosnia, covering the Balkan wars of the 1990s, I had been paid 20 cents a word for the articles I wrote. (At about 800 words each, that came to $160 apiece). Was I sure I had paid taxes on every single one of the articles I wrote from Bosnia during my time there as a correspondent? I saw the chyron already: "TAX CHEAT!"
My mind raced through all the publications I had written for during my Balkan years: The Boston Globe, The Miami Herald, The San Francisco Chronicle, The Economist, U.S. News & World Report, The Washington Post, The New Republic. "Rack your brain, Samantha," I commanded myself. "Were there others?" And then, at about 5:30 a.m., I remembered the Irish Sunday Business Post and The Yorkshire Post. I had written a couple of articles for the former and no more than a half dozen for the latter. I began to spiral downward and shook Cass, who was sleeping beside me.
"Cass, wake up," I said. "I don't think I paid taxes on my income from The Yorkshire Post in 1995."
Through a haze, he asked, "Yorkshire, England? When did you live there?"
I reminded him that, in a bygone media age, small regional newspapers had assigned articles to freelancers around the world. He asked me how much income I had earned from The Yorkshire Post, and I said, as if it was an immense sum, "Easily $600." Then I corrected myself, "No, even more than that in dollars, because the 600 would have been in British pounds."
Knowing better than to make fun of me, he turned away, saying I should go back to sleep and assuring me that we would find a tax lawyer in the morning. "This is the morning," I said.
It would turn out that my Achilles' heel was not my taxes, which I had in fact paid. And it certainly was not my ex-boyfriends or that trip to Havana. In the new era of permanent political and policy warfare, the issue that became a lightning rod was my writing and public commentary—what The Washington Post called "extensive fodder" for questions about my views on foreign policy. The Post predicted that "congressional Republicans looking for a foreign policy fight" could try to derail my confirmation.
After my nomination was made public, I had the surreal experience of sitting beside Eddie and my mother as a parade of analysts on CNN predicted that I was in for a lengthy, ugly confirmation. One of the talking heads suggested my struggle might resemble that experienced by John Bolton, whose 2005 nomination to become UN ambassador had proved so controversial that he was ultimately unable to win confirmation.
"Oh dear," my mother sighed, before quietly stepping outside for a walk around the neighborhood.
Mum had once sent me a pick-me-up card in which she had written the inscription that appears above the entrance to Wimbledon's Centre Court, from Rudyard Kipling's poem "If —":
If you can meet with triumph and disaster

And treat those two imposters just the same
For me, this was always easier said than done. I had traveled a great distance to arrive at this opportunity to represent the United States at the UN. And I still had one last hurdle to clear. That is a story for another place.