There's No Such Thing as a Do-Over Election
North Carolina's Dan McCready has been running for Congress for three years.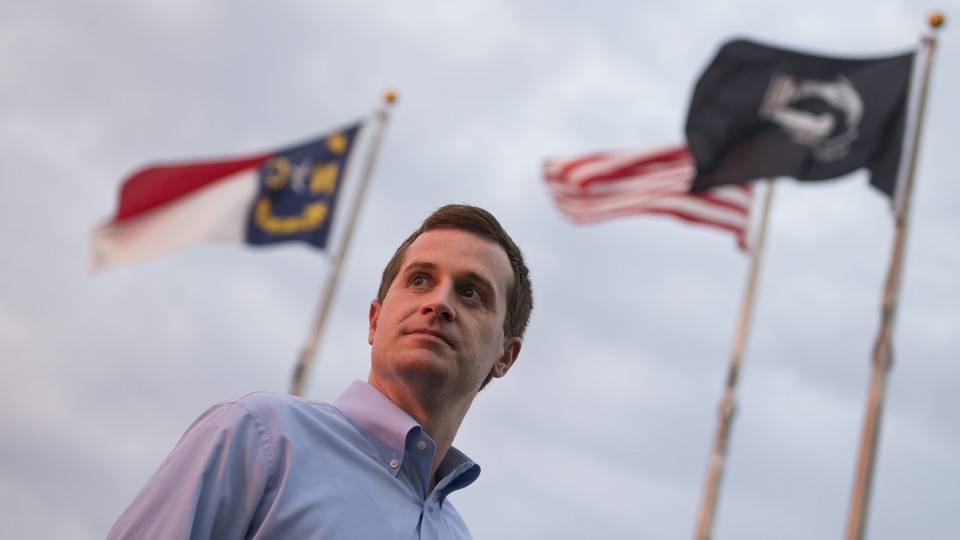 CHARLOTTE, N.C.—"I've got to go—Dan McCready's here," one woman said as she hung up the phone and opened the door. Across the street, an elementary-age boy recognized the Democrat from months of ads. "You've seen me on TV?" McCready grinned. The kid nodded shyly, swaying back and forth on roller blades in the front foyer and half-hiding behind his mom. Dog walkers approached McCready to ask how the campaign was going and wish him luck.
Usually when a candidate goes knocking on voters' doors, he starts by introducing himself. Dan McCready has been running for Congress for so long that voters here announce his presence before he even has the chance.
This role reversal is actually one of the less weird things about the campaign. McCready announced his plan to run for U.S. House in May 2017, 27 months ago. Since then, he's watched as the incumbent Republican congressman lost his primary in an upset. He watched as his party took over the House in November 2018, but he came up barely 900 votes short. Then he watched in surprise as the state board of elections refused to certify the result, citing widespread allegations of election fraud. He watched as his opponent dropped out of the race after dramatic testimony under oath by his own son, and then as the board of elections ordered a nearly unprecedented special election do-over. His odyssey will finally end on September 10.
The result could be an augur for national politics. In 2018, Democrats won the House by eating into traditionally Republican suburban areas, like the ones that make up much of the Ninth District, and while revulsion toward President Donald Trump energized lots of voters, many winning Democratic candidates instead emphasized bread-and-butter issues, especially health care. Ahead of the 2020 presidential election, Democrats have debated whether that message is still valid or if it has outlived its usefulness. McCready is still using the 2018 playbook, while his Republican opponent, State Senator Dan Bishop, has worked to tie him to the Democratic Party's left wing and especially the "squad" of progressive lawmakers. The Ninth District special election will be one of the few tests between now and the 2020 election of whether that playbook still works.
Money is pouring into the race, about $15 million already. McCready has outraised Bishop by a factor of nearly three, but outside Republican groups have helped even out the money advantage. As national GOP figures become alarmed about the close race, President Trump has tweeted and emailed on Bishop's behalf, and will appear at a rally in Fayetteville on September 9, the night before the election. Internal polling from both parties shows a very close race, and a poll released August 30 showed McCready leading 46–42. Both sides expect that the finish will hinge on turnout: a battle between the Republican lean of the district and Democrats' organizational prowess, each side hoping the national political environment favors it.
"The fact that we're tied actually means we're 12 points up," McCready told one voter as he knocked on doors. It's an impressive achievement, but, of course, there's no such thing as a moral victory in electoral politics. There's no such thing as a do-over in electoral politics, either.
McCready fits a number of the more popular archetypes for Democratic office seekers these days: good education (Duke), a stint in the military (Marines, as a captain, with a deployment to Iraq), business school (Harvard), sufficiently woke business career (solar energy). His superpowers are extended eye contact and facial recollection. He has that earnest affability that feels avuncular in an older politician but a smidge uncanny in one who is just 36. Otherwise, he is aggressively normal: He looks like he was born in an open-collared Oxford shirt and dressy jeans. He stands at average height, speaks softly, and keeps his dark-red hair parted neatly in a conservative cut. If you didn't see him on TV, or on your stoop on a Saturday morning, he'd register as just another suburban dad, if he registered at all. This unassuming affect extends to politics, where McCready is not a bomb thrower, either stylistically or ideologically.
"Our message is all about bringing people together," he told me. "If you just follow on Twitter, though, or turn on the TV, you think that we're just hopelessly divided. Most people are not there."
Rather than focus on Trump, McCready has heavily geared his campaign toward kitchen-table issues. He peppers his sentences with "health care" the way many people of his generation use "like," but instead of pushing overarching plans like Medicare for All, he's focused on tweaks such as lowering premiums and prescription-drug costs. McCready has talked extensively about teacher pay and class sizes in public schools, echoing the themes that also helped Governor Roy Cooper, a moderate Democrat, win narrowly in 2016.
This isn't a message aimed at firing up resistance rabble-rousers, but ahead of the 2018 election, Democrats calculated that it might work well in places like the Ninth District, which stretches almost 200 miles from Charlotte's southern suburbs eastward along the South Carolina border. The district was a Republican stronghold even in the days when Democrats dominated the Old North State. Not since 1963 has a Democrat held the seat. In 2014, Democrats didn't even bother challenging Representative Robert Pittenger, an older-school country-club Republican. In 2016, Trump won by almost 12 points, and Pittenger won 58 percent of the vote.
Two things scrambled the status quo. First, there was the chaos of the Trump administration. Second, Mark Harris, a very conservative pastor, beat Pittenger in the primary. Democrats began to view the Ninth District as a prime pickup opportunity. National money poured in for McCready, who proved a skilled fundraiser, and so did the national press. The race was a toss-up headed into election day, but with most of the votes in on election night, McCready conceded and left for a family vacation to Disney World. In the final unofficial tally, though, Harris's margin shrank to just 905 votes.
On November 27, 2018, the state board of elections met to certify results, but unexpectedly refused to certify the Ninth District race, setting off a dizzying string of revelations. According to prosecutors, McCrae Dowless, a contractor for the Harris campaign, oversaw extensive election fraud in Bladen County, in the district's rural east, affecting potentially hundreds of votes. McCready withdrew his concession. He winced a little when I asked him whether he conceded too readily. "We had no idea at the time, like, the depth and the breadth of this," he said. In fact, it's still not clear how many votes were affected, and it may never be.
Harris claimed ignorance of the scheme and sued unsuccessfully to be seated in Congress, but after acknowledging misstatements during a hearing in February, he abruptly dropped out of the race. The board ordered a new special election, scheduling it for September 10—an incredibly rare example of a federal election nullified because of irregularities. But elections take place in specific times and places, and that means the special will take place under rather different circumstances than the election it was called to replicate.
McCready met his wife, Laura, on a backpacking trip at Duke. He was immediately smitten. She was a harder sell. "That was my first three-year campaign," he said wryly. It was good practice. Running for office that long takes a toll on a candidate, on staff, and on voters.
"It's a completely unique situation," said Michael Bitzer, a professor of politics and history at Catawba College. "I think he's still trying to portray himself as an outsider, as a non-politician, but I'm not sure you can claim outsidership when you've been running for two and a half, three years for the same seat."
McCready says the revelation of the fraud gave him new purpose to keep going.
"When they stole these people's votes—you know they targeted the elderly, they targeted African Americans, they targeted Native Americans—I thought I had to fight back," he said. "Your vote is your voice. If you don't have that, you don't have anything. This is the people's chance to get justice and there's nothing to do but give it our all."
He paused.
"But I'm ready to be done."
Of course, if McCready does win, he'll have to turn around and begin campaigning for reelection in 2020 almost immediately, but he doesn't want to talk—or think—about that right now.
Over the course of two years, issues can change, too. McCready began his campaign running with a Republican majority in Congress. Now Democrats are in charge of the House, and there's a hotly contested presidential primary. McCready also has a much stronger opponent in Bishop than he did in Harris. Harris won the 2018 primary by running to Pittenger's right, but turned out to be a flawed candidate even before the revelation of electoral fraud. Bishop combines much of Harris's conservatism with the seasoning of a career in politics. Naturally, that can cut both ways. Bishop was the architect of North Carolina's controversial "bathroom bill," and McCready has criticized him for his votes on health care in the state legislature. (Bishop's campaign did not respond to interview requests.)
While some Republicans running in 2018 tried to localize their races, deflecting attention away from the unpopular president, Bishop has been happy to nationalize his bid. He has criticized McCready for taking a donation from Representative Ilhan Omar (which McCready later returned). A Bishop ad tied him to Omar, other members of the "squad," and Senator Bernie Sanders. A Republican ad called him an "Elizabeth Warren Democrat."
"When the Republicans were in charge in November, it was, Oh, those mean nasty Republicans. Well, now it's more like, Wait a second, you guys weren't supposed to go up there and take a hard left turn like you're going straight to California. You were supposed to govern as moderates," says Larry Shaheen, a Republican strategist in Charlotte who backs Bishop. "Dan McCready has unfortunate timing, and now he is stuck with the leadership team in Washington, which does not play well to your average North Carolinian."
While the tight polls suggest it's not quite that pat, McCready doesn't really dispute that Washington politics is making his campaign tougher.
"It's hard for people because so many people see what's happening in the Democratic presidential primary, and they see things going crazy," he said. "It's not helpful when people are—just all the fighting in D.C. People are so tired of the partisan politics and people going to the extremes on both sides. They're just looking for people to work together to solve real problems in their lives."
That's the theory, at least. But McReady's own volunteers and supporters are as dour and negative about Bishop as McCready is sunny and positive. "Bishop might be even worse than Harris," one volunteer muttered to another at the organizing event. When a field organizer asked volunteers what brought them out, another shouted, "A Bishop ad!" One voter assured McCready he has his vote, but added, "I would also vote for our golden retriever against your opponent," before launching into a critique of McCready's gun-control stance (too weak for his tastes).
"He is trying to make it about the district, about the issues within what would be a fairly moderate, slightly conservative district," Bitzer said. "The question is: Can he tap the Democratic anger at the president to make that more his nationalization of the race as opposed to what Bishop and the Republicans are doing to him?"
If McCready wins the race, his path to victory will have run through suburban neighborhoods like South Charlotte. On a rainy Saturday morning in late August, driving to a South Charlotte precinct where McCready was going to knock on doors, I passed upscale shopping malls—brick-faced Brooks Brothers and the like—and leafy boulevards lined with McMansions, though the houses here are more upper-middle class than chichi.
McCready remembers playing sports on the field at nearby Carmel Middle School. Back then, it was solid Republican territory. In every election between 2008 and 2012, the Republican congressional candidate won at least 54 percent of the vote in this precinct. Mitt Romney won 63 percent. Pittenger won the precinct 57–43 in 2016. But in 2018, McCready inverted that, winning 56 percent of the vote to Harris's 43. Now, it's dotted with McCready's Carolina-blue yard signs.
This precinct and the other South Charlotte neighborhoods around it are like a lot of the other moderate, Republican suburbs that flipped to oppose Trump in 2018. The GOP hopes that was a onetime aberration. After all, the president's party often loses the midterm elections. But Democrats believe their success might signal a bigger realignment. The poll released August 30 shows Trump's approval slightly underwater in the Ninth District, which he won in 2016 by 12 points.
"I think my takeaway from this is the impact that this campaign has had on the rest of the Democrats," says Dan McCorkle, a Democratic operative in Charlotte. With help from McCready's well-funded campaign, Democrats down the ballot cleaned up in 2018, sweeping up offices on the city council and school board. After the midterms, Bishop was the last Republican in the state legislature from Mecklenburg County—home to Charlotte, which will host the GOP's 2020 convention. "You could literally say he has transformed the last Republican Party stronghold of Mecklenburg County. It used to be the red wedge. It would solidly vote Republican."
If McCready is to join those Democrats in office, he'll have to run up his margins in the Charlotte suburbs. It's a truism that elections come down to turnout, but it's especially important in this race: Special elections usually draw fewer voters, there are few other battles on the ballot for September 10, and since voting takes place early in the fall, many voters haven't been paying much attention until the past couple of weeks.
As a result, McCready has been plowing his war chest into field operations, trying to contact as many voters as possible. He's hired 24 organizers, which he believes is the largest number ever hired in a North Carolina race, deploying them to offices in all eight counties in the district.
"This is a real, old-school, grassroots campaign. We're talking with everyone, Democrats, Republicans, independents. We're going places that politicians normally don't go, especially in the rural areas," he said. "We want people to know that I want to fight for them. It's the right thing to do. I also think it's great politics."
Good politics is essential for Democrats to win in Trump-leaning districts, but good timing may be even more important. On September 10, McCready will learn whether his three-year campaign ended too late to take advantage of a favorable national political climate, too early to reap the rewards of a changing district, or at just the right time.