It's Not the Storm; It's the Cover-Up
The president's initial misstatement about the danger Hurricane Dorian posed to Alabama was relatively minor. His actions since then pose an actual threat to public safety.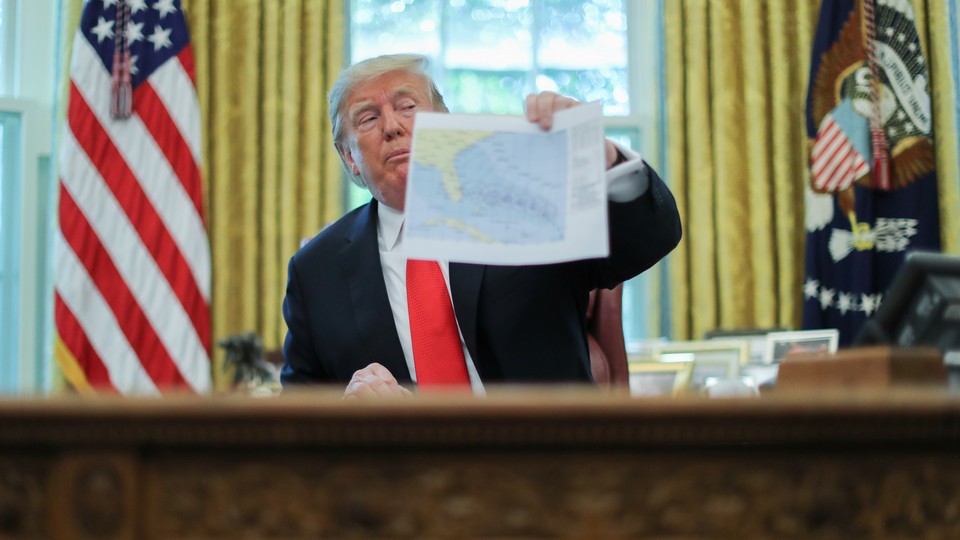 President Donald Trump's mind-bending debacle over Hurricane Dorian and Alabama comes to resemble the storm itself more by the day: unpredictable in course, lingering far longer than anyone hoped or expected, and ultimately disastrous.
There's still no compelling explanation for why Trump has become so obsessed with the particular claim that he was right when he said that Dorian was headed for Alabama. (It was not.) Whatever the reason for his fixation, it has transformed an otherwise workaday gaffe—a simple, nearly harmless misstatement—into a far more dangerous assault on public safety.
As I noted last week—when the story seemed already to have reached the outer limits of absurdity, with the president apparently attempting to alter a National Oceanic and Atmospheric Administration map with a Sharpie—the episode began when Trump tweeted that Alabama "will most likely be hit (much) harder than anticipated," and said in a briefing that day that "Alabama could even be in for at least some very strong winds and something more than that, it could be." My colleague Robinson Meyer detailed all the ways Trump was wrong about the storm.
Trump's gaffe did create some danger: The National Weather Service in Birmingham, reportedly besieged with frantic questions from the public, quickly tweeted, "Alabama will NOT see any impacts from #Dorian. We repeat, no impacts from Hurricane #Dorian will be felt across Alabama. The system will remain too far east." The risk was contained, though. It's better to be over-prepared than underprepared, and NWS, a federal agency, had corrected Trump. All the president needed to do was acknowledge he misspoke, or was relying on outdated forecasts, or offer any other excuse. The whole thing should have blown over, so to speak.
Instead, Trump's misstatement, and his attempt to make it real by sheer force of anger, now hovers over Washington like Dorian stalling out over the Eastern Seaboard—unwelcome and seemingly unending. Trump's initial attempts at self-vindication were childish and pathetic, and were met with the derisive laughter they deserved. His Sharpie stunt fooled no one. ("No one else writes like that on a map with a black Sharpie," an aide told The Washington Post.) Trump's willingness to lie to the public even when it was both pointless and obvious was troubling, but not new. It was even a little funny.
Developments since than have been more disturbing. Late Friday, NOAA released a statement that sided with Trump against its own professional forecasters. This would not be a problem if Trump, and NOAA, were correct—but they were not, which is perhaps why no NOAA official was willing to sign his or her name to the statement.
On Saturday, the Post reported that on September 1, within hours of Trump's misstatement about Alabama, and after the NWS Birmingham tweet, NOAA warned staffers via email not to contradict Trump. Or, to put that another way: NOAA had instructed weather forecasters not to correctly report the weather forecast, for fear of hurting the president's fragile feelings. Instead, staffers were told to offer no opinion at all, even though their job is to forecast the weather. Today, the Post reported that NOAA's chief scientist—who is only in the job in an acting capacity—is investigating the press release, which he labeled political.
"The value of our science is in the complexity of our understanding, our ability to convey that understanding to a wide audience of users of this information, and to establish and sustain the public trust in the truth and legitimacy of that information," Craig McLean, the scientist, wrote to staff. "Unfortunately, the press release of last Friday violated this trust and violated NOAA's policies of scientific integrity."
The press release wasn't the only example of undue pressure. The New York Times reports that Commerce Secretary Wilbur Ross threatened to fire NOAA's political appointees over the NWS Birmingham tweet. Or, to rephrase again: A Cabinet secretary threatened to fire staffers for providing accurate information to the public. The Times reports that Ross called Acting (of course) NOAA Administrator Neil Jacobs and demanded that the agency smooth over the contradiction. When Jacobs objected, Ross threatened firings. Because Ross's most prominent actions in the administration have been dozing off in meetings and lying about his assets, it's reasonable to wonder whether the demand actually originated in the White House.
As some meteorologists pointed out after Trump's Sharpie misadventure, it's against the law to spread a counterfeit or altered government weather forecast. The president is unlikely to face prosecution for this; he's avoided charges for more serious but similarly blatant misdeeds. But that law demonstrates why the Dorian debacle isn't just fodder for laughter, nor merely a case of the abstract dangers of undermining facts—though it is that, too. Disaster response and management require public officials to quickly and clearly communicate to the public where danger lies and how they should react. It's often a literal matter of life and death.
It's already hard for government officials to persuade people in a storm's path to evacuate, because many people don't believe forecasters. But it's one thing to disbelieve the weatherman because he told you it would rain and it didn't. It's even harder to trust the forecast when you know that workers at government agencies are acting under explicit instructions not to contradict the president, on pain of firing.
"If the public cannot trust our information, or we debase our forecasters' warnings and products, that specific danger arises," NOAA's McLean wrote in his email to staff. Next time a storm approaches, where can Americans go for reliable information? Not to Trump, of course. But can they trust official forecasts from government agencies? On August 31, that question was easy to answer. Now it is much cloudier.