Canada's Surprising History of Blackface
Scandalous images of Prime Minister Justin Trudeau don't just tarnish his image—they also point to the hidden history of racism and minstrelsy in his country.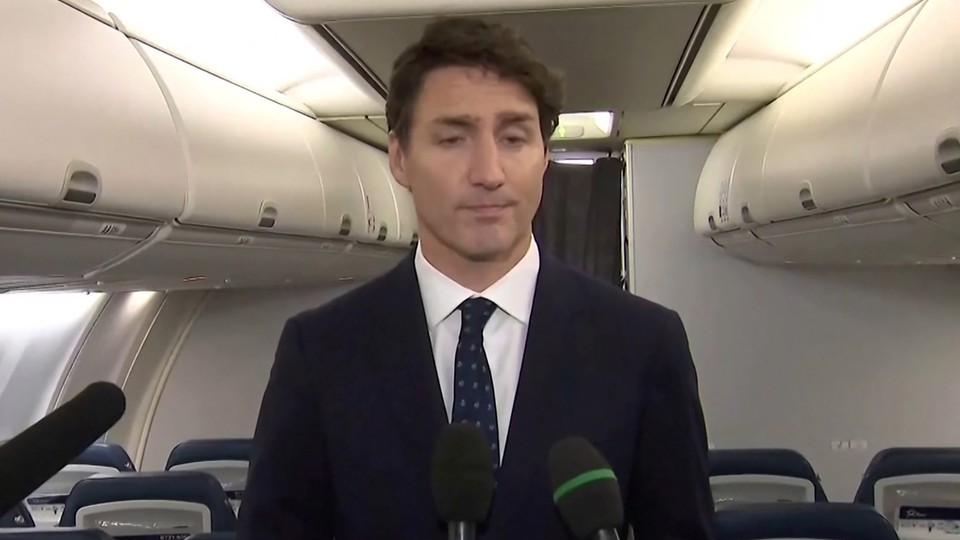 It is, unfortunately, not all that unusual for an American audience to learn that a politician dressed in blackface. Yet the case of Canadian Prime Minister Justin Trudeau manages to surprise.
For one thing, there's Trudeau's age. He is just 47, and one might expect an ambitious young man of his generation, and especially one whose father was prime minister, to be more politically savvy. Yet Trudeau was captured on film wearing face paint not once, not twice, but three times, including once on video—and that's just what's known so far. In one case, Trudeau wore brown makeup to an "Arabian nights" party at a private school where he taught in 2001. He also wore blackface in high school, and on another occasion, not yet explained.
"What I did hurt them, hurt people who shouldn't have to face intolerance and discrimination because of their identity. This is something I deeply, deeply regret," Trudeau said yesterday—but, astonishingly, also said he did not know how many times he had worn blackface.
As superficially surprising as the individual culprit is the location. While America's history of racism is well known, Canada has often been portrayed—by residents of both countries—as a beacon of comparative progressivism, on race as well as a host of other issues. Trudeau himself has embraced and burnished this image, with high-profile apologies to indigenous peoples and gestures of feminism, all a part of his courtship of favorable comparisons with President Donald Trump.
But Canada has a surprisingly long and deep history with blackface. Rather than being seen as an exception to Canadian racial enlightenment, perhaps the images of Trudeau in blackface are better viewed as a microcosm of Canada's little-known past.
Over the past year, Americans have seen the governors of two states embroiled in scandals over past blackface use. Ralph Northam, the Democratic governor of Virginia, was revealed to have a blackface photo on his medical-school yearbook page in the early 1980s. (Northam initially apologized, then said he did not believe he was the person in the photo.) The state's attorney general, the Democrat Mark Herring, also apologized for wearing blackface to a party around the same time. In August, Alabama Republican Governor Kay Ivey also apologized for wearing blackface in college.
As my colleague Adam Harris has written, controversies around the use of blackface on campus seem to spring up every year, a trend that begins around the turn of the 21st century. Something similar seems to have occurred in Canada. In a 2017 paper, Philip S. S. Howard, a professor at McGill University, argued that blackface was "experiencing renewed popularity in Canada," pointing to a string of incidents over roughly the same period.
Blackface, a practice that grew out of minstrel shows that caricatured people of African descent, can seem like a peculiarly American institution, but it has a long history in Canada as well—as does slavery. While Canada figures in the history of American slavery as a terminus on the Underground Railroad, enslaved Africans arrived in Canada in the early 17th century, not long after their first arrival in what is now the United States in 1619, and slavery wasn't abolished in Canada until 1834.
Perhaps no figure illustrates the complicated connections between race, Canada, and the United States better than Calixa Lavallée. Born to a French Canadian family in Quebec, Lavallée moved to the United States in the 1850s and bounced back and forth between the two countries for years. He served as an officer in the Union Army during the Civil War; he also played in minstrel shows, performing in blackface, doing exaggerated impressions of African Americans. In 1880, he was commissioned to write a hymn that would become "O Canada," the national anthem. (Later in life, he supported Quebec joining the United States. People are complicated.)
Minstrelsy took hold in Canada, just as it did in the United States, and just as in the United States, black people objected. As early as 1843, according to Cheryl Thompson, a scholar of communications at Ryerson University, black residents of Toronto petitioned the city government in vain to ban minstrel shows. Howard reports that "minstrelsy was very common throughout Canada into the 1970s," long after minstrel shows had become socially taboo—not to say extinct—in the United States. (Bashir Mohamed rounds up a few examples of 20th-century shows in Canada.)
Some scholars and journalists argue that Canada whitewashes its history on race, from its mistreatment of indigenous peoples to slavery to later racism like these minstrel shows, adopting an image of moving past race that stands (supposedly) in contrast to its uncouth southern neighbor. "Canadian postracialism is characterized by its roots in a national claim to egalitarianism that is partly forged through an ostensible contrast to American racism," Howard writes.
It's not yet clear what political effect the Trudeau photos might have, with elections scheduled next month. Trudeau has carefully set himself up as an alternative to Trump and his long history of racism, both in rhetoric and practice. But, as the incident shows, the reluctance to tackle racism may not provide quite as much of a contrast between the United States and Canada as it appeared to.