The Worst Thing That Could Happen to Local News—And the Best
If GateHouse Media actually acquires Gannett, countless local outlets might be closed or homogenized. But there's an alternative.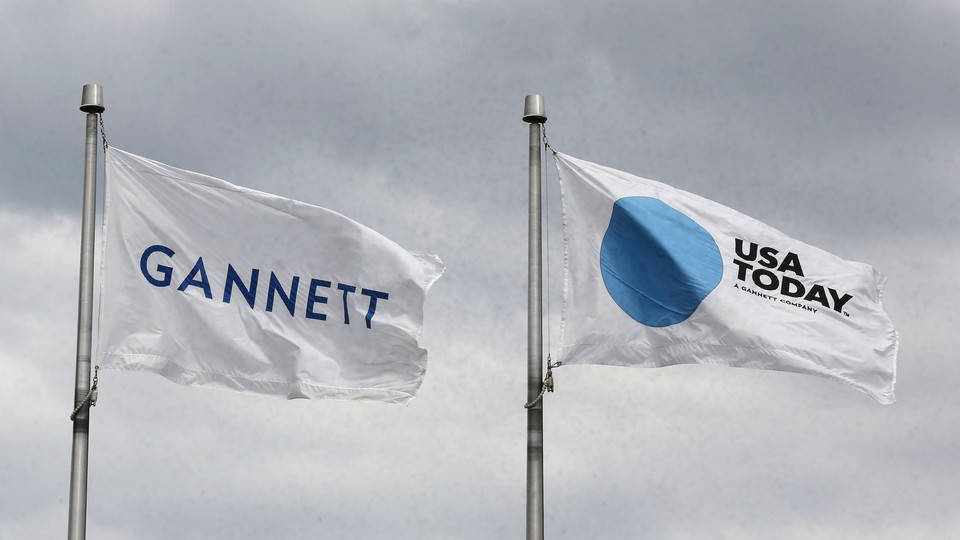 From 20 feet away, one designer used to tell me, all newspapers look the same: vertical rectangles with black ink on them. But the announcement earlier this month that the country's two largest newspaper companies have agreed to merge is a reminder that there are actually two very different ways to look at them. To some, local newspapers are simply cash machines, from which investors can make withdrawals until there's nothing left. To others, they are community trusts, essential civic resources to be sustained.
The acquisition of Gannett, publisher of USA Today and other papers, by GateHouse Media represents the apotheosis of the newspaper as a financial instrument. GateHouse, the buyer, is the largest owner of U.S. newspapers by titles. Gannett is the largest owner of U.S. newspapers by circulation. The new company, to carry the Gannett name, would have a print circulation of more than 8.5 million.
Should the Department of Justice approve the deal, it would be allowing the creation of a behemoth that dwarfs other newspaper companies, one that would dominate local journalism in many states, and have unparalleled national reach in print. The new company says its first order of business will be to realize $275 million to $300 million a year in "run-rate cost synergies." In plain English, that means many journalists will lose their jobs.
Print advertising and print circulation are declining at a rapid rate, and digital growth is not making up the difference. Gannett and GateHouse are hoping that, together, they can grow efficient enough to survive. But the deal makes me think of two drowning giants grabbing onto each other to try to save themselves. While I long ago learned to be careful about predicting the future in print, my guess is that it won't be too many years before they pull each other under.
Just consider these recent findings from the Pew Research Center. U.S. newspaper circulation is now at its lowest level since 1940, even as the national population has grown from 132 million to nearly 330 million. Last year, daily circulation—print and digital—was down 8 percent, and Sunday circulation was down 9 percent. The numbers were even worse for print, which posted 12 and 13 percent declines, respectively. While overall digital advertising spending increased by 23 percent in 2018, that wasn't enough to offset the losses in print advertising—total ad revenue for newspaper companies was down by 13 percent. In consequence of this decline, newspaper-newsroom employment continues to shrink. It's down 47 percent since 2004.
But even if the new Gannett manages to beat the odds and stay afloat, the prognosis for the papers it owns is grim. Gannett papers today largely look and sound the same. They feature similar, centrally produced news reports, and offer little individuality or quirky local flavor.
Gannett was the pioneer of this approach. As it grew, from the late 1960s until the early 1980s, it boasted that its quarterly profits were always bigger than the one before. The result, according to the Pulitzer Prize–winning journalist Ben Bagdikian in his 1983 book, The Media Monopoly, "Profit squeezes and indifference to comprehensive local news is the norm." GateHouse came along in the late 1990s and one-upped the earlier generations of newspaper chains. It went bankrupt in 2013 after it had spread across 330 markets in 21 states. The reborn company now operates in 612 markets in 39 states.
The consequences of this approach for local communities and for the fabric of our country are already clear—and grave. If some of these papers shrivel or even shut down to produce "run-rate cost synergies"—since the merger announcement, GateHouse has already cut staff at four newspapers—we'll end up with more news deserts, communities without local newspapers. Other papers may be so diminished that they're local newspapers in name only. That will leave some of the country's most vulnerable residents without the information to help them participate in public life, including by voting, or the protections that investigative reporting can bring. The decline and failure of local newspapers means fewer eyes on the powerful, higher public borrowing costs, and more.
Something like this has already happened in recent years to local television news. Sinclair Broadcast Group, the nation's largest broadcaster, is notorious for distributing packaged segments to all of its stations, and for having its anchors across different markets use exactly the same words, sometimes reflecting partisan positions.
It's reasonable to fear that the new Gannett—which would own more than 260 daily news organizations, and hundreds of weeklies—might have a similarly negative impact on even more parts of our country.
Many dedicated, talented journalists are doing meaningful work today at both GateHouse and Gannett newspapers. I know some of them. In my role at UC Berkeley's Investigative Reporting Program, I work closely with Gannett journalists I admire. And earlier this year, I was among the judges who gave GateHouse the top award for innovation at a major newspaper conference. Not for its journalism, though. Instead, Gatehouse was recognized for its booming and profitable events business, which it has successfully replicated in many of its markets.
However, the positive efforts of some at the two companies today don't lessen the profound reason for concern.
There has to be a different path forward, one that doesn't call for emptying newspapers like ATMs, or consolidating them under the control of a massive corporation. Every community deserves to have a place it can turn to each day to understand itself, to see itself reflected truthfully, and where its members can learn about others who are different from themselves and get the information they need to participate in our democracy.
One promising model is being tested in Pennsylvania. The Philadelphia Inquirer is now a public-benefit corporation, owned by the nonprofit Lenfest Institute for Journalism. Instead of maximizing profit for shareholders, the Inquirer can balance meeting the needs of its community with the need to make a profit. It can seek community support in new ways because it's acting as a community resource, not a money machine.
It's not a given that this approach will succeed. But I think it's our best hope. I heard Terry Egger, the paper's publisher and CEO, speak at a conference in Las Vegas this spring. He said he tells his colleagues that they don't work for any of the company's print or digital titles—they work for the region's people. He asks them to ask themselves: How are you making their lives better?
His message to the community and his staff emphasizes the importance of a free press. It's a message that he can offer unequivocally because he's clear about the mission of his news organization. And he's using it to seek and receive community support, from foundations and individuals.
It's possible to imagine a very different kind of network from the one the new Gannett promises to build. Community foundations and leaders around the country, along with people and businesses who care about the health of their local communities, can band together to support their local press.
I was the founding editor of one such news organization, Honolulu Civil Beat. We started it as a for-profit company. But after a few years, its board concluded that it needed to take a different path. As a nonprofit, it could develop deeper ties to the community that would give it a greater likelihood of sustainability.
Today I serve as an adviser to the Colorado Media Project, an effort to help meet the information needs of Coloradans by strengthening the state's news ecosystem. This effort was triggered by the gutting of The Denver Post by its hedge-fund owner, Alden Global Capital; the rebellion of its editorial page; and the departure of many of its best journalists to form a new local-news organization, The Colorado Sun.
The state, and nation, are facing a crisis in local media. Our answers don't have to be newspapers as we've known them until now, ink on paper. Despite what my designer friend told me years ago, newspapers were never just that. They were reflections of the fabric of their community. Some, frankly, didn't live up to their calling. Others punched above their weight class. But no matter what, we almost always knew that a community would be worse without them.
What we need is not a giant local-news company along the lines of the new Gannett, structured to reduce expenses and buy time until it finds a way to ride the digital wave. What we need instead is a network of local-news organizations that can offer tools that enable local people to focus on the important job of telling their communities' stories.
The result may look like a vertical rectangle covered in black ink, or take an entirely different form. But what will really differentiate it is its commitment to the service of a common cause, one that's essential if the United States is to thrive in the 21st century.