Can Self-Help Heal the Body Politic?
Why Marianne Williamson has found a political audience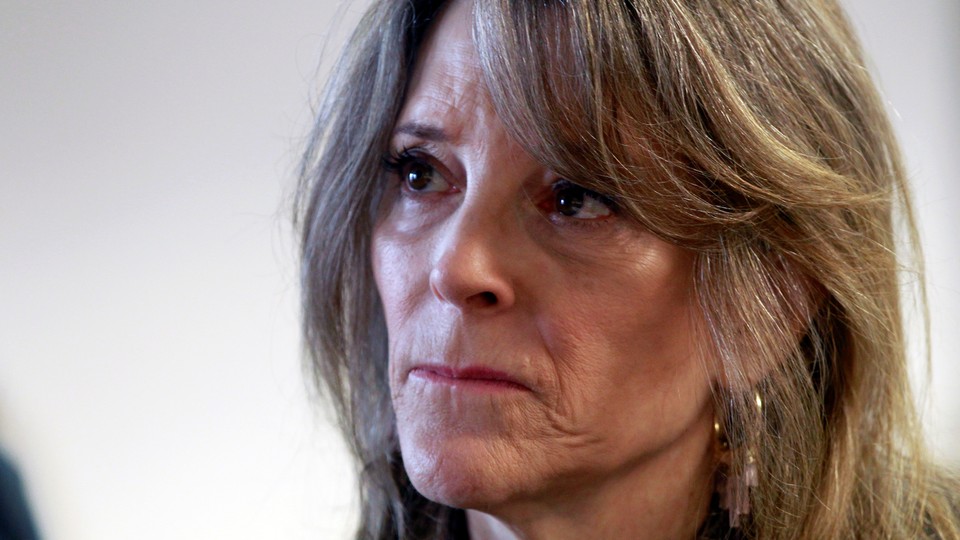 After Marianne Williamson garnered enough support to land her on the Democratic debate stage twice, politically engaged people had little choice but to take her half-seriously, and look into what her "politics of love" was all about. Many were horrified by what they found. In the critics' view: an ableist, anti-science fat-shamer who has achieved celebrity peddling a coldhearted individualism cloaked in a disingenuous celebration of love and spirituality.
This assessment, circulated widely on the internet alongside incriminating old tweets and highlighted passages from her many books, shines a light on the whole self-help industry, as well as the woo-woo West Coast variety that Williamson has helped make mainstream. Since the 18th century, boosters of self-improvement strategies have posited that sheer personal will—or, in religious variants, prayer—are the solutions to problems better understood as structural and complex. The fact that Williamson's teachings ground these dubious principles in the esoteric religious text A Course in Miracles, said to be dictated directly by Jesus Christ to the New York City doctor Helen Schucman in the 1970s, hardly gives her more gravitas.
But the attacks on Williamson miss an important aspect of her appeal as a candidate. Like other self-help figures, she overemphasizes the power of individuals to solve intractable issues. Yet she is rare in applying this ideology to the political sphere, particularly to promote progressive policy. In Williamson's view, self-help can heal the whole body politic; what benefits one can and should be directed to benefit all.
Compare her with the previous century's most famous promoter of spiritual self-help, pastor Norman Vincent Peale. Known as "God's salesman," Peale suggested that business success was the most obvious way to prove mastery over one's mind and destiny, and he became known for cozying up to conservative politicians who shared his embrace of pluck and positive thinking as the way to overcome life's obstacles. But he wasn't especially committed to social change beyond lending his support to administrations that implicitly advocated his can-do, Christian individualism.
Peale became close to the Republican Richard Nixon, attacking the Democrat John F. Kennedy for his Catholicism. His commandments to eradicate "fear thoughts" and self-doubt so motivated one Queens, New York, builder that these mantras became core principles of his professional work and his parenting: Beginning in 1960, Fred Trump regularly brought his family into Manhattan to attend Peale's Sunday sermons at Marble Collegiate Church. These weekly teachings also inspired his son Donald, who decades later asked Peale to officiate his first wedding at the Fifth Avenue church. (Peale accepted the offer.) In a 2009 Psychology Today interview, Trump credited Peale with teaching him never to get "sucked into negative thinking."
Williamson, until recently, also gave regular talks at Marble Collegiate, but first found her calling to spiritual instruction in a starkly different milieu: the 1970s Southwest, in the late days of the counterculture. After she dropped out of Pomona College, Williamson drifted around the country searching for her purpose, working as a cocktail waitress, an office temp, and a cabaret singer. When a boyfriend gave her a copy of A Course in Miracles, it spoke to her. She returned to her home state of Texas to spread the book's teachings at a Houston coffee shop she ran, but after experiencing a "flash," she relocated to Los Angeles to spread the word through the lectures and, later, AIDS activism that made her a celebrity in the early 1990s.
In Williamson's circle, it was common to regard conventional politics as a conformist stricture one had to shuck off in order to achieve enlightenment. Inward-focused endeavors such as meditation, yoga, and psychedelic and spiritual experimentation—perhaps more so than the public marches or legislative activism that loomed so large in the 1960s but that had done nothing, after all, to stop the Vietnam War—were the key to unlocking human potential, and by extension shifting the collective consciousness.
Throughout the '90s, far-out forms of self-actualization spread from secluded retreats like Big Sur's Esalen Institute, where Williamson taught, to converge with the more conventional goal-setting promoted on daytime television, in the supermarket checkout aisle, and, much later, via #inspo on Instagram. In 1994, when Williamson, already a best-selling author with Oprah Winfrey's endorsement, warned readers of the dangers of being "swayed by false politics" and to "listen instead to the spirit of truth," her words found a willing public.
Williamson has long been more comfortable connecting self-improvement with social reform than many of her peers in the self-actualization space. She became a celebrity spiritual guru, after all, in large measure through her work with gay men at the height of the AIDS crisis. As much as her approach emphasized emotional-health strategies—she would declare "Your soul is not sick!" in support groups at the Los Angeles Center for Living, which she founded in 1987—she was in her way trying to use self-help techniques to address what she understood as a social problem.
A decade later, her book-length treatise The Healing of America cited Thomas Jefferson and the historian Arthur Schlesinger in service of a "holistic politics" to rescue a nation she perceived as morally adrift. As Williamson's frustration with American politics grew, her audiences didn't always appreciate her strident commentary. (After all, they showed up at her speeches seeking personal enlightenment.) "I hope she gets back to the inspirational stuff," some grumbled when Williamson openly expressed anger at Al Gore's loss to George W. Bush in 2000.
Now Williamson characterizes her campaign as an opportunity for a "revolution of the heart, and spirit" that will guarantee "thriving" for all Americans. "Think. Love. Participate." and "Join the Evolution!" Williamson invites voters, suffusing these specific calls for civic participation— Marianne2020!—with her more familiar idiom of spiritual and emotional transformation. A clinical, emotionally detached "wonkishness," she warned at the Democratic debate in July, will not save the nation from the "dark psychic forces" that under the Trump administration have us in their thrall. While Williamson's loopy language can be distracting, she invokes it to press for reparations and climate-change policy, and to redress economic inequality as forcefully as her most radical opponents, Bernie Sanders and Elizabeth Warren.
Williamson's political orientation is not just a knee-jerk reaction to the Trump era. On the CTZNWELL podcast, Williamson explained that listening to Martin Luther King Jr. in the 1960s first inspired her to understand spirituality and social justice as intertwined. Back in 2011, one confidant told me that Williamson pulled him into her office to ask what he thought of her idea to run for president. (He laughed.) President Barack Obama just wasn't moving fast enough to close Guantánamo, she explained. (I granted interview subjects anonymity for candor.) Three years later, she ran for Congress in California's 33rd District.
"Self-help and social change have often been seen as polar opposites," Christine Whelan, a clinical professor at the University of Wisconsin at Madison's School of Human Ecology, told me, confirming a historical and contemporary dynamic that makes a perverse sort of sense. For celebrity contemporaries of Williamson such as Tony Robbins, placing politics at a distance is strategic, allowing him to cultivate elite clients on both sides of the aisle: He has coached both Bill Clinton and Donald Trump. Among everyday consumers of self-help, prioritizing dieting or decluttering offers a reassuring, if wrongheaded, message that can only be muddled by diving into messy politics: Changing your own actions and ideas—which are in your control alone—is all it takes to transform your experience.
The false dichotomy between politics and personal growth, however, is falling apart, and this rupture is what has made Williamson's candidacy possible; the world it seems, is catching up to her. Trump has made the difference. After the 2016 election, the buttoned-up pundit Douglas Brinkley suggested that Americans process the stunning results by meditating, and scores of usually apolitical wellness merchants stepped in to sell salves to a polity hungry for healing.  When the president boasts of grabbing women's bodies and victimizes his opponents as unstable and animalistic, self-actualization starts to feel more like a survival strategy than narcissistic indulgence. An old quote that is newly viral suggests as much: "Caring for myself is not self-indulgence, it is self-preservation, and that is an act of political warfare," the black lesbian intellectual Audre Lorde wrote in 1988. Today, Lorde's words are invoked so frequently in both the social-justice and self-care circles that they have become almost trite, revealing a mounting curiosity to consider what bringing these pursuits together might make possible.
Williamson's progressivism has long been minimized as limousine liberalism; a 1992 Los Angeles Times profile of her AIDS activism highlighted her "spoiled" childhood and ease navigating "the combined worlds of glitz and good causes." The list of her celebrity followers and friends is long. Yet her ease navigating what a media executive, who asked to remain anonymous, called the "Malibu philanthropist set" provides too pat a reason to dismiss her. When Williamson goes on television, a staffer recently shared, she apparently gets snickers from producers and journalists, while the working-class makeup artists familiar with her are brought to tears by her presence. Perhaps Williamson can inspire Americans to turn their energies, and genuine aspiration for improvement, to political rather than purely personal ends.
Marianne Williamson is not qualified to be president. But her ideas deserve to be taken seriously, even if she doesn't collect the roughly 12,500 additional donations she needs to participate in the third debate. Self-improvement and civic engagement don't have to be mutually exclusive.