Harold Prince Knew How to Make a Musical
Musical theater has lost Harold Prince, whose influence on the medium still prevails.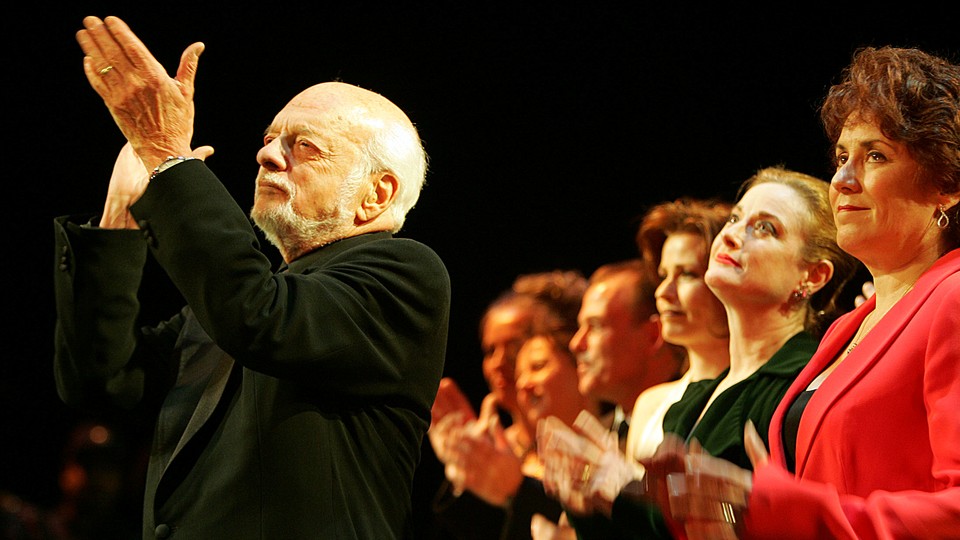 As a college student spending a year in London in the late 1970s, I wangled a writing assignment from a New York magazine that got me into every rehearsal of Evita, a musical then in its first production. The excitement in London was over the new show's authors—Tim Rice and Andrew Lloyd Webber, who had also written Jesus Christ Superstar. But for me, the best part was getting an up-close view of an idol: Harold Prince. He had produced shows from West Side Story to Fiddler on the Roof. And he was both producer and director of Company, Follies, and A Little Night Music, the Stephen Sondheim musicals that were the soundtrack of my adolescence.
Sitting on folding chairs in church auditoriums and various rehearsal studios in north London, I got to see at close range how Prince shaped a production. I also got to talk to Rice and Lloyd Webber about working with one of the idols of their own youth. I soon understood why anyone who was ambitious to make a mark on or understand the musical wanted to win the Golden Ticket: the chance to work with Prince, who died Wednesday at the age of 91.
The way Prince worked was visually. Groupings of characters, placement on the stage in and out of light, and the audience's gaze—this is what I saw evolve over the weeks, along with a sense of sequence from quiet to noisy, from solos and duets ("I'd Be Surprisingly Good for You") to rousing, militaristic marches ("A New Argentina"). Pacing, blocking, and entertainment came first, but Prince's shows also had a sure sense of style. The inspiration for Fiddler on the Roof, which he produced, came from the stories of Sholem Aleichem, but the guiding visual spirit, as Alisa Solomon wrote in Wonder of Wonders: A Cultural History of "Fiddler on the Roof," was the Russian French artist Marc Chagall. Follies began as a murder-mystery musical that Sondheim wrote with his friend, the playwright James Goldman (The Lion in Winter); it evolved into a richly sardonic comment on youth seen from the vantage point of age, not least because Prince had remembered a Life magazine photograph of the silent-film star Gloria Swanson standing in the ruins of a grand movie palace in New York. ("Hal said that's what this show had to be about—rubble in the daylight," Sondheim later said.) Company was about the difficulty of forming and keeping true connections in the spiky, glossy urban landscape of what is now called mid-century modern. (The brilliant set designer Boris Aronson, to whom the critic Frank Rich devoted a book, shaped all these shows.)
Style, along with the ironic distance that he introduced to musicals, defined Prince's stamp—which he first made with Cabaret, a show its authors, John Kander and Fred Ebb, described as having been not just guided but also significantly created by him. Cabaret was fast moving, superbly entertaining, completely controlled—all the things Prince had learned from the master director George Abbott, his mentor and longtime employer and colleague. But it had something no Abbott show had: a bitter edge and a cold heart, or as close to one as Broadway musicals had ever seen. Not to imply that Prince, universally noted for his can-do spirit and cheerleading energy, had either. He saw that audiences were living in an engaged time—the mid-1960s—and that existential plays and theater of the absurd had become fashionable. The urban alienation of Samuel Beckett and Edward Albee and the political activism of Bertolt Brecht were dominant in the theatrical culture, and Prince saw that it was time to extend the sensibility to musicals. Sondheim himself had tried that form with his frequent collaborator Arthur Laurents in the experimental 1964 Anyone Can Whistle, which failed despite a gorgeous score that included achingly heartfelt songs along with a heavy dose of irony that audiences weren't yet ready for. Prince, Kander, and Ebb took a much more conventional story about 1920s Berlin on the eve of Hitler's takeover and made Cabaret. The original stories by Christopher Isherwood conveyed a certain sense of chilly distance, but Prince and his collaborators played up that tone and made it seem dangerously seductive.
Finding that tone, and making Cabaret a hit, made Company possible. The dazzling brilliance of Sondheim's songs overwhelms anyone who cares about musical theater. But Prince's role in creating seminal musicals that defined a generation has been undervalued. His musicals set a new standard for what lyricists and composers would be required to address. Company and Follies were wholly original, and unforgettable for their marriage of diamantine sheen and yearning heart. Anyone who remembers those shows for their hard edge, propulsive choreography (by Michael Bennett, who soon afterward created A Chorus Line), and sumptuous costumes (such as the extravagant handmade ones Florence Klotz produced for Follies) should also remember the anguished, still, powerful moments Prince created for the songs Sondheim wrote: the protagonist of Company finally admitting he wants a real connection in "Being Alive"; the obsessive love of the long-ago-spurned housewife who sings "Losing My Mind"; the wry self-knowledge of an experienced actress who, in "Send In the Clowns," fears she may have decisively lost the man she at last recognizes as the love of her life.
Prince made that song happen. In a scene late in A Little Night Music, he directed the lead actress, Glynis Johns, to show her vulnerability in a way that had not yet been evident. Prince invited Sondheim to come see the new staging, and Sondheim very quickly wrote the new song that would become his most popular. Sondheim has always gone out of his way to give credit to his book writers, saying he mined their texts for ideas people attribute to him. Musicals are collaborations. "Send In the Clowns" was directly inspired by director and actress.
Six years after A Little Night Music, by the time of 1978's Evita, Prince was moving more decisively toward operatic spectacle. That tendency made a colossal international hit of Phantom of the Opera, with its Puccini-derived score by Lloyd Webber, and gave rise to a decade of British-born musical spectaculars that plunged lovers of Sondheim's incisive, often barbed acuity into despair. (There's a straight line from the stirring political choruses of Evita to the Paris of the Commune in Les Miz, from the scarily swooping chandelier in the opening of Phantom to the onstage helicopter of Miss Saigon.) The staging I saw Prince sharpen for Evita was heavy on pageant and spectacle, crowds and drama. It had a heavy political overlay: If a dictator is good enough at creating attention-drenching circuses and sweeping, empty promises, a gullible populace gets the leader it deserves. (Maybe it's time for a revival!)
Not everything worked. In Sweeney Todd, a huge, gloomy set meant to evoke the inhuman, mechanistic brutality of the Industrial Revolution overwhelmed the subtle score. It was the first sign of a split between Prince and Sondheim, who, in his several collaborations with James Lapine, moved toward what the next generation of playwrights placed first: psychological subtext and interior monologue. Prince worked from the outside in; Lapine, who also staged the musicals the pair wrote together, worked from the inside out. Lapine's shows with Sondheim—Sunday in the Park With George, Into the Woods, and especially Passion—gained in humanity and compassion what they lost in edge. Though softer-voiced shows than Sondheim's collaborations with Prince, they speak loudly to the new generation of obsessed theater adolescents.
Over time, Prince led more with his heart too. In later productions such as the long-running Show Boat and the quicksilver Candide, he kept the operatic sensibility while bringing in more unironic emotion. The most heartfelt of all might have been the autobiographical Merrily We Roll Along, the show that definitively broke up Prince's long collaboration with Sondheim. It was highly conceptual: Young people barely out of high school play a set of characters who progress from successful, embittered, jaded adults in the first scene to meltingly idealistic and optimistic students on the threshold of their lives in the last. But its initial failure might have been, as the director Lonny Price's documentary film shows, less because the chronologically backwards form confused audiences (though it did) than because everyone cared so desperately about the show—the authors and especially the young, young cast, Price among them, who got their first big break by getting picked. Prince didn't budge from his initial concept, and audiences rejected the show.
Two years ago, when Prince of Broadway, the retrospective of Prince's work that had a disappointingly short run, was still playing, I heard the author Ted Chapin interview Prince at the Library of Performing Arts, at Lincoln Center. He was as quick-witted and ultrasophisticated as always—and also analytic about why his shows both succeeded and failed in a way he was seldom given credit for. Never, that I heard, did he claim credit for inspiring work by composers that will live for generations, or for changing the way musicals look and acted on their audience's minds and hearts. But chances are pretty strong that any musical you see this season will have been influenced by a choice Prince made over his long career. Any musical, in fact, in any season.