What Dorian Could Do
Hurricanes galvanize us to action. Climate change can, too.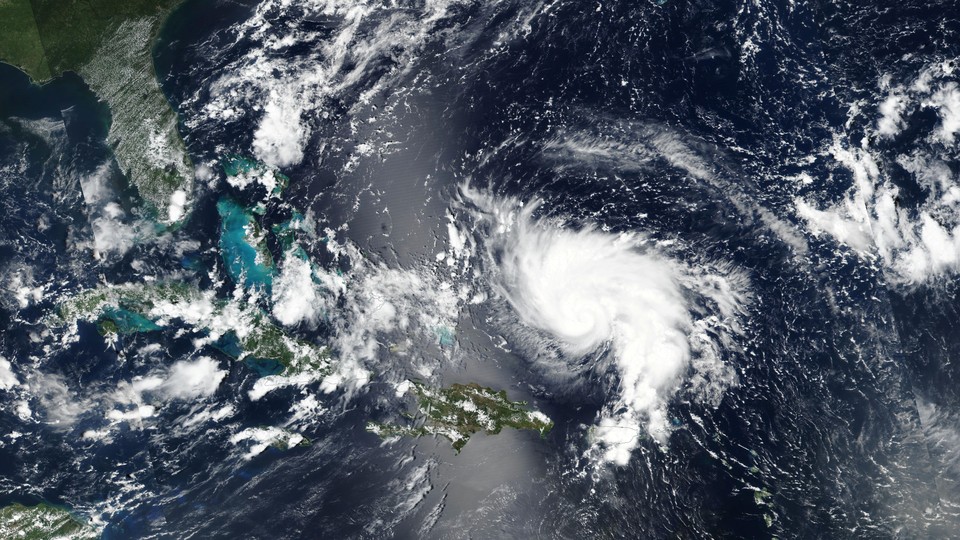 The Louisiana writer Walker Percy got a lift from approaching hurricanes. The need to jump into action is so exhilarating that people forget their malaise and despair.
Will Barrett, the passive, autobiographical southerner in Percy's 1966 novel, The Last Gentleman, had the impression that "not just he but other people felt better in hurricanes." Even amid the eye, "everything was yellow and still and charged up with value." A hurricane, Barrett thought, blew away life's "sad, noxious particles."
Percy captured a truth that is all but taboo in the fearsome path of a major storm like Hurricane Dorian. The days leading up to a hurricane bring a physical and emotional buzz. Sense of purpose rises as barometric pressure falls. Hurricane preparations fill some of the cracks in our fractured world, awakening a sense of belonging to a ragged and reluctant tribe that is nevertheless galvanized to deal with an emergency.
We talk with the neighbors we haven't seen since Christmas. We share grim jokes with strangers in the gas line. Relatives we haven't heard from in a while call, email, and text to check in, and we actually answer. Passive personalities like Barrett feel they have to become decisive.
People also pay relentless attention to things they usually ignore—say, public-service announcements and the science of the atmosphere. The Dorian models now transfixing millions of Americans are generated by many of the same research organizations, such as the U.S. National Oceanic and Atmospheric Administration, that model climate change and the devastating track of warming.
Those climate models are in far closer agreement than the spaghetti strands that loop on weather maps a week out from a hurricane's arrival. Here are just a few things they project in the latest worldwide analysis of hurricane and climate data published in the journal of the American Meteorological Society: Human-caused warming will likely worsen storm inundation because of sea-level rise. Human-caused warming will likely heighten the overall intensity of tropical storms around the world. Human-caused warming will likely increase the rainfall unleashed in such storms—on the order of 10 to 15 percent. Human-caused warming will likely increase the proportion of hurricanes that reach the most destructive levels, Category 4 and 5.
Public manipulation by the fossil-fuel industry has crippled action on those and other life-threatening projections. But we know we'd be fools to ignore the computer models urging us to prepare for the major hurricane on its way. I find hope in the extraordinary mobilization out front of Dorian, in the human charge that Percy felt from his home north of Louisiana's Lake Pontchartrain. Our instinct to do what's best for the human tribe, or at least for ourselves, will finally overcome the small cabal of special interests keeping us to the dangerous path of the status quo.
Desmond Meade, who spearheaded last year's ballot initiative to restore voting rights to more than 1.4 million Floridians with past felony convictions, talked about hurricanes as he accepted the award for Florida Citizen of the Year from the University of Florida's Bob Graham Center for Public Service in May. Amendment 4 was another extraordinary mobilization, crossing political and class boundaries. The effort reminded Meade of the communal energy sparked by storms. Counterintuitive though it may sound, he said that over a lifetime in Florida, some of the "brightest times" he remembered happened surrounding hurricanes.
"That's when people just come together to engage with their neighbors," Meade said.
Then he told the story of the heavyweight fighter Derrick Lewis of Houston, who drove around in his pickup truck following Hurricane Harvey, rescuing more than 100 stranded souls. One of them had nothing but the clothes on his back and a Confederate flag.
"That African American gentleman was able to look beyond that and just see another human being," Meade said. "When you're in an emergency situation, the first question is not going to be: 'Did you vote for Donald Trump?' It's going to be: 'Are you okay? How can I help?'"