Only Biden Can Challenge Trump on Trade
Many leading Democratic candidates are running against free trade, but trade is popular—especially in Iowa.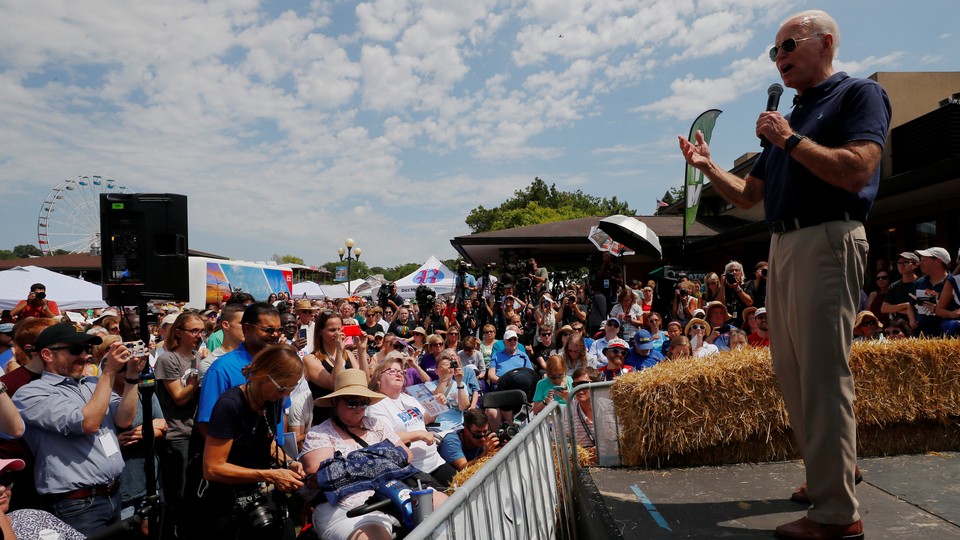 Joe Biden needs to win Iowa. If Elizabeth Warren or Bernie Sanders beats him in the Democratic caucuses there, they're also likely to beat him in New Hampshire, which borders their home states, and where Biden has a smaller lead in the polls. If Kamala Harris wins Iowa, many of Biden's African American supporters could defect to her, as Hillary Clinton's did after Barack Obama won the state in 2008. That would spell trouble for Biden in South Carolina.
How can Biden win the Hawkeye State? He can start by doing something Democratic presidential candidates haven't done in many years: forcefully defend free trade.
Trade has so far been a second-tier issue in the Democratic presidential race, overshadowed by health care, immigration, and guns. But with Donald Trump's tariffs sending the stock market plummeting and stoking fears of a recession, that may change. Which offers Biden an opportunity.
Biden has long supported free-trade deals: He voted for NAFTA and permanent normal trade relations with China, and during the Obama administration he lobbied Congress to back the Trans-Pacific Partnership (TPP). But so far during this presidential campaign, like many former Democratic free traders, he's gone wobbly. He's said he no longer supports the TPP as originally negotiated, and his campaign has ducked questions about whether he would repeal Trump's tariffs.
The former vice president's retreat on trade is a mistake. Although you might not know it from listening to Democratic politicians and progressive pundits, ordinary Americans—and especially ordinary Democrats—overwhelmingly oppose protectionism. In July, 73 percent of Democrats and 65 percent of Americans told the Pew Research Center that "free trade agreements between the United States and other countries have been a good thing for the United States." The data on Trump's trade strategy are even starker. According to Pew, Democrats in July opposed the president's tariffs by an astonishing 70-point margin. Americans as a whole opposed them by 19 points. And that was before Trump's trade war began raising the specter of a recession.
In Iowa, which relies heavily on agricultural exports, the fury at Trump's trade policies is so potent that it helped Democrats flip two Republican congressional seats last fall. In the state's First District, the GOP incumbent Rod Blum made the mistake of thanking Trump for "having political courage to renegotiate these trade deals." The Democratic challenger Abby Finkenauer called those comments "heartbreaking." She insisted, "We deserve a lot better than a congressman who sits there and thanks somebody for throwing livelihoods in flux." When Mike Pence came to Iowa to defend Trump's policies last summer, Finkenauer tweeted, "Our soybean farmers and pork producers are together projected to lose $1 BILLION this year alone due to administration's trade war started on Twitter. Where's Blum's backbone?"
In Iowa's Third District, Republican Representative David Young distanced himself from Trump's tariffs. But the Democratic challenger Cindy Axne pummeled him for them nonetheless. "In these tariffs," she declared last July, "Washington is costing our farmers and pork producers $1 billion this year alone. That's why I'm calling on Congressman David Young to do more than express concerns—he should act and stop these policies that will hurt Iowa." In August she alleged that Young "stands by idly as this administration attacks our farmers, our local economies and our state's economy." If elected to Congress, she pledged to fight to limit a president's ability to use national security as a justification for imposing tariffs.
Finkenauer and Axne both won. And with the cost of Trump's policies continuing to mount, Iowans may be even more receptive to a free-trade message now. Earlier this month, J. D. Scholten, who last fall came within 3 points of defeating Representative Steve King in Iowa's Fourth District, urged the presidential candidates to more forcefully oppose Trump's tariffs. "Democrats absolutely need to be talking about this more," Scholten told The Washington Post. "This is drastically affecting us as Iowans."
Warren and Sanders can't easily follow Scholten's advice. While both senators have criticized the way Trump has implemented his trade policies, they've supported trade barriers in general. In outlining her trade policy last month, Warren declared that "tariffs are an important tool." In March of last year, she called them "one part of reworking our trade policy overall." When Trump imposed tariffs on foreign steel and aluminum last June, Sanders said, "I strongly support imposing stiff penalties on countries like China, Russia, South Korea and Vietnam to prevent them from illegally dumping." While Harris hasn't praised tariffs, she's come out against NAFTA and TPP.
With a deeply unpopular trade war tanking the economy, these views are now a political liability, especially in Iowa. By attacking not merely Trump's implementation of tariffs but the very notion that tariffs benefit America, Biden could link himself to Barack Obama and link his progressive challengers to Trump. Instead of backing off his long record as a free trader—as Hillary Clinton did when she flip-flopped on the TPP in 2016—he could argue that America's mounting economic woes are proving him right.
They are. Trump's tariffs have not revived American manufacturing. To the contrary, according to Mark Zandi, chief economist at Moody's Analytics, they've already cost the United States 300,000 jobs. And they're based on a series of wildly exaggerated claims about the way China "cheats" on trade. In fact, as I've argued previously, China imposes a lower trade-weighted average tariff than Argentina, Brazil, India, South Korea, Indonesia, South Africa, Turkey, Russia, Saudi Arabia, and Mexico. According to the U.S. Chamber of Commerce, China does a better job of protecting the intellectual property of foreign companies than Turkey, Brazil, South Africa, and the Philippines. Yes, trade with China hurts some American workers, but it benefits many others, and makes America wealthier overall. The problem is that America, with its meager social safety net and low taxes for corporations and the ultra-rich, doesn't adequately redistribute that wealth to the Americans who need it most.
Making this argument might hurt Biden with certain protectionist labor unions. But those unions are out of step with Democratic voters. And defending free trade would fit into the larger argument behind Biden's campaign: that he's more in touch with rank-and-file Democrats than are the progressives who criticize him on Twitter. Left-leaning activists may oppose Obama's trade policies, but ordinary Democrats support them. And while Democrats are haunted by Trump's victories in the industrial Midwest, his protectionism isn't even popular there. In May, The Washington Post's Greg Sargent noted that, according to polling from Quinnipiac, voters in Pennsylvania, Michigan, Wisconsin, Ohio, and Iowa disapproved of Trump's trade policies by an average of 15 points.
It's an odd feature of our political discourse. Although frequently labeled "populist," Trump's trade policies aren't popular. Recognizing that could help Biden win Iowa and perhaps the nomination itself.