Israel's Prince of Paradoxes
If Avigdor Lieberman ascends to power, it could change everything—but it's unclear how.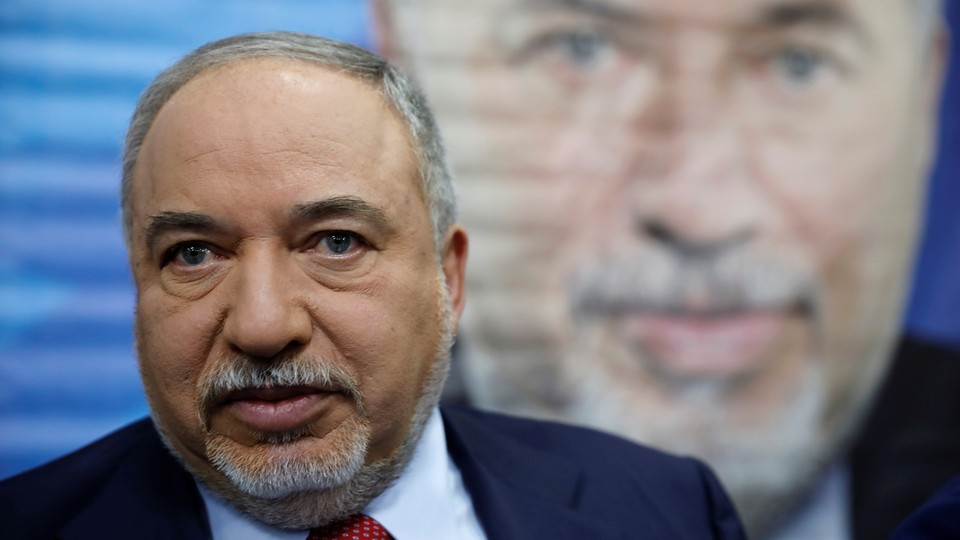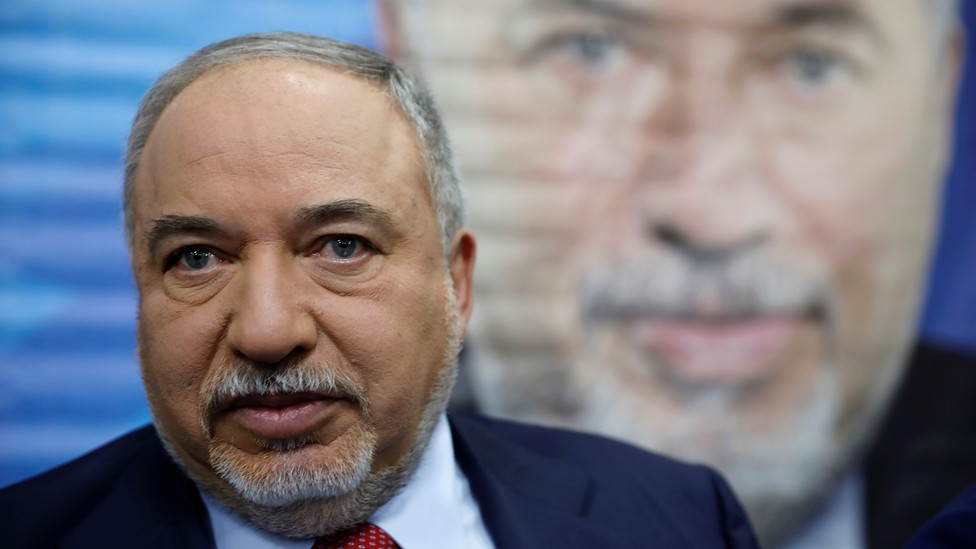 Saul thought, "I'll pin David to the wall," and twice threw a spear, but David dodged it both times. So the prophet Samuel describes the tragic relationship between a weakened king and his former protégé, a drama that is now recurring in Israeli politics. Benjamin Netanyahu—master strategist, ruthless politician—is in fact no Saul, nor is Avigdor Lieberman a fair-haired harpist. Yet the purported decline in Netanyahu's powers and the palpable rise of Lieberman's have biblical overtones. Only, this time, it is David hurling the spears.
Almost daily, Lieberman, the former Israeli defense minister, impugns the prime minister's fitness for office, assailing him as a liar and a closet leftist who gave a long list of concessions to the Palestinians—in the 1998 Wye Agreement with Yasser Arafat, the 2011 prisoner exchange with Hamas, and, most egregious, Israel's agreement to transfer Qatari cash to Gaza's terrorists. Lieberman, by contrast, resigned from four Israeli governments rather than back what he termed "disastrous" acts of weakness. He's even challenged Netanyahu to a televised debate. "Let's have a confrontation between the man from Caesarea and the man from Nokdim," he declared—that is, between the upscale coastal neighborhood where Netanyahu owns a villa and the modest West Bank settlement where Lieberman lives.
Such sniping would be commonplace in Israeli politics, but for the fact that Lieberman was once Netanyahu's closest ally and, prior to the elections in March, widely judged a has-been. Netanyahu led his Likud party to an impressive victory, winning 35 seats out of the Knesset's 120, edging past the centrist Blue and White of former Israel Defense Forces chief Benny Gantz. But then Lieberman's Yisrael Beiteinu party, with a mere four seats, blocked Netanyahu's efforts to cobble together a right-of-center coalition. A fiery rightist, Lieberman would have been a natural partner in such a bloc, but he demanded a price for his support: a law requiring Haredi, or ultra-Orthodox, men to serve in the Israel Defense Forces. That condition was rebuffed by all the Haredi parties. Withstanding immense pressures, Lieberman held firm. For the first time in their history, Israelis had failed to elect a viable government, and so for the second time in six months, they would return to the polls.
With the September 17 balloting fast approaching, Yisrael Beiteinu is expected to win as many as 12 seats. Neither the right nor the left wing appears likely to be able to garner the minimal 60 seats required to form a coalition without the support of Lieberman. Once again, he will determine which party, Likud or Blue and White, will form the next government—or whether the two will be compelled to join in a national-unity coalition without the Haredi parties and perhaps without Netanyahu, with whom the Blue and White members currently refuse to sit. Although, Netanyahu, as the serving prime minister, is immune to prosecution for corruption charges, he might have to resign and then stand trial. The kingmaker may well become the kingslayer, and then perhaps claim the throne himself.
If he does, the prospects for short- and long-term change, if not upheaval, are manifold. On the one hand, after having staked his political future on standing up to what he calls Israeli Arab and ultra-Orthodox challenges to the state, Lieberman would have to take on both of these powerful constituencies. Protests, even violence might ensue. Similarly, he would not be able to risk further failure to rid Gaza of Hamas or to confront the Iranian threat, as he has pledged. The result could be war. On the other hand, as the one right-wing politician still open to territorial compromise, he could be a constructive partner for any Trump-administration peace plan. Electoral success for Lieberman would mean an Israel that will demand greater loyalty from its Arab citizens and army service from Haredi Jews, an Israel fighting on at least one front, and an Israel that may reconcile with the Palestinians. All of this from a man who, though a fixture at home, is virtually unknown to the world.
Lieberman's improbable saga began 61 years ago in the Soviet city of Kishinev, now the capital of Moldova. Evet, as he was then called and as Israelis still refer to him, grew up speaking Yiddish, Romanian, and Russian, a Pushkin enthusiast who dreamed of literary fame. In 1978, during a short easing of the U.S.S.R.'s emigration restrictions, his family moved to Israel. Lieberman served briefly in a noncombat army unit, studied political science, married another Moldavan immigrant, and Hebraicized his name to Avigdor. Solidly built, he worked as a nightclub security guard; during the day, he became a right-wing activist. That is how, a decade after arriving in the Jewish state, Lieberman met Netanyahu.
Handsome, MIT-educated, articulate in both Hebrew and English, a former officer in the IDF's most elite unit, a clean-cut sabra with familial roots in the Likud, Netanyahu cut a contrast to the gruff, bearded, and heavily accented newcomer. This was the first instance of Lieberman's political genius at identifying and seizing opportunities. Hitching himself to Netanyahu's star led to Lieberman's being appointed director-general of first the Likud and then, after Netanyahu's victory in the 1996 elections, of the prime minister's office. The foreign-born former bouncer held one of Israel's most influential posts before the age of 40.
A year later, he resigned. The reason was his opposition to the Wye negotiations, which ceded most of the West Bank city of Hebron to the Palestinian Authority. Lieberman's resignation was seen as outrageous. What new immigrant ever succeeded in working for a prime minister, many Israelis asked, only to abandon him on principle? Surely this was political suicide, they concluded. But these Israelis underestimated Lieberman's skill in perceiving yet another windfall.
The '90s saw the arrival of close to 1 million Jews from the former Soviet bloc countries, accounting for nearly a fifth of Israel's population. Coming from the U.S.S.R., most of the immigrants were hostile to leftist ideologies and skeptical of Arafat's commitment to peace. Here was a massive new constituency in search of a leader, and Lieberman rushed into the role. He created Yisrael Beiteinu—Israel Is Our Home—a Russian-based party that won enough seats in each of the next three elections to make him a government minister.
But each time he resigned—in 2002 in protest of U.S. President George W. Bush's Road Map for Peace; in 2005 in reaction to Prime Minister Ariel Sharon's disengagement from Gaza. Each time, the pundits predicted his downfall—always prematurely. In the throes of the second Intifada, during which 1,000 of their co-citizens were killed by Palestinian bombers, Israelis were not in a compromising mood. Yisrael Beiteinu almost doubled its Knesset seats in the 2006 elections, and Lieberman was promoted to deputy prime minister under Ehud Olmert. And then, two years later, he quit. The reason now was Olmert's peace overtures to the Palestinians. "Negotiations on the basis of land for peace are a critical mistake," Lieberman declared, "and will destroy us."
By this time, Lieberman had become a celebrity in Israel, begrudgingly respected if widely feared. In many ways, he was the realization of the Zionist dream, an oleh hadash ("new immigrant") who had arrived with nothing but reached the heights of political power. But he was also an Israeli nightmare, a shadowy figure who made scant attempt to integrate into the country's culture or play by its civic rules. Compounding this paradox was Lieberman's ability to see and exploit political openings, to repeatedly abdicate and come out ahead. Indeed, the only obstacle to his continued ascent came not from the public realm but from the courts.
For most of the next decade, Lieberman was hounded by investigations on charges ranging from breach of trust and money laundering to witness tampering, bribery, and fraud. A number of his Yisrael Beiteinu associates were indicted, and several were sentenced to jail. Lieberman, though, remained unflappable. When asked by reporters about his state of mind, he responded with two Hebrew words, hakol Eden—"Everything's paradise." Defying all predictions, he was eventually cleared of wrongdoing, Still, Israeli comedy shows caricatured him as a thug. In the rough-and-tumble of Israeli politics, that image was sometimes an asset.
So, too, was Lieberman's reputation as a hard-liner. His American political consultant, Arthur Finkelstein, advised him to select an enemy that most people hate and home in on it. Lieberman chose Israel's Arab citizens. His 2009 campaign posters showed Lieberman glowering over the incendiary slogan "He speaks Arabic," meaning force—implying that was the only language Palestinians understood. He accused anti-Zionist Arab politicians of treason—"Your place is in prison, not the Knesset"—and demanded loyalty oaths from Israeli Arabs and the death penalty for Palestinian terrorists.
Such populism, brutish even by Israeli standards, earned Lieberman an international reputation as a racist. The sight of every poster, and every call for loyalty oaths, made me cringe. Yet Lieberman's message resonated with a significant number of Israelis fed up with Arab Knesset members who were openly opposed to the Jewish state and who condoned violence against it. The larger public was desperate for ways to deter continued terror. Even if repelled by his rhetoric, they quietly shared many of his sentiments. The result was yet another fillip to Yisrael Beiteinu, which expanded into Israel's third-largest party, and to Lieberman, elevated to the post of foreign minister.
Many Israelis were dismayed that a man so laden with legal troubles and stained by anti-Arab rhetoric would now be the country's face to the world. Indifferently dressed and with his tie rarely cinched, he made zero effort to look diplomatic. And yet, concentrating on Africa, Latin America, and, naturally, eastern Europe, he succeeded in befriending countries formerly estranged from Israel and establishing a name for himself as a straight-talking envoy. That bluntness was especially evident on the Iranian nuclear issue, which he deemed "the biggest threat facing the Jewish people since the Second World War." He proposed that Israel join NATO, even the European Union, to defend itself. Yet, while Netanyahu and other Israeli leaders publicly debated the wisdom of striking Iran preemptively, Lieberman remained mostly mum. "When you have to shoot, shoot," he said at a conference of U.S. and Israeli politicians, quoting from The Good, the Bad, and the Ugly. "Don't talk."
And yet he did talk stridently on another paramount issue, peace. That would become the focus of my own relationship with Lieberman during the five years I served as Israel's ambassador to the United States. Though appointed by the prime minister in 2009, I technically answered to the foreign minister. Prior to departing for Washington, I had my first meeting with him—fittingly, in a closed-off, backstreet Tel Aviv restaurant on a rainy winter night. I say fittingly because my feelings about Lieberman were also murky. As much as I admired his accomplishments as a fellow-immigrant, I recoiled from those policies which had branded him a racist. Even if his criticism of Arab Israeli leaders was often justified, his attacks on the community as a whole appalled me. They deepened the already dangerous divisions in Israeli society and could not be defended before the world. My ambivalence intensified as I made my way through a smoke-clouded room of muscular Russians to a back booth where Lieberman sat nursing a cigar.
The person I met that night was strikingly different from his public persona—curious about my background, respectful, and wry. He gave no hint of his supposed hatred of Arabs or indeed of any far-right attitudes, which I began to suspect were less deep-seated convictions than opportunistic political tools. In time, I would come to know Lieberman as that rare politician who retained the same devoted staff over many years and who always lived up to his word. I learned the hard way, after presumptuously serving him vodka at an embassy reception, of his exclusive preference for French wines. He made only one demand of me, that I update him weekly on President Obama's efforts to revive the peace process. This I did at length, and each week received yet another of Lieberman's two-word replies: "Thank you."
In fact, Lieberman's approach to the peace issue was as singular as it was tough. Rejecting Obama's demand for an unconditional halt to all settlement-building in the West Bank, Lieberman insisted no freeze was possible until the Palestinian Authority cracked down on terror. Peace, he told an incredulous Saban Forum audience in Washington, was unthinkable until the Palestinians reached a per capita income of $10,000. Tensions climaxed in Lieberman's June 2009 meeting with Hillary Clinton. "I cannot understand why America would want to create another failed state in the Middle East," he told the secretary of state. "It will be a disaster for us and a disaster for you." Despite my efforts to convince her of the importance of keeping Lieberman inside the diplomatic tent, Clinton subsequently boycotted him. That September, following a photo op with Obama, Netanyahu, and Palestinian President Mahmoud Abbas at the UN, I accompanied Lieberman into an elevator with Israel's national security adviser, Uzi Arad. "I'm pessimistic," Arad said, concerned about the possibility of intensified American pressure on Israel. "Something will come of this." Lieberman responded, chortling: "I'm optimistic. Nothing will."
And nothing did. The Palestinians refused to return to direct negotiations. Atypically, Lieberman promoted his own peace plan. Unlike Netanyahu, who never formally accepted Obama's concept of swapping Israeli sovereignty over the major settlement blocks with the transfer of unpopulated Israeli territory to the Palestinians, Lieberman embraced the idea, but with a twist. Swapped for the settlements would be the so-called Triangle, an area abutting the West Bank and home to hundreds of thousands of Israeli Arabs. "Our conflict with Israeli Arabs is the most difficult," he explained. "Any attempt to reach a separate agreement with the Palestinians [without dealing with Israeli Arabs] will fail."
The plan, denounced by Israeli leaders across the political spectrum, once again opened Lieberman to charges of racism. Without their consent, Israeli Arabs would be stripped of their citizenship and placed under a Palestinian government. In response, Lieberman described the Triangle as a hotbed of sedition and recalled how the Israeli left proposed transferring the 200,000 Arabs of East Jerusalem to Palestinian control even though most of them preferred to remain within Israel. For all the controversy it aroused, Lieberman's concept struck a nerve among many Israelis who saw it as both logical and just. After all, 9,000 settlers had recently been uprooted from Gaza. Aware of this popularity, perhaps, Lieberman remained the only right-wing politician to support the two-state solution, even offering to evacuate his own home in Nokdim should one be achieved.
Short of the premiership, only one ministerial post remained for Lieberman to fill. Following the 2015 elections, the defense portfolio went to former IDF Chief of Staff Moshe "Bogie" Ya'alon, a Likudnik. Lieberman remained in the opposition, where he ramped up his criticism of the government's weakness in responding to Hamas rocket attacks from Gaza. In Ya'alon's place, Lieberman asserted, he would give Hamas's head, Isma'il Haniya, 48 hours to capitulate or die. The shooting of an already incapacitated terrorist by an Israel soldier in Hebron, in March 2016, tested Lieberman's bravado. Having adopted the unpopular position of condemning the soldier, Ya'alon was forced out of office, leaving the government's survival in Lieberman's hands. Once again, he seized the opportunity and joined the coalition as Israel's minister of defense.
Unlike most of his predecessors, Lieberman lacked virtually any military experience, and observers predicted his failure. They soon recanted. I was a Knesset member at the time, and listening to Lieberman's closed-door testimony before the Foreign Affairs and Defense Committee, I was impressed by his mastery of complex security issues. My colleagues on all sides of the aisle agreed. Hamas, however, was undeterred. As rockets continued to batter Israel, and the government consistently showed restraint, Lieberman's reputation for pugnaciousness was tarnished. Finally, after a two-day barrage in November 2018, he resigned. Rather than being assassinated after 48 hours, the Israeli press exulted, Hamas's Haniya had brought down Lieberman. Together with its defense minister, the government fell.
Throughout the vicissitudes of his career, Lieberman worked in lockstep with Netanyahu. Even when opposing each other, the two were sometimes believed to be secretly in league. Accordingly, the government's latest collapse was rumored to be a maneuver in which Lieberman helped his long-time boss gain a greater Knesset majority and so pass the legislation necessary to shield Netanyahu from the prosecutors. The rumors persisted even as Lieberman denied Netanyahu the fruits of his success, weakened him by siphoning seats from the Likud, and forced him into risky new elections. The once-dependable David was suddenly seen as plotting to dethrone King Saul by again—ingeniously—seizing opportunity.
But, meanwhile, Lieberman was losing his constituency. Over the years, the former Soviet Jews, and certainly their children, had integrated into Israel and were no longer voting as Russians. Lieberman needed to find another enemy. Ultra-Orthodox Jews, their numbers rapidly expanding, seemed poised to dominate Israeli society. Israelis were coming to fear them even more than they did the Palestinians, who might threaten their lives occasionally but not their way of life. At the same time, young Israelis—proportionally the largest under-30 population of any industrialized state—having grown up with terror, turned rightward. Historically, the left led all efforts to contain the ultra-Orthodox, but now Lieberman found an untapped voter base in Israel's right-wing, anti-Haredi youth.
Buoyed by this newfound source of support, and credited with preventing Netanyahu from surrendering to Haredi demands, Lieberman has soared in the polls. He is now insisting on a national-unity government with the premiership rotating between Netanyahu and Blue and White's Gantz. But if Gantz refuses to sit with an indicted prime minister, Lieberman could well engineer Netanyahu's demise. The price for such a deal might be a three-way rotation with the leaders of Likud, Blue and White, and Yisrael Beiteinu.
And so, astonishingly, the perennial outlander, rule-breaker, and coalition quitter, the phoenixlike politician adept at seizing opportunities, could attain Israel's highest office. Will Israelis forget the foreigner who once appealed largely to Russians and the firebrand who demanded loyalty oaths, death penalties, and the expatriation of a major share of Israel's Arab population? Lieberman appears to be counting on it. No longer appealing to immigrants or to the radical fringe, his campaign is aimed at Tel Aviv professionals. Commuting to their high-tech jobs outside the city, they pass billboards with Lieberman's still-glowering face but a different slogan, this one in English. "Make Israel Normal Again," it says, a clear reference to President Trump. How normal will we be, Israelis may wonder, with the prince of our paradoxes as prime minister?