NFL Players Are Evolving. Fans Aren't Keeping Up.
The Colts quarterback's sudden retirement is a harbinger. Fame, fortune, and team spirit are no longer enough to make star players endure crippling injuries.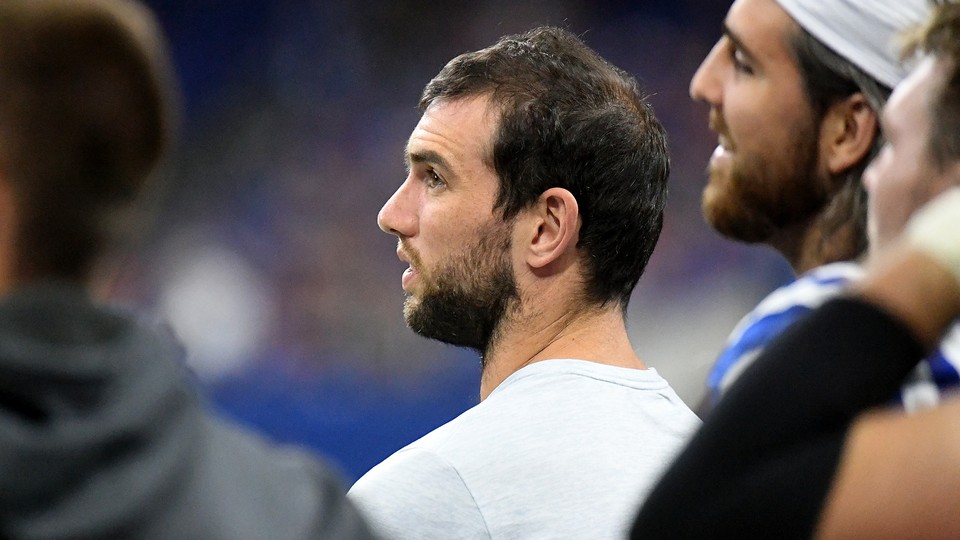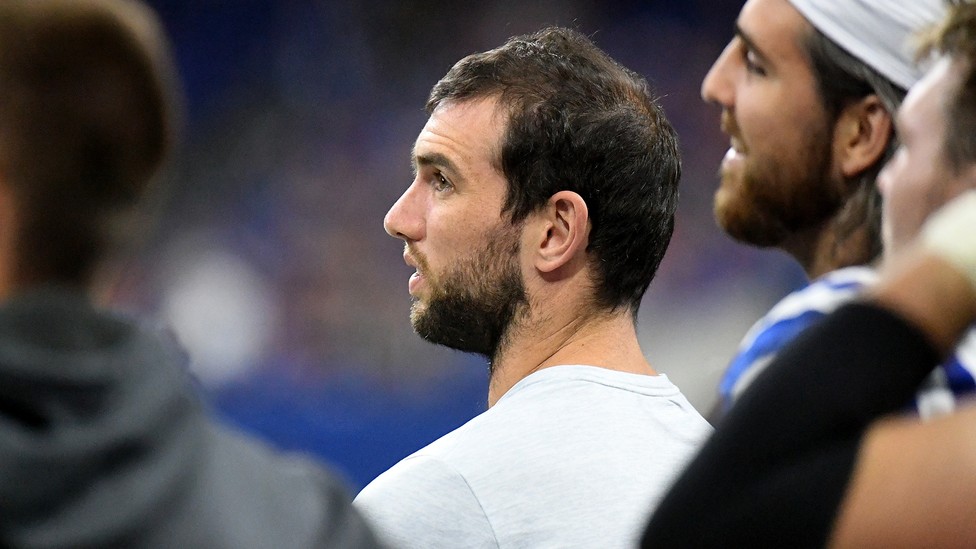 When Andrew Luck walked off the football field for the final time as a player, it was to the sound of boos from fans, because news of his shocking retirement had surfaced on social media. Their reaction wasn't a surprise as much as it was evidence of an unpleasant reality.
Many fans, it seems, are struggling to accept that the players who entertain them on NFL Sundays are evolving, and that even the type of idealized athlete who drew many fans to football—the hard-nosed, rugged guy who repeatedly and eagerly sacrificed his body, enduring unimaginable pain for the sake of the game—has been pushed to the outer limits of what any human body can tolerate. The fame, wealth, and adulation that pro athletes receive are no longer enough to make them suffer in silence. For more and more athletes, the price of pain is getting way too high.
By retiring at 29 years old, Luck left millions of dollars in earning potential on the table. That assumes, of course, he'd be healthy enough to get a deal similar to the five-year, $122 million deal he signed with the Indianapolis Colts three years ago. Over the past four years, Luck's body has been ravaged by injuries—a lacerated kidney, busted ribs, a concussion, a bum shoulder, and a stubborn leg problem that seemed to convince him that playing in the NFL wasn't worth it anymore.
"For the last four years or so, I've been in this cycle of injury, pain, rehab," Luck said in an impromptu press conference addressing his sudden retirement on Saturday. "It's been unceasing, and unrelenting, both in season and in the off-season. I felt stuck in it, and the only way I see out is to no longer play football. It's taken my joy of this game away."
Overcome with emotion, Luck paused and then said, "Sorry," as if he had anything to apologize for. Much as spectators booed Luck as he walked off the field in Indianapolis, commentators on social media let loose all sorts of dumb opinions questioning Luck's toughness and calling him soft. Fantasy football players—including O. J. Simpson—whined about Luck torpedoing their teams. Suddenly Luck was Exhibit A that Millennials had ruined everything, including the precious sport of professional football.
Not all fans are actually capable of seeing the humanity of the players they follow so closely. When the allure of the game is rooted in violence, and in conformity to whatever the team demands, players are treated as physical objects and nothing more.
Football players used to be content to play along with the narrative that their bodies were meant to be used up. They all proudly embraced the idea that they were warriors and gladiators and that, regardless of the private pain they suffered—be that emotional or physical—they were designed differently than anyone else. They were built to withstand practically anything.
But as Maya Angelou once said, "When you know better, do better." And unlike the previous generations of NFL players, today's players are more keenly aware that their relationship with fans and the game itself is totally conditional.
Former NFL player Martellus Bennett, who retired at 31 years old in 2018 after winning a Super Bowl with the New England Patriots, tweeted, "Football doesn't care about players. Players are starting to realize that more and more. The game gets what it needs from you then moves on. Now that players are getting what they need from the game and moving on, it's fucking up the ecosystem."
Rob Gronkowski, who became one of the best tight ends in NFL history while playing for the Patriots, also retired right before his 30th birthday this year. In his nine seasons with New England, Gronkowski endured back, ankle, hip, forearm, and head injuries. In fact, right before the Patriots beat the Los Angeles Rams in Super Bowl LIII, Gronk candidly discussed the impact the multitude of injuries had had on his body.
"The season is a grind," he said. "It's up and down. I'm not going to lie and sit here and say every week is the best. Not at all. You go up. You go down. You can take some serious hits. Try to imagine getting hit all the time and trying to be where you want to be every day in life. It's tough. It's difficult. To take hits to the thigh, to take hits to your head, abusing your body, isn't what your brain wants. When your body is abused, it can bring down your mood. You have to be able to deal with that, too, throughout the season. You have to be able to deal with that going into games."
It's been 20 years since Barry Sanders suddenly retired from the Detroit Lions, just as he was 1,458 yards shy of owning the NFL's all-time rushing record. At the time, Sanders's retirement was widely considered to be more of an indictment of the Detroit Lions' ineptitude as a franchise and not a case of Sanders having the foresight to leave pro football with his body still intact.
His departure, like that of the NFL great Jim Brown before him, was viewed as an anomaly. Players playing at Sanders's level just didn't walk away unless they were absolutely broken.
But this generation of players is more empowered to make the unpopular choice of retiring early. They have made more money than their predecessors ever have, even though NFL careers are typically short. They have seen what happened to Junior Seau, the Hall of Fame linebacker who committed suicide in 2012. Seau's family settled a wrongful-death suit against the NFL after it was discovered that Seau suffered from brain-deterioration chronic traumatic encephalopathy. They have heard the Dallas Cowboys great Tony Dorsett disclose that he has been diagnosed with the same condition and suffers from severe memory loss as a result. "I signed up for this when, I guess, I started playing football so many years ago," Dorsett told a Dallas radio station. "But, obviously, not knowing that the end was going to be like this."
The former NFL wide receiver Calvin Johnson, the second overall pick and six-time Pro Bowler, cited the numerous injuries he'd suffered during his nine seasons as a Detroit Lion as a major reason he retired at 30, even as he was still considered one of the best at his position. The San Francisco 49ers linebacker Patrick Willis was in the process of a Hall of Fame career when he stopped playing at 30. In 2014, Willis's last year in the league, the linebacker appeared in just six games following toe surgery. When the NFL running back Arian Foster retired in 2016—also at age 30—he said his body was done. "I'm walking away with peace," Foster wrote in a letter. "I know it's not commonplace to do it midseason, but my body just can't take the punishment this game asks for any longer."
Of course, there are still a number of players who will willingly and selflessly give their bodies to professional football without any regard to the physical price they will eventually pay. But maybe fans will start to understand that, no matter how much they boo, the mentality of the players has changed.