Four Lessons From Israel's Clash With Tlaib and Omar
The best way for Israel to strengthen its hand is not by waging war to the utmost against its opponents, but by maximizing the number and range of its friends.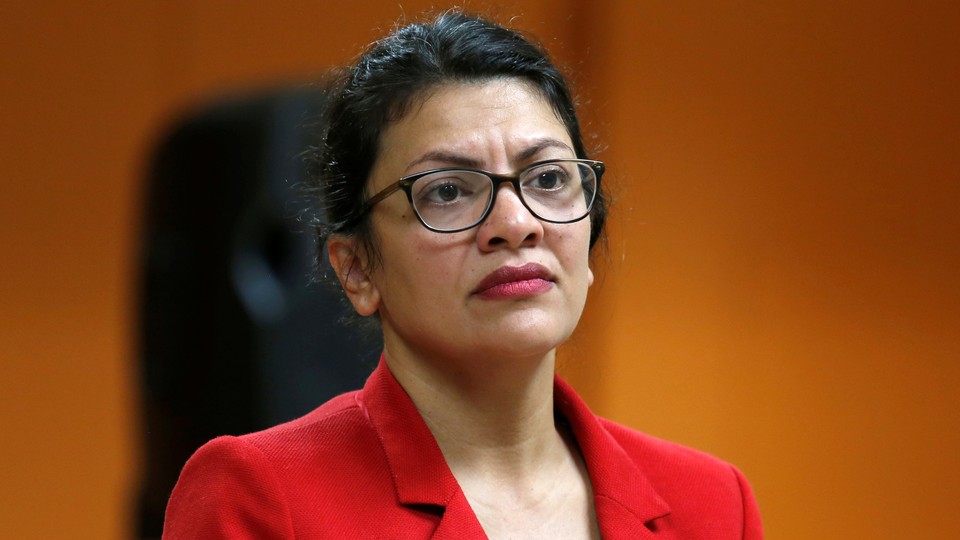 On Thursday, Representative Rashida Tlaib requested and received permission to enter the state of Israel to visit her 90-year-old grandmother in the West Bank. "This could be my last opportunity to see her," she wrote, on congressional letterhead. "I will respect any restrictions and will not promote boycotts against Israel during my visit."
Today, Tlaib reversed herself. If she cannot promote her political views, she will not visit. "Silencing me & treating me like a criminal is not what she wants for me. It would kill a piece of me," she wrote. "I have decided that visiting my grandmother under these oppressive conditions stands against everything I believe in—fighting against racism, oppression & injustice."
Israel had previously denied entry to Tlaib and Representative Ilhan Omar, citing their promotion of the Boycott, Divestment, and Sanctions (BDS) movement. The sorry incident of the Omar-Tlaib visit imparts lessons for all parties.
For the state of Israel, the lesson has to be: Respect the U.S. Congress and all its members. No, they are not all wise or good or just. It's not as individuals that they command respect, though, but as members of a legislative body. And no, it's not an equal two-way relationship. In 2012, the U.S. Department of State excluded an Israeli Knesset member on grounds that he had ties to a terrorist group. Some friends of Israel have raised this precedent in the "what about" spirit that adds so much to social-media debate. The ultimate answer to such questions was long ago delivered by Bernard Lewis: The United States is so rich and strong that it can afford not only double standards, but triple, quadruple, and quintuple standards. Countries dependent on the U.S. for aid and protection can afford only one, however.
For Prime Minister Benjamin Netanyahu, the lesson should be: Don't bet so big on President Donald Trump. The U.S.-Israel relationship is bigger than people, parties, and politics. It's a profound state-to-state relationship, and even if the prime minister supposes he is getting a better deal from this president than the previous one, that's no reason to forget there will also be a next president, and a president after that. When Democratic friends of Israel such as Chuck Schumer, Steny Hoyer, and Rahm Emanuel tell you that you are dangerously overstepping partisan limits, listen to them. Your successors will certainly wish you had.
For those covering these issues: How many more lessons do you need of the bottomless bad faith of Tlaib and Omar on Israel issues? A politician who will certify one day that she's prepared to set aside her advocacy of boycotts to visit her grandmother, and then the next say that it would "kill a piece of me" to do so, should be handled with extreme care. Omar can pivot from accusing American Jews of disloyalty to the United States to expressing shock and outrage that anyone would question her attachment to the United States.
For friends of Israel: Cool down. Many seem to feel that the entry into Congress in 2018 of these two Israel boycotters represents some unprecedented challenge. It does not. Congress has often before seated critics of Israel, including some—such as the late Representative Paul Findley of Illinois—who verged on conspiratorial anti-Semitism. Israel enjoys the support of more friends than enemies in the United States, but nothing is unanimous. The best way to strengthen Israel is not by waging war to the utmost against its opponents, but by maximizing the number and range of its friends. And the best way to accomplish that is by strengthening democratic and liberal institutions inside Israel against Israel's own local illiberal authoritarians.
The surest way to keep friends is to deserve them.