Trump Makes Clear What Black Voters Had to Lose
"What the hell do you have to lose?" the president asked in the summer of 2016. The answer is now only all too plain.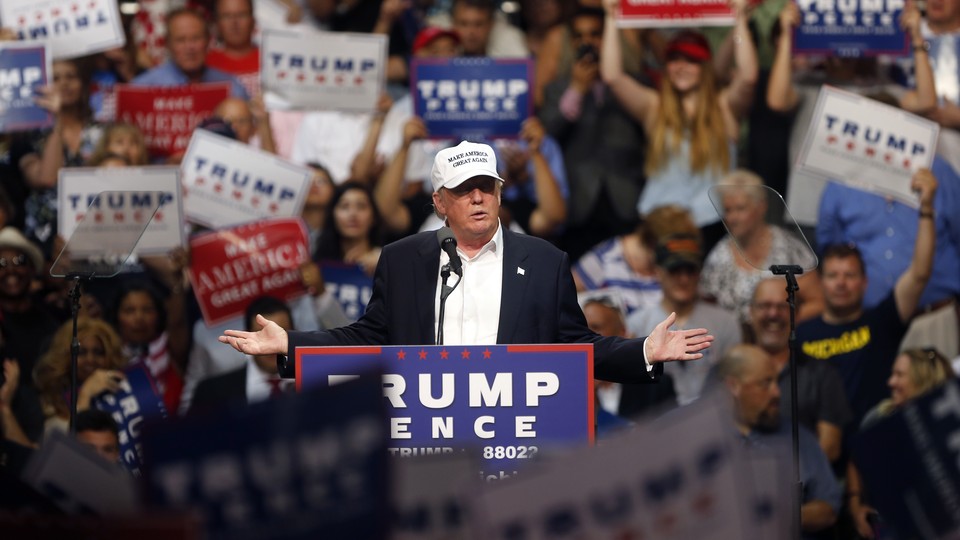 Updated on July 30 at 9:32 a.m. ET
In late summer 2016, the Republican presidential candidate Donald Trump embarked on what he claimed was an appeal to African American voters. In August, Trump traveled to Michigan for an event that was part of the push, though reporters noted that his speech was actually given in a predominantly white suburb of Lansing.
"What the hell do you have to lose?" Trump said, addressing his question to black voters. The point, he said, was that African American communities were already a shambles, and their condition could only improve. The remarks drew shocked reactions at the time.
Three years later, as the president attacks Representative Elijah Cummings, a Baltimore Democrat, the answer to his question is clear. Trump has sabotaged a law that guaranteed health insurance for many African Americans. He has undermined protections for voting rights. His Justice Department has stopped going after police departments that discriminated against African Americans. He has rolled back environmental protections. Beyond policy, he has used rhetoric that suggests the citizenship of African Americans and other minorities is conditional and less than that of white Americans.
Whenever he is accused of racism, which is frequently, Trump is quick to cite black unemployment rates, which are at historic lows. The president invokes this as if it's a special favor he has bestowed on African Americans, rather than a self-evident policy goal of the government. Insofar as African American employment has improved, it's simply as part of a generally growing economy, not targeted policies. Moreover, as Peter Nicholas reports, black unemployment remains twice as high as white rates, and the gap in wages between races is growing. Trump has at other times cited the First Step Act, a bipartisan criminal-justice-reform law he signed in late 2018. Advocates have widely hailed the law as a positive move.
But in other areas, Trump's policy record for African Americans is dismal. Begin with policing, a subject of intimate relevance in Baltimore. The city was shaken by protests in April 2015, after the death of Freddie Gray while in police custody. It was one in a long string of deaths of people under arrest, and the city convulsed in violence. In the aftermath, the Obama Justice Department probed the Baltimore Police Department and found a horrifying record of racial discrimination and disparate enforcement. Baltimore was one of several cities where DOJ investigated abuses and used consent decrees to force departments to reform amid evidence of widespread abuses of African Americans at the hands of police officers.
But shortly after the Trump administration took over, then–Attorney General Jeff Sessions announced that the Justice Department would no longer pursue such arrangements. "It is not the responsibility of the federal government to manage non-federal law enforcement agencies," he said. "The misdeeds of individual bad actors should not impugn or undermine the legitimate and honorable work that law enforcement officers and agencies perform in keeping American communities safe." DOJ attempted to undo the already agreed-upon Baltimore consent decree. In a speech on Long Island in 2017, Trump even celebrated roughing up suspects.
The Trump administration has also waged a years-long campaign to undermine the Affordable Care Act. The nonpartisan Kaiser Family Foundation has found that the law significantly increased insurance coverage for African Americans, with uninsured rates falling from 19 percent in 2013 to 11 percent in 2017, but the president has undertaken a number of steps that KFF says will exacerbate racial gaps in health care. In March, the Justice Department reversed its position on a pending case, announcing that it supported a lower-court judge's ruling that would strike the entire law. Despite promising a better replacement, Trump has not offered a plan to replace the law if it's struck down, and Congress has given up as well. The administration is also squeezing states that wish to expand Medicaid coverage under the ACA.
When the Trump administration is not working to reduce health-care access for black Americans, it is taking steps that could make more of them sick. The president has sought to undo a range of environmental protections, even as a study of pollution by Trump's own Environmental Protection Agency found that "results at national, state, and county scales all indicate that non-Whites tend to be burdened disproportionately to Whites."
The most potent weapon against policies like these, the guarantor of political rights, is the ability to vote. That has also historically been a fragile right for African Americans, often deprived or eroded. Since taking office, Trump has made it harder for black citizens to exercise their right to vote. The Justice Department switched its position in gerrymandering and voter-ID lawsuits, supporting defendant states against plaintiffs challenging laws. Trump has also subscribed to conspiracy theories about massive numbers of illegal votes, all in service of stricter voter laws that depress minority turnout.
Worse, perhaps, than all of these concrete policy effects has been the symbolic message that Trump has sent, deeming African Americans second-class citizens. This has taken several forms in the past month alone: his suggestion that the black and brown women of the "squad" of progressive Democratic representatives "go back and help fix the totally broken and crime infested places from which they came" (all four are American citizens, and all but one are native-born); his ratification of a "Send her back" chant at a rally; his attacks on Cummings; and his consistent labeling of people and communities of color as "infested" or "infestations." These are all, as my colleague Adam Serwer has written, manifestations of "the president's belief that American citizenship is conditional for people of color, who should be grateful we are even allowed to be here."
Baltimore certainly has its struggles. Since Gray's death, the murder rate in the city has surged. The mayor resigned amid corruption allegations in May, the second mayor to step down in a scandal in a decade. Parts of the city struggle with intense poverty. But blaming Cummings for this misses the point in two different ways. The median income in Cummings's district is, as Nicholas notes, above the national average. Beyond that, Trump seems to misunderstand Cummings's role: He's a United States representative, which means that the oversight that has enraged Trump is very much his responsibility, but he is not the mayor, which means that local governance is not within his ambit.
Besides, Trump in 2016 promised the nation that when it came to problems like poverty and squalor in Baltimore, "I alone can fix it." He specifically criticized Barack Obama for not doing enough for the city. Now, however, Trump wants Baltimore and other major cities—as well as hurricane-ravaged Puerto Rico—to fix themselves. When he travels the country, Trump sticks as much as possible to the white, rural districts that elected him, while avoiding the urban and minority-heavy ones that spurned him.
It is true, as Trump noted, that other politicians, including Bernie Sanders, have lamented conditions in Baltimore. Yet Sanders made those comments while demanding that the federal government do better for the city and after touring West Baltimore. Trump made his remarks while writing off a city. He evinces no interest in visiting or improving the city, which he has never bothered to visit as president, even though it's just 40 miles from Washington, D.C. The struggles of any African American residents there are useful as a political bludgeon, but otherwise they are up to the residents (and their African American congressman) to deal with.
As the 2020 election approaches, Trump's question to African American voters is no longer a hypothetical or rhetorical question. So what the hell do they have to lose? Just their health, their health insurance, their right not to be abused by police, their right to vote, and their status as full members of the American polity.