The Guilty Pleasures of Mansion Porn
Each week, The Wall Street Journal offers its readers the choice between envy and schadenfreude.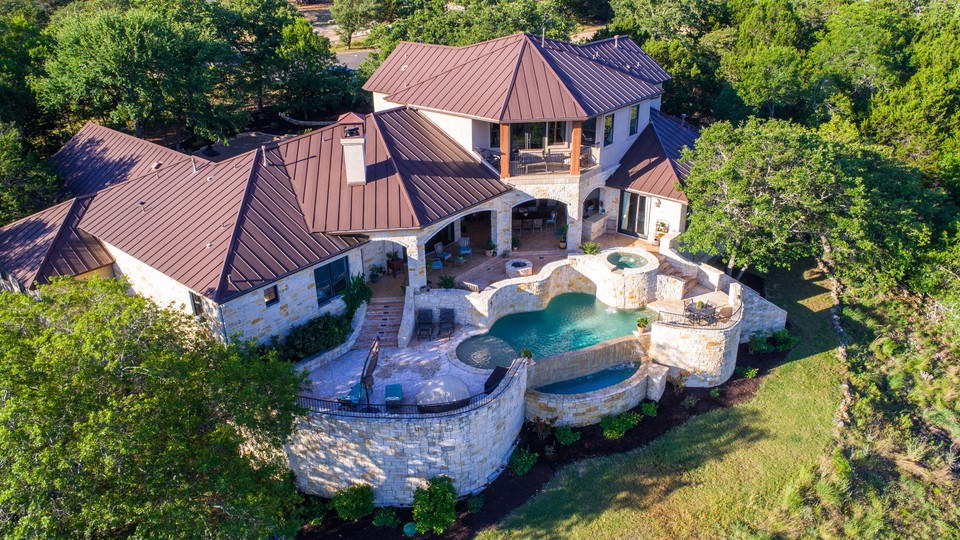 Mansion, The Wall Street Journal's real-estate supplement, arrives each Friday slipped into the middle of my newsprint edition, the way pornography (so I'm told!) used to come in unmarked envelopes back before the internet placed it at everyone's fingertips. I'm satisfied with my weekly print version, but you may prefer reading Mansion on the web, where the photographs are more numerous, detailed, lurid, and explicit.
Lots of newspapers in the United States—Ha! Look at me, I wrote "lots of newspapers"—I mean, the few newspapers that still exist in the United States, cover the real-estate market in matter-of-fact terms, often in a weekend flyer. You get mid-range listings, mortgage tips, market forecasts, and so on. The effort is invariably respectable and modest in ambition. Mansion is up to something else altogether. Like all great storytelling, Mansion leaves us to uncover the great human truths as if on our own; it shows rather than tells. You have to bring your own mockery and horror.
The comparison to porn is apt. It's also unoriginal and incomplete. A little more than a decade ago, when the century was young and right before their real-estate holdings drove millions of people into bankruptcy, New York magazine ran a regular feature about how fabulous it was to own real estate. And not just to own it, but to fantasize about it, drool over it, caress the photos and the sales price as though they were objects of sensual desire. The feature was called "Real Estate Porn," in keeping with the salacious content.
Mansion invokes the same feelings of naughtiness: You're watching people do something that, in a fairer and more just world, you'd be doing yourself. I think of Vivian Dixon and John Chapple, a married couple that Mansion introduced us to not long ago, as the exemplars of the Mansion character. They are voluptuaries of real estate. They grab houses the way the rest of us scoop mints from the little bowl as we leave a restaurant. At the time of the article's publication, in May, they owned six residences, though by the time the piece ends you suspect their trigger finger is getting itchy again.
The tale of the Dixon-Chapples is a saga of houses found, houses upgraded beyond recognition, houses scarcely lived in. Homeownership, for them as for so many Mansion people, is an additive activity. The most ordinary of their houses, from what I can tell, is a vacation house in Wisconsin. They bought the place for $800,000, then duded it up with a $1.8 million renovation. When their hometown of Seattle proved too rainy, they headed to the Big Island of Hawaii and bought a three-bedroom condo. From the new condo they caught sight of a three-bedroom house dangling just down the hill, ripe for the plucking. Pluck! $2.5 million.
Back at the Seattle house, their dog, a German shepherd called Max, felt cooped up. So the couple treats him to a new house in suburban Woodinville set on 2.17 "dog-friendly acres," which are, happy to say, adjacent to a 60-acre "off-leash" dog park. Then Dixon heads down the California coast to visit her relatives at the beach. At a car wash she leafs through a magazine that features an ad she finds irresistible, for a house that happens to be nearby: 8,000 square feet of heaven, if heaven has ocean views. $5.9 million later, this house too is theirs.
We learn from Mansion that the Dixon-Chapples show as little restraint in decorating their properties as they do in acquiring them. Chapple is a sports fan. That lake house in Wisconsin—the kitchen countertops had to be of green granite, as a tribute to his favorite professional football team, the one in Green Bay. As for college hoops: "To keep him happy," Mansion tells us, "Ms. Dixon decorated areas of the homes in … bright orange and blue in honor of Syracuse University."
Even Syracuse's most avid alumni have to agree that the combination of bright orange and blue doesn't look good even on basketball jerseys, much less in bathrooms and kitchens. But the requirements of Chapple's fandom are unyielding. When his wife swooped up the California beach house, "all the couple had to do to the house [was] paint the workout area orange and blue." The beach house, as luck would have it, is also adjacent to a dog park, where the Dixon-Chapples let Jim Boeheim run off-leash in the summer months.
I kid. But somebody has to. Mansion's treatment of rich people's real-estate crochets lacks irony; it begs for snark. This is both the strength and the weakness of the Mansion approach. The article about the house-hungry Dixon-Chapples, for example, isn't about a possibly clinical compulsion afflicting a couple with too much money but about the demands of upkeep. (The damage wrought by toads in Hawaii; the cracking marble in a master-bedroom shower: "It's exhausting," Vivian Dixon says. "A full time job.")
This willingness to take the wealthy on their own terms is a rarity in American business journalism. Reporters are usually more leery in their treatment of such subjects, when not nakedly hostile. Few people in the world despise the winners of the capitalist lotto more than the sorry drudges who are called to write about them. You'll find a higher percentage of committed socialists in the newsroom of the Financial Times than at a lakefront party at Bernie Sanders's dacha.
Occasionally, it's true, Mansion strikes discordant notes. One recurring feature about celebrities, titled "House Call," not long ago gave us Moby, who in the 1990s, we are reminded, was "a pioneer of electronic dance music." (I'm one who needed reminding: I can scarcely remember his music, perhaps because the 1990s is when I stopped dancing.) Moby's story, as told to Mansion, is unrelievedly squalid, a Dickensian coming-of-age tale about a young fellow abandoned by his father and yanked around the country by an itinerant, drug-addled mother. Here's a brief excerpt, so un-Mansion-like: "Being ashamed was my lot. My mother's hippie life meant chaos, poverty, and shame."
This is the stuff of real journalism, and yet, set alongside stories like that of the Dixon-Chapples, we glimpse an unmistakable spiritual lesson, feel a moralizing prod. You have a choice in life, Mansion implies: Give in to house lust as Dixon and Chapple have done, or you'll wind up like Moby's hippie mom. As if to drive the point home, we are told that Moby now lives in Los Angeles in a 2,500-square-foot house—a shack, by Mansion standards—with a swimming pool he has filled with dirt. Not a laff riot, is Moby.
Next to house lust, the motive power of Mansion lies in the possibilities, however implicit, for envy: green-eyed, palm-dampened, parched-mouth resentment. The editors, of course, know this, but here again they show rather than tell, leaving readers to react as they will. The most unexpected feature in the newsprint edition of Mansion is the full-color, double-page spread of advertisements for fancy residences, often selling in the mid-eight figures—what Mansion has taught me to call "high-end properties." (That's another benefit to reading Mansion: the endless opportunity to expand one's vocabulary. A few weeks back I discovered the word Mando-pop, which thrilled me though I will never use it. Some sentences hit my eye as little more than a Mad Lib of misprints: "The powder room has a quartz Sonobath sink and burned, shou sugi ban wood walls.")
The ads are dressed up to look functional, a straightforward means of bringing buyer and seller together. But I suspect they are merely entertainment, or a provocation, depending on readers' dispositions. I have limited experience with the super rich as a class—this may explain why I don't dislike them—and my only firsthand experience with real estate is as the minority owner, with Citibank, of a 90-year-old suburban bungalow roughly half the size of Moby's. Still, my intuition tells me that a man or a woman who is in the market for a private island off Vancouver or a 1,200-acre horse farm outside Charlottesville does not hop out of bed every Friday and run down to the 7-Eleven to buy that day's Wall Street Journal to see what's new in the real-estate listings. Someone looking to buy a manor house with a working observatory and a 12-car garage has other options for finding the home of his dreams.
No, the ads are meant for the rest of us. Whether they seem an act of taunting sadism on the part of the editors or merely an amusing diversion is, again, up to the reader. For those not naturally inclined to envy I am delighted to report that each week Mansion offers many opportunities for envy's inverse, schadenfreude—that most Germanic of words for that most Germanic of sensations: delight in the discomfort of others.
A recurring theme in the past year has been the "softness" of the luxury market. Everyone over the age of 20 remembers the 2008 crash. Mansion people have endured many booms and busts since then. "Miami Condo King Relists His Own for 45% Less" is a typical tale of woe. This condo king—Pérez is his name—built a 3,600-square-foot penthouse with a 4,000-square-foot terrace for $4 million. He tried to flip it for $20 million. The market tanked. His new asking price is $10.95 million. Mansion featured sumptuous pictures of the condo but none of Pérez personally. Perhaps he's hiding from the shame of selling his penthouse for half his original asking price but more than twice what he paid for it.
Agreed: This is low-grade schadenfreude. But there's much more. Stories about the tyranny of condo boards and homeowners associations—HOAs—will offer pleasure to any reader who can't afford to join one. In Mansion, inter-residential conflicts pit the super rich against the merely rich, and the rest of us get to watch.
My favorite Mansion story involves just such a conflict. It described the fastidiously secretive manner in which Mark Zuckerberg has acquired his real-estate holdings.
Zuckerberg's new neighbors are usually the last to know who's moving in. He quietly bought a $7 million house in Palo Alto, California, not far from Facebook's headquarters, then secretly bought up the adjacent houses one by one, according to Mansion, as a way to skirt zoning laws. Presumably his goal is to combine the lots for a kind of Zuckerland in the middle of the block. The city's Architectural Review Board isn't happy, and the neighbors who weren't lucky enough to get a chance to sell their houses to him are furious. The gears of justice continue to grind, though whether they will have the happy outcome of grinding Zuck is unclear.
Further north, in the Noe Valley neighborhood of San Francisco, Zuckerberg bought a house for $9,999,999. (The reader can't help but wonder: Would the extra dollar, making it a round $10 million, have been a deal breaker for Zuckerberg?) Construction noise from his remodeling irritated the neighbors. Then his security people started hogging the street parking with their SUVs. Billionaires! What are you going to do? The neighbors, who are merely rich, knew what to do. They circulated a petition of protest, ginned up bad publicity, and sicced their city supervisor on their new neighbor, the super-rich interloper. He's apologized. Apologies, as Facebook users know, are a Zuckerberg specialty.
In stories like this, Mansion lays out the sort of conflict that readers of a certain age will recall from the ferocious Iran-Iraq War of the 1980s: Any decent person wants both sides to lose. Few people are as rich as Mark Zuckerberg, but you do get the idea that the vastness of his wealth isn't what makes his presence so irksome to his neighbors. They would object even if his net worth were a tenth—a hundredth!—of what it is, just so long as it was more than theirs. Relativity governs the Mansion world no less than it does our own. If you own a $9 million house, a $9.999 million house next door must seem a grotesque extravagance. For most of us, the income bracket that defines a member of the class of the loathsome rich begins roughly a hundred dollars above our annual salary.
Every week Mansion brings us this sort of home truth—clear-eyed but not censorious; shown but not told—and I have to say I find it deeply rewarding. I finish reading Mansion each Friday morning, fold the paper, and then, alas, take a good look around at my own lot. The house paint is peeling off the bungalow that Citibank and I own, the toilet in my second bathroom has sprung a leak, the cat has scratched through the screen door, the air conditioner has developed a menacing gurgle, and outside the weeds threaten to engulf the entire house. At least they will hide the peeling paint. For a moment I flatter myself that I too share the trials of the Mansion people. Homeownership—it's exhausting, as Vivian Dixon says. A full-time job.