Independence Day in a Divided America
Much more so than in 1776, there is a widely held belief that all humans are created equal.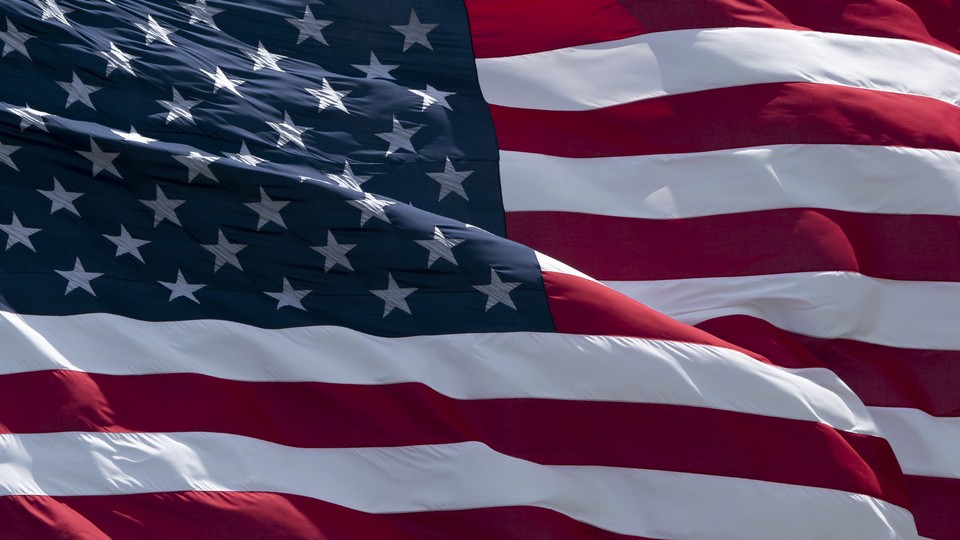 John Adams predicted in a 1776 letter that the nation would mark the anniversary of its independence as "the most memorable Epocha in the History of America," hosting a great anniversary festival that ought to be "solemnized" forever after with "Pomp and Parade … Shews, Games, Sports, Guns, Bells, Bonfires and Illuminations from one End of this Continent to the other."
That was prescient. This year's commemorations may not be the most solemn or jubilant in modern U.S. history. There is no great victory to celebrate, as in 1946, no special anniversary to mark, as in 1976, and nowhere near unanimity in the proper direction for the country going forward. Long after Independence Day celebrations end tonight, America's polarization will persist.
But we can't separate.
"A husband and wife may be divorced and go out of the presence and beyond the reach of each other," Abraham Lincoln observed, "but the different parts of our country can not do this. They can not but remain face to face, and intercourse, either amicable or hostile, must continue." We have no choice but to find common ground amid disagreement, as we've done over and over in our history.
And Independence Day is the perfect occasion for doing so.
In 1776, the initial, July 1 vote on whether to declare independence won support from only nine of the original 13 colonies: the Pennsylvania and South Carolina delegations voted no on the question, the New York delegation abstained, and Delaware's two representatives were split. By July 4, however, delegates impressed by the geopolitical advantages of showing greater unity had secured it, with South Carolina, Pennsylvania, and Delaware all voting in favor.
Even though the new nation failed to live up to its ideals, Frederick Douglass would call the Declaration of Independence "the ring-bolt to the chain of your nation's destiny" in his 1852 speech, "What to a Slave Is the Fourth of July?" The oration began with incisive praise for the Founders' best qualities:
The signers of the Declaration of Independence were brave men. They were great men too — great enough to give fame to a great age. It does not often happen to a nation to raise, at one time, such a number of truly great men. The point from which I am compelled to view them is not, certainly, the most favorable; and yet I cannot contemplate their great deeds with less than admiration.

They were statesmen, patriots and heroes, and for the good they did, and the principles they contended for, I will unite with you to honor their memory.

They loved their country better than their own private interests; and, though this is not the highest form of human excellence, all will concede that it is a rare virtue, and that when it is exhibited, it ought to command respect. He who will, intelligently, lay down his life for his country, is a man whom it is not in human nature to despise. Your fathers staked their lives, their fortunes, and their sacred honor, on the cause of their country. In their admiration of liberty, they lost sight of all other interests. They were peace men; but they preferred revolution to peaceful submission to bondage. They were quiet men; but they did not shrink from agitating against oppression. They showed forbearance; but that they knew its limits. They believed in order; but not in the order of tyranny. With them, nothing was "settled" that was not right.

With them, justice, liberty and humanity were "final;" not slavery and oppression. You may well cherish the memory of such men. They were great in their day and generation.
That prelude, rooted in the common ground of celebrating praiseworthy deeds and ideals, made the stinging indictment that followed all the more powerful. "Fellow-citizens," Douglass said, "above your national, tumultuous joy, I hear the mournful wail of millions! whose chains, heavy and grievous yesterday, are, to-day, rendered more intolerable by the jubilee shouts that reach them."
And he went much further:
At a time like this, scorching irony, not convincing argument, is needed. O! had I the ability, and could I reach the nation's ear, I would, to-day, pour out a fiery stream of biting ridicule, blasting reproach, withering sarcasm, and stern rebuke. For it is not light that is needed, but fire; it is not the gentle shower, but thunder. We need the storm, the whirlwind, and the earthquake.
America got the storm, the whirlwind, and the earthquake; and emancipation, along with an amended Constitution, completed the American Revolution–– much more protest and politics, but no more war, would be required to perfect the union.
Those celebrating the Fourth of July in southern states today owe a debt to the emancipated African Americans who conserved the region's patriotic inheritance in place of whites who abandoned them in those first postbellum years.
"Whereas whites expressed little interest in celebrating the Fourth following the surrender of General Lee's forces, the new black 'freedmen' celebrations that took place throughout the South played a major role in assuring the Independence Day traditions of former times remained intact," James R. Heintze writes in The Fourth of July Encyclopedia. "On July 4, 1865, in Raleigh, North Carolina, a large African-American parade that included a brass band processed from Guion Hotel to the 'African Church' where those assembled heard speeches and sang songs. In Newbern, North Carolina, on July 4, 1866, a parade hosted a 'Freedman's Bureau' wagon covered with an immense American flag."
That same encyclopedia notes many other occasions across the decades when the Fourth of July inspired attempts at patriotic unity amid difference. The nation's July 4, 1876, centennial provided an occasion for North-South reconciliation, with Virginians raising the Star-Spangled Banner over the state capitol building in Richmond for the first time in 16 years. Also that year, Representative William T. Avery declared in a Memphis, Tennessee, oration, "This Fourth of July is a common heritage: it belongs to no North, no South, no East, no West."
On July 4, 1890, a march of 2,000 Confederate veterans in Chattanooga, Tennessee, concluded with former Confederate General John B. Gordon declaring that slavery was wrong and that the Confederacy had been on the wrong side of the Civil War.
In 1915, Frederic C. Howe, commissioner of immigration at Ellis Island, successfully urged cities to host July Fourth "Americanization Day" celebrations to welcome and honor new citizens. The Immigrants in America Review declared, "If American ideals and purposes are to be fully realized, the barriers that separate the newly naturalized citizen from the native born must be swept aside."
On July 4, 1922, Wisconsin's governor gave clemency to every man in Wisconsin prisons "incarcerated due 'directly or indirectly' to causes borne out of service to the nation." The following year, Oklahoma's governor gave a July 4 clemency "and used the occasion to express his dislike for capital punishment."
Starting in 1961, even Soviet authorities sent conciliatory Fourth of July messages to the United States in hopes of reducing Cold War tensions, with Nikita Khrushchev attending a 1962 celebration at the American embassy in Moscow.
After the tumult of the late 1960s and early '70s, Americans seized on the bicentennial of the declaration as an occasion that could bring healing. They may have been riven by the events of the recent past, but could unite around the spirit of '76. A man quoted in The Washington Post, a computer specialist named Bob Peloquin of Springfield, Massachusetts, summed up the effect of bicentennial festivities on many: "This has rejuvenated my faith in America," he said. "After Vietnam and Watergate, people were afraid to wave the flag. Maybe with the Bicentennial, people can come out of their shell and say, 'We've made some mistakes, but let's go on from here.'"
The principles of the declaration are still there to unite us, even amid the persistent divisions that define this moment. Much more so than in 1776, there is a widely held belief that all humans are created equal and "endowed by their Creator with certain unalienable Rights, that among these are Life, Liberty and the pursuit of Happiness."
Happy birthday, America.