Trump's Iran Strategy Is Helping China
Forcing India out of Iran will give China yet more power in the region.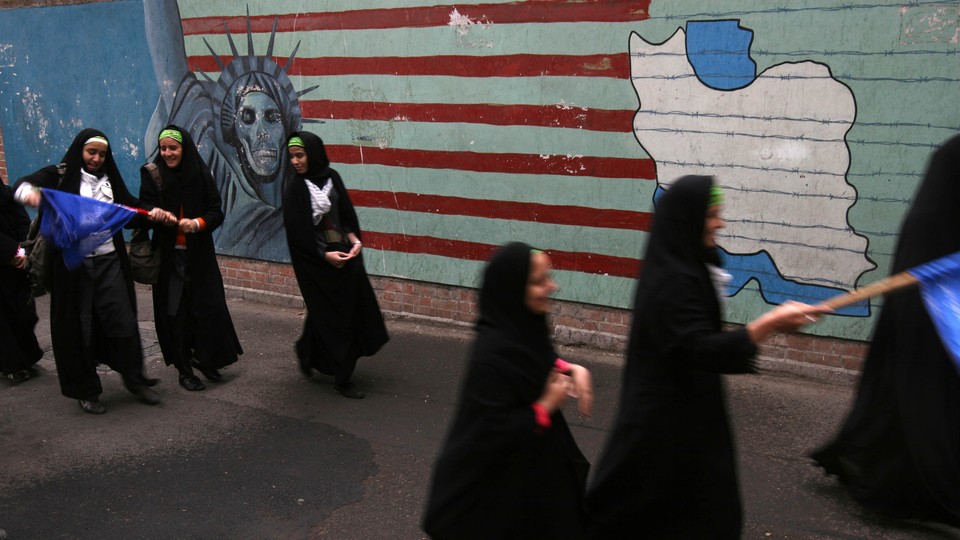 The Trump administration tends to view Iran in isolation or as a Middle Eastern problem—a regional nemesis with nuclear ambitions that threatens Israel and America's Arab allies. This is a mistake. Iran sits at the critical cross section of the Middle East, Central and South Asia, and the vital trade routes cutting across the Asian continent. At the moment, though Donald Trump doesn't seem to see it, the administration's Iran policy is reverberating across the globe and helping China in particular, in part by hurting the U.S.'s staunch ally, India.
Iran is a foreign-policy priority for the administration. Trump withdrew from the 2015 nuclear deal among Iran, the U.S., and five other world powers, and now wants Iran to come to the table for fresh negotiations in pursuit of a stricter agreement. Trump's advisers may also be aiming for more: regime change in Tehran. Their instrument of choice is maximum economic pressure—ever-tightening sanctions that will cut Iran off from the world economy. But Iran has so far refused to budge; it has responded by escalating tensions in the Persian Gulf and threatening to resume full-scale nuclear activity.
Containing China is another foreign-policy priority. Trump has launched a frontal assault on Chinese trade. But to realize his loftier goal of denying China superpower status, Trump will have to look beyond tariffs to contending with China's expanding influence across Asia and Africa.
The Trump administration's Iran strategy is getting in the way of its plans for China. China has always viewed Iran as an economic prize; America has now made it easier for Beijing to lay claim to it. Chinese trade and investment in energy and infrastructure are poised to fill the void left by European withdrawal. Slowly, Chinese economic influence will grow, perhaps enough to buoy Iran's economy as it struggles under Trump's pressure. Benefits of this burgeoning relationship will run both ways.
Also in China's favor is how the Trump administration has tried to use India against Iran. In April, the Trump administration told India that it would no longer have an exemption to U.S. sanctions on Iran. It cannot buy Iranian oil, and has to abandon its significant investment in the Iranian port of Chabahar on the Gulf of Oman, which allows India to circumvent Pakistan to trade with Afghanistan and Central Asia.
To Delhi, that means losing precious turf in the Great Game for influence in Asia—which can't be good for the United States. India alone can act as a counterweight to China on the continent, thanks to its large population, economic potential, and dominant perch over the Indian Ocean and the interconnected waterways that stretch from the Straits of Malacca in the east to the Horn of Africa in the West. India is situated in the midst of China's ambitious New Silk Road—the so-called Belt and Road initiative that will bring much of Asia and Africa into China's economic orbit.
Forcing India out of Iran will give China yet more power in the region. With India out of Chabahar, Gwadar will become the only access route to the Arabian Sea and Indian Ocean trade for Afghanistan and Central Asia. Expect China to make its position even more absolute by flaunting U.S. sanctions and moving into Chabahar, integrating it with Gwadar. China is already developing a naval facility in Pakistan between the two ports. It will not be long before Chinese naval vessels join its oil tankers and container ships as frequent visitors to the Gulf of Oman and the Arabian Sea.
In the long run, it is China, not Iran, that poses the most serious challenge to the U.S. in Asia and globally. Washington has to put its Iran policy in the context of its larger strategic objectives, and that requires bolstering, not hindering, India's ability to serve as a counterweight to China.