There's No Understanding Donald Trump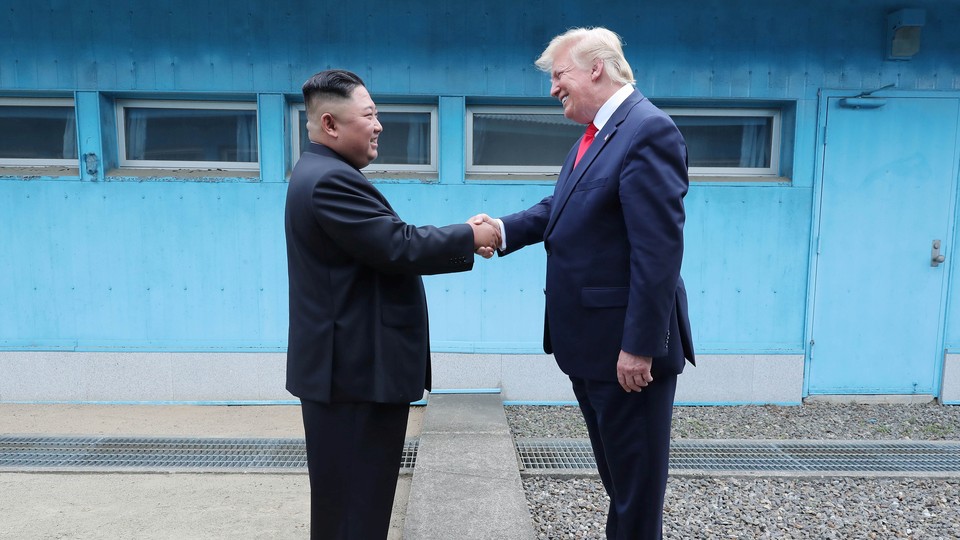 Editor's Note:
This article previously appeared in a different format as part of The Atlantic's Notes section, retired in 2021.
It's been barely two weeks since Donald Trump became the first American president to step onto North Korean soil, with all attendant theorizing about what the move meant, or didn't. Was it the "biggest moment of the Trump presidency so far" and "already a political win," as some media figures claimed? Was it, on the contrary, another sign of Trump's "dictator envy" and "authoritarian buffoonery"? Was it a move toward peace—or war, or both, or neither, or simply more uncertainty? Who was outwitting whom?
Although it was just two weeks in the past, that moment feels like two centuries ago, given the nonstop series of crises and "Breaking news!" emergencies since then. For instance: the census showdown; the Jeffrey Epstein/Alexander Acosta disasters; the leaked British ambassador cables; more rumblings about Iran and China; the horrors of migrant-detention-camp conditions; and the long-threatened kickoff this weekend of ICE roundup raids.
Today I got a reminder note from a reader who had written in just after that "historic" encounter at the Korean DMZ. He argues that the uninterrupted torrent of (usually Trump-generated) emergencies since then reinforces the point he originally made.
His point involved a structural failure of analysis in the Trump years. That is: The people most accustomed to "analyzing" political actions and decisions—journalists, historians, political veterans, people who pride themselves on figuring out what is "really" going on—are the ones least able to recognize what the world is experiencing with Donald Trump.
This is obviously not a brand-new insight. But the reader states the case trenchantly enough that I think it's worth sharing. Two weeks ago, after the Korean episode, the reader wrote:
I had an epiphany sometime around the midterms, after about 2 years of watching and reading heavy duty analysis by so many serious folks who, because it's their job I suppose, tend to *project* seriousness, intent, thought, strategy, forethought, planning, and other such things, each time Trump does something. No matter how loose the cannon gets, most serious journalists default to a polite interpretation that suggests, say, Trump had something in mind when he just did that ridiculous thing.

Put another way, they're suggesting he's crazy like a Fox, not just an idiot.

At some point I found myself trying to explain to a friend why Trump did something kooky. As I considered everything I concluded what he was doing was strictly for the attention. It was for one news cycle. No strategy, no planning, no idea about implications. And no intention of following up even a day later.
That's when it hit me: he's running a reality tv show out of the Whitehouse. Every day is a new episode, and every single move is designed to get better Nielsen ratings, improve the brand, or whatever it is that drives that peculiar form of celebrity. Mostly he's feeding the monster that is 24/7 cable news.

Think about it this way: you've spent your life as a journalist, traveling, flying, writing, running, thinking about how sausages and laws are made. You view the world, your daily routine, even your own self … through that lens. If by some glitch in the matrix you found yourself Commander in Chief then that is the lens by which you'd view your new job. Everything you've done before would impact your schedule, your routine, and how you view the world.

More importantly, your serious effort over many years to think long and hard, to write out your thoughts, to bring wisdom and facts to the observations you share, even the reasons you share, how you pick what is a priority for the next issue … all those things would have an impact on the way in which you'd present your public face, your presidential face. In turn, people covering your administration would figure out the above almost immediately and do what they do accordingly.

Trump is a guy who has known only a very narrow slice of the world (NY real estate), has never been curious, or thoughtful, and certainly never cared about the ideals of good government, nor the welfare of others. For decades he has mixed his person with his public persona to the point of reaching some warped public media brand that eventually landed him on a fake tv show about how he runs the fake parts of his mostly fake company. And then one day, through a glitch in the matrix, he woke up the President of these United States.

So he put on a show. Some people liked it. He's worked every day to get those ratings up. He blows his top when they have a bad day—not because a little kid dies in a camp, not because something doesn't get out of a committee, not because of anything substantive being analyzed by reporters—no, he's mad because of the bad optics, because someone upstaged him in an interview, because someone coughed while he was talking.

America has elected a carnival barker with absolutely no clue about history, government, the machinations of global finance, nor even GOP politics. There is no plan, there is no strategy, there is no underlying wisdom or thought with each step. There's today's show, a manic struggle to find new content, cliff hangers, figuring out who gets killed off next. Our economy, foreign policy, place on the world stage, is based on tv production values, or some formula.

Once you see it you can't unsee it and suddenly everything makes sense.

PS have you ever seen the riff by John Mulaney making the case that Trump is like a horse loose in a hospital? This is so good (jump to 7:20).
---

Today the reader followed up:
Since I sent my email it feels as though this theme has really taken off. Maybe it's like shopping for a car and *suddenly* you see the same make and model everywhere you look!

Regardless, this past week has been exhibit A for the thesis.
This may be political journalism's version of quantum uncertainty: The greatest challenge in understanding "What's going on?" may be recognizing that no understanding is possible. And that's a cue for me to end with a mention of George W. S. Trow's memorable and prescient "Within the Context of No-Context," published when Ronald Reagan was elected president. Thanks to the reader for weighing in.