Puerto Rico's Governor Confirmed His People's Worst Suspicions
For Puerto Ricans, sensing the governing elite's disdain for them was dispiriting enough. Seeing the evidence in print was a whole other matter.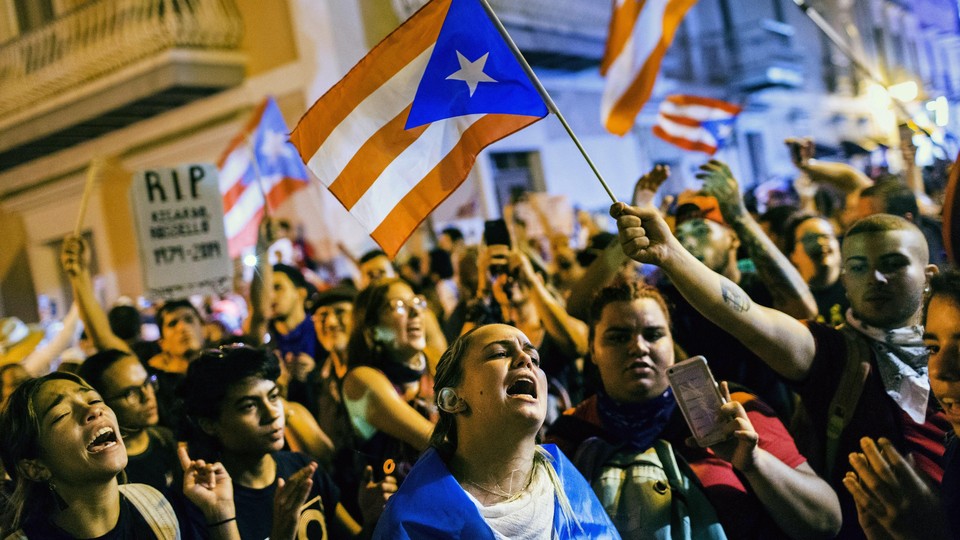 Updated at 1:30 p.m. ET on July 25, 2019
Ricardo Rosselló's governorship of Puerto Rico was doomed as soon as a critical mass of citizens took to the streets of San Juan, expressing their indignation at him for disrespecting them and their loved ones. Protests in recent days are widely believed to be the largest in the island's history. At midday Monday, the crowd filled the eight-lane main artery into the capital city, and in so doing, protesters showed something rarely seen on the island: a conviction that events were in average Puerto Ricans' hands. Years of grudging loyalty to the two main political parties, along with a relative tolerance for corruption ("They all steal") in exchange for jobs, promotions, or housing, were suddenly erased by an urge to condemn Rosselló and his inner circle, who had mocked them in private.
For the average island resident, speaking up about politics has been a good way to be shunned, persecuted in petty ways, or simply ignored. A massive leak of text messages from the governor and his top aides confirmed Puerto Ricans' worst suspicions about their public officials. To assume that your leaders hold their constituents in contempt is dispiriting enough. To know that they do—to have documentary evidence right in front of your eyes—is even more painful.
"So this was the hurricane that was stuck in our chest," tweeted the writer Ana Teresa Toro. The text messages and other revelations have energized a land that was devastated by two hurricanes and that has been stuck in a slow recovery process lasting almost two years. Citizens dazed by the government's incompetence have been shaken out of their stupor. Just last month, the legislature came close to passing a bill that would have allowed government employees to withhold public services for religious reasons. But the momentum shifted, and suddenly citizens were cheering the pop star Ricky Martin, who is gay, as he presided over an anti-Rosselló march with a Pride flag in his hand.
While the nearly two weeks of mass protests have been unprecedented, a long history of corruption and neglect helps explain them. In late June, then–Treasury Secretary Raúl Maldonado was sacked after alleging, on a radio show, that an extortion ring—an "institutional mafia," no less—was operating in his agency. Maldonado claimed to be one of the victims himself. Bringing this information to the press before Rosselló turned out to be a firing offense. Months prior, Maldonado had been questioned by journalists for a potential conflict of interest in doing business with a consulting firm that employed his son Raulie. At the time, Rosselló kept the senior Maldonado on as his chief financial officer—until Maldonado's subsequent public betrayal. In the meantime, Raulie took to social media, angrily defending his father and hinting at the existence of embarrassing information involving the governor.
Earlier this month, a first trove of messages involving Rosselló and 11 of his advisers was leaked to the press around the time that the FBI—whose agent in charge, Douglas Leff, had proclaimed days before that this was going to be a "busy" summer—was arresting two of Rosselló's agency chiefs on charges of steering millions of dollars in contracts to companies with which they had ties. Finally, a few days later, the Center for Investigative Reporting published 900 pages of leaked chat conversations that revealed two things: how obsessed the participants were with manipulating public opinion online through troll farms, paid shills, and other techniques; and how much contempt they shared not only for political opponents but also for their own supporters, whom they portrayed as basically stupid.
This sequence of events painted a picture of a political elite that carefully tended to its own needs while treating most island residents as irritants or afterthoughts. Puerto Rico's political culture evolved in the decades after World War II, under an economic-development strategy of "industrialization through invitation"—of bringing in outside investment by offering large tax breaks. For companies, coziness with the island's government has paid ample dividends. And for Puerto Rico's governing class, control over private investment, public funds, and—much later—relief money has been a major source of power and enrichment.
The recent exposure of corruption in government is nothing new in Puerto Rico. But the leaked chat transcripts portray Rosselló as a spoiled, vindictive man who feels invincible—and that is too much for the public to bear. Elected in 2016 by just a plurality of voters against four other candidates, Rosselló was a good-looking scientist who had little professional experience but promised to resolve the island's financial troubles and bring statehood in five years. Hailing from a well-known but troubled political family—his father, Pedro, served two consecutive terms as governor from 1993 to 2001—Rosselló promised to run a clean administration unlike his father, who saw many members of his staff indicted in kickback schemes and other forms of corruption. Embattled by uncertainty and with austerity measures looming on the horizon, the electorate bought Rosselló's promises, albeit with some reluctance. After his election, he quickly confronted the fiscal-management board imposed by the U.S. Congress and Barack Obama's administration in 2016 and promised to fight it at every turn. Critics accused him of double-dealing, denouncing the board in public but negotiating with it behind closed doors.
The clear message to the public is that decisions about the island's fate are being made by people who do not represent their interests. Modeled after the control board imposed in 1995 on Washington, D.C., the seven-member fiscal-management board was tasked with holding Puerto Rico back from financial collapse. Its appointed members included four Puerto Ricans—two of whom, Ramón González and Juan Carlos García, had worked for both the Puerto Rican government and private banks involved in the island's finances in the previous decade. Others complained of partisanship by the board's president, José Carrión, who recently agreed to be part of Latinos for Trump—a coalition promoting the reelection of a president who, in Puerto Rico's hour of need after Hurricane Maria, lashed out at the island's "politically motivated ingrates." All the while, the board has pushed drastic measures to slash pensions and reduce basic services for Puerto Ricans.
Many of these machinations are exhausting to follow. But the obvious contempt that Rosselló's circle displayed toward the public is easy for citizens to understand. Rosselló had to resign. There was no plausible way forward for his governorship. Some credit defiant Millennials and digital mobilization for this relentless civic uprising. Regardless, something important has changed. As a handwritten sign held by a young woman protester in Old San Juan declared: Never again will you avail yourselves of our silence.