Arresting Jeffrey Epstein Is Just the Start
A series of high-profile prosecutions highlights the impunity that the rich have long enjoyed.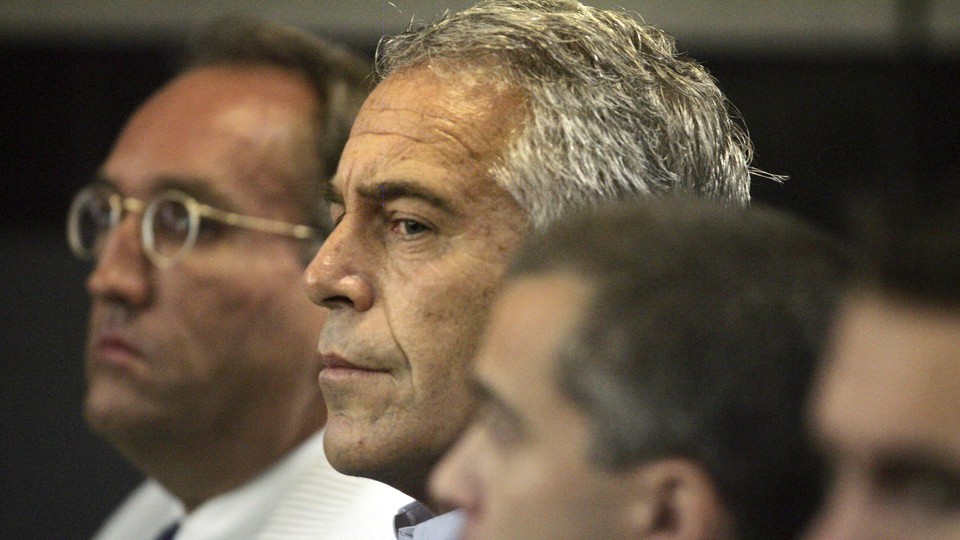 "I've known Jeff for fifteen years. Terrific guy," the then-socialite Donald Trump told New York in 2002, in a profile of Jeffrey Epstein. "He's a lot of fun to be with. It is even said that he likes beautiful women as much as I do, and many of them are on the younger side. No doubt about it—Jeffrey enjoys his social life."
The quote is stunning to read today, after Epstein's arrest for the sex trafficking of minors, and an indictment that alleges he repeatedly recruited and abused victims as young as 14 years old. Why would Trump, in the same breath that he noted the financier's preference for women "on the younger side," liken himself to Epstein? But while Trump was unusually willing to say it out loud, he was hardly the only person aware of Epstein's proclivities. In fact, they were widely known.
The journalist Vicky Ward wrote on Twitter Monday that she sought to include reporting on allegations of sexual abuse in a 2002 Vanity Fair profile, but those mentions were cut from the story. Epstein was finally prosecuted in Florida in 2007, but as Julie K. Brown reported last year in the Miami Herald, he got off with a slap on the wrist. Following the Herald series, federal prosecutors in New York found a way to charge Epstein with fresh crimes, for which he could serve a lengthy prison term if convicted.
The charges against Epstein are the most prominent in a string of new prosecutions targeting alleged long-running crimes by wealthy men. They include Paul Manafort, who as my colleague Franklin Foer reported engaged in decades of misconduct, but was only convicted in 2018. They include Michael Cohen, who ran a years-long series of bank and tax frauds but was also only convicted in 2018. Other potential cases lie ahead: On Monday, the Associated Press reported that Elliott Broidy, a top GOP fundraiser, is being investigated for corruption. The question is why prosecutors have only now gone after these men, whose misconduct was hardly hidden.
What unites the cases is their connection to Trump, who was a friend of Epstein's, employed Manafort as a campaign manager and Cohen as a fixer, and relied on Broidy to help finance his campaign. In each case, their crimes—real or alleged—existed without Trump's assistance (though in Cohen's case, the government also asserted that Trump put him up to a campaign-finance violation). Nor was Trump the only prominent person who knew and interacted with them. Epstein had many famous friends, Bill Clinton most prominent among them.
Proximity to Trump, however, has been an important catalyst in these prosecutions. Manafort had been in law enforcement's sights, but friends told Foer he made a grievous error by volunteering to work on Trump's campaign, which drew further scrutiny. Cohen had escaped scrutiny for years, too, but was caught up in investigations related to Trump's business in Russia. The Herald's reporting was centered in large part on the role of Alex Acosta, who as a U.S. attorney in Florida helped craft Epstein's sweetheart deal, and who is now Trump's labor secretary. (Acosta, facing calls for his resignation, issued a statement on Twitter, saying in part, "The crimes committed by Epstein are horrific, and I am pleased that NY prosecutors are moving forward with a case based on new evidence.")
There is a parallel with the #MeToo movement. Despite some 22 allegations of sexual harassment and worse against Trump—most recently, the journalist E. Jean Carroll's account of being raped in a department-store dressing room in 1995 or 1996—the president has so far escaped relatively unscathed. But frustration at his impunity helped create a drive for accountability for other powerful men who had abused women. Trump didn't make Harvey Weinstein into a moral monster, and Weinstein's conduct was not a secret among the powerful, but without Trump, Weinstein might still be at it. The same is now true of Epstein.
This is not to say that Trump is innocent. Beyond the various sexual-abuse allegations he faces, he boasted on tape about sexually assaulting women. Throughout his business career, Trump has been repeatedly caught breaking the law, and managed to get off with slaps on the wrist, civil fines, and the like. And there's more bad behavior that long escaped law-enforcement scrutiny. As The New York Times has reported, Trump engaged in "outright fraud" related to taxes. Though his tax chicanery is not new, it has only come under legal investigation since the Times' reporting.
When confronted with his own misdeeds, Trump has tended to write it off as the cost of doing business, and suggest that he was doing the same thing as everyone else he knows. Based on the prosecutions of his friends and associates, there may be a grain of truth in that defense. Prosecutors—many of them, not coincidentally, white men, and either wealthy or aspirationally wealthy themselves—have long overlooked white-collar crimes and other bad behavior by people in their own social class, and concentrated on other kinds of violations.
Consider 1989, the year that the junk-bond king Michael Milken was indicted for racketeering and securities fraud, and the year that five teenagers of color were indicted for the rape of a woman in Central Park. Ultimately, Milken served just two years; the so-called Central Park Five served five to 15 years apiece for a crime that, it turns out, none of them committed. But even that wide gap understates the disparate justice typically available in the system. Milken's case was unusual because it was an instance of white-collar crime that actually got prosecuted. Meanwhile, a noisy chorus was demanding that prosecutors throw the book at the Central Park Five—including Donald Trump, who took out ads in all four leading New York papers calling for the boys' execution.
Insofar as Trump's connection to individuals like Epstein and Manafort has managed to draw the attention of prosecutors toward their actions, it is a remarkable shift. Not even the 2008 financial crash managed to produce a comparable spate of prosecutions—in fact, it produced hardly any prosecutions at all.
Epstein's prosecution is different. As the Herald's reporting demonstrated, his original deal flew in the face of precedent and procedure. Prosecutors alleged Monday that they'd found hundreds of nude photos in Epstein's Manhattan mansion, including some of girls apparently below the age of consent, suggesting his behavior has continued.
But it's probably optimistic to assume that Epstein's rearrest will usher in a new era of accountability. Here, again, a comparison to the #MeToo movement is useful. The movement managed to topple a series of powerful men, but structural reforms have been harder to implement, and some offenders have managed to return to prominence.
Epstein is now locked up, with a judge agreeing Monday with prosecutors that he posed a flight risk. But later Monday evening, Trump hosted a dinner at the Treasury Department for Qatari Emir Sheikh Tamim Bin Hamad Al Thani. Among the attendees was Robert Kraft, the New England Patriots owner who faces prostitution charges in connection with a human-trafficking bust in Florida. No doubt about it—these men enjoy their social life.