Harris Gains Momentum With Democrats' Most Important Voter Base
The senator from California is surging just as black women are sensing their political power. That may not be a coincidence.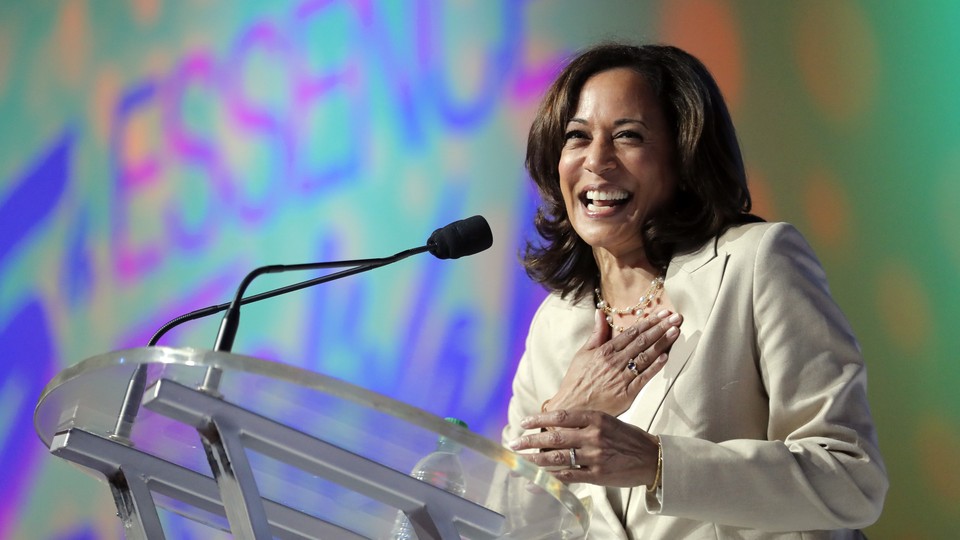 NEW ORLEANS—Senator Kamala Harris's line sisters took up two rows. They had pledged Alpha Kappa Alpha, the nation's oldest black sorority, alongside Harris at Howard University back in 1986. At Essence Festival here on Saturday, they wore matching T-shirts, and pink-and-green beaded necklaces to represent AKA's signature colors. As soon as Harris acknowledged their presence and support, they cheered loudly and belted, "Skee-wee!"—the sorority's high-pitched trademark greeting.
The scene unfolded at Spotify's "Are & Be" venue, where Harris sat down with me for a wide-ranging podcast interview that will air July 15. Although she is often described as cautious and reserved, Harris was truly in her element among the thousands of black women, including many of her own line sisters, who had descended on New Orleans for Essence Festival—a major cultural event that attracted more than a half million people last year. The festival's target demographic is arguably the most powerful voting bloc in the Democratic Party.
Harris was one of seven presidential candidates in New Orleans last weekend. The Democratic candidates Cory Booker, Elizabeth Warren, Bill de Blasio, Beto O'Rourke, Michael F. Bennet, and Pete Buttigieg also used the festival, sponsored by Essence magazine, as an opportunity to describe how their plans would help black women. But Harris was the main attraction, as she continues to ride the biggest upswing of her campaign thus far. The surge is timely: Harris is coming into her own as a candidate, just as the role of black women voters in determining the nominee is coming into focus.
"I think candidates have figured out that you need to speak to and hear from black women and go there, as opposed to expecting them to come to you," she told me during our interview.
Harris is the only black woman running for president, and just the second ever to be elected to the Senate. She also writes an online column for Essence called "Kamala's Corner." Yet it wasn't foreordained that she would shine at the festival—nor is she guaranteed to win black women primary voters more generally.
Against a huge field of Democratic presidential candidates, Harris was polling in the single digits until late June, when in the first round of debates she went after the front-runner, Joe Biden, over his stance on school integration via busing back in the 1970s and his wistful comments about being able to work with segregationist senators. When I asked her about the confrontation, Harris played it coy. "If the topic came up," she said, "I planned on saying something."
But in describing how much Biden's comments had struck a nerve, she didn't hold back. "I strongly disagree with coddling the reputations of people who, if they had their way, would have excluded whole populations—in particular black people—[from] access to equal education in America," she said.
Biden apologized for his remarks this past weekend in South Carolina, an early primary state where most Democratic voters are black. Meanwhile, Harris and others were making their case in New Orleans to black women in particular.
According to the U.S. Census Bureau, 55 percent of eligible black women voters cast ballots last November, which was six percentage points higher than the national turnout. And to Harris's point, 70 percent of eligible black women voted in 2012—the highest turnout among all voting groups. It is impossible to envision any scenario in which a Democrat could win the nomination, much less the presidency, without considerable support from black women.
That politicians are developing a policy agenda specifically for black women speaks to their rising political power. Every candidate who took the stage at Essence pointed out that black women are paid 61 cents for every dollar that white men receive. Several cited the staggering maternal mortality rate for black women, who are three to four times more likely than white women to die during delivery or soon afterward. In certain parts of Mississippi, a 2014 study noted, the rate of maternal death for women of color exceeds that of sub-Saharan Africa.
"It's time to build an America that recognizes the role that Black women play in their families and in the economy, that fairly values their work, and that delivers equal opportunity for everyone," Elizabeth Warren declared in a column she wrote for Essence in preparation for her visit to the festival.
In our interview, Harris pointed to the role black women played in electing Barack Obama to the presidency twice and the Democrat Doug Jones to the U.S. Senate in Alabama. "The general public, through those elections, has started to acknowledge the significance and the power of black women in our democracy, both in terms of as an electoral force, but also a force of always fighting for the future of our country and to articulate the conscience of our nation."
At the ballot box, black women have been much fiercer protectors of their gender than white women have. Fifty-three percent of white women voted for Donald Trump in 2016, even though he had a history of demeaning women and faced multiple allegations of sexual assault. Fifty-one percent of white women voted for Florida Governor Ron DeSantis, who voted against equal pay and the Violence Against Women Act. And in the 2017 Alabama Senate race, 63 percent of white women voted for Roy Moore, despite his being repeatedly accused of sexual misconduct.
During my podcast interview with Beto O'Rourke, the former congressman stressed African American women's broader ethical role. "The progress that we've made is disproportionately because of the leadership of black women, not just in our party, but in this country, and not just in politics," he said.
The question is, despite knowing how important black women are to the party, can the Democratic presidential candidates deliver on their promises to combat the inequities that have made an underclass of black women and the families and communities that they nurture?
In her interview with me, Harris revealed her plans to change the way credit scores are determined in an effort to spur black homeownership, which she sees as one of many ways to combat the racial wealth gap. Harris acknowledged that segregated schools are still an issue, but she spurned talk of reviving busing, because the reasons segregation happens today are much more complex.
"The irony is that post–Brown v. Board of Education, when the schools started becoming desegregated, you saw a flight out of schools," Harris said, referring to the landmark 1954 Supreme Court decision. Affluent families moved, or shifted to private schools, rather than see their children educated with black students, she noted. "With that went the resources," Harris said.
Harris's answer to tackling modern-day segregation is a $315 billion proposal that would elevate teacher pay. According to the Economic Policy Institute, teachers made 11.1 percent less than comparably educated workers in other professions in 2017.
How will black women respond? As the campaign continues, they'll begin to figure out who's really down for them. With a successful takedown of Biden under her belt, and having created even more momentum at Essence, Harris seems perfectly positioned to convince the most important bloc of voters in her party that they should put their newfound political muscle behind her.