The Millennial Left Is Tired of Waiting
Saikat Chakrabarti, Alexandria Ocasio-Cortez's chief of staff, is working to build a generational movement.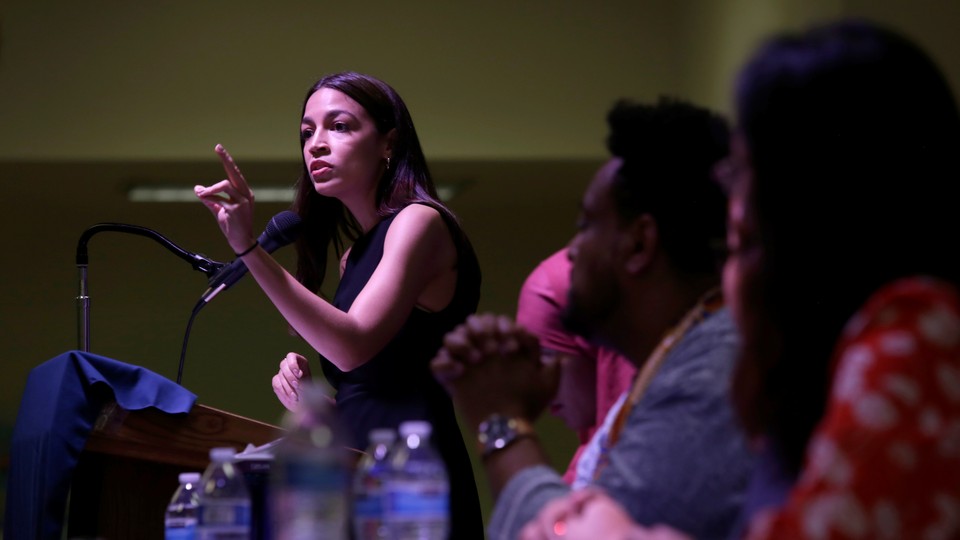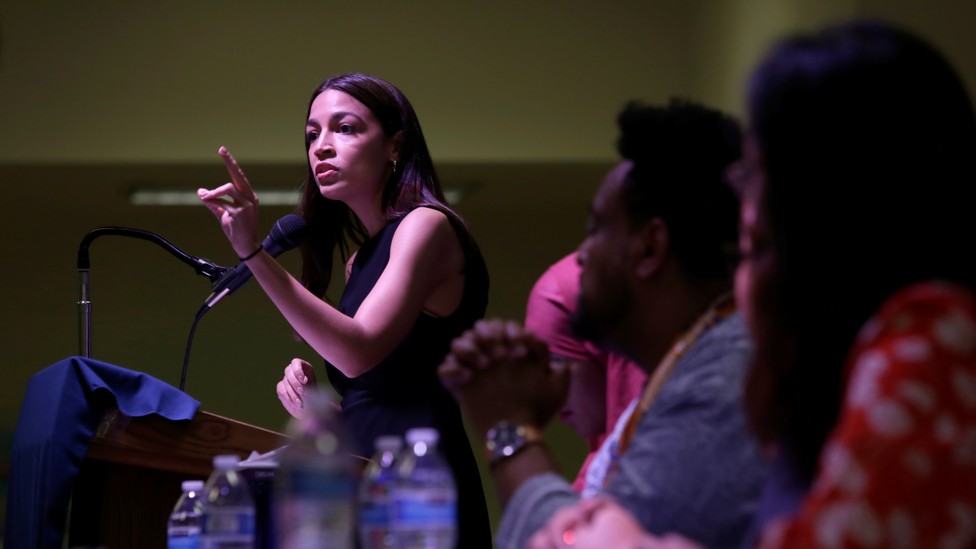 The key political partnership of the Millennial left was born over noodles. Saikat Chakrabarti met Alexandria Ocasio-Cortez at Potjanee, a Thai restaurant near his apartment in the West Village, in March 2017. She was looking to get into politics; he was helping fund people getting into politics through the Justice Democrats, the progressive political action committee he'd co-founded that year.
The result has been a viral sensation: a House freshman with more than 4.9 million Twitter followers; a call for a "Green New Deal," which has become a rallying point for young activists; and—from the cages on the border to the committees on the Hill—a serious powering-up of congressional oversight. This has made Ocasio-Cortez the leader of a movement, not just a congresswoman. Chakrabarti, for his part, has been much more than Ocasio-Cortez's chief of staff—he's become the chief strategist of a generational insurgency. But the political establishment has now trained its fire on their collaboration.
In June, the speaker and her best-known freshman clashed when Nancy Pelosi caved to Republicans and moderate Democrats and agreed to pass an emergency-aid package, skewed heavily right, for the southern border.
The move horrified members of the progressive left—it was bad politics, they thought, typical of their elders' timidity, and worse still, little in it would help the child migrants in what Ocasio-Cortez had called "concentration camps" on the border. Their pushback against it, which included tweets by Chakrabarti, outraged the party leadership.
This has made Ocasio-Cortez's chief of staff, until now little known, a political target. Maureen Dowd branded Chakrabarti "the real instigator" in The New York Times, and Rahm Emanuel, the former White House chief of staff and Chicago mayor, labeled him "a snot-nosed punk." But the backlash is about much more than either of them. What is happening is a containment operation against the Millennial left.
In some ways, my politics overlap with Chakrabarti's—the Harvard-educated tech millionaire who was a founding engineer at the online-payment company Stripe before volunteering to work for Bernie Sanders—but we have no shortage of disagreements. What we unquestionably share, though, is a Millennial perspective.
We've both seen successive promises made by the Boomer elites go horrifically wrong. If you are our age—he's 33 and I'm 31—the great events that shape your worldview are not a series of Western triumphs, but a succession of spectacular failures. Our formative experiences were the Iraq War, the 2008 financial crisis, and the election of Donald Trump. That makes it hard to defer to a veteran like Pelosi on strategy, when her generation has racked up so many failures.
The Democrats are experiencing a clash of generations. As in all such clashes, each side thinks the other is delusional. When the Millennial left looks at the establishment, it sees leaders senescent with decades in the House, blindly clinging to bipartisan civility that no longer exists, unable to view men like Mitch McConnell as their opponents and not their colleagues, and believing that white voters are the only path to victory in 2020. The Millennials see themselves as the realists here.
The Boomer establishment thinks the opposite, rubbishing the frustrations of the Millennials as naive follies. They see the squad—the name the four freshman congresswomen endorsed by the Justice Democrats, all progressive women of color, have chosen for themselves—on a trajectory that loses the party the white voters it needs to win in 2020. Dismissing talk that minority turnout can make the difference, they want these young representatives to know their place and quiet down.
Both sides insist the party's midterm victories validate their approach. And with projections that back up both strategies, the approach to 2020 is up for grabs. But, as if Pelosi were determined to prove she was past her prime, she chose to have this fight over the migration crisis—where the new left sees compromise as not only morally abhorrent, but also politically pointless.
The Millennial left believes that Republicans are pursuing a scorched-earth policy on the border: deploying the Army in electoral theatrics, invoking conspiracy theories centered on George Soros, and painting all Democrats as open-borders fanatics. They took that approach in 2018, and are trying it again in 2020. Why compromise—here?
Pelosi's attacks backfired, harming both moderates and leftists. What began as an intra-party fight over a bill has morphed into anti–Ilhan Omar chants of "Send her back" at a Trump rally, a development as alarming as it was predictable—forcing the party moderates to stand by Omar's side.
And yet it was obvious that Trump would hijack any division. Or at least, it was obvious to anyone who fully recognizes how far American politics has changed since Nancy Pelosi and Rahm Emanuel first came to Washington.
In this fight, Saikat Chakrabarti's wunderkind biography has been turned against him, especially by moderates who have typically favored a softly-softly approach to Silicon Valley. Ocasio-Cortez's chief of staff grew up in Fort Worth, Texas, and spent his youth participating in calculator competitions before working at a hedge fund and then a series of start-ups in San Francisco. Perhaps that made him a tempting target for Pelosi, as Big Tech replaces Big Oil as the left's most-hated industry. But after making his fortune, Chakrabarti rejected Silicon Valley's ideology in favor of backing antitrust reform and tax increases—volunteering for Sanders in 2015. This is when his generational insurgency began.
Justice Democrats is not the first attempt of this "snot-nosed punk" to remake Democratic politics. Chakrabarti's initial project, Brand New Congress, was launched in 2016 with other veterans of the Sanders campaign. It didn't lack for ambition. The group wanted to "recruit over 400 extraordinary ordinary Americans to challenge both Democrats and Republicans in congressional primary races across the country in order to replace almost all of Congress in one fell swoop." In the end, Brand New Congress recruited just 12—and only Ocasio-Cortez prevailed.
The frustrations of that experience—the country was just too polarized—spurred Chakrabarti to help create the Justice Democrats in January 2017. In place of Brand New Congress's failed model of bipartisan change, the Justice Democrats declared that they were "working to change the Democratic Party from the inside out." And that meant an aggressive approach. "Challenging incumbents in primaries is the best way to make them start to listen to people over corporate donors," the group declared. And, like the successful insurgent groups that transformed the Republican Party, it branded itself as openly radical.
Which brings us to the bigger accusation: They should not be doing this. Sitting Democrats should be respectfully left alone. "They should stop attacking us," as one House Democrat told CNN. But from the party's point of view—not the politicians'—I'm not convinced.
Progressive America is overdue for a generational replacement. The unexpected boomlets behind Beto O'Rourke and Pete Buttigieg and the Twitter sensation who is now Chakrabarti's boss reflect an unsated hunger for Millennial politicians. When Pelosi sniped that a "glass of water" could have won Ocasio-Cortez's district, her dismissive tone revealed how little she understood the dynamics of the Queens representative's appeal.
Partially, this is because the United States of politicians like Trump, 73; Joe Biden, 76; Bernie, 77; and Pelosi, 79, is starting to feel like a gerontocracy. And this is striking compared with Europe, where Emmanuel Macron is only 41, Boris Johnson is 55, and Matteo Salvini and Pedro Sánchez are 46 and 47, respectively.
This Congress is among the oldest in history. The average member is 58 in the House and 62 in the Senate, with party leaders nearly a decade older. House Majority Leader Steny Hoyer is 80. This aging cohort, on too many occasions, has shown itself not fit for purpose on 21st-century issues.
The cringeworthy performance of 44 senators last April trying to hold Mark Zuckerberg, 34, to account was what convinced me we need more Chakrabartis on the Hill—regardless of party—not fewer of them. Senator Orrin Hatch, then 84, used his time to ask the Facebook CEO how he sustained a "free" business model. ("Senator, we run ads," Zuckerberg replied.)
The party establishment should not be offering jobs for life and a career-protection service. Primary challenges are not new. Nor are the numbers here an unprecedented takeover: The Justice Democrats are currently endorsing just five challengers, and only seven of them are incumbents in the House.
In fact, it was a young challenger who's responsible for the Democratic Party's greatest recent electoral success. Barack Obama's failed challenge to Bobby Rush in the 2000 congressional primary shouldn't have seen him blackballed. He was 47 when elected president, and his youth played a major role in his candidacy, which saw a Democrat elected between John Kerry and Hillary Clinton, who were both in their 60s when they were the party's nominees.
But if the strategy isn't novel, what about the policies the Justice Democrats are advancing?
They are less red than meets the eye. In Europe and across the rest of the Anglophone world, virtually no one would see Medicare for All as radicalism. Not only do British Conservatives and German Christian Democrats support public health care, but the Green New Deal vision of state-led investment reminds me of the politics of my mid-century conservative heroes, including Harold Macmillan and Charles de Gaulle. And, further back, even Alexander Hamilton.
In fact, I find it very hard to pin the caricature of Chakrabarti the radical leftist—a "revolutionary" according to Henry Olsen in The Washington Post—to the actual Chakrabarti. Labeling the new left as "radical socialists" is lazy. But several moderate Democrats are doing just that, including Representative Henry Cuellar of Texas, who is facing a Justice Democrats primary challenge. "I think they're not Democrats quite honestly," he said on Fox News. "They're socialists."
But what Ocasio-Cortez's office likes to call "the Green New Deal ideology" is something more contemporary. Instead of reaching for 20th-century crutches, moderates should take the time to study—or at least read—the titles of the core texts posted to the website of New Consensus, the policy shop spun off by the Justice Democrats, to understand how Chakrabarti and his cohort actually think.
Books by Mervyn King, the former governor of the Bank of England; the Financial Times columnist Martin Wolf; and the historian (and my Hudson Institute colleague) Arthur Herman rub shoulders with the work of contemporary left-wing economists such as Mariana Mazzucato, Ha-Joon Chang, Ann Pettifor, and Stephanie Kelton. This is not Jeremy Corbyn's bookshelf.
The caricature gets even worse when it comes to migration. Too many people who should know better have bought into the Tucker Carlson charge that the members of the Millennial left want "open borders," including Bret Stephens at The New York Times, who characterized them as advocating "nearly unlimited immigration." But this isn't the case.
Wanting to abolish Immigration and Customs Enforcement is not the same as wanting to abolish the border. What they want is to make it less violent. That thinking is shaped by what groups such as the American Civil Liberties Union, United We Dream, the Immigrant Defense Project, and Make the Road are advocating. Their long-term goal—if you listen—is an America that is actively increasing immigration, pulling in the workers needed for a booming, reindustrializing, techifying America.
What I see here is a more historically minded politics than moderates are giving the new left credit for. The books do not reflect a quest for "the emotional satisfaction of their own purity," to quote Maureen Dowd, but a keen interest in studying the right. What the Justice Democrats think they are doing is not creating the Freedom Caucus of the left, but rather, the Reagan revolution in reverse.
Like the conservative movement, which launched the Heritage Foundation in 1973, failed to oust Gerald Ford in 1976 in favor of Ronald Reagan, only finally to win in 1980, the new left is set on a more distant prize. Sanders, the 77-year-old who sparked the Millennial left in 2016, is really their Barry Goldwater, the failed Republican nominee who, in 1964, brought movement conservatism to life.
Chakrabarti's cohort is trying to spur its generation to produce not just congressional wins, but broad cultural change backed up by a movement, outriders, and cultural icons. This, they think, is even more important than winning the next election. Because without a movement, moderate presidents will be in office, but not in power. For them it is better to plan to eventually win completely than fall silent, hoping only for a shaky president, with little vision, to scrape together a victory in 2020.
These guys are here for the long haul. The Millennial left in Congress is not a faction that needs to be slapped down, but a generation that should be engaged with, brought into the fold, and better understood. This is what a more deft House speaker would be doing. But instead, the Millennial left is being turned into a straw man for Trump to bash.
I only wish Chakrabarti and his allies were being criticized for their actual ideas, and being challenged with competing plans, by competing Millennials, in the House. Where's the moderates' movement? Because too often, the fight between the Democratic establishment and the insurgents on Capitol Hill is really a battle between a plan—admittedly full of holes and errors—and no plan, just a sense of entitlement.