Megan Rapinoe Makes Resistance Look Effortless
The star U.S. soccer player is fearlessly open, outrageously joyous, and unabashedly true to herself.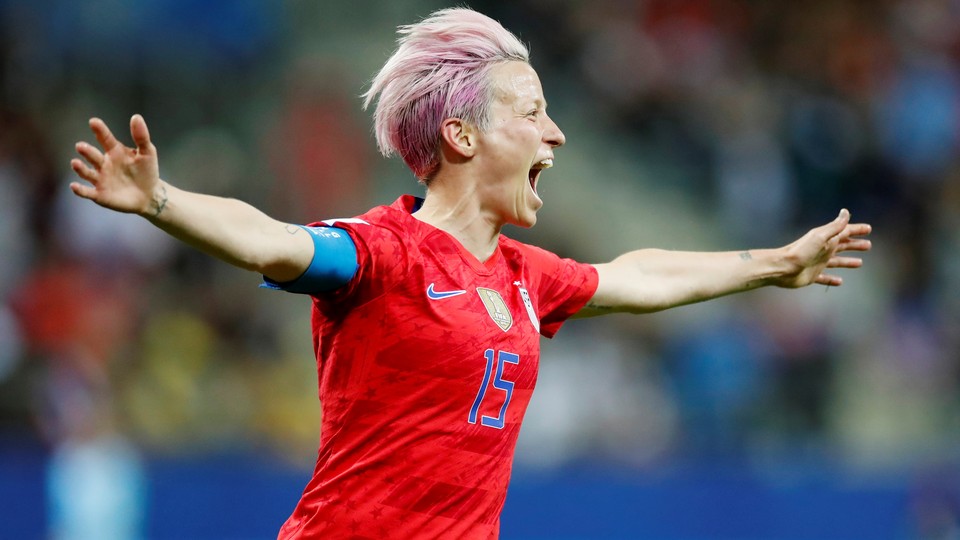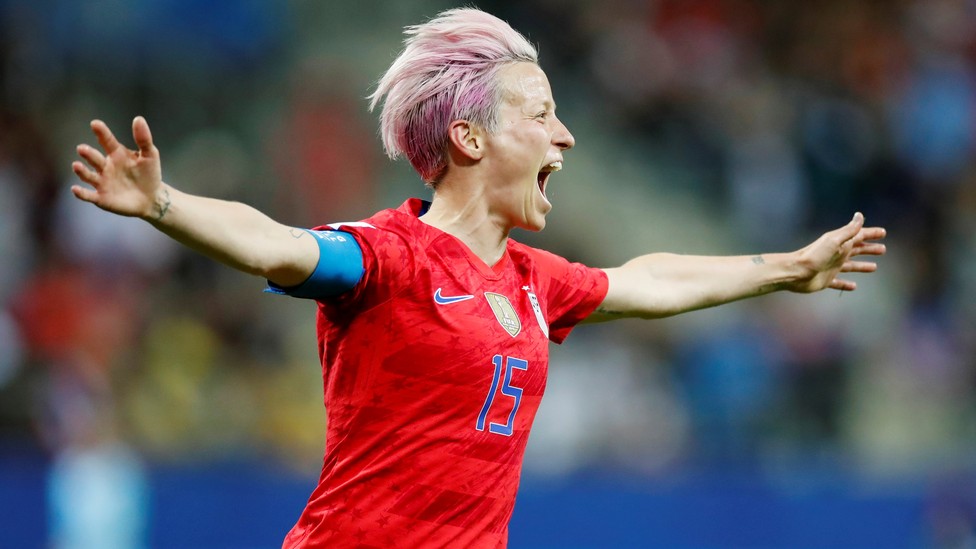 Gather your children in front of the flatscreen and instruct them to fix their eyes on No. 15, the winger with lavender hair. Have them watch as she gallivants down the left flank and flummoxes a defender with a stutter step. Have them listen to her unguarded pregame disquisitions on tactics, Donald Trump, haute couture, and well, every facet of human existence. Tell them that Megan Rapinoe is her generation's Muhammad Ali.
Like her pugilistic forerunner, with whom she shares sly humor and irresistible swagger, the star player on the U.S. women's national soccer team has evolved into a hero of resistance. Through her example, Rapinoe has instructed the world on how to play soccer and how to dissent. Her genius is that her political commitments, her public persona, and her playing style are one and the same. In every realm, she is fearlessly open, outrageously joyous, and unabashedly true to herself.
Long before she picked a fight with Donald Trump, before she took a knee in solidarity with Colin Kaepernick, Rapinoe was a player to savor. Three ACL tears have sapped her of speed. But speed was never the essence of her game. When she talks about soccer, she incessantly returns to the phrase self-expression. What she means is that she self-consciously thinks about her performance on the pitch as an outlet for her creativity. While her results bespeak ruthless efficacy (three goals and two assists thus far in the World Cup), she aspires to something higher.
In pursuit of self-expression, she permits herself moments of audacity—where she shoots from a peripheral locale or attempts to impose an implausible arc on a pass. If she self-censored her play, she would never take the risks that characterize her game, all those feints and jukes. To describe her style as exuberant might seem arbitrary, except for the fact that it's so evidently part of her presence, especially her goal celebrations. Earlier in the tournament, one of those celebrations became a source of controversy. It came during the later stages of the U.S. team's historic rout of Thailand. After scoring a goal, Rapinoe skidded across the grass on her backside, holding her leg in the air—an inside-the-squad joke, apparently. When certain gentleman pundits absurdly denounced her behavior as unsportsmanlike, Rapinoe unapologetically described the moment as a "explosion of joy."
In a way, her playing style is deeply countercultural, at least by contemporary American standards. During my long career as a soccer dad, I've watched how the tenor of American sports can drain the joy from the game. I will sometimes stand at one of my daughter's tournaments and close my eyes. From all directions, I can hear the howling of sideline commissars, as if victory depended on players executing their coach's every instruction. Coaching at the youth level is too often a variant of helicopter parenting, and youth soccer has become another emblem of the fretful American meritocracy that, in its grim pursuit of victory, induces a paralyzing fear of failure in kids.
Megan Rapinoe is the antithesis of all that. A World Cup is a uniquely nerve-fraying event, because it happens only every four years and extends over the entirety of a month. On-field moments and locker-room comments alike are picked apart by a press corps that gets irritable after having lived in Airbnb rooms for so long. But everything about Rapinoe's demeanor suggests that she is immune to anxiety about the occasion. When the tournament bracket thrust the United States into a quarterfinal match with France—a pairing of the two best teams in the world that would have ideally happened in the finals—Rapinoe didn't bemoan the fact, but reveled in it. She told reporters that she wanted a "total shit-show circus" of a spectacle, an occasion that she intended to extract for its full enjoyment, not fear.
In the athlete's handbook, focus is everything; distraction is the enemy. But an occasion as big as a World Cup is also an opportunity to make an even bigger statement, and Rapinoe's team has used it to launch a crusade for pay equity that is a model of selfless courage. Megan Rapinoe is 33 and almost certainly won't play in another World Cup. Some of her teammates will have only this one chance. Yet, they have gone against ingrained instincts and invited distraction by suing the U.S. Soccer Federation for fair compensation on the eve of their biggest professional moment. They did so because the tournament gave them leverage to make the federation address its deeply sexist record. In every way, the tournament proves their case. With their success and charisma, the team members bring higher television ratings than their male counterparts; halftime brings a raft of advertisements, featuring the team's stars. Indeed, their strategy has worked to perfection. In the middle of the tournament, the federation announced it would enter into mediation with the women's players' association.
What makes Rapinoe such a powerful advocate is that she is devoid of calculation. Her political statements are a bit like her bombing runs down the pitch: cleverly improvised and brimming with heart. Where her teammates are understandably loath to venture into politics, Rapinoe just jumps in. "I'm not going to the fucking White House," a videographer captured her saying as she put on her shoes. This wasn't Ali-like poetry, but it shows the same sort of brassy bravery. And of course, it invited a splenetic counterattack on Twitter from the president himself.
Perhaps the most powerful testimony to her greatness is that her teammates have anointed her co-captain; the radical individualist, who compulsively draws attention to herself, was elevated to leader of the more restrained collective. They allow her to speak for the group, even though they can't be exactly sure what she'll say.
And now she's wandered into the ultimate confluence of dramatic events. In her likely final tournament, she is the face of an epic struggle for equality and is rhetorically jousting with the most powerful man in the world. She has the chance to repeat as world champion and deliver a devastating blow to the patriarchy. It's vintage Pinoe, her type of shit-show spectacle. The best thing to do is absorb the moment just as she does, enjoying every minute of it.