What If the Chaos Is Strategic?
The storms that mark political life in Washington obscure the ruthlessly effective work happening across the federal government.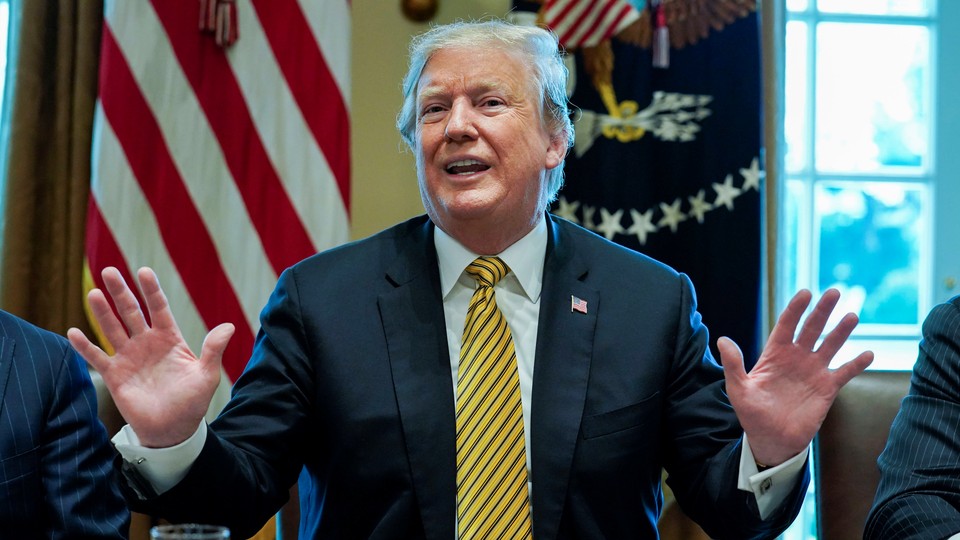 Of the many challenges facing anyone trying to understand Donald Trump's presidency is the fact that it is maddeningly nonlinear, lurching several times each day between policy objectives that may be dictated by a Fox News anchor, a friend from Mar-a-Lago, or the prime minister of Norway. This was especially true in the first six months of his administration, when the chief political strategist Steve Bannon was at the height of his influence, while Reince Priebus wielded the chief of staff's potentially awesome authority with all the gravitas of a substitute teacher.
Then, in the summer of 2017, Priebus was fired and Bannon pushed none-too-gently toward the door. Under Priebus's replacement, John Kelly, the Trump presidency on some days seemed almost normal. Kelly and his staff put strict controls on the flow of information into the Oval Office while also ending the open-door policy that Priebus had been powerless to curb.
When Kelly left in December 2018, chaos, which had been held in abeyance for at least some of the previous months, returned in full force. One of the unending debates of the Trump presidency is whether Trump intentionally creates this chaos or is somehow helpless against it, against the very disorder he causes daily, if not hourly.
The question of intentionality is impossible for anyone but Trump to answer, and he would surely answer it by claiming that he has had a plan all along. That would be a typically Trumpian boast. That aside, however, it is undeniable that the exhausting storms that mark political life in Washington obscure the ruthlessly effective work happening across the federal government.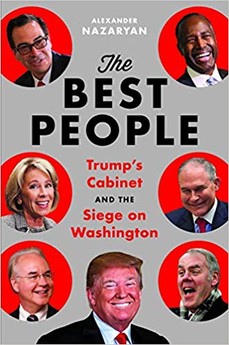 That should explain why, when I spoke with Bannon for my book on Trump's Cabinet, he said he thought "Reince did a terrific job," adding, "People said it was too loosey-goosey. Well, but that's kind of Trump's style. You have to let Trump be Trump." Trump at his Trumpiest was Trump sitting at the Resolute desk, happily signing executive orders: to impose the "Muslim ban," end the Trans-Pacific Partnership, accelerate work on the Dakota Access Pipeline. It was Trump tweeting about no collusion, trolling the media and the Resistance with every ungrammatical missive.
"It was brutal," Bannon remembered. "Every day was a knife fight."
Maybe it didn't have to be so brutal, and maybe the knives didn't have to come out every morning. The mere appearance of battle, whether with congressional Democrats, Wall Street free-marketeers, or most of Europe, has often been enough to distract journalists and the rest of America from what has been fomenting just beneath the surface.
The diversionary maneuver has been so effective because Trump remains an object of intense public fascination. If nothing else, Trump is an effective distraction from Trumpism, which is to say a kind of raw modern Republicanism that has shed the last vestiges of its eastern-establishment roots. The more Trump acts like Trump, the more it seems to the rest of us that his administration is about to collapse into a heap of faux-golden shards, the more the Trump administration actually gets done.
Just so, the news on February 14, 2017, was largely focused on Trump's fleeting National Security Adviser Michael Flynn and the improper contacts he'd had with the Russian ambassador during the presidential transition, as well as on whether Trump had tried to stop FBI Director James Comey from investigating Flynn.
That same day, Trump and the Republican Congress rolled back a Barack Obama–era rule that required energy companies to disclose payments they received from foreign governments. They did so quietly—though hardly in secret—using the Congressional Review Act, the brainchild of Newt Gingrich. Passed in 1996, the law gives Congress 60 days to review any new rules. If it does not like the rule, Congress can vote to nullify it. Congress attempted to use the CRA against Obama on five separate occasions, but he leaned on his presidential veto powers to block each of these efforts. The CRA was not used at all under Bill Clinton, and only once under George W. Bush (to cancel a workplace-ergonomics program that Clinton implemented).
Republicans were not reluctant to use the CRA against Obama's regulatory legacy. Longtime conservative operators who'd joined the administration coordinated with leaders in the House and Senate on which rules to roll back. Trump was thoroughly on board, remembered the White House official involved in the effort. "I love it," the president said. "Show me which ones we're talking about."
In Trump's first several months in office, Republicans used the CRA more than a dozen times. They repealed a rule that prevented internet companies from selling individuals' data without their explicit consent. They undid the Stream Protection Rule, which was intended to keep surface mines from polluting waterways with the potential toxic products of their activities. They killed a mandate that employers report workplace injuries. And they made it easier to hunt bears in Alaska. Now you can shoot them from helicopters again.
The press did cover these developments, but with nothing like the ardor devoted to Trump's supposed cupidity, his inability to grasp the gravity of his office, his fawning over Russian President Vladimir Putin and other dictators. These reports portrayed an administration without captain and lacking rudder, adrift on seas. This was thrilling stuff. It was also enormously convenient to the Trump administration. News reports of dysfunction "were our greatest advantage," explained a former White House official. (I granted him and other subjects anonymity in exchange for candor.)
He cast the distractions as an actual strategy at work. Bush-era conservative operatives now fill the middle ranks of the executive branch, including deputy Chief of Staff Joe W. Hagin and deputy Interior Secretary David Bernhardt. They seem to collectively understand that if they can keep the craft from crashing, they can steer it where they please, and that far more attention will be devoted to the turbulence than the destination.
Law limited Trump's authority to use the CRA. But nothing limited his administration from continuing to cause a "shit show," as one West Wing veteran put it. By the summer of 2017, Trump's Cabinet was in place (his first full Cabinet meeting was almost exactly two years ago). Many of his departmental chiefs exacerbated the appearance of chaos with their predilection for private jets, lavish security arrangements, and other trappings of power.
Scott Pruitt, the former head of the Environmental Protection Agency, was the most baroquely corrupt of Trump's Cabinet members, with close to 20 investigations into his behavior by the time he left office, in the summer of 2018. Ryan Zinke, former secretary of the interior, was close behind, with nearly as many investigations to his name when he offered his resignation, at the end of that same year. Secretary of Commerce Wilbur Ross allegedly lied about his wealth; Secretary of Transportation Elaine Chao allegedly lied about her investments. Secretary of State Mike Pompeo allegedly pressured the State Department to rent him a historic Potomac Hill mansion.
These incidents, too, caused outrage, starting in the fall of 2017, when the grotesque travel expenses of former Health and Human Services Secretary Tom Price came to light. Yet even as Pruitt faced questions about why he wanted a used mattress from the Trump International Hotel—the question remains without an answer—his deputies dismantled protections for American waterways. Industrial chemicals that had been deemed carcinogens were suddenly deemed safe. Coal companies came back into favor. Pollutants were made great again.
The story has been repeated across the federal bureaucracy. The Department of Interior practically gave away hundreds of thousands of acres of open land across the West, leasing it to energy companies for pennies on the dollar. But what do we remember about Zinke's tenure? His crude "konichiwa" comment at a congressional hearing. His challenge coins and department flag. His bizarre tiff with a Capitol Hill neighbor bothered by Zinke's idling SUV.
What kind of person doesn't want to read about a Cabinet secretary engaging in a parking row with a private citizen? Or about Trump wandering the West Wing in his bathrobe? The most dismaying thing about the "shit show" is how effectively it works, with Trump as the star of an enthralling drama whose most consequential developments are always taking place backstage.