The Forgotten History of Gay Entrapment
Routine arrests were the linchpin of a social system intended to humiliate LGBTQ people.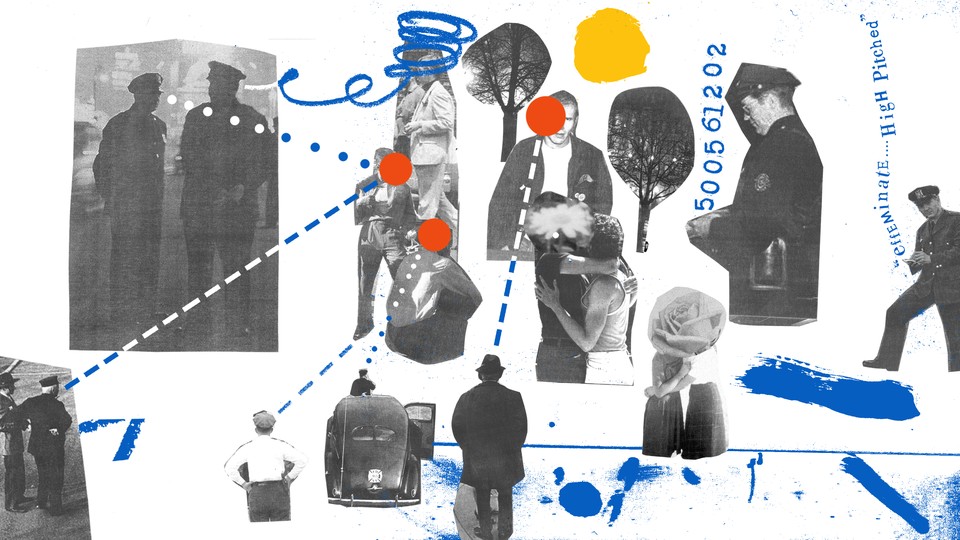 Editor's Note: This article is part of a series about the gay-rights movement and the 50th anniversary of the Stonewall uprising.
Aaron Payne, a music student and aspiring performer from Trenton, New Jersey, got his big break near the end of 1947, when he was 23. The Salle de Champagne, a Greenwich Village cabaret, which stood on Macdougal Street next door to the Provincetown Playhouse and was popular among the sophisticated theater crowd, offered him a steady job that he very much wanted. Young, African American, and estranged from his family, Payne was especially vulnerable as he sought to make a life for himself. Like any performer, he had to secure a cabaret card from the New York Police Department's Cabaret Bureau before he could start work. But the bureau's regulations prohibited the employment of anyone who "was or pretended to be a homosexual," an expansive rule designed to prevent queer-themed entertainment, including the so-called pansy acts that had been all the rage in New York clubs near the end of Prohibition, as well as homosexual entertainers themselves. In January 1948, Payne's application was rejected because of "two arrests and convictions for degeneracy," which the Cabaret Bureau considered prima facie evidence that he was, in fact, a homosexual.
Between 1923, when the New York state legislature specifically criminalized male homosexual cruising as a form of disorderly conduct ("degenerate disorderly conduct," or simply, in police lingo, "degeneracy"), and 1966, when a loose coalition of pre-Stonewall gay activists, civil libertarians, café owners, and bohemian writers persuaded newly elected Mayor John Lindsay to end the police department's use of entrapment to arrest men on this charge, more than 50,000 men were arrested for cruising in bars, streets, parks, and subway washrooms in New York City alone.
Ending the use of entrapment was one of the signal victories of New York's militant pre-Stonewall gay activists. Yet the courage, boldness, and success of those activists risk being forgotten in this summer's sustained celebration of Stonewall as the event that launched the modern LGBTQ movement. At the same time, the movement's extraordinary—if incomplete—success in changing American society in the 50 years since Stonewall makes it all too easy to forget the scale of anti-gay policing the movement faced. The tens of thousands of New Yorkers who were arrested for cruising in the 45 years before Stonewall have been even more thoroughly forgotten than the movement that fought on their behalf.
In the 1940s and 1950s, police surveillance was only the linchpin of a broader social system that punished people who were discovered to be gay. While the arrests themselves left some men in tears and others furious, almost every man taken into custody feared the possible extralegal consequences more than the legal process itself. Above all, these men feared that their families or their employers would learn they were gay if word of their arrest reached them, as sometimes happened when the police or court officials contacted them or, more rarely, a newspaper published the man's name. Both families and employers had the power to impose more intimate and exacting punishment on people who refused to conform to heterosexual norms than the law did. The courts might punish a man with a fine or 30 days in jail. As shattering as this was to some men, it was nothing compared with the threat of losing a job, a career, or a family's love and support.
Police and court records are full of scenes depicting the abject terror felt by men at the moment they realized how dire the consequences of an arrest could be. In the fall of 1948, a Dutch Jewish immigrant, who had lost his mother to the Nazis, desperately tried to outrun the police after he made the mistake of propositioning a plainclothes officer in a Grand Central Terminal men's room. He was afraid, he later explained to a court official, that he would lose a precious new position as an import-export clerk trainee if he were sent to jail, and he pleaded guilty to avoid a trial that might bring the charge to his employer's attention. He had reason to worry. In 1945, a copy editor who had worked at The New York Times for 17 years lost his job when the paper learned he had been arrested for homosexual solicitation. In 1950, a cabdriver who was his mother's sole source of support lost his taxi license after being caught making out with a man in the back seat of his cab.
Aaron Payne did not suffer such dire consequences at the time of his arrests, because as a young black man without a job, he had little left to lose. But his arrests for "degeneracy" caught up with him at the very moment it seemed his life had turned a corner. His failure to receive a cabaret card derailed the professional career he had dreamed of before it even began.
Not all gay men and lesbians suffered such a fate when their homosexuality was exposed. The cabdriver's mother adored him and the boyfriends he brought home, and some businesses stood by their employees or simply looked the other way when a valued worker was arrested for such an offense. But employers were much more likely to dismiss men and women they discovered to be gay, and beginning in the 1920s and 1930s, state governments in New York and elsewhere made queer life more and more precarious.
In 1927, the New York state legislature prohibited theaters from staging plays with queer characters, and in the 1930s, the Hollywood studios adopted a censorship code that prohibited the appearance of lesbian or gay characters or even the "inference of sexual perversion" in its films. After the repeal of Prohibition in 1933, New York's newly established State Liquor Authority issued regulations that prohibited bars from employing or serving gay people or even allowing them to gather on their premises. During the Second World War, the federal government followed suit by prohibiting homosexuals as a class from serving in the military, and after the war, it extended that ban to civilian federal agencies.
The core principle that governed such rules was to exclude people who were openly gay from many workplaces and the urban public sphere of bars and restaurants, and to prevent them from even being represented or discussed in plays, films, and cabaret performances. The point was not just to condemn, humiliate, and discourage people who were queer, but also to render homosexuality invisible and therefore, the authorities hoped, unthinkable.
Even filmmakers, playwrights, and bar and cabaret owners who dissented from such heteronormative impulses were forced to comply. The Salle de Champagne was not a gay bar, but in the spirit of the postwar bohemian Village, it was not hostile to gay people. In fact, it gave Aaron Payne a second chance. In the spring of 1950, two years after his application to the Cabaret Bureau was rejected, the manager let him perform one night. Unfortunately for the club, this was during one of the city's periodic crackdowns on gay bars, and Payne put on a dazzlingly queer performance. According to a plainclothesman who happened to hear him while keeping nightspots in the Village under surveillance, Payne sang "lewd" and "filthy" songs about "fairies and lesbians" while standing "with his hands on his hips, swaying his hips back and forth," and moving his hands and putting on "facial expressions [that were] those of a person commonly referred to as a 'fag.'" In its defense, the club contended he had done nothing more than sing sophisticated show tunes by the likes of Cole Porter—apparently trusting the State Liquor Authority would not realize how suffused Porter's songs were with double entendre, particularly in the hands of a performer as queerly gifted as Payne.
The Salle de Champagne also seems to have expected the authority to respect its reputation as a sophisticated, well-regarded nightclub that drew a straight crowd. But the plainclothesman discovered that the club did not strictly enforce the ban on gay customers either. He identified a half-dozen or more customers as gay, on a night when about 150 people were seated at the club's tables. The police often sent attractive young plainclothes officers into clubs to entrap gay men by leading them on and then arresting them if they made the mistake of inviting them home. Absent such definitive evidence identifying patrons as gay, police reports routinely cited customers' camp wit and other forms of gender nonconformity: women with short hair striding through a bar in men's clothes; makeup-wearing men sashaying about and calling one another "Mary."
On the night in question, the most "obvious" customer the policeman noticed was standing at the bar itself. The bartender must have realized he was homosexual, he testified, because he had an "effeminate … high-pitched" voice, but instead of throwing him out of the bar, he engaged in friendly banter with him. The bartender kidded along with him until the customer "puckered up his lips" and quipped that "he would love"—the officer stressed how much the customer emphasized the word love—to have every man in the bar "come up to see me."
At a moment when the State Liquor Authority was under pressure to crack down on gay meeting places, this was enough evidence for it to revoke the club's license and permanently close it for "permit[ting] homosexuals to congregate" and "permit[ting] a performance by a homosexual." Under normal circumstances, even exclusively gay bars managed to survive for periods of time because they were run by the mob, paid bribes to the local patrolman, and were otherwise enmeshed in the web of corruption that governed much of New York's postwar nightlife. But during a crackdown, every bar was vulnerable—even a place, like the Salle de Champagne, that did not cultivate a gay clientele.
It would be another 16 years before the policing of gay bars and individual gay people was substantially challenged. In March 1966, three years before Stonewall, the New York Mattachine Society packed a community forum and held private meetings with Mayor Lindsay and his police commissioner that succeeded in bringing an end to police entrapment. Ending the police use of entrapment to arrest gay men was so fundamental a change that it has now been almost entirely forgotten, but it had a more profound impact on the everyday lives of gay men than the burst of activism immediately following the Stonewall rebellion. For the first time in a generation, a gay man did not have to worry that the cute guy coming on to him in a bar was a cop.
A month later, in April, Mattachine staged a well-publicized "sip-in" at a gay bar in the Village that drew public attention to the unjust rules prohibiting bars from serving gay people. A year later, New York's highest court ruled that the State Liquor Authority could not close a bar because it allowed gay customers to dance, kiss, hold hands, or do anything else straight customers were allowed to do. It would be several years—in some cities, more than a decade—before the police in New York and most other cities completely eased up on lesbian and gay-male bars. But the pre-Stonewall campaigns against state harassment of gay bars in New York, San Francisco, Los Angeles, and other cities had set that change in motion.
None of the movement's later victories could give Aaron Payne his life back again. After being denied a cabaret card, he had begun performing at black charity events and fashion shows, which did not require a license. But the closing of the Salle de Champagne seems to have ensured that no other club in New York ever risked letting Payne get close to a microphone. The charity performances also trailed off. But 17 years later, Payne, who had started calling himself Jason Holliday to put Aaron's misfortunes behind him, finally found another stage. He had the title role in Portrait of Jason, the mesmerizing and deeply disturbing 105-minute film the avant-garde filmmaker Shirley Clarke distilled from the 12-hour performance he gave her and her partner, the actor Carl Lee, over the course of a single night in her Chelsea Hotel living room.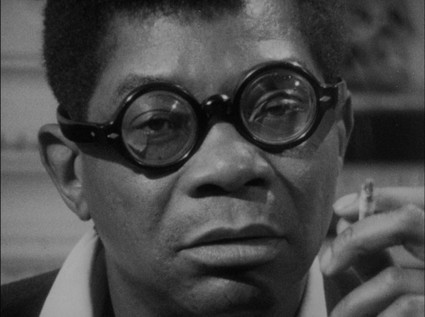 Released in 1967, the film received new attention five years ago, when it was restored by the Academy Film Archive and Milestone Films and then re-released by Milestone, but the story of Aaron Payne/Jason Holliday's arrests and role in closing the Salle de Champagne has never been told before. I discovered it only by chance when I was going through the records of the club's unsuccessful effort to appeal the revocation of its liquor license. Holliday himself never mentioned the club being closed. In the biographical sketch he prepared for the filmmakers, he claimed instead that he had performed there for several years after it, in fact, had been shut down.
The story of how his dreams were shattered at the beginning of his non-career puts his performance in the film in a new light. The film primarily consists of several dozen stories Holliday told about his life over the course of the evening, but neither he nor the film tries to string them together into a coherent life narrative. He constantly returns to the plans he's been hatching for 10 years to develop a nightclub act, and it seems clear that this performance is it. He belts out classic torch songs and blues, does a mean impersonation of Mae West and other camp icons, and drinks and smokes himself into clairvoyant oblivion. He also proves himself to be an extraordinary raconteur, willing to pull back the veil on the strategies for dissembling—from wearing sunglasses so the employers who thought he was "a dumb colored boy" couldn't see how much he hated them to talking "sweet little white boys" into buying him clothes at Saks—that had enabled him, as a poor, black, flamboyant gay man, to survive his post–Salle de Champagne life as a maid, houseboy, and hustler.
The film hints at the black and white bohemian artistic circles in which he found support: the black singers, such as Carmen McRae, who helped him by giving him work, and the interracial and mixed gay and straight artistic circles in which he socialized and partied in New York. It appears he had been entertaining those parties for a long time with the viciously witty stories he tells about his father brutally whipping his sissy son for skipping rope and the indignities he later endured at the hands of the white society matrons who employed him to clean their homes, entertain their guests, and satisfy their sexual longings. Because he had been at those parties, Carl Lee had heard those stories, and from off camera he asks Holliday for his favorite ones—usually the most humiliating ones—when they aren't forthcoming. Holliday even describes being entrapped by a cop as he cruised up Sixth Avenue and, in another scene, his "vacation in Rikers Island" with the drag queens he met in the prison's queer block. But he never explains how that arrest set in motion the rest of the life stories he recounts by torpedoing his dreams of becoming a performer. Ever since then, he had hustled to get by. "I have more than one hustle," he tells the camera, but "what I really want to do is what I'm doing now, to perform."
Holliday's verve, voice, and devastating wit evoke the career that Aaron Payne might have had if not for those arrests, and he never lets viewers forget the fierce will that allowed him and many other queers to survive. His frustration, anger, and despair about how his life was stymied and unfulfilled linger long after the movie ends and bear haunting witness to the price some queer men and women paid when society and the state conspired to monitor, entrap, and excommunicate an entire group of people.