My Three Grandfathers
Mama was in her 70s before she discovered the true story of her conception.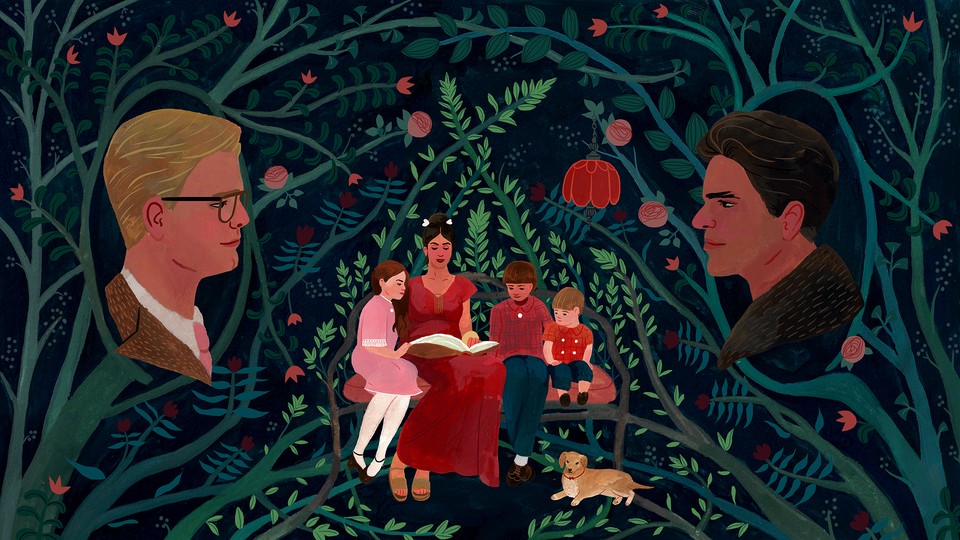 Late on the eve of my mother's wedding day, in August of 1965, in Springfield, Illinois, a hoot owl on a tree outside her bedroom window called out "Who? Who?" The call echoed in the darkness of her high-ceiled room. It was a loaded question.
Earlier that day, my grandmother (Granny, we kids called her) had taken my mother (whom we call Mama) aside for a private talk. "Now Beth," she said. "You know that Daddy and I had trouble having you." In spite of Granny's midwestern Methodist reserve and impermeable feminine decorum, Mama did know a little about this. When, as an unusually intense and imaginative little girl, she had begged Granny for brothers and sisters, Granny had finally explained that siblings were impossible. She and Grandpa had tried to conceive Mama for five years and sought the assistance of doctors at a Chicago hospital; it was a miracle she had been born at all. Mama would have to content herself with her cousins in Moweaqua—the children of Granny's little sister. Effusive and highly sociable, Mama bonded with her cousins as if they were her own sisters and brother, and made near-siblings of the kids on her block, herding them to perform dog circuses and theatricals on their quiet street.
On Mama's wedding eve, Granny anticipated that Mama would want to have a lot of children (she would end up with three—my two brothers and me), and she worried that Mama would try to start a family too soon, out of fear of fertility issues down the line. "Now, don't you worry about having babies," Granny told Mama. "You won't have any trouble. The problem wasn't with me—it was with Daddy," she said. Then, pausing, she added emphatically: "But Daddy is your daddy!"—and, blue eyes flashing, concluded quickly, "Now, don't you ever bring this up again."
I was 12 when I first heard this story, in my childhood home in Indiana. Mama was by then a grown woman, of course, and though she was still cowed by Granny (who maintained her iron hold on Mama's psyche over the phone from Illinois), she had disobeyed Granny's prohibition, and corresponded with the hospital in Chicago where she was conceived. To her frustration, the hospital could supply no records that would clarify the circumstances of her conception. She filled me in as she sat at the kitchen table, putting the hospital's final letter in a file folder she had whimsically labeled "Abe Horowitz." It made sense: I had noticed that Mama looked different from her relatives, and that a lot of people thought she was Greek, Turkish, or (more rarely) Indian. But it had not occurred to me before that day to wonder why.
My mother was tall, long-legged, and slender, with gleaming blue eyes (one of her bosses said they looked like "a car with its headlights on in the daytime"), thick, dark brown hair, a tea-and-milk complexion, and a humorous, original charisma. Despite her blue eyes, Mama was darker than her parents, and didn't look much like her cousins, aunts, or uncles, or her peers at the Methodist church or Springfield High. She certainly looked nothing like Grandpa's side of the tree, with their snub noses, light hair, and solid builds.
When Mama's colleagues went on business trips to New York, they always asked her to recommend a restaurant. Something about Mama made people assume she was a New Yorker—which, in Indiana code, meant Jewish. She relished that idea, and encouraged it, and would immediately name the one restaurant she'd been to, on a high-school graduation trip with her Springfield classmates. But after I found out about the Chicago hospital, I decided she might be half Syrian; my best friend in kindergarten was half Syrian and looked, I thought, like a mini-Mama. Later, in the 1990s, Mama worked in Moscow, and people on the sidewalk would stop her to ask for directions, because to their eyes, she looked Russian. But Mama liked being taken for Jewish. She was convinced that her notional genetic father was Jewish, which is why she had made up the most Jewish name she could think of for the folder on her birth research.
As she closed the Horowitz file in our kitchen that day, Mama told me her theory of her parentage. The minute she had heard Granny's wedding-eve words, Mama had deduced that Grandpa must have been infertile. A lifetime of not quite matching her environs now made sense. She put together a chain of events in her mind that could explain her conception. Granny's doctor, at wits' end after five years of Granny's persistent visits to his examination rooms, must have begged an intern to help him out with a sperm donation to "enliven" Grandpa's batch, to get Granny off his case. In Mama's evocation of the scene, which I listened to with rapt attention, the doctor grabbed the intern by his lab coat, and said desperately, "Abe, Abe! Help me out: This Springfield woman won't give up, but there's no chance her husband's sperm will work!" This was long before the advent of IVF, so Grandpa's sample was fortified with an addition from the notional "Abe," and Granny was, essentially, turkey-basted. No records were kept of the procedure, or at least none survived. Nine months later, Mama was born.
My mother was always (and still is) an ace raconteur, exaggerator, and self-dramatizer, so I thought this story might or might not be true. But I wanted to believe it. Other kids have fantasies, growing up, that they are secretly high-born changelings who ended up by accident in a prosaic Muggle household. I had those fantasies about my mother. I thought she was too extraordinary to have come from our pragmatic Germanic farm stock. Nothing about the combination of Grandpa and Granny explains Mama. It wasn't just her appearance: What was most distinct about her was her temperament—her creativity, wit, and energy.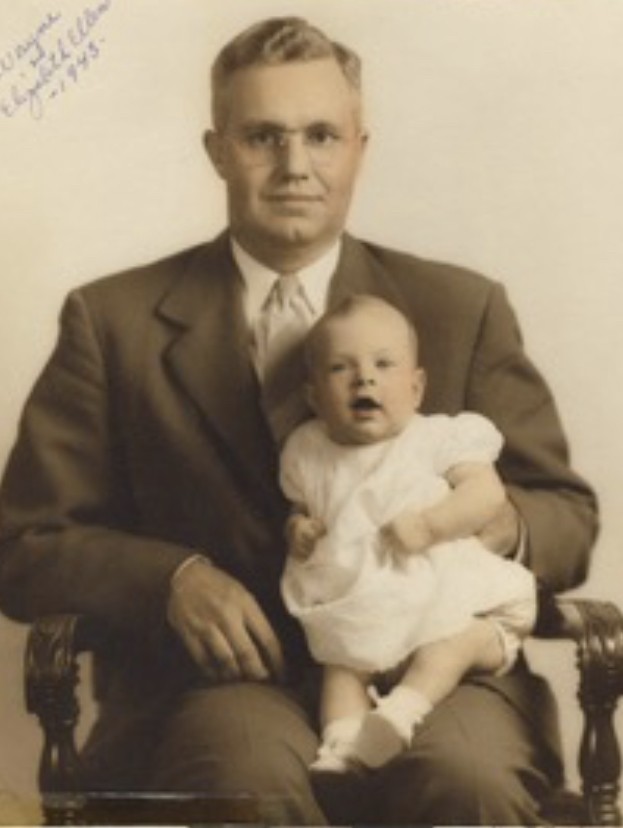 I loved Grandpa, and so did Mama. He was a kind, generous, calm, and loving husband, father, and grandfather, steady as they come; an IRS man who got called up to World War II just after Mama was born. Luckily, Grandpa got pneumonia, so he spent the war at a desk job in Georgia, while the rest of his unit perished in the Pacific war. Nonetheless, after I found out about the Chicago hospital, I liked to daydream about who Mama's genetic father might be; someone brilliant and unconventional, I hoped. Maybe he'd won a Nobel. The idea that she must derive from a mysterious unknown genius gene pool fascinated me. Now, armed with this story, I immediately shared it with my friends at school. I told the Jewish boys I dated that I was probably a quarter Jewish, hoping it would make them take me more seriously. (It didn't.)
For nearly 40 years, the "Abe Horowitz" file remained closed. Then, five years ago, my little brother got Mama a 23andMe kit for Christmas. She sent off her sample, and when the results came back, she learned, to her delight, that she was half Ashkenazi (and 3 percent Neanderthal, which she joked explained her table manners). Exultant to have her long-standing conviction confirmed, she began hunting on the website for the siblings she had always yearned to have. But she found no close relatives—just third cousins, cousins twice removed, and so on—and soon she quit consulting the site.
Nonetheless, she embraced her scientifically certified new heritage with zest. She had my father nail a mezuzah next to the front door of their It's a Wonderful Life–style Victorian house in Virginia. The next Christmas, after Santa visited to dandle the grandchildren on his knee and hand out big gifts, we had crown roast of pork … and Mama served latkes as a side, with applesauce and sour cream. After we opened the towers of family gifts around the tree, I led the grandchildren into the game room and taught them to play dreidel—on Mama's orders, of course. Mama soon wrote a letter to a rabbi in the Shenandoah Valley, asking whether she could attend temple, but she got no response. The next time she and Papa visited me in New York, she begged me to take her to a Jewish service in New York, but I reminded her I was raised Methodist and confirmed Episcopalian, and I go to church. I've never been to synagogue. And so, despite the genetic evidence, our family's Jewish link remained intangible.
Until May 13, when I received an email, via LinkedIn, while I was grading papers. The note came from a man who had taken a 23andMe DNA test early this year, and had discovered that he and my mother share the same biological father. He had a brother and a sister; that meant that Mama now had three half siblings. Mama had posted on her page that she had been artificially inseminated in Chicago in 1942, and wrote that she wished to know her father's name, and to learn of any other family members and descendants. He had emailed her many times this spring, but she had never responded. I felt a pang. Mama got Parkinson's some years ago; she doesn't wrangle email well anymore. I thought, simultaneously: At last, Mama can know her siblings; and … they will never know what she was like in her glorious, extended prime; and … was she like her biological father? Her half brother, my new uncle, was trying to reach her through me, having guessed our connection online. He attached a photograph of his father.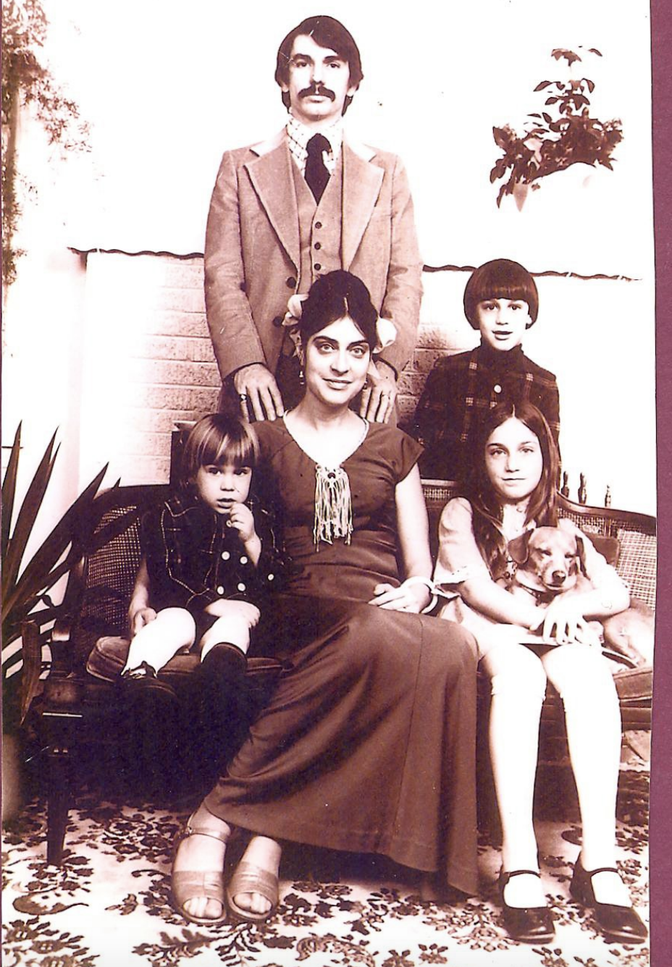 Seeing that photograph, I felt an electric thrill, a cellular shock: There, in this man's face, were my mother's glowing blue eyes, dark brows, strong features; humorous, wise, indulgent expression; and olive complexion ("sallow," his U.S. naturalization ID calls it). I emailed back immediately, sending photos; then we spoke on the phone, and I called Mama to tell her I had found her genetic father, and her half brother, and that she had another half brother and a half sister too. At 76, she finally had the siblings she had yearned for her whole life. She was overcome. Two hours later, my mother was on the phone with her half brother. She was shaking so much, she told me later, that she could hardly speak. The next week, he arranged a conference call, and all four siblings (including Mama) talked together, and me and my father too. At the end of this month, we will all meet for the first time, face-to-face.
Through my continuing correspondence with my new uncle, and through the photographs he has sent, I am learning more about the man who explains Mama: her genetic father, my third grandfather. He was born in Canada, of Russian and Romanian background, and his family moved to the United States when he was 10. His given name was Abraham, and his mother's maiden name was Gurevitch—a variant spelling of Horowitz. So Mama's guess in 1979 was spookily on target; although, my new uncle explained, his father changed his entire name in 1942—first, middle, and last—because of anti-Semitism. (I won't share his name, or those of my other new relatives, to respect their privacy.)
He was an exuberant man, my new uncle wrote, tall and warm, with a booming voice like James Earl Jones's, as good on the drums as Gene Krupa, and an avid dancer. He had paid his way through medical school by playing drums and piano in a jazz and swing band that toured the world, and after med school, he interned for two years at a hospital in Chicago. In our conference call with my mother's half siblings, the older son told us that his father had mentioned to him once that he'd been a sperm donor in that era, but he knew no further details. It sounded as if the fantasy my mother had concocted was uncannily correct, or at least perfectly plausible.
In 1942, he was drafted to serve as an army captain and doctor in Panama and the Galápagos—like Hawkeye Pierce on M*A*S*H. Returning to peacetime America, he married and set up his medical practice. In his career, he delivered 2,500 babies—making a significant medical discovery along the way, using bone marrow to analyze blood diseases. He was also, his younger son wrote me, an amateur architect, a workaholic, and a smoker (all echoes of Mama), a "pillar of his community," and a "bit of a visionary." At last I could see the source of the fuse that makes my mother glow, and see that glow reflected back to me from a son who was as marked by his father's aura as I have been by my mother's. It must be a family thing.
"Abe" had died of a heart attack at 64, in 1973, the same year that my second brother was born—the one who would grow up to give Mama 23andMe one Christmas, enabling our belated discovery.
From the new family photographs in my inbox, I can see that Mama and my brothers and I have a lot of "Abe" in us: My mother has his coloring, eyes, brow, and expression; I have his eyes and jaw; my middle brother has his coloring and nose; my baby brother has his hairline and his hands, with distinctive, long, straight fingers. I wonder whether my new cousins will notice such details when they meet Mama, and I wonder how she will feel as she searches for a map of her unknown half in them. Her half siblings have always had the luxury of knowing for certain who their parents were and where they came from; my brothers and I have had that luxury too. Mama had only half of that knowledge. And yet, I think Granny was right, on the eve of Mama and Papa's wedding, 54 years ago, when she insisted, "Daddy is your daddy!" Grandpa was the man who raised Mama, who supported her happily and proudly and patiently from the moment of her birth until his death in 2000, a lifetime of love and loyalty. Granny and Grandpa shaped Mama as surely as Mama and Papa shaped us, as sure as "Abe" and his wife shaped their three children.
This Father's Day, I'm thinking about my three grandfathers. There was Grandpa Schillinger, who raised Papa to be strong and capable and honorable; there was Grandpa Hupp, Mama's dad, whose constancy and supportiveness were a model of fatherliness; and now there's "Abe," formerly invisible, now emerging as an intertwined trunk in this family tree, the man who brought my mother to Granny and Grandpa, and through them, to Papa, and to us.
The man who raises you with love is your real father; but if there is a man who allowed that man to become a father, I believe he deserves a place of honor in the family tree as well. He's the man behind the story, without whom the story could never have been born.