Thanks to Trump, War Is in the Air
Mike Pompeo, John Bolton, and a weak Congress are setting the stage for unlawful conflicts.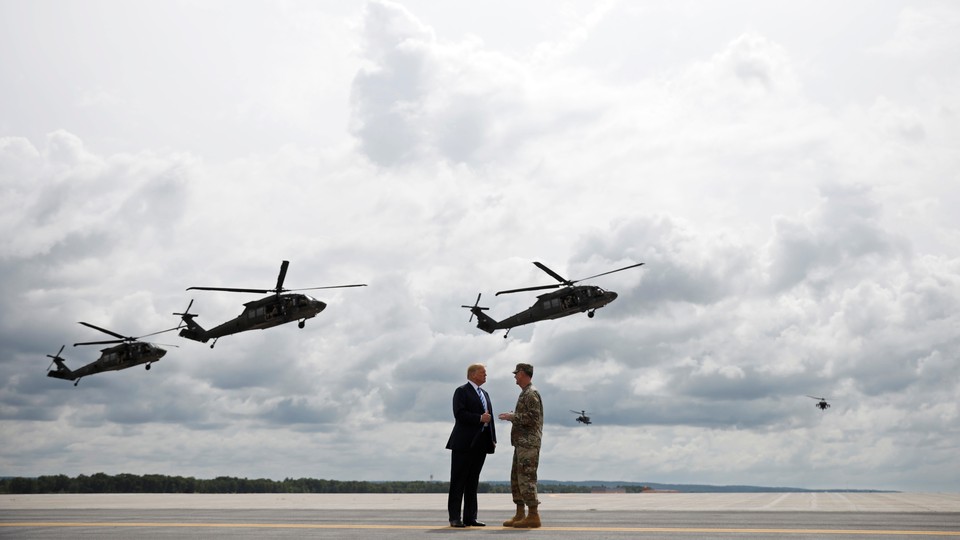 War is in the air.
President Donald Trump is still waging war in Yemen after vetoing a congressional call to end the U.S. military's participation in that country's civil war. He has kept U.S. forces in Afghanistan, Iraq, and Syria. And high-ranking officials in his administration are asserting their willingness to wage new wars of choice without the approval of Congress, showing disregard for the Constitution and the public's anti-war sentiments:
Secretary of State Mike Pompeo told ABC News that the Trump administration is planning for the possibility of military action in Venezuela, and implied that the president's authority is sufficient to lawfully wage war there unilaterally, without first seeking authorization from Congress.  
Testifying last month before the Senate Foreign Relations Committee, Pompeo made similar comments about Iran, refusing to acknowledge that waging war against that country is not covered by the Authorization to Use Military Force that Congress passed in 2001 in response to the 9/11 terrorist attacks.
National Security Adviser John Bolton has signaled his support for U.S. military action in both countries. And in 2018, when Trump launched a missile strike at Syria, Bolton agitated for an even more expansive response, including an enduring U.S. military presence in the country––a presence that he would later describe as a counter to Iran, not the Islamic State or Bashar al-Assad's regime.
Such was the context Monday when senior American officials said that "new threats by Iran against United States troops in Iraq were behind the sudden deployment of an aircraft carrier strike group and Air Force bombers to the Persian Gulf," per The New York Times. Keeping those troops in Iraq risks wider war.
Last year, when Pompeo was tapped for secretary of state, Senator Jeff Merkley declared, "A vote for Mr. Pompeo is a vote for Trump's War Cabinet, and for that reason, I will fiercely oppose his nomination." Today, there are even more reasons to fear additional war-making, and, as ever, reasons to fear the ability of the commander in chief to resolve a conflict.
Nothing since World War II has damaged America more than ill-conceived wars of choice.
Yet the grassroots anti-war movement that filled the streets prior to the invasion of Iraq has all but disappeared, Congress seems content to allow Trump to defy even the explicit resolution it passed against war in Yemen, and Senator Lindsey Graham, who urged the United States into several foreign-policy debacles, is openly stating, "I don't care about voting on the use of force."
It is a perilous moment for the republic.