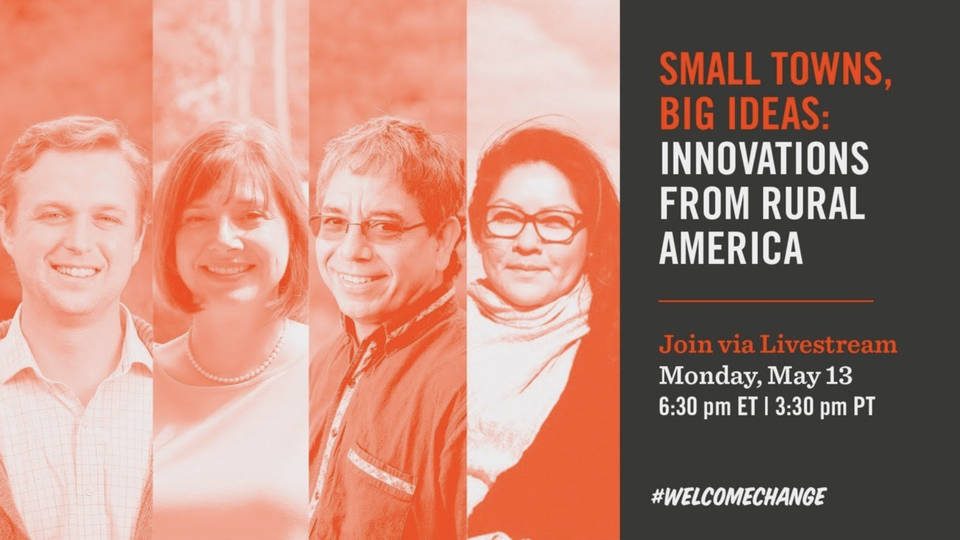 Editor's Note:
This article previously appeared in a different format as part of The Atlantic's Notes section, retired in 2021.
This was a fascinating session—I say, as the person who got to ask the questions, rather than having to give the answers. The hour-long YouTube video is here.
The topic was "Small Towns, Big Ideas: Innovations From Rural America." It was a discussion in Washington, D.C., on the evening of May 13, sponsored by the renowned social-entrepreneur organization Ashoka, with four of its Ashoka fellows working in rural or small-town locations. They were:
Brandon Dennison, of Coalfield Development in West Virginia; Stacey Epperson, of Next Step in Kentucky; Regi Haslett-Marroquín, of the Main Street regenerative agriculture project in Minnesota; and Denisa Livingston, of the Diné Community Advocacy Alliance of the Navajo Nation.
Brandon Dennison has a program to bring economic diversity to coalfield areas, which have historically been boom-and-bust economic monocultures.
Stacey Epperson has a program to make high-quality, affordable manufactured homes a step toward homeownership, for people who have not owned homes.
Regi Haslett-Marroquín has a chicken-based program to make agriculture globally sustainable.
Denisa Livingston has a program to combat obesity and diabetes among her people, with the country's most aggressive anti-junk-food efforts.
I promise that if you listen to this session, you'll learn about innovations you hadn't been aware of before.
It may also give you a sense of the breadth of the renewal efforts under way in American settlements large and small. There's also an extended discussion of why, exactly, the majority of Americans who live in bigger cities should care about rural folk—and about the difference between saying that many rural areas have problems, versus saying that rural America is a problem.
Congratulations to Ashoka and its four rural innovators for putting this session together, and for the ambitious projects they discuss.