Trump's Impeachment Finger Trap
With each stonewall and demand that Democrats drop investigations, the president is making it more likely that Congress will feel compelled to act.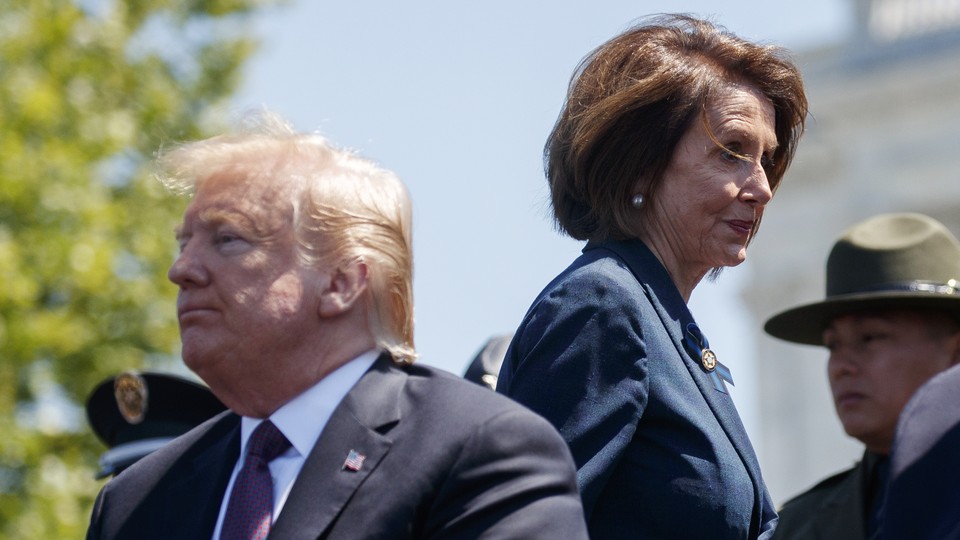 Do you remember the little woven finger traps you sometimes got as a kid, as a party favor or a reward at a fair? You could comfortably stick your fingers in, but if you tried to pull them out, the weave would tighten and you'd be stuck. Only by maneuvering gently, and not pulling too hard, could you extract yourself.
President Donald Trump finds himself in a sort of impeachment finger trap right now. He isn't certain to be impeached—but every step he's taking to try to squirm out of it seems to tighten the bind he's in.
Consider the president's tantrum on Wednesday. After inviting Speaker Nancy Pelosi and Senate Minority Leader Chuck Schumer to the White House for a meeting on infrastructure, Trump stomped out of the meeting, supposedly because Pelosi had earlier accused him of participating in a cover-up. (The accusation is unrebuttably true.) Trump insists he did not throw a fit—"I was purposely very polite and calm, much as I was minutes later with the press in the Rose Garden. Can be easily proven."—but one can't calmly blow off a meeting. It defeats the point.
Trump has many things to be upset about. His feint on infrastructure came to nothing: Pelosi and Schumer were happy to go along with his plan, but he couldn't rally Republican support for it. His former spokeswoman Hope Hicks has just been subpoenaed by the House Judiciary Committee. And his strategy of stonewalling Congress in the face of Democratic investigations is unraveling quickly. There never seemed to be much hope that it would block the probes altogether; instead, the goal appeared to be to bog down the process and run out the clock before the 2020 election.
On Wednesday, however, a federal judge in New York ruled against Trump's effort to block a subpoena from House Democrats of his financial records from Deutsche Bank and Capital One. That came a day after another federal judge rejected his bid to keep his accounting firm, Mazars USA, from turning over documents; that judge refused to stay his order pending appeal, and seemed incredulous at the administration's arguments. NBC News reports that two other banks, TD and Wells Fargo, have already handed over documents. The process is moving much faster than Trump had hoped. Instead of eating up months, his refusals to comply have barely eaten up weeks.
So Trump is suggesting he won't work with Democrats on anything until they drop their investigations. "It is not possible for them to investigate and legislate at the same time," he tweeted. But being able to do both oversight and lawmaking is precisely how Congress is structured, and as veterans of any previous administration can attest, plenty can get done while Congress is investigating a White House.
There is also no chance Democrats are going to drop their investigations, and that's where the finger trap comes in. By and large, the House Democratic caucus has been wary of impeachment. Even after Special Counsel Robert Mueller's report all but accused the president of obstruction of justice and suggested that Congress ought to act, most members were content to follow Pelosi's slow approach and to avoid open calls for impeachment.
More recently, however, that has changed—and the spark has been the White House instructing former aides like Don McGahn to neither produce documents nor testify in response to subpoenas. It's one thing to fire the FBI director to kill an investigation, pressure aides to lie, and try to fire the special counsel—you might very well get away with only harsh words for that—but start stepping on Congress's prerogatives, and its members start to get very angry very fast. Specifically, they start to demand impeachment inquiries.
If Trump were to follow through on his threat to not do anything with Congress until House Democrats drop their investigations, things could get even dicier. Within the next few months, the debt ceiling will need to increase and the government will need to be funded. Democrats might have been tempted to hold those bills hostage, just as Republicans have done in the past—but now Trump has given them an opportunity to pass an increase and a spending bill and dare the president to call their bluff. A senior government official told CNBC that the debt ceiling and funding are not subject to Trump's ultimatum, but the president has demonstrated again and again that only he can speak for himself. And if he doesn't act, and the U.S. defaults or shuts down? It could be fodder for another article of impeachment.
Thus far, Pelosi has been the brake on the members of her caucus most eager to impeach, but Trump's erratic behavior is backing her into an ever-more-untenable situation. On Wednesday, she said, "I pray for the president of the United States. And I pray for the United States of America." Later on Wednesday, she said, "In plain sight, this president is obstructing justice and is engaged in a cover-up. And that could be an impeachable offense." On Thursday, she said that she was concerned for Trump's well-being and said he was conducting an "assault on the Constitution of the United States." But Pelosi continues to say she doesn't support impeachment, and reportedly told Democratic lawmakers, "He wants to be impeached, so he can be exonerated by the Senate."
With each comment like this, Pelosi's balancing act becomes more challenging. Even if it is true that the odds of conviction in the Senate following an impeachment are very long, it's difficult to tell your members and your constituents that the president is attacking the Constitution and has committed impeachable acts, and then decline to even launch an impeachment inquiry. There's an analogy with the Republican rhetoric about Barack Obama: Once GOP voters were convinced that Obama was a tyrant, everything the Republican Congress did short of acting that way started to look like a betrayal, and incumbents paid a price for that in their primary elections.
While Pelosi's explicit position is against impeachment, her implicit position, I have argued, is actually not yet. Trump's response to the investigations is making yet closer for her and for the rest of the Democrats. His fingers are in the trap, and he's pulling furiously, but the trap is just getting tighter.