Barr Misled the Public—And It Worked
Special Counsel Robert Mueller objected that the attorney general was mischaracterizing his investigation, but by then it was too late.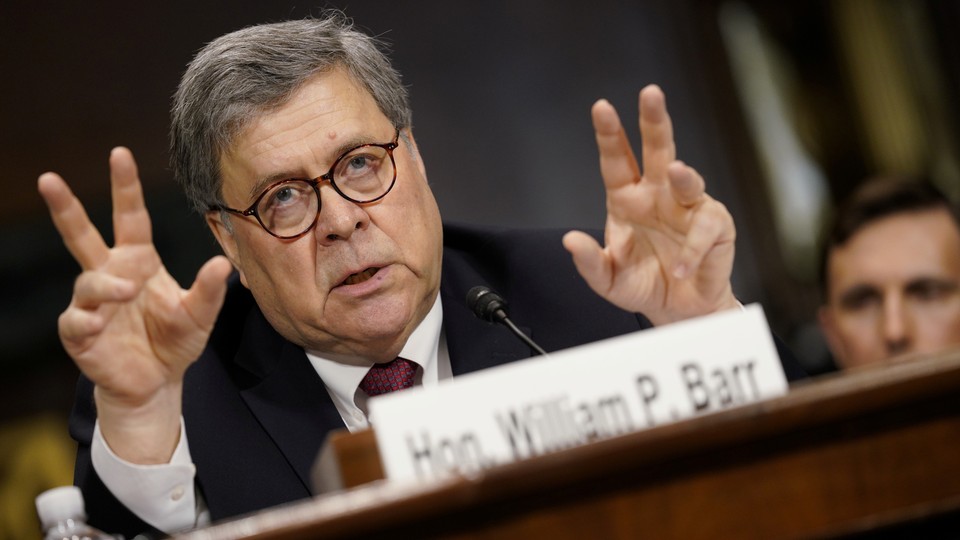 Updated at 1:44 p.m. ET on May 1, 2019.
When William Barr was appointed attorney general, his critics warned that Barr would do everything he could to either interfere with Special Counsel Robert Mueller's work or suppress his report. In his confirmation hearings, Barr pledged to release as much of the report as he could under the law.
He followed through: There have been no indications of interference, and he released the 448-page report in April with relatively light redactions. But Barr was more clever. While still making the report public, Barr managed to mislead the public and Congress, spinning Mueller's findings in a way that hobbled their impact and protected the president.
The gap between Barr's statements and what Mueller actually concluded is clear from any comparison of Barr's initial summary of conclusions to Congress, released March 24, and his April 18 prerelease press conference with the actual text of Mueller's report. But you don't have to take it from me, or from your own reading. Take it from Mueller himself. In a letter to Barr on March 27, first reported by The Washington Post on Tuesday night, Mueller took issue, calmly but strenuously, with Barr's public representations.
"The summary letter the Department sent to Congress and released to the public late in the afternoon of March 24 did not fully capture the context, nature, and substance of this Office's work and conclusion," Mueller wrote. "There is now public confusion about critical aspects of the results of our investigation. This threatens to undermine a central purpose for which the Department appointed the Special Counsel: to assure full public confidence in the outcome of the investigations."
The letter is measured in the way that one would expect the staid, lifelong G-man to be. Mueller does not directly accuse Barr of misleading anyone, though it's difficult to take any other conclusion from his words. (Barr says Mueller told him that media coverage was misinterpreting the letter, which is a cop-out, and ignores the fact that Mueller pointed to the letter itself.) But the timeline that Mueller lays out, and the very fact of the letter, suggests strong frustration, especially given Mueller's extremely tight-lipped approach throughout the investigation.
Mueller writes that he first told Barr on March 5 that his team was writing introductions and executive summaries that would make for effective and accurate summaries of his conclusions. He reiterated that on March 24, two days after he delivered the report to Barr. Barr then released his summary, which he now insists is not a summary, to Congress and the public, later that afternoon.
Based on a plain reading of Barr's letter, immediate media reports portrayed Mueller as having found no collusion and no obstruction of justice. In fact, the report's findings on both of these questions were considerably more nuanced; Mueller avoided the fraught and nonlegal term collusion, saying he found no criminal conspiracy but considerable links between Donald Trump's campaign and Russia, and strongly suggested that Trump had obstructed justice, even while saying he didn't feel he could charge Trump.
Mueller was immediately worried. The following day, March 25, he wrote, his team "communicated our concern to the Department." Apparently not receiving any satisfactory response, Mueller escalated his efforts, writing his letter to Barr on March 27. Putting the complaint in writing formalized it. It also all but guaranteed that the the letter would eventually make it to the public, as it now has. Lawyers are typically very careful about what they do and don't put in writing for precisely that reason, but throughout the Trump presidency, government officials have seen the need to write memos for posterity when concerned about actions by the administration.
How did Barr respond to this? The two men spoke on March 28, according to the Post, and the attorney general pressed Mueller on whether anything in his letter to Congress was factually inaccurate. Mueller reportedly said no, but that's beside the point. Even if no specific sentence in the letter was wrong, it misleadingly downplayed the gravity and scope of the report, and misrepresented the thinking behind Mueller's decision not to bring obstruction charges. "We used the language from the report to state those bottom-line conclusions," Barr said in testimony to the Senate Judiciary Committee on Wednesday. But as a side-by-side comparison of Barr's and Mueller's words shows, the attorney general selectively quoted from the report, and took many of those quotations out of context. The result was, as Mueller noted, that the public was misled about the contents of the report.
Barr did not release the executive summaries, as Mueller apparently wanted him to do, deciding to instead forge forward with releasing the report in toto. Barr said on Wednesday that he felt releasing parts of the report piecemeal would simply confuse the public. But that same critique could be leveled even more powerfully at his own, misleading-by-omission summary. And by releasing his own four-page letter, Barr sidestepped the pressure to immediately release the report's own summaries.
Not only that, but Barr then proceeded to give a baffling press conference on April 18, the morning the Mueller report was published. The press conference came before any member of Congress or the public had seen the report, and allowed Barr to once again frame the special counsel's report as he saw fit. Once again, Barr offered a seriously misleading view of what was in the report. Portraying Trump as the victim of the whole proceeding, he repeatedly stated that there was no "collusion," starting to sound like an echo of Trump's Twitter feed. Barr insisted that Trump had "fully cooperated with the special counsel's investigation." That claim was straightforwardly contradicted by the report itself, which pointed out multiple instances of the White House resisting cooperation, not least of them Trump's refusal to be interviewed by investigators or to answer written questions about obstruction.
Though Barr and Mueller are old friends and colleagues, they seem to be talking past each other in these exchanges. Clearly, the two men had differences of opinion about obstruction—Mueller implies he would have charged Trump were he not president, while Barr insists Mueller said otherwise in their conversations. Barr said Wednesday that he was surprised Mueller hedged on the obstruction question, but felt that he needed to make a decision. But Mueller's letter doesn't object to Barr's decision or question his authority to make it. Mueller's problem was that Barr was misleading the public.
Barr seems to be very concerned with buttressing his expansive view of executive prerogatives. The New York Times lays out a point of tension:
Mr. Mueller's report, the attorney general and the other senior law enforcement officials believed, read like it had been written for consumption by Congress and the public, not like a confidential report to Mr. Barr, as required under the regulations governing the special counsel.
Indeed, as my colleague Yoni Appelbaum has noted, the report reads as an impeachment referral to Congress—very directly. It's easy to see why Barr might have been upset, given his view of the law. But he was also boxed in. He had already pledged to release the report publicly.
One need not judge Barr's motivations—whether he's genuinely concerned about executive power or simply trying to defend Trump—to see how misleading his comments were, or how effective they were. By the time anyone outside the Justice Department saw the Mueller report, they'd already been exposed to Barr's misleading letter and press conference. He had, by Mueller's reckoning, allowed incorrect interpretations of the report's findings to circulate in public for two weeks. Senator Chris Coons, a Delaware Democrat, explained the importance during Wednesday's hearing.
"A critical three weeks passed between when you delivered the letter with the focus on the principal conclusions and when we ultimately got the redacted report," Coons said. "My concern is that that gave President Trump and his folks more than three weeks of an open field to say, 'I was completely exonerated.'"
As a way of defusing the findings of the investigation, it was tremendously successful. Even though the report can read as an impeachment referral to Congress, by the time its full text was released, the ardor for impeachment hearings among legislators and the public had faded. As Barr visits Capitol Hill this week, members of Congress are debating whether the president can theoretically be charged with a crime, the actions of the Hillary Clinton campaign, and of course the exchanges between Mueller and Barr. That's far better for Trump than having Congress discuss the actual substance of the report.
In his prepared testimony Wednesday, Barr noted that senators had asked him to commit to allowing Mueller to finish his work without interference and to release the report. "I believe that the record speaks for itself," Barr said. He's right. Rather than clumsily suppress the report, Barr did something much subtler—and far more effective.