Democrats Are Falling Into the Ilhan Omar Trap
By rushing to stand with the controversial congresswoman, the 2020 contenders are allowing Trump to transform her into the face of their party.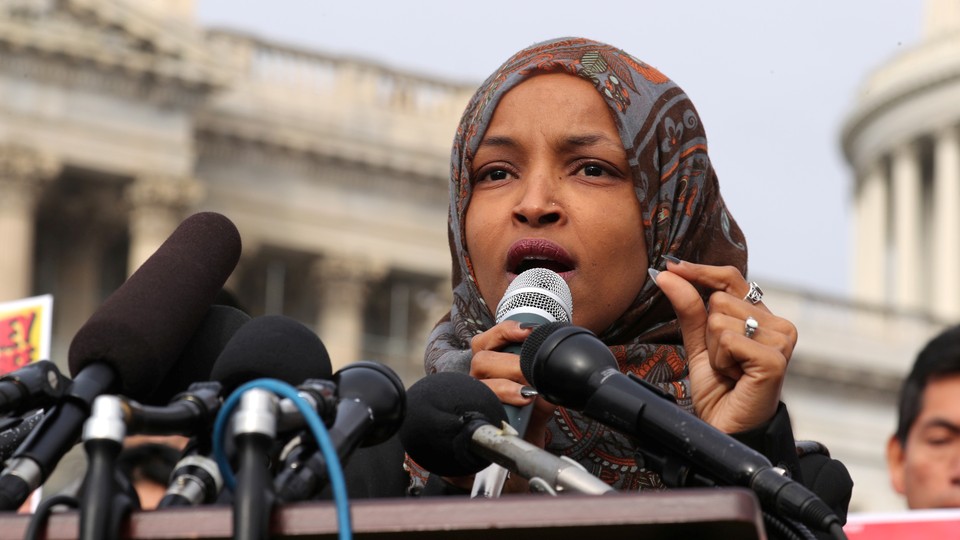 Many of President Donald Trump's tweets backfire, but not his tweet attack on U.S. Representative Ilhan Omar. That one tweet succeeded to perfection. Trump wishes to make Omar the face of the Democratic Party heading into the 2020 elections—and now he has provoked Democrats to comply.
Elizabeth Warren and Bernie Sanders have offered full-throated endorsements of Omar. "Ilhan Omar is a leader with strength and courage. She won't back down to Trump's racism and hate, and neither will we. The disgusting and dangerous attacks against her must end," Sanders tweeted. Kamala Harris, Beto O'Rourke, and Pete Buttigieg have expressed themselves more circumspectly, but have still aligned themselves with her in ways not easy to undo. "We are stronger than this president's hatred and Islamophobia. Do not let him drive us apart or make us afraid," O'Rourke tweeted. Of the 2020 hopefuls, only Amy Klobuchar added any caveat to her statement about Omar. ("You can disagree with her words—as I have done before—but this video is wrong.") Joe Biden and Cory Booker have thus far refrained from comment.
Having promised not to "let him drive us apart" from Omar, Democrats are now stuck with responsibility for the reckless things the representative from Minnesota says, not only about Jews, but about other issues, too. Omar has already served notice that she does not intend to behave more circumspectly in the future. In a Friday-night interview, Stephen Colbert asked Omar whether she would heed House Speaker Nancy Pelosi's advice to back-bench it for a while. Omar answered, "I think Nancy knows this very well. Women have been told to go slow and not be seen and not be heard for many years. She wouldn't have made it to where she is if she did. And it's certainly the case for minority women … We are not there to be quiet. We are not there to be invisible. We are there to follow the lead of people like Congressman John Lewis and make good trouble."
The Democrats are on notice. More remarks will be coming.
Against Omar's propensity to provoke, the Democratic Party seems institutionally almost defenseless. Pelosi was thwarted when she attempted to pass a resolution condemning anti-Semitic expressions by House members. Instead, the House substituted more muddled language in which Jews appeared in a laundry list condemning all expressions of intolerance against "African-Americans, Native Americans, and other people of color, Jews, Muslims, Hindus, Sikhs, immigrants and others."
After Trump's tweeted attack, Omar will become even more internally uncriticizable and unmanageable, without becoming any more careful or responsible. Indeed, the speech by Omar that provided Trump with the sound bite he exploited—"some people did something"—itself exemplifies her carelessness and irresponsibility. The speech was delivered at a fundraiser in California for the Council on American-Islamic Relations. Here's the full sentence from which Trump took his sound bite: "CAIR was founded after 9/11, because they recognized that some people did something and that all of us were starting to lose access to our civil liberties."
CAIR was, in fact, founded seven years before 9/11. That error should matter to more than fact-checkers. It severs CAIR from its own history of radical advocacy and apologetics.
Omar's co-headliner at the California fundraising event was a lawyer named Hassan Shibly. Shibly is the lawyer for Hoda Muthana, a New Jersey–born woman who married an Islamic State fighter, proclaimed her adherence to ISIS in writing, and now seeks to return to the United States. Muthana's case turns on technicalities of the citizenship laws, and she is entitled to legal representation. Shibly has stressed his own condemnation of ISIS and Muthana's choice to join it. Yet Shibly has also spoken in extreme ways against Jews in Israel and the United States. He tweeted back in August 2014: "God as my wittiness, Israel & it's supporters are enemies of God and humanity! How many more children must Israel kill 4 U 2 C?#Gaza."
Some have urged that Omar's "some people did something" words about 9/11 be understood in context. Let's try that. After the Christchurch massacre in New Zealand, Trump tweeted: "My warmest sympathy and best wishes goes out to the people of New Zealand after the horrible massacre in the Mosques. 49 innocent people have so senselessly died, with so many more seriously injured. The U.S. stands by New Zealand for anything we can do. God bless all!" By using died rather than were murdered—and by describing the crime as "senseless"—Trump abstracted a politically motivated act from the politics that motivated it. The crime became a ghastly tragedy, requiring no words from him about the white-nationalist beliefs of the killer or the larger international movement that shared those beliefs.
"Some people did something" performed exactly the same exonerating service for Islamic extremism as Trump's tweet about Christchurch did for white nationalism. Like Christchurch in Trump's telling, in Omar's telling, 9/11 just … happened. Look no further. Do not ask about the ideas that impelled the crime. Do not criticize those ideas. Do not hold to account those who traffic in dehumanizing language like that used by Omar's co-headliner in California.
Omar, in her turn, has been a target of extremist criticism, some of it verging on incitement. She should be free to express her thoughts about Jews, about 9/11, about her distrust of the democratic opposition in Venezuela without fear of harm. But now the combined operations of Trump and the ultra-progressive edge of American politics have put them beyond normal political criticism within the Democratic Party, sticking her co-partisans with responsibility for whatever outlandish remark next tumbles from her lips.
It cannot be pleasant for Omar's colleagues to have to wonder and worry what that next remark will be—knowing that Donald Trump and his Twitter feed will be waiting to blame all Democrats for the provocations of one. But by not putting themselves on record about Omar when they could, Democrats now find themselves bound to her for the duration. This problem will get worse, and its political consequences will become ever more costly for Democrats who want to win national elections and govern the country.