Ty Cobb Was Right
The former White House lawyer counseled Trump to cooperate with Mueller and put the probe behind him. Instead, the president chose defiance.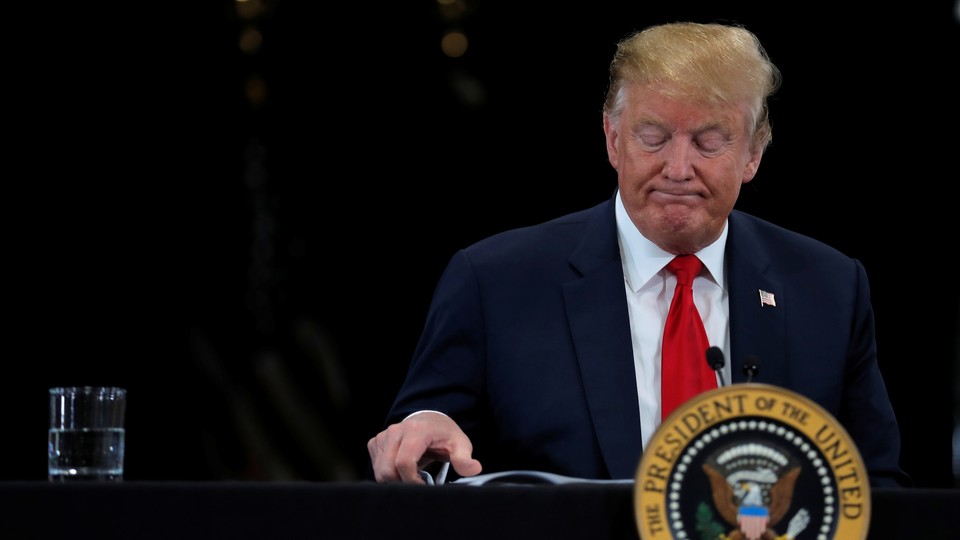 From a certain perspective—say, Donald Trump's—the conclusion of Special Counsel Robert Mueller's investigation was a victory for Trump. Mueller delivered his report to Attorney General William Barr, who announced that it had not concluded that the president had committed obstruction of justice or illegally conspired with the Russian government. Trump has repeatedly celebrated that, including in a Tuesday morning tweet exulting, "No Collusion—No Obstruction!"
But it was a perverse victory, with Trump simply climbing out of a hole he had dug. It's all but impossible to argue that Trump is politically better off than he would have been without the self-inflicted wound of the investigation—prompted by his dismissal of former FBI Director James Comey. And with a redacted version of Mueller's report due to be released on Thursday, the president appears to be on the verge of committing the same error in responding to House investigations that he did with Mueller: stonewalling investigators, dragging out the process, and creating a public impression of guilt.
Although the collusion part of the Mueller investigation received the greater amount of attention—due in part to the salaciousness of the allegations, and due in part to the many instances of Trump campaign officials colluding with Russia—it was allegations of obstruction of justice that sparked the probe. The FBI had been investigating Russian interference in the election through standard channels until Trump's decision to fire Comey over "this Russia thing" led Deputy Attorney General Rod Rosenstein to appoint Mueller as special counsel.
If the Mueller report is truly the vindication that Trump claims, the lesson that Trump might take from it is the benefit of transparency and cooperation with investigations.
Imagine that Trump had never pressured Comey to drop his investigation into former National Security Adviser Michael Flynn, or that he did, but stopped short of firing Comey. The FBI investigation would have continued along. Flynn would have likely been indicted, a black eye for the Trump administration, but a passing one. The Justice Department would have indicted GRU officers and employees of the Internet Research Agency for meddling in the 2016 election. That would have wounded Trump's pride, since he reacts with fury to any suggestion that his 2016 victory was anything other than a product of his own personal greatness. But politically, its effects would have been ephemeral. Trump's former campaign chair Paul Manafort would likely have been tried for financial crimes, but Trump could say that Manafort's crimes all took place outside of his presidential campaign. More important, with no obstruction investigation, the president would mostly have escaped personal scrutiny. He and his staff would have been spared astronomical legal bills, and left able to concentrate on achieving his goals. The investigation would not have dominated the first two years of Trump's presidency.
Of course, by the time Mueller was appointed, it was too late for most of this. But Ty Cobb, whom Trump hired into the White House in July 2017 to deal with the Mueller probe, tried the next best thing. Cobb's repeated predictions of a speedy end to the investigation have been justly derided, but his overall strategy has been vindicated. Cobb argued that Trump had nothing to hide and should cooperate with Mueller, handing over whatever the special counsel wanted, speeding along the investigation to its conclusion. Trump never appeared happy with this approach; in less than a year, he had pushed Cobb out.
But if the end of the Mueller probe vindicated anyone, it was Cobb. It produced neither an indictment of the president nor a clear-cut charge that he had obstructed justice. While Cobb's successor, Rudy Giuliani, was convinced that Mueller was laying a "perjury trap," Mueller never even pushed that hard to interview Trump. Cobb, in March, said Mueller was not conducting a "witch hunt" as the president has alleged, and while Trump continues to employ the phrase, his exultation over Barr's summary of Mueller's findings suggests that Trump has swung around to agree with Cobb.
By fighting tooth and nail against the investigation, Trump both distracted himself from the normal business of the presidency (though realistically, he probably would have found another distraction) and gave the impression that he had something to hide. Trump's approval in the Gallup poll has ticked up since Barr's summary was released, but it remains at a weak 45 percent, and a Monmouth poll released Wednesday found Trump's approval headed back downward.
There's been extensive attention to Trump's consistent polling floor—no blow, no matter how severe, seems to knock him below 35 percent or so—but the numbers suggest a ceiling, as well. No matter how good the news, he can't crack 45 percent. One drag on his numbers is that Americans remain unconvinced by the reported results of the official inquiry. A Reuters poll in late March, shortly after the Barr summary's release, found that 48 percent, a plurality, still believed that Trump or his aides had colluded with Russia, and 53 percent felt that he had obstructed justice.
With those findings in mind, and given the confusing and ambiguous message Barr gave (writing that "the Special Counsel therefore did not draw a conclusion—one way or the other—as to whether the examined conduct constituted obstruction" and saying that he had therefore made the decision himself), the obstruction section of the full report is likely to draw extensive scrutiny on Thursday.
In the meantime, Trump is dealing with a passel of investigations from House Democrats, who are eagerly wielding their newly acquired subpoena power. These investigations cover everything from security clearances of White House staff to Trump's personal finances to more Russia matters. The Washington Post reported Wednesday on the administration's strategy to respond: resistance. It plans to assert executive privilege and take subpoenas to court. Beyond that, it's also urging other parties not to cooperate. For example, presidential attorneys wrote a letter to Trump's accounting firm, which received a subpoena, arguing that the request wasn't legitimate. (The firm, Mazars USA, told the Post that it "will respect the legal process and fully comply with its legal obligations," which is elegantly opaque.)
Once again, it's easy to imagine an alternative strategy, in which Trump announces that he has nothing to hide, turns over documents, and trusts that Democrats will overplay their hand. But he seems to have concluded, based on the Mueller experience, that it's best to fight. The president is laser-focused on results, but his lack of interest in process has denied him a chance to learn something from it—namely, that transparency can be a useful tool. Unless, of course, he has something to hide this time.