Justin Trudeau Falls From Grace
The Canadian prime minister faces a political crisis of his own devising.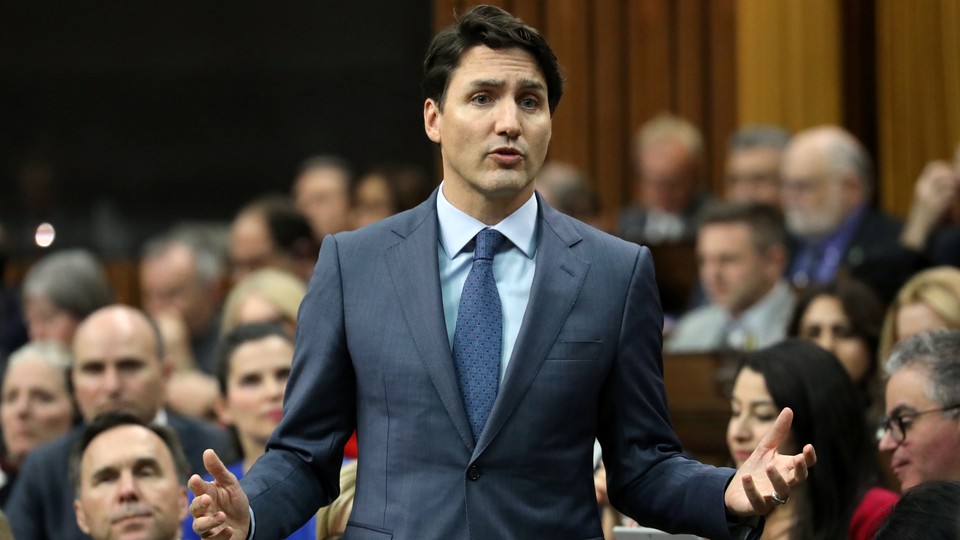 The depressing squalor of the Trump era has created in liberal Americans a gnawing hunger for leaders to admire. Foreign leaders are especially likely to set liberal hearts aflutter, because they are farther away and their flaws less visible. Of all these alternative "leaders of the free world," it is perhaps Canada's Justin Trudeau who has enjoyed the most attention. He proclaims himself a feminist, he hugs Syrian refugees as they arrive at Canadian airports, he performs yoga, he is impossibly handsome—what could go wrong?
But there were always two cracks visible in the face Trudeau presented to the world, and over the past three weeks, those lines have widened.
The first flaw: When frustrated or disappointed, he loses his cool. As one person on the receiving end of his ill temper put it to me, "He yells when he does not get his way, then gloats when he does." The second? Trudeau does not always accurately think through the ultimate consequences of his actions.
Together, those two fault lines create a dangerous formula for bad decision making in times of crisis.
Over the four years since he came to power in November 2015, Trudeau has offset his personal weaknesses by relying heavily on shrewder advisers. But since February, a serious and growing scandal has cost him the service of trusted aides. The head of the civil service has been forced to resign. Trudeau has been left more and more to his own judgment. This past weekend, that judgment tinged the scandal with a new note of farce.
On April 3, in the Canadian House of Commons, Trudeau was forced, under tightly focused questioning by Conservative MP Pierre Poilievre, to acknowledge that one of his first important statements about the scandal had been a falsehood.
On April 7, the leader of the Conservative Party, Andrew Scheer, revealed that a week earlier, a lawyer for Trudeau had threatened him with a libel lawsuit, a rare step in Canadian politics. One basis of the threat? Scheer had, on March 29, accused Trudeau of lying about the very thing that, on April 3, Trudeau admitted to lying about.
Could the situation get more absurd? Yes! On the evening of April 7, Trudeau's spinners issued a statement denouncing Scheer for wasting the public's time talking about issues irrelevant to Canadians' real concerns—that is, by talking about the lawsuit Trudeau himself had initiated.
Trudeau just failed Kipling's challenge: "If you can keep your head when all about you / Are losing theirs and blaming it on you."
The scandal convulsing Canadian politics began with a corruption case involving a large engineering firm, SNC-Lavalin. To secure contracts in Libya a decade ago, SNC-Lavalin paid bribes to the son of the former Libyan dictator Muammar Qaddafi. Those bribes violated Canadian law. SNC-Lavalin was caught and prosecuted, and faced tough penalties.
Hoping to avert or mitigate the penalties, SNC-Lavalin commenced a lobbying campaign within Trudeau's Liberal Party almost as soon as it came to power in November 2015. SNC-Lavalin has long been an important Liberal campaign contributor. Its chairman is a supremely well-connected former head of the Canadian civil service.
The trouble for SNC-Lavalin was that the then-federal attorney general, Jody Wilson-Raybould, refused to play ball. JWR, as she's become known, was the first indigenous Canadian to hold Canada's top law-enforcement job. She had her own agenda, one that often put her at variance with the rest of the Trudeau government. When the party began to pressure her to help SNC-Lavalin, she refused to yield.
In January 2019, Wilson-Raybould was removed as attorney general and demoted to the lesser job of minister of veterans' affairs. On February 8, the Canadian newspaper The Globe and Mail published the first story about the pressure campaign on Wilson-Raybould. Four days later, Wilson-Raybould resigned from the cabinet, followed on March 4 by another cabinet official, Jane Philpott.
Trudeau has forcefully denied allegations that he sought to tamper with justice. But again and again, the specifics of those denials have been contradicted—culminating in the explosive revelation on March 29 that Wilson-Raybould recorded a phone call back in December with Michael Wernick, then head of the civil service, in which Wernick intimated to Wilson-Raybould that by refusing to relent on SNC-Lavalin, she was putting her job as attorney general at risk. That's the core allegation of the scandal, and it now stands as fact.
You can read a transcript of that call. A week before the release of the recording, Wernick announced his early retirement from the civil service.
At each stage of the scandal, Trudeau has defended his actions. But his specific statements of self-defense have again and again proved false.
On February 12, Trudeau told the media that no person had ever suggested to him that his actions on behalf of SNC-Lavalin over the previous months, before the issue came into public view, were in any way inappropriate. This is the falsehood that Poilievre exposed in debate on April 3. Trudeau was compelled under Poilievre's questioning to admit that Wilson-Raybould had directly told him in September 2018 that she felt the pressure was inappropriate. "Once she said that …" and here the House erupted in shouts, but Trudeau continued: "I responded, 'No, I am not … It is her decision to make …' And she then committed to revisit and look into the decision again …"
The trouble was that, when Wilson-Raybould made the decision that was supposedly hers to make, and made it in a way different from the way Trudeau wanted her to make it, she got sacked.
It was for saying these things outside Parliament that Trudeau threatened litigation on March 31. The abrupt collapse of the factual predicate for that lawsuit in the following week led to the unusual outcome that by April 7, the target of the lawsuit eagerly invited the prospective plaintiff to proceed: "If Mr. Trudeau intends to pursue this course of legal action, if he believes he has a case against me, I urge him to do so immediately," Scheer said. That same day, a spokesperson for the prospective plaintiff dismissed his own threat of a lawsuit as a petty distraction from the important concerns of voters: "Andrew Scheer's press conference today is yet another attempt at talking about anything other than his own damaging plans for the economy."
The tabloid Toronto Sun's headline Monday morning expressed the public reaction of incredulity and mockery: "COURT JESTER."
The SNC-Lavalin story is the kind of process story that political cynics dismiss as irrelevant to voters' deepest concerns. Indeed, that has been the Trudeau government's last line of defense in parliamentary debate. But polls suggest that the story has done enormous damage, with Trudeau now lagging Scheer's Conservatives by double digits. Canada's next election is scheduled for October 2019. If it were held today, the Conservatives would probably form a majority government.
Why has the scandal done so much damage?
One reason is economic. SNC-Lavalin is based in Quebec, where it employs 3,400 people. The largest investor in SNC-Lavalin is the Quebec public employees' pension fund, with a 20 percent stake. That fund has taken a beating on SNC-Lavalin's share price—and would hugely benefit from an easy punishment of the company for its Libyan bribery.
But at the same time the Trudeau government was bending the law to protect 3,400 Quebec jobs, it was shrugging off a jobs debacle in the western province of Alberta.
Since January 2015, the province of Alberta has lost more than 130,000 jobs off payrolls—and uncounted thousands more among the self-employed. The oil-dependent province's unemployment rate reached 7.3 percent last month.
You might have expected that the Alberta economy would revive with the improvement in the price of oil over the past two years. But that expectation has bumped into contrary government policy. Alberta is landlocked; its oil must come to market via pipeline. Pipeline capacity is utterly inadequate. The Trudeau government has professed willingness to help, but it has consistently paid more attention to the preferences of environmentalists and the economic demands of indigenous groups. The result: Alberta oil sells at an enormous discount to the world price. In November 2018, at a time when West Texas crude was selling for more than $50 a barrel, Alberta oil fetched only $11 a barrel.
In Canada, the Trudeau brand is deeply associated with the crassest favoritism of Quebec economic interests. The SNC-Lavalin affair confirms every apprehension that a Trudeau in power means second-class citizenship for western Canadians.
Yet the polls indicate that it's not only in the West that Trudeau's support is collapsing. And this points to a deeper problem.
Canada's politics are perhaps the least polarized in the Western world. The Liberals successfully appeal to business-minded voters; the Conservatives effectively compete for ethnic minorities. In an unpolarized polity, personality hugely matters. Justin Trudeau marketed himself as a radically different kind of politician: artless, open, transparent, feminist.
For him to be seen browbeating an indigenous woman to protect politically wired insiders from facing the legal consequences of their wrongdoing—the reaction to that, in the words of a cover story in Maclean's by the high eminence of Canadian political commentary, Paul Wells, is to emblazon him as "The Imposter."