It Hurts to See Nipsey Hussle's Life Not Mattering
After a celebrated rapper is murdered, some admirers turn to wild theories, because the reality is too hard to face.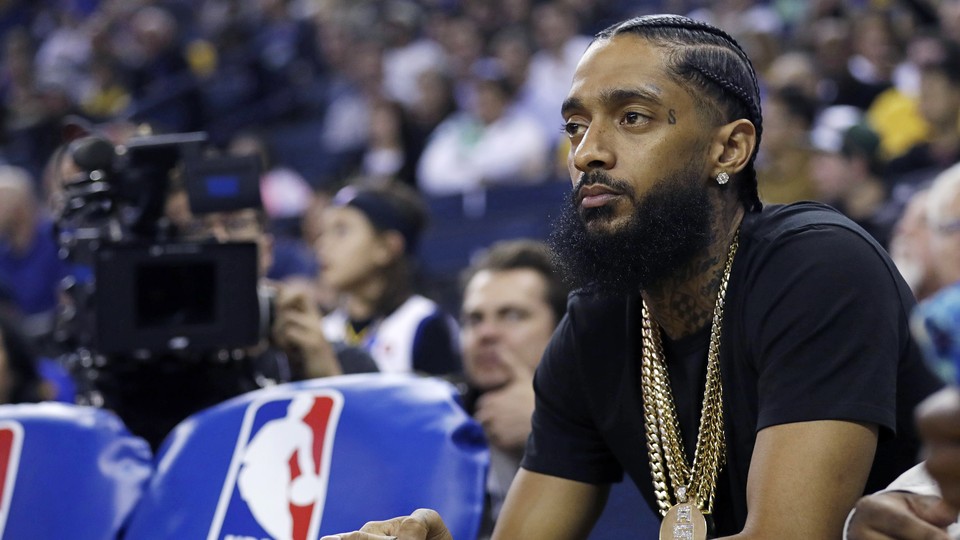 I didn't know Nipsey Hussle, but I knew Nipsey Hussle.
Hussle's murder in his Los Angeles neighborhood last Sunday was a heartbreaking conclusion to an unfortunately common story. Another talented young black man was senselessly killed, police say, by another black man, leaving behind mourning families and communities that have become accustomed to absorbing such standard trauma.
It hurts to see this version of a black life not mattering. But part of making any kind of sense of Hussle's death means keeping it real about the ruthless violence plaguing far too many African American communities, including the neighborhood Hussle was committed to transforming and saving.
Soon after Hussle's death, conspiracy theories flooded the internet. The entertainer Nick Cannon seemed to allude to this in an Instagram post in which he pledged to continue Hussle's community work. Cannon wrote in a lengthy post, "Because they can't kill us all! Spiritual Warfare is REAL and in full effect." Even Hussle's final tweet—"Having strong enemies is a blessing"—is drawing comparisons to when Malcolm X predicted his own assassination.
Hussle preached ownership and advocated strengthening the financial base in forgotten black communities. He wanted to create avenues for young black people to better their lives and reshape their world.
But Hussle wasn't killed because he was a symbol of black liberation. He was killed because, as the old adage goes, not everyone in your circle is necessarily in your corner.
These conspiracy theories were so easy for some to grasp because the truth is much more difficult to accept. Hussle was killed right outside his own clothing store in broad daylight. The Los Angeles police have asserted that a 29-year-old suspect named Eric Holder murdered Hussle over a personal beef. TMZ cited unnamed law-enforcement sources as saying that Holder, who was captured after a two-day manhunt, had resorted to violence because he felt disrespected by Hussle.
If Hussle hadn't been a well-known rapper, the story of his death would be sadly ordinary because of the grim statistics on the proliferation of violence in the black community.
According to FBI crime statistics, more than 15,000 Americans were murdered in 2017, and a staggering 51.9 percent of the victims were black. Although violent crime has decreased in Los Angeles in the past year, Hussle's death, unfortunately, was part of a recent wave of violence in the South Los Angeles area where the rapper operated his business. Last week, 26 people were shot, and 10 died.
The most recent crime statistics in Los Angeles show that despite the fact that blacks account for just 8 percent of the city's population, they make up 36 percent of homicide victims. Compare that with the homicide rate for whites, who are 29 percent of the Los Angeles population, but only 5 percent of the city's homicide victims.
Even though the plague of violence in African American communities has been known for years, it's more comforting to think that—as one theory went—Hussle's death was tied to the documentary he was working on about the controversial Honduran healer Alfredo Bowman, better known as Dr. Sebi. Before dying in 2016, Bowman claimed to have herbal cures for arthritis, AIDS, and diabetes, as well as other, terminal diseases. For years, conspiracists have pushed the idea that Bowman was killed because he was a threat to big pharmaceutical companies.
For another group of conspiracists, it's more comforting to think that, because Hussle joined with the real-estate developer David Gross to open a co-working space and STEM center in his old Crenshaw neighborhood, and was scheduled to meet with the Los Angeles police to discuss solutions for curbing gang violence in South L.A., the establishment feared him so much that it took his life. (Don't even ask why the establishment would cut him down for preventing violence.)
There are certainly plenty of precedents for black leaders and change agents dying long before they should have. Shamefully, there are too many examples of our own government abusing its power to undermine those who dared to challenge the status quo. African Americans haven't forgotten that the FBI spied on Martin Luther King Jr. and worked tirelessly to discredit him and other civil-rights leaders because of their growing power.
The murders of Tupac Shakur and Notorious B.I.G. still haven't been solved. Six activists tied to the protests in Ferguson, Missouri, nearly five years ago have died. Not surprisingly, some people don't trust the police's word that the activists' deaths are unrelated to one another. A Ferguson activist named Cori Bush recently told the Associated Press she has faced significant harassment in the wake of the protests, including someone shooting into her car with her then-13-year-old daughter inside. "They shut us up, and they win," Bush said.
But in Hussle's case, wasting time furthering conspiracy theories is only a distraction from unpacking why so many African American boys and men are victimized by violence, or see it as the only way to resolve conflict.
There are a number of reasons for it: lack of access to real opportunity, the poor education systems that are a staple in so many urban environments, the stench of white supremacy.
Still, let's also not lose sight of the fact that black masculinity is complex but at times riddled with toxicity. So many black boys and men see their manhood as their last stronghold in a world that all too often shows that it does not value or protect them. Hussle, who spoke openly about his affiliation with the Rollin' 60s, a Los Angeles gang, wanted to show members of a vulnerable community that he genuinely cared about their well-being, so that maybe some of them wouldn't feel the need to resort to their worst instincts. Hussle was a great example of possibility. Once he started coming into his own success, he reached back to provide bootstraps to those who never had any.
There are dynamics in place that make it more difficult for black men such as Hussle to rise above the structural barriers that are constant roadblocks to their success. But it is also true that on a daily basis, black boys and men are being conditioned to exact the punishment that's been heaped on them. And little thought is given to what's being destroyed in the process.