Yes, It Matters That Pete Buttigieg Is Gay
The fight for equality isn't won, and the U.S. could use a president who understands that personally.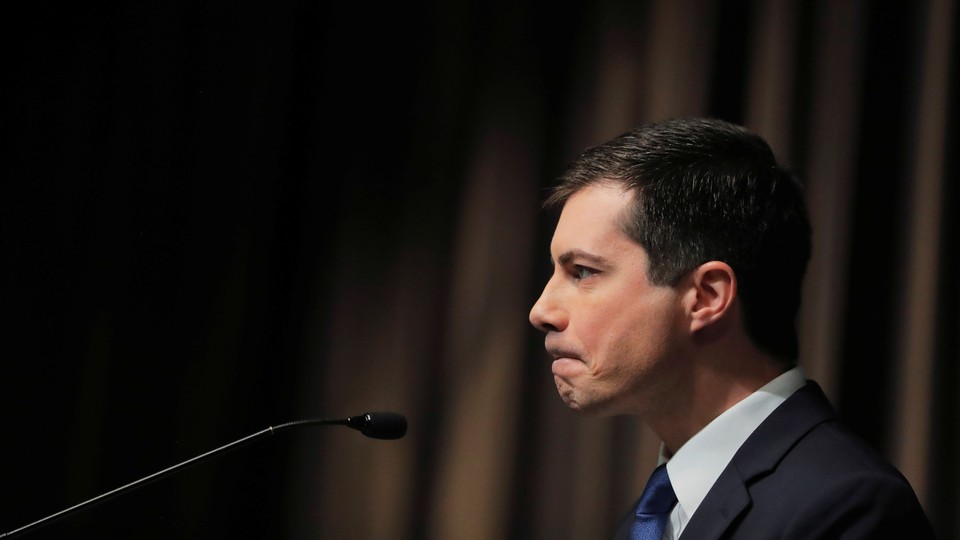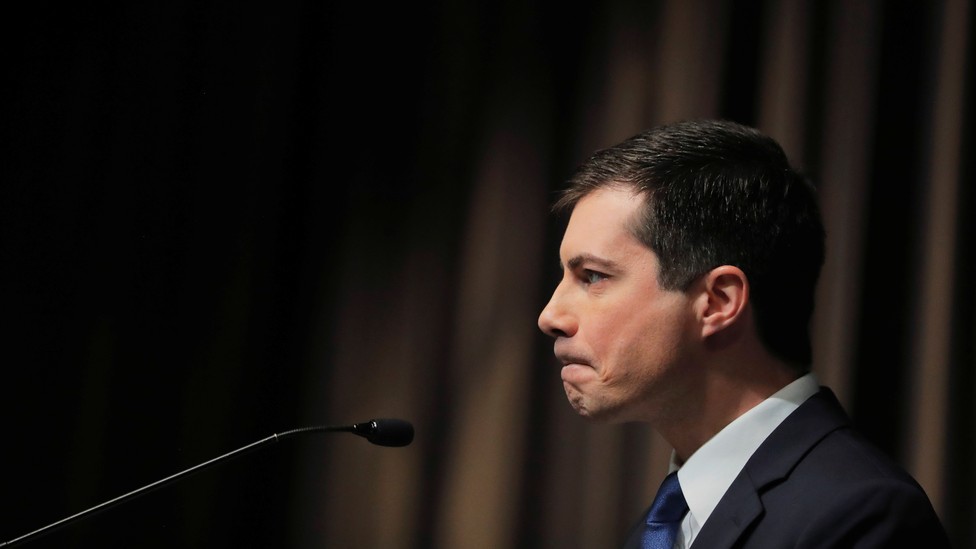 Updated at 12:31 p.m. ET on April 8, 2019.
Pete Buttigieg plays harmonica, guitar, and piano! He speaks Norwegian! Whoa, he actually speaks eight languages! I heard he even wrestled a bear live on CNN. None of the gee-whiz stories solidifying into the Buttigieg canon make any difference to me in deciding which of the Democratic candidates will get my vote. But as a gay man, I do care that Buttigieg is gay.
In my lifetime, it has been illegal for me to serve in the military, illegal for me to marry, illegal for me to adopt children, and even illegal for me to have sex. Society barred me from the first three; until 2003, the fourth meant risk of a fine or a prison sentence in some states. This discrimination did not just happen in a history book—it happened to me, and it happened to Buttigieg, too.
I am two years older than Buttigieg. We could have grown up with the same cartoons, listened to the same music, felt the same fear when we heard that Matthew Shepard had been murdered. We've lived through discrimination, and the fact that laws have changed doesn't alleviate the trauma of our past. Ask our gay elders whether they've recovered from losing their friends and colleagues who died by the tens of thousands during the AIDS crisis. That pain is fresh.
During an interview with an LGBTQ magazine, Buttigieg described himself as "somebody whose marriage exists as a function of a single vote on the U.S. Supreme Court." Our position in society is hardly secure. The fight for equality isn't won. It still matters that I am gay, so it matters to me that Buttigieg is gay.
Today, if Buttigieg or I wish to donate blood, we must abstain from sex for one year, or our blood is deemed unfit for use. Gay people are still classified as so great an HIV risk that it's easier to reject our blood.
In many states, it remains legal to fire gay people for being gay. And if you're tired of hearing about that fact, imagine how tired I am of living it. There is no public-accommodations law at the federal level that stops landlords from refusing to rent me an apartment if I show up for the home tour while holding my husband's hand.
Buttigieg was mayor of South Bend when the Indiana governor signed a law in 2015 allowing businesses to turn away gay customers. That law didn't stick, but the governor is now our vice president, Mike Pence. He stuck. Forgive me if I like the idea of having someone in the White House who understands what I've been through, and who would protect me from the people who would turn me away.
An NBC News poll published in March found that 30 percent of Americans said voting for a gay or lesbian candidate would make them "very uncomfortable" or give them "some reservations." How polite. That's the third I worry about whenever I consider kissing my husband goodbye in public.
For the first time in my life, I'm now represented in government by another gay man, Brian Sims, the outspoken Pennsylvania lawmaker who went viral for flipping off Mike Pence. (He represents my corner of Philadelphia in Harrisburg.)
Sims told me that being gay put Buttigieg in "learning situations" that give the candidate "heightened insight into issues far beyond human sexuality." Sims believes that a "multidimensional identity can help educate, enlighten, and ultimately solve many of our most pressing cultural problems."
Identity matters. Like most Democrats, I have not yet decided who to vote for in a primary that is still months away. But I believe it matters that Cory Booker is a black man, that Kamala Harris is the daughter of an Indian mom and a Jamaican dad, and that Buttigieg is gay. These facets of their identities mean that they can understand the powerless, as victims of power, and that they can understand the alienated, having been marginalized.
Beyond questions of empathy, Buttigieg being out is germane because he's a role model to those who want to come out.
Gay men are largely missing from positions of power. An out gay man has never served on the U.S Supreme Court. Not a single out gay man served on the federal bench until President Barack Obama took office. There is not and has never been an out gay man in the U.S. Senate. Buttigieg came out in 2015 on his own terms, but that counts as progress only in an unfair system. Mike Michaud didn't have that luxury just two years earlier when running for governor of Maine; he faced a whisper campaign.
The first gay man to lead a Fortune 500 company, Tim Cook, came out in 2014 only after becoming CEO of Apple.* I notice that absence and hear it like a whisper that says I don't belong whenever I'm in a conference room dominated by straight males. I confess there was a time when I monitored the way I sat, my gestures, even whether my voice was loud enough.
"When you are a member of a marginalized or often invisible community, there is something especially powerful about seeing someone like you that isn't actually you," said Erin Uritus, the head of Out & Equal, a group for LGBTQ business people, when I asked her about Buttigieg. "When LGBTQ young people wonder what is in store for their future and they can look to Tim Cook or Rachel Maddow or Pete Buttigieg, their entire world opens up."
Sometimes I wonder how my life would be different had I grown up with a gay role model. "I can't even begin to quantify the transformative power of visibility in belonging," Uritus said.
The movement for equal rights has made tremendous strides. But we are not immune from persecution, especially not young people. Researchers at the Williams Institute estimate that 4.5 percent of the American population is LGBTQ. They also estimate that 40 percent of youth in homeless shelters are LGBTQ.
You can be sure that LGBTQ people are paying attention to how society treats Buttigieg as a candidate. The questions on their mind: Is it safe out there? Is this really possible?
"Anytime a member of our community breaks through a barrier, it's extremely significant," said Representative David Cicilline of Rhode Island when I asked whether it matters that Buttigieg is gay. Cicilline ought to know; he was also the first out mayor of Providence—or any state capital. "For young members of the LGBTQ community, many of whom may be suffering discrimination or bullying or even being ostracized from their own family, seeing a member of our community run for president helps them know it's going to be okay."
"As we continue the fight for full LGBTQ equality," Cicilline said, "Mayor Buttigieg's candidacy is an important measure of the progress we've made."
As a gay man, I will definitely factor that progress into my vote for president.
---
* This article originally stated that Tim Cook is the only out gay man leading a Fortune 500 company. In fact, Dow, Inc. is now led by CEO Jim Fitterling. We regret the error.