Barr's Narrative of Victimhood
The attorney general's presentation will likely please the president, but does little for the credibility of the Department of Justice.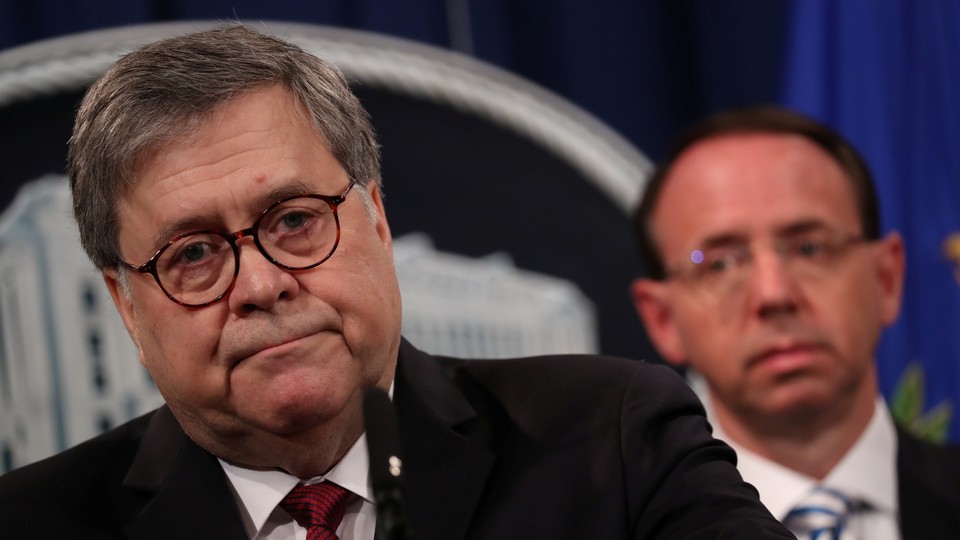 What possible reason did Attorney General William Barr have to hold a press conference about Special Counsel Robert Mueller's report before the report was released?
It was not, based on his brief remarks Thursday morning, to instill public faith in the process, for he did little of that. Nor was it to answer questions from the press, for he did little of that as well—bristling at a few reporters' questions before tersely exiting the stage.
Instead, Barr seemed most interested in painting President Donald Trump as a victim. Although, as has been endlessly noted, there's no crime of "collusion," the attorney general repeatedly used that phrase, echoing the president's own tweets, both before and during the press conference: "The Special Counsel found no 'collusion' by any Americans in the IRA's illegal activity"; "there was no evidence of Trump campaign 'collusion' with the Russian government's hacking"; "after finding no underlying collusion with Russia."
If those remarks made Barr sound less like the nation's top law-enforcement official and more like a defense attorney for the president, he was just getting started. Even more remarkable were his comments on the question of whether Trump obstructed justice. Put yourself in the poor president's shoes, Barr pleaded:
In assessing the President's actions discussed in the report, it is important to bear in mind the context. President Trump faced an unprecedented situation. As he entered into office, and sought to perform his responsibilities as President, federal agents and prosecutors were scrutinizing his conduct before and after taking office, and the conduct of some of his associates. At the same time, there was relentless speculation in the news media about the President's personal culpability. Yet, as he said from the beginning, there was in fact no collusion. And as the Special Counsel's report acknowledges, there is substantial evidence to show that the President was frustrated and angered by a sincere belief that the investigation was undermining his presidency, propelled by his political opponents, and fueled by illegal leaks.
Because the report has not been released, it's unclear how much of this analysis is Barr's and how much of it draws on Mueller's report, but it's not especially persuasive either way. In short, the attorney general is saying that the president's possibly obstructive efforts were not corrupt, because Trump sincerely believed he was the victim of a conspiracy. Because the president was "frustrated and angered," Barr seems to think it was reasonable for him to, for example, pressure the FBI director to drop an investigation.
Beyond that, "federal agents and prosecutors were scrutinizing [Trump's] conduct before and after taking office, and the conduct of some of his associates" for good reasons. Trump's first national security adviser, Michael Flynn, had lied to FBI agents in the first few days of the administration. His former campaign chair Paul Manafort had, according to emails, tried to use his campaign position to settle debts with a Russian oligarch.
The reason the feds were snooping around the White House and Trump campaign was that Trump kept hiring people who were breaking the law, and others who pushed its boundaries. (Curiously, Barr cited the indictments of Russians in the probe, but didn't mention any of the Americans who have pleaded guilty to crimes uncovered by Mueller's probe.) That dishonor roll doesn't even get into Trump's bizarre campaign statements, such as his weird plea for Russia to hack Hillary Clinton's emails—which Trump's defenders insist was a joke, but which Russia doesn't seem to have taken that way.
Barr continued:
Nonetheless, the White House fully cooperated with the Special Counsel's investigation, providing unfettered access to campaign and White House documents, directing senior aides to testify freely, and asserting no privilege claims. And at the same time, the President took no act that in fact deprived the Special Counsel of the documents and witnesses necessary to complete his investigation.
The claim that the White House "fully cooperated" is, charitably, incomplete. Trump did not block aides from testifying, but he also fought hard against sitting for an interview of his own—and, in fact, never did. And the notion that an individual touched by a federal investigation deserves praise for not depriving the investigator of documents or witnesses will strike many prosecutors as novel; this sort of cooperation is generally regarded as a minimal requirement, not a demonstration of good faith.
Apart from whether the acts were obstructive, this evidence of non-corrupt motives weighs heavily against any allegation that the President had a corrupt intent to obstruct the investigation.
The idea that Trump was acting out of sincere motives is a perfectly good political defense of the president—if not an especially convincing one, given his repeated prevarications and the corruption of the many people he hired. But political defense is not supposed to be the attorney general's job. Barr's victimhood narrative will likely go over well with Trump, but it does nothing to bolster the credibility of the Justice Department, or its conclusion that there was no obstruction.