Paul Manafort's Sentencing Isn't a Moment of Closure
His time at the helm of the Trump campaign remains mysterious.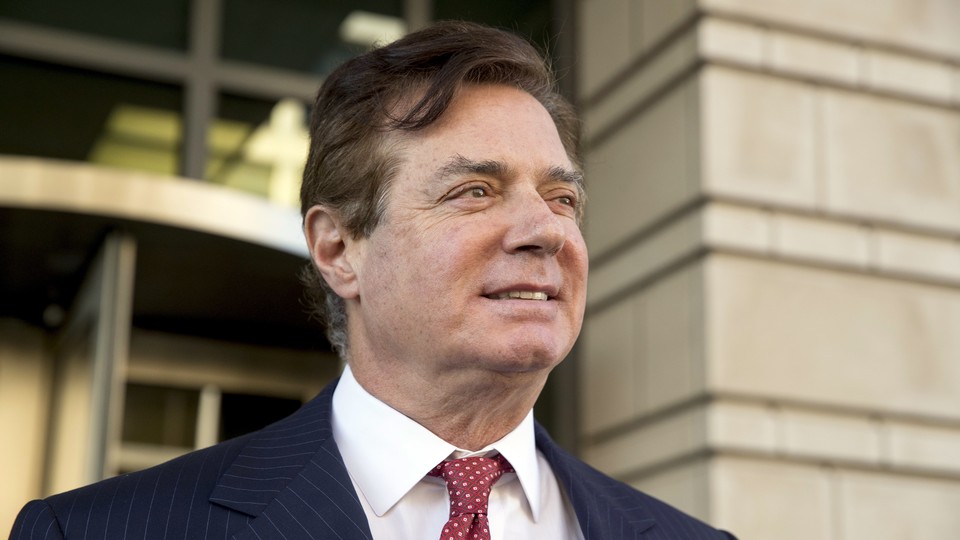 Updated on March 7 at 7:06 p.m. ET
What did Robert Mueller want from Paul Manafort? Last September, the special counsel cut a deal with the former chair of Donald Trump's campaign: If Manafort truthfully provided guidance to prosecutors, they would suggest a less onerous sentence for his crimes. There was a clear assumption in the trade, that Mueller believed Manafort had information valuable to his broader investigation of Russian interference in the 2016 election. In the months that followed the deal, Manafort became a regular visitor to Mueller's office, often sitting for six hours at a time.
But Manafort proved to be the archetype of the unreliable witness. Last month, U.S. District Judge Amy Berman Jackson, who had initially approved Manafort's plea agreement, accused him of a pattern of "withholding facts if he can get away with it." With his lies, Manfort scuppered his plea deal and apparently doomed himself to spend the remainder of his days in the slammer.
On Thursday, a federal judge in Alexandria, Virginia, sentenced him to 47 months for bank and tax fraud. Next week, another sentencing hearing awaits him for his failure to register his Ukrainian lobbying and what the government calls "conspiracy against the United States." A prison uniform represents the long-delayed and fitting epilogue to Paul Manafort's life story. It would be misleading, however, to declare this a moment of closure.
The collected documents from the Manafort trials make it obvious that prosecutors believe that Manafort attempted, on many occasions, to leverage his leadership of the Trump campaign to salvage his disastrous personal finances. What they have described is a state of desperation, but they haven't fully articulated where, precisely, this desperation led him. While they have led to his imprisonment, they have let linger a long set of important questions about his time at the helm of the Trump campaign.
Who Is Konstantin Kilimnik?
For nearly a decade, Manafort was trailed by a diminutive aide-de-camp, a Ukrainian named Konstantin Kilimnik. In Manafort's world, foreign names were often truncated to more easily spelled initials, so Kilimnik went by the moniker KK. According to colleagues, Manafort described KK as his "Russian brains."
Prosecutors have routinely asserted that KK was an "asset" of Russian intelligence—although it's not exactly clear what they mean by this, or what evidence supports that conclusion. Over time, however, prosecutors have slowly revealed details about KK. They have shown that KK remained in contact with Manafort during the campaign. One meeting appears to have especially fascinated Mueller: On August 2, 2016, Manafort, Rick Gates (his other longtime deputy), and KK met at the Grand Havana Room, a cigar bar in Manhattan. Manafort supplied Kilimnik with a sheaf of the Trump campaign's internal polling data. (The blogger Marcy Wheeler has pointed to a footnote in a Mueller filing indicating that Manafort and Gates passed 75 pages of polling to KK.) Apparently, the polling was intended for Manafort's old financial benefactors in Ukraine, the two oligarchs who funded the political party that Manafort represented. Did they actually receive it? (They have denied ever getting the data.) And did KK give anyone else the closely guarded information?
Manafort, Gates, and KK certainly behaved as if they were engaged in nefarious activity. According to Mueller's team, the troika left the Havana Room separately, through different exits. Andrew Weissmann, one of Mueller's lawyers, told Berman Jackson that this meeting at the cigar club goes "very much to the heart of what the special counsel's office is investigating."
Getting "Whole" With Oleg Deripaska?
One of Manafort's most important consulting clients was the Russian aluminum magnate Oleg Deripaska. Earlier in his career, Deripaska was commonly referred to in the media as "Putin's oligarch." Manafort advised Deripaska on political matters, but he also became an investment partner with him. In 2007, Deripaska gave Manafort approximately $20 million to manage in a private-equity fund, intended for investment in properties across Ukraine and Russia. According to court documents, Manafort failed to account for what happened to these funds. Deripaska has accused Manafort of stealing them—and has said that Manafort stopped responding to his requests to reach him.
Soon after Manafort joined the Trump campaign, he asked KK to send Deripaska media clips about his new role. In emails obtained by The Atlantic, Manafort asked KK if there was a way to use his position to get "whole" with the oligarch. He even offered to provide Deripaska with private briefings. What became of these entreaties? There's no evidence that Deripaska ever received them.
The Russian dissident Alexey Nalavny has stoked suspicions that information traded hands. He produced a long video that began as a so-called shaggy-dog story, but then took a pointed turn. The video culminated in footage of Deripaska on a yacht in Norwegian waters discussing U.S. sanctions against Russia with a Kremlin foreign-policy hand. The video came from a Belarusian escort who was on the yacht and stealthily captured the scene. In an absurdist plot twist, Thai authorities arrested the escort for hosting sex-instruction clinics. From her Thai cell, the escort claimed that she could provide more information about Manafort's relationship to Deripaska. That might prove to be a story fabricated story in desperation, but the evidence of Manafort's desire to reach Deripaska is unambiguous.
The Ukraine Peace Plan
When Michael Cohen testified before a House committee last week, he wasn't asked any questions about his efforts on behalf of a Ukrainian legislator's peace plan—a document he delivered to the White House in the administration's earliest days. Securing American support for a version of this plan was a longtime desire of Paul Manafort's old clients. War in eastern Ukraine meant that the electoral base of their political party was living in a war zone, unable to participate in national elections. This significantly damaged their prospects for ever reclaiming their country's presidency.
Did Manafort play any role in promoting this agenda? Manafort's own lawyers have conceded that he discussed a peace plan with KK at the Grand Havana Room meeting.
A Banker Named Calk
In August 2016, an obscure Chicago banker named Stephen Calk appeared on a list of Donald Trump's economic advisers. Soon after Paul Manafort left the Trump campaign—when Trump quipped, "I've got a crook running my campaign"—Calk's bank began loaning Manafort money. What's strange is that the bank loaned Manafort $16 million, which amounted to 22 percent of the bank's total equity capital. As prosecutors proved in court, these loans were procured on the basis of fraudulent information that Manfort provided. But were they also procured on the basis of a promise? During Manafort's trial, Robert Mueller introduced an email in which Manafort tried to get Calk a job as secretary of the Army.
Soon after Manafort left the campaign, he received another set of loans from a group called Spruce Capital. One co-founder of Spruce had been a partner in the development of Trump Tower Waikiki. (Spruce says that it received the loan request through a broker.) Why would these Trump-connected entities continue to lend to Manafort after he had been fired?
The Godfather and the Super PAC
When Manafort arrived in the Trump campaign, he famously promised that he would work for free. This seemed strange, given his persistent efforts to monetize every aspect of his existence, not to mention all the money he owed banks and Oleg Deripaska. We now know Mueller doesn't believe that Manafort received nothing for his efforts. He has accused Manafort of lying about money he received from a Trump super PAC called Rebuilding America. Trump created the group to entice elite donors, who had initially shunned his campaign. Manafort dispatched his daughter's godfather to organize the effort. The godfather received at least $830,000 for running the operation. Even after Manafort left the campaign in disgrace, the super PAC arranged to pay $125,000 of Manafort's debts. According to The New York Times, prosecutors are interested in foreign donations that flowed through the super PAC.
Finally, why did Paul Manafort put himself in this position? He could have cooperated truthfully with Mueller and lightened his sentence. But he attempted to keep vital chapters of his story shrouded in lies. He wanted them to remain a mystery. Perhaps Mueller has already filled in those gaps and has gleaned a complete narrative. But there's another possibility. Without Manafort's cooperation, we might never gain clarity about some of the most disturbing questions that still hover around him.